Expats Struggle to Order Foods during Social Distancing
Many foreigners living in HCMC are complaining about how they struggle to order takeaways when the city has loosened several services, including cross-districts shipping,
Shaun, from District 7, failed to find a shipper after ordering 25 times on Grab within 5 hours. He then gave up and chose to eat instant noodles instead of waiting for his favorite foods.
"So I've ordered food on Grab 25 times now since 12am with no luck of finding a driver," the expat shared on his Facebook account.
"My favorite restaurant that offers Western food is some 500m from my house," Shaun told Zing News. "It often sells a burger for US$ 3.3, now shipping fees charges me another US$ 2.2 but no drivers accept my orders."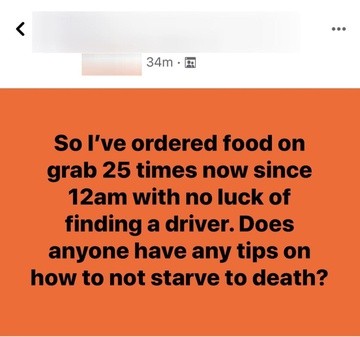 Shaun's post on Facebook complaining about how he struggles to order food. Photo courtesy of Shaun/ via Zing
Meanwhile, Joblan, from District 1, is luckier. He was so happy he got a shipper and immediately posted on Facebook to announce to everyone he finally did it.
However, just a few minutes later, his order was canceled because the restaurant he ordered food from was still closed due to a lack of staff. For some reason, the app still shows its status as opening.
The municipal authorities allowed cross-district shipping service starting Sept. 16 while city-dwellers continue to follow the prolonged social distancing. Shippers are allowed to deliver between 6 a.m. to 9 p.m. on the condition that they fully follow anti-pandemic protocols.
A lot of people, including expats, said they are happy they are finally able to have their favorite dishes sent to door. However, many reportedly hesitate to place an order due to the high shipping cost or expensive order required to get discounts or free ship that many food-delivery apps offer.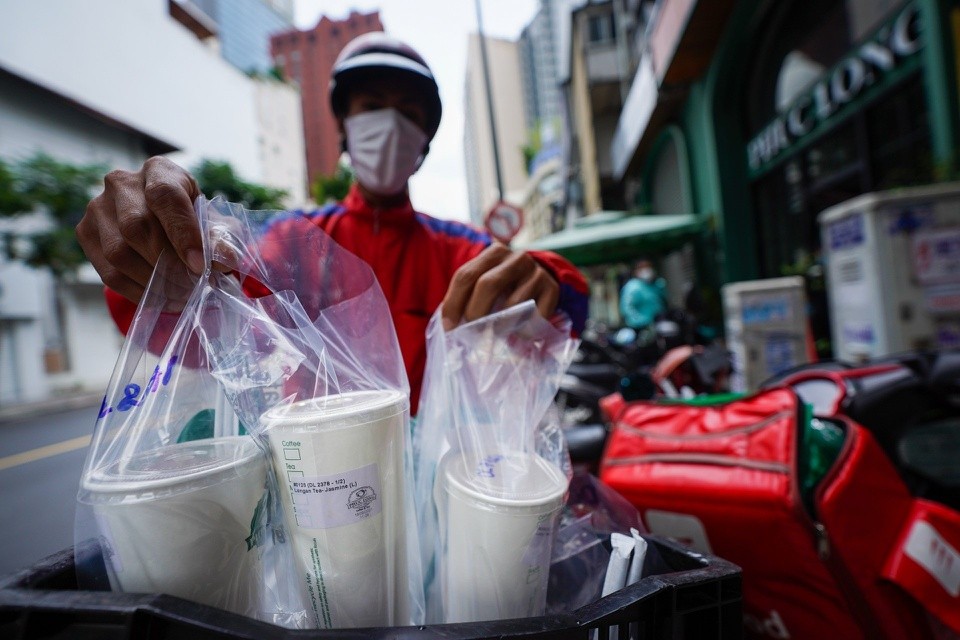 Cross-district shipping was allowed for resumption starting Sept. 16. Photo: Zing News
"Food in HCMC now is just as expensive as food in other ASEAN countries I used to live," Cindy Pham, a Vietnamese who was born and bred in Denmark said. Cindy has been living in HCMC with her boyfriend David for two years now.
Both are crazy about Vietnamese food, especially traditional ones like Pho, beef vermicelli, and broken rice. They had ordered a set of beef vermicelli from a restaurant in District 1 as soon as they heard cross-district delivery was allowed.
However, Cindy was surprised when she saw the shipping fees of US$ 4.4 for barely 3km. Thinking there might be something wrong with the app, she tried again with two other apps but got the same price, which ranged from US$ 3.5 – 5.3.
"I know there are fewer shippers at the moment, but charging US$ 4.4 for shipping is way too expensive," Cindy told Zing News. "I think I'll wait till the day the social distancing ends to go eat at the restaurant. Nothing can compare with the joy of trying hot food in a cozy atmosphere with friends."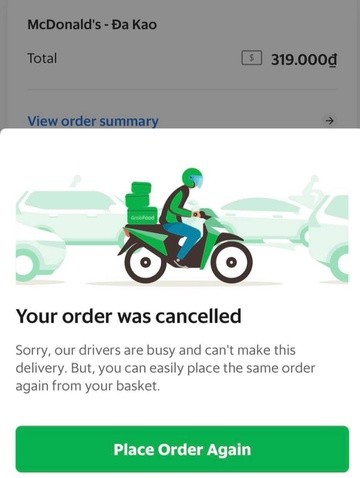 Many expats were frustrated as their orders got canceled. Photo courtesy of Daniel V/ via Zing News
Daniel V., from Thu Duc City, shares the same experience. Knowing his favorite restaurant reopens shipping orders, he found a delivery person to go get him the food. The expat even asked his neighbor to call the shipper in his stead, fearing the shipper might hang up on a foreigner and cancel the order.
"Shipping cost is three times more expensive than normal. But I don't care," Daniel said.
He finally got his order after two hours of waiting. However, the expat said he would never order takeaway during the social distancing again.
"It's not that we want to cancel the order. We have to wait in front of the restaurant and drive nearly 7 km and just paid over US$ 1," a shipper in HCMC explained why it's hard for many customers to find shippers.
Meanwhile, some expats said they were so frustrated they couldn't order takeaways as they couldn't communicate with shippers in Vietnamese. Hugo Blin, a French national in HCMC, is a case in point.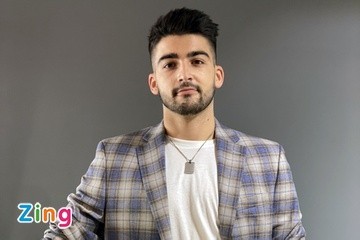 Hugo Blin. Photo courtesy of Hugo Blin/ via Zing
Hugo was reportedly determined to learn Vietnamese to better converse with drivers and restaurants during the citywide social distancing in HCMC.
Hugo has been learning Vietnamese in the past couple months but only taken it seriously starting in August when he had more free time at home.
"I want to learn Vietnamese to be able to communicate with local people, especially to facilitate communication with business partners," Hugo told Zing News. "I barely understood what they said, sometimes I felt lost and very awkward."
What's more, the expat said, he couldn't place orders on food when the city only allowed shipping during its stay-at-home order.
"I called to stores to order meat and several Western dishes. But the other side kept hanging up because I didn't speak in Vietnamese. I felt very disappointed," he said.
Such inconvenience has prompted Hugo to start to learn Vietnamese. He reportedly first joined an international online site where other users guided him on how to write and speak in Vietnamese the content he gives. He then imitated and repeated the Vietnamese phrases or sentences.
The French national later switched to offline learning as he found online lessons weren't effective.
Hugo has earlier learned several vocabs about Vietnamese foods, such as iced milk coffee, pho, bread, iced tea, but didn't have the opportunity to practice these words. The expat is looking forward to the day HCMC resumes normal activities so that he can confidently walk in a restaurant and order his favorite dishes in Vietnamese.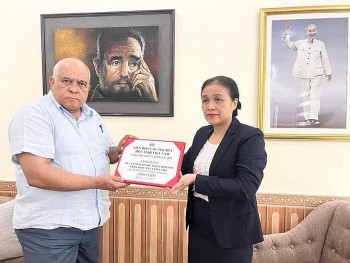 Focus
According to Cuba's News Agency Prensa Latina, on August 16, President of Vietnam Union of Friendship Organizations Nguyen Phuong Nga said that Vietnamese people will always stand by and support Cuba no matter what difficulties our friend is facing.