Foreigners entering Vietnam can be quarantined at hotels
Foreigners entering Vietnam can be quarantined for "an appropriate number of days" in lodgings like hotels, said a new proposal.
The proposal would apply to officials with official or diplomatic passports, international organizations, experts, managers, high-skilled workers, investors, and their family members. The proposal has not yet been extended for foreign tourists at this moment, VNExpress reported.
"Right now, the demand of experts, businesses, and investors to come to Vietnam for surveillance purposes is high," Mai Tien Dung, Chairman of the Government Office, said at a Thursday meeting regarding quarantine extensions for foreigners and Vietnamese entering the country.
He noted that Prime Minister Nguyen Xuan Phuc's instruction calls for a step-by-step resumption of international flight routes, ensuring that the process is neither too lax nor too strict to hinder development opportunities.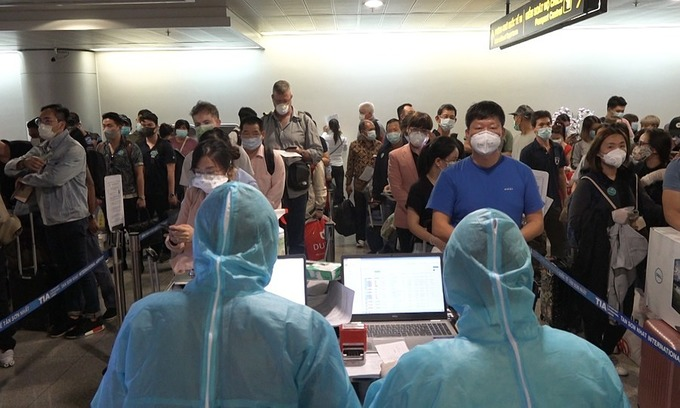 Arrivals make health declarations at Tan Son Nhat Airport in HCMC, March 13, 2020.
Photo: VnExpress/Tuan Viet.
Specifically, for about three days prior to getting on planes to fly to Vietnam, passengers would need to test negative for the novel coronavirus at their embarkation points.
Upon arriving in Vietnam, they would be quarantined in accommodations like hotels and resorts for a period deemed appropriate. During this quarantine period, they would be tested twice. If both test results are negative for the novel coronavirus, they would be allowed to self-monitor themselves at home. They would have to pay for the tests and quarantine fees. People entering Vietnam after transiting through a third country would have to be quarantined in centralized facilities for 14 days.
Dung also stressed that once international flight routes are reopened, the influx of passengers entering Hanoi and HCMC would be high, so the two cities need to increase the number of quarantine accommodations and make sure that quarantine fees are transparent and made public. Accommodations will be requested to offer discounts, provide good services, and take effective measures against the spread of the novel coronavirus.
Vietnam requires seven-day centralized quarantine for foreigners after resuming international flights
Some foreigners entering Vietnam on commercial flights resumed this month will be required to stay at the centralized quarantine centers from five to seven days, according to VNExpress.
Vietnam is expected to resume commercial flights from Hanoi and Ho Chi Minh City to Guangzhou, Japan, South Korea, and Taiwan from September 15, and Laos and Cambodia starting September 22.
Vietnam expects to receive around 20,000 passengers entering the country each month, Government Office Chief Mai Tien Dung said at a meeting Friday.
Passengers would include Vietnamese citizens, foreigners carrying diplomatic and official passports, experts, managers, high-skilled workers, investors, and their family members. The flights are not opened to tourists yet.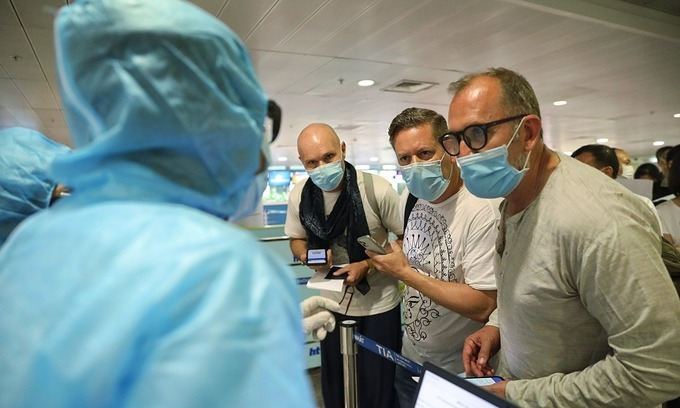 Three American men undergo immigration procedures at Tan Son Nhat Airport, Ho Chi Minh City, March 17, 2020. Photo by VnExpress/Huu Khoa.
Under the Transport Ministry's proposal, there would be two weekly round trips on the HCMC-Guangzhou route, two weekly services on the Hanoi-Tokyo and HCMC-Tokyo routes as well as four trips from Hanoi and HCMC to Seoul, and four weekly trips to Taipei.
Dung said passengers must furnish a certificate showing they tested negative for the novel coronavirus within five days before boarding the flight. Upon landing in Vietnam, they would have to undergo centralized quarantine from five to seven days and would be tested for Covid-19 twice using the real-time reverse transcription-polymerase chain reaction (RT-PCR).
During their stay, passengers will be required to install Bluezone, a Bluetooth-based app that helps determine if a person has come into close contact with a Covid-19 patient.
Those reporting negative results would remain at home or their place of work until they complete the 14-day quarantine period as per health ministry protocol under the supervision of local authorities. Those showing signs of infection will have to continue the centralized quarantine.
At the meeting, Prime Minister Nguyen Xuan Phuc said Vietnam had brought the second outbreak of the Covid-19 pandemic under control since the country has gone through eight clean days without new domestic infections.
"It must be ensured that foreign arrivals cause no new outbreaks," Phuc stressed.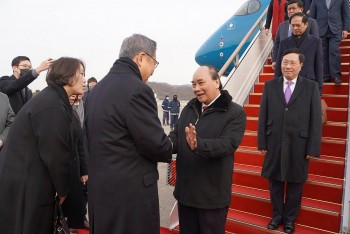 National
Vietnam News Today (Dec. 5): Additional 204 Covid-19 cases recorded on December 4; State President warmly welcomed in Seoul on RoK visit; Vietnam, Venezuela boast potential for fishery cooperation; Northerners feel chill as cold wave intensifies.