Hoi An among world's cheapest travel destinations
Hoi An town in Central Vietnam finishes eighth on this year's annual list of 10 cheapest tourist destinations in the world.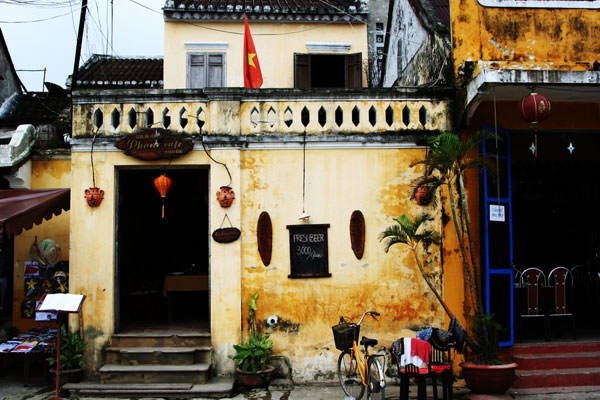 A corner in Hoi An ancient town (Photo: Vietnam Guide)
The ancient town in Quang Nam Province and Bali in Indonesia are the only two Southeast Asian destinations to break into the top 10, with the latter standing in fourth position, according to the annual Holiday Money report released by the Post Office, the U.K.'s leading currency exchange agency.
As reported by VNE, the ranking is based on the minimum required budget for eight staple items that holidaymakers are likely to purchase – a cup of coffee, a pint of beer, a can/bottle of Coca-Cola, a bottle of water, sun cream, insect repellent, and a three-course dinner for two with a bottle of wine at 46 tourist destinations worldwide.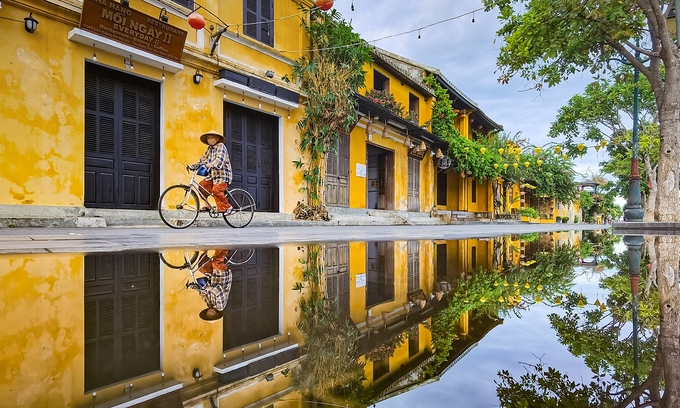 A woman rides past yellow walls in Hoi An ancient town, central Vietnam, 2020. (Photo: VNE)
According to the report, the average cost in Hoi An is £58.39 ($80.51) per day, which is more expensive than the famous resort island of Bali at £55.01 ($75.89).
In Hoi An, a can/bottle of beer at a resort would cost around £2.85 ($3.93), and a cup of coffee, £0.71 ($0.97), the report said. A romantic dinner for two - a three-course evening meal, including a bottle of house wine, would cost tourists around £34.37 ($75.9) while a glass of wine would cost £2.6 ($3.58).
Sunny Beach in Bulgaria topped the lowest cost destination ranking, with an average daily cost of just £27.71 ($38.22). Turkey's Marmaris was the second cheapest tourist destination at £37.19 ($51.33).
Hoi An, much loved for its peaceful atmosphere and its centuries-old houses, pagodas and even its unique cuisine, has repeatedly featured in best-value destination lists.
Earlier last May, the US-based prestigious travel magazine Travel Leisure ranked Hoi An city the third most wonderful city across the globe in 2020.
The ranking is the result of the annual survey of readers' travel experiences in the cities they've been to. The vote is based on the following criteria: scenery, vision, culture, cuisine, locals' friendliness, shopping, and mutual values.
(Photo: Thanh Nien)
By ranking, Hoi An stands in third place after the two cities of Mexico.
What draws readers to what one called "a little gem of a place"? For some, it's the shopping: "You can have anything made to order." For others, it's the food. "The best in Vietnam, with amazing vegetarian and vegan options," wrote one fan. It doesn't hurt that Hoi An is so accessible either. "It's great that the inner part of the city is restricted and cars aren't allowed, so one can walk down the center of the street to the shops and markets," explained one reader. "The city has a nice atmosphere, being right on a river", Travel+Leisure wrote.
The ancient city has earlier hold constant title as an attractive destination voted by the Travel+Leisure magazine itself.
In 2019, Hoi An was granted the first spot as the most wonderful city worldwide, with Mexico's San Miguel de Allende, Thailand's Chiang Mai, Mexico's Mexico City coming close.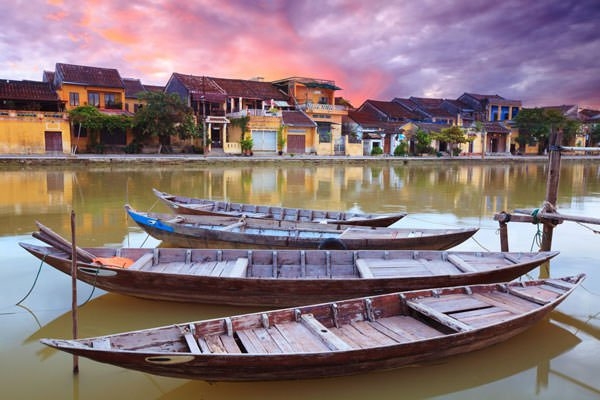 (Photo: Vietnam Guide)
More about Hoi An ancient town
Hoi An Ancient town is located in Viet Nam's central Quang Nam Province, on the north bank near the mouth of the Thu Bon River. The inscribed property comprises 30 ha and it has a buffer zone of 280 ha. It is an exceptionally well-preserved example of a small-scale trading port active the 15th to 19th centuries which traded widely, both with the countries of Southeast and East Asia and with the rest of the world. Its decline in the later 19th century ensured that it has retained its traditional urban tissue to a remarkable degree, according to WHC UNESCO.
The town reflects a fusion of indigenous and foreign cultures (principally Chinese and Japanese with later European influences) that combined to produce this unique survival.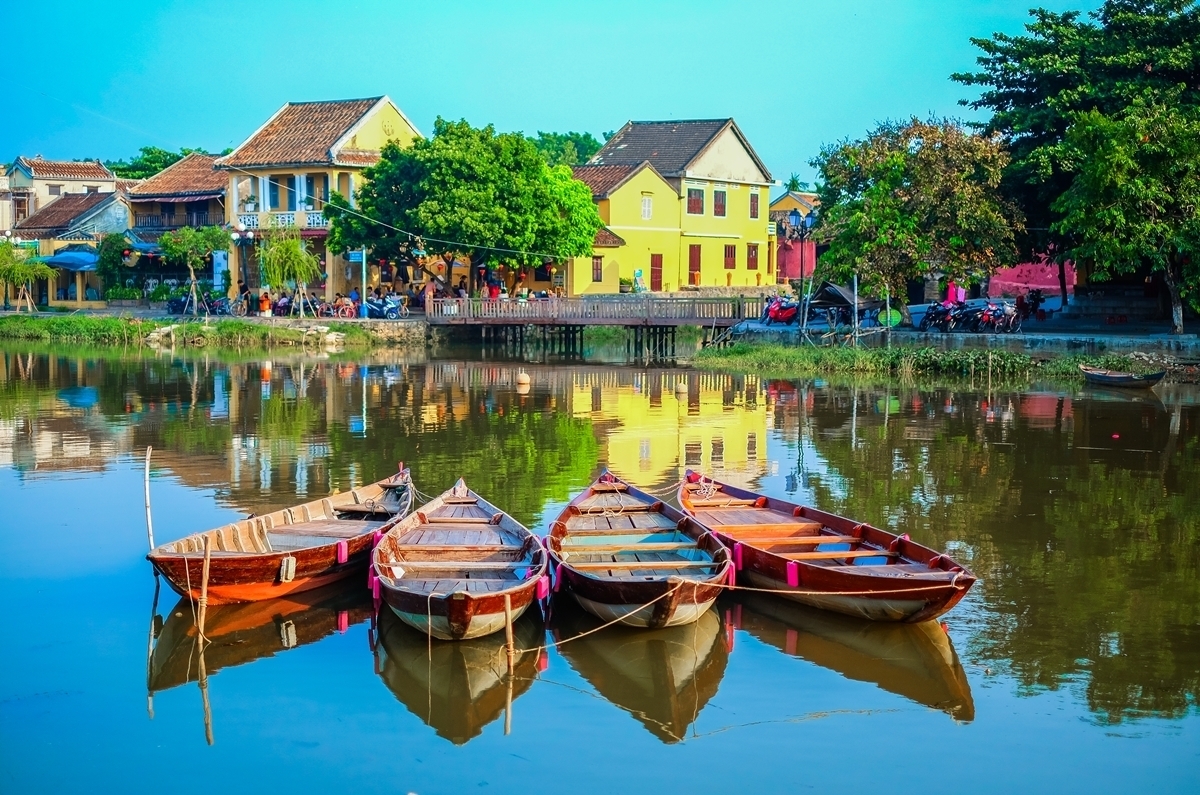 (Photo: VNE)
The town comprises a well-preserved complex of 1,107 timber frame buildings, with brick or wooden walls, which include architectural monuments, commercial and domestic vernacular structures, notably an open market and a ferry quay, and religious buildings such as pagodas and family cult houses.
The houses are tiled and the wooden components are carved with traditional motifs. They are arranged side-by-side in tight, unbroken rows along narrow pedestrian streets. There is also the fine wooden Japanese bridge, with a pagoda on it, dating from the 18th century. The original street plan, which developed as the town became a port, remains. It comprises a grid of streets with one axis parallel to the river and the other axis of streets and alleys set at right angles to it. Typically, the buildings front the streets for convenient customer access while the backs of the buildings open to the river allowing easy loading and off-loading of goods from boats.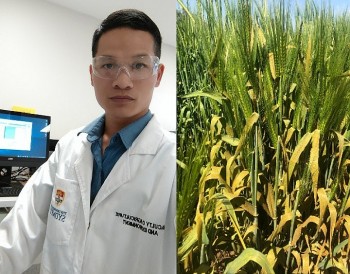 Overseas Vietnamese
The finding by Vietnamese PhD student Dinh Xuan Hoan is considered great advancement in the fight against rust disease, which decreases global food production by at least 10 percent.