Hot Spring Infinity Pool Overlooking Volcanic Mountains for Retreat Holiday Trip
Grutas Tolantongo Hot Springs, located in the Mezquital Valley, State of Hidalgo in Mexico, is a beautiful and relaxing destination that attracts many tourists this holiday season.
This January, check out Tolantongo - a box canyon and resort located 17 kilometres from Ixmiquilpan on Route 27 in the Mezquital Valley, State of Hidalgo in Mexico.
It is about 1.5 hours northwest of Pachuca and 198 km or three-to-four hours northwest of Mexico City. The main attraction - Las Grutas Tolantongo - are a collection of hot spring pools built into a cliff in Hidalgo.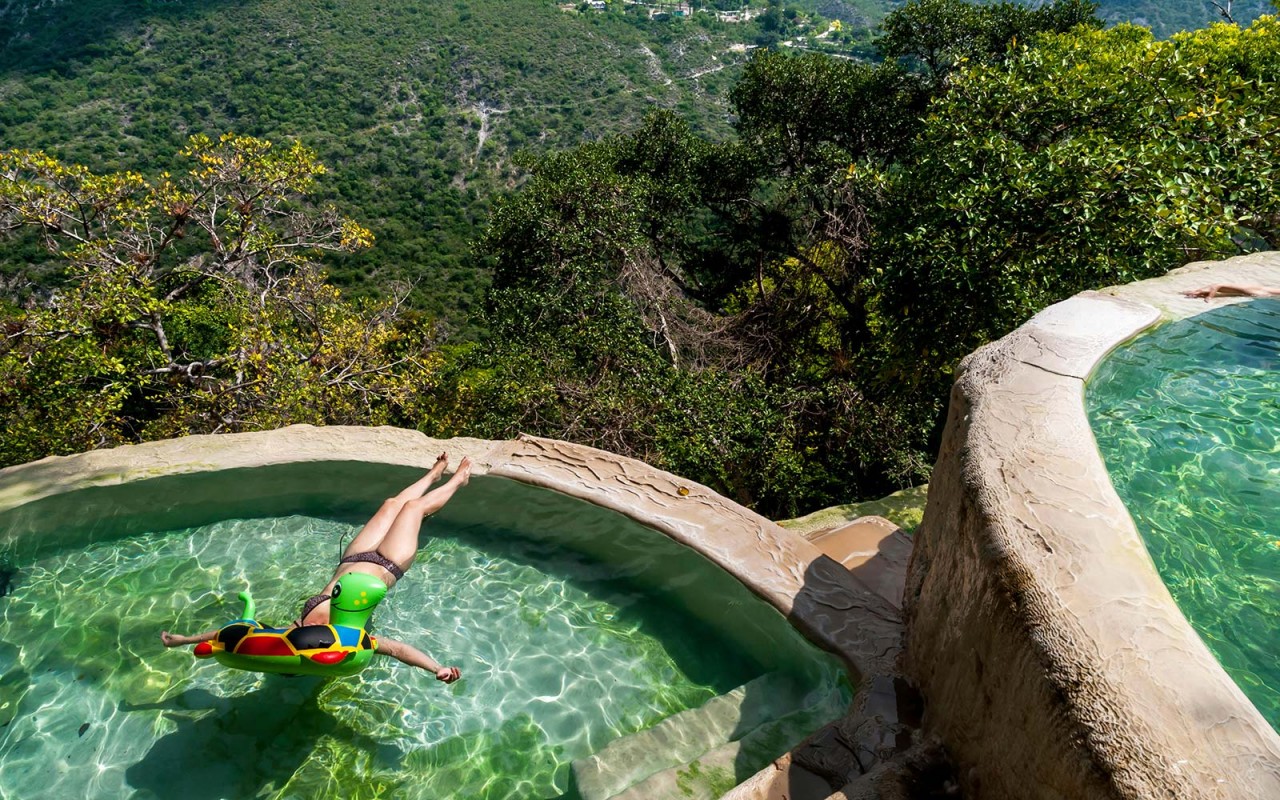 Photo: JAVIER GARCIA / ALAMY
The definition of a bucket list destination, they sit three to four hours northeast of Mexico City in a picturesque canyon.
The fun are endless with pools filled with warm, naturally mineral-infused water heated by the surrounding volcanic mountains; caves and a tunnel to explore for a dose of adventure; a hot spring river to swim in, and a kid-friendly pool with a waterslide.
Tourists walking through the tunnel at Tolantongo hot springs. By: Laura Ocean Nutting Youtube Channel.
What is Las Grutas Tolantongo?
The word gruta means cave (or grotto), and there just so happens to be one here! Tolantongo is a large site, consisting of four distinct natural areas: the pools, the river, the tunnel, and of course, the cave.
Tolantongo is a turquoise water playground. It is located in San Cristobal city, in the state of Hidalgo, which is in Central Mexico. Tolantongo grutas is way up in the mountains, at 1,280m above sea level in Mezquital Canyon.
Mezquital is what's known as a box canyon, meaning it's shorter and narrower than larger river canyons. It is surrounded by hot springs and underwater thermal pools, which heat all the waters throughout Las Grutas de Tolantongo.
There's also an onsite zip line, suspension bridge, regular swimming pools, hotels, campsites, about 10 restaurants, convenience stores, lockers, medical facilities, and more — Yes, Tolantongo is a big place!
The resort is located in a semi-desert zone, surrounded by rock formations carved by water flow and geological pressures.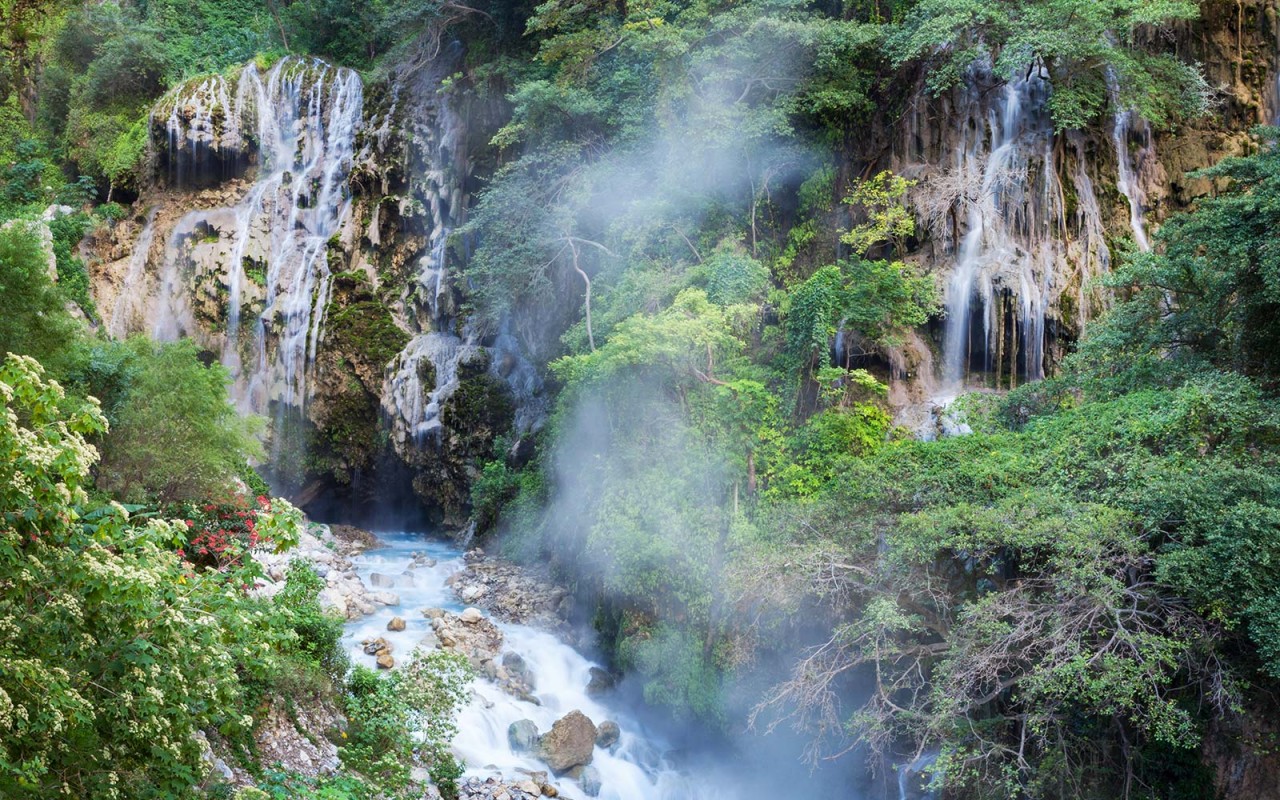 Exposed rock shows sedimentary layers that have folded. Photo: BRIAN OVERCAST / ALAMY
Rock formations and water erosion have created capricious forms that are all around this part of Hidalgo state. The high peaks in this area are often shrouded in mist.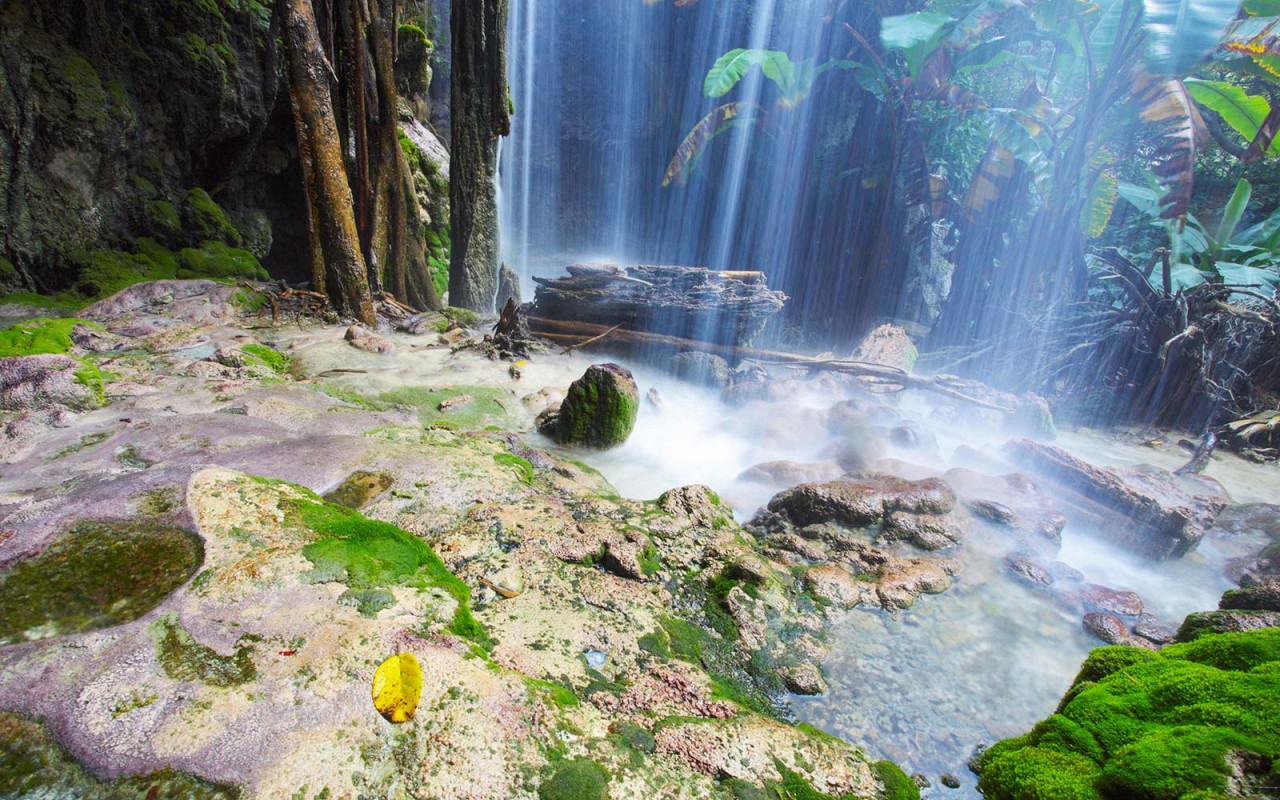 Photo: BRIAN OVERCAST / ALAMY
Animals that can be seen include raccoons, greater roadrunners, hooded skunks, white-nosed coatis and white-winged doves. Also, the area has been inhabited by various indigenous peoples such as the Otomi, the Mexica, the Toltecs and the Tepehua.
This is the ideal destination for city folks who wants to get out there and celebrate new year in a different way. To arrive at the resort Tolantongo, prepare leave the highway and travel down an unpaved road that winds its way down the side of one of the canyon walls. At the bottom of the canyon, the vegetation changes from semi-desert to semi-tropical due to the abundance of water and the humid warmth the river and falls give to the place. In some areas, the vegetation is quite exuberant.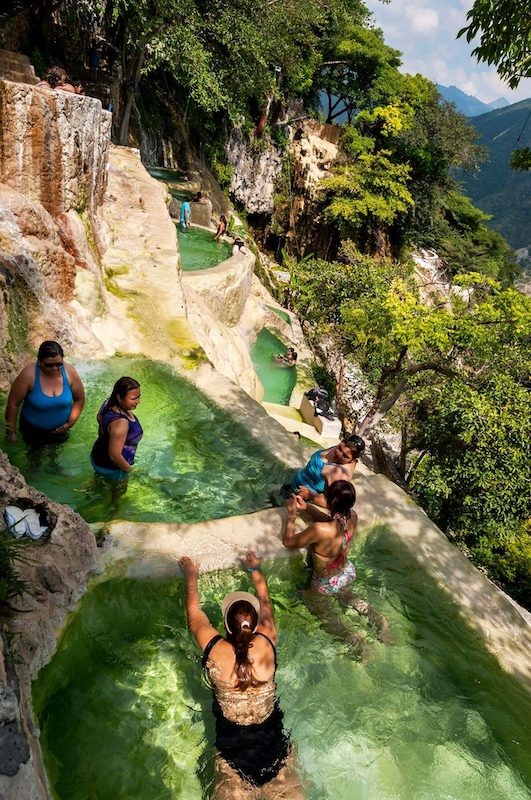 Photo: JAVIER GARCIA / ALAMY
How to get to Las Grutas Tolantongo?
To get to Tolantongo Hot Springs without a car, take a bus to Ixmiquilpan, you'll need to tell the driver to drop you off where you can get another bus to go to the collective terminal.
From there, there is a bus going every two hours to the cave (every hour on Fridays, Saturdays, and Sundays).
The first shuttle leaves at 9:30 AM and the last one at 6:30 PM. To come back from Tolantongo Caves, the first bus leaves at 7:30 AM and the last one at 5:30 PM.
If you travel by car, you can also come from Mexico City, it's a 3-hour drive, so even a day trip is an option. Otherwise, coming from Pachuca is the easiest, and there are tons of nice things to do near Pachuca.
The beauty of the area enticed a Mexican soap opera or "telenovela" to shoot a number of romantic scenes here.
Phu Quoc Awakens, Americans are Arriving

As Vietnam's international tourism slowly resumes, American expats reflect on the state of the post-Covid world from the quiet shores of an awakening Phu Quoc.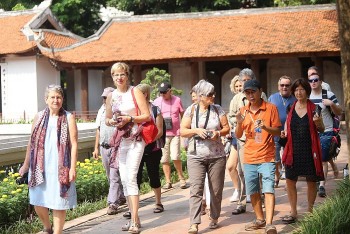 National
Vietnam News Today (May 24): Covid-19: Vietnam records 1,179 new cases, 3,862 recoveries on May 23; Foreign arrivals soar two months after border reopening; Vietnam, Cambodia boost defense ties; Heavy rain floods parts of northern Vietnam.