India weather forecast latest, November 28: Some parts witness fresh snowfall but clear conditions expected
Some areas in India has witnessed fresh snowfall which disrupted traffic on national highway 5. However, the weather is forecasted to get clear in the coming days.
According to Hindustan Times, fresh snowfall in Kufri, Narkanda, Khadapathar and Chaupal disrupted traffic on National Highway -5, Theog Hatkoti Road and Chopal Link road.
Kinnaur's Kothi village received 60 cm snow, Shimla's Khadrala 20 cm, Kalpa 17cm, and Keylong 3 cm. Prominent tourist destinations Manali and Kufri received 10 cm snowfall each . Meanwhile, Mandi received 15.3mm rain, Shimla 15.9mm, Dalhousie 12mm, Bilaspur 10.5mm, Palampur 8.6 mm, Solan 8mm, Dharamshala 7.6mm and Nahan 3.2mm.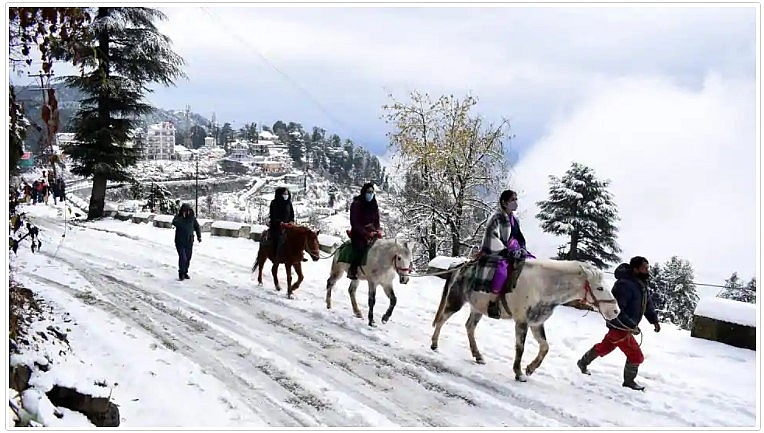 Tourists riding on snow covered roads in Kufri on Thursday. (Deepak Sansta / HT)
State meteorological department director Manmohan Singh said snowfall and rain in isolated places of the state was very likely to continue and weather will get clear from November 27. The minimum temperature in the state capital, Shimla was 2.8°C while Kufri recorded a minimum 3.9°C temperature.
Manali shivered at minus 0.9°C, while Dharamshala and Dalhousie recorded 5.2°C and 0.2°C minimum temperatures, respectively.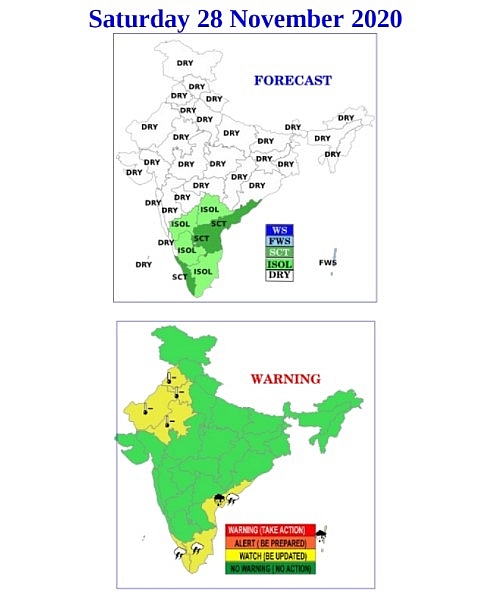 Photo: IMD
Una recorded a minimum temperature of 10°C, Solan 7.5°C, Bilaspur 10°C, Hamirpur 10.2°C, Nahan 10.3°C, Mandi 7°C and minus 0.6°C in Kalpa. Keylong was the coldest place in the state as it recorded a minimum temperature of minus 2.6°C.
According to IMD, it is predicted cold wave conditions in Delhi from November 27. "Due to the influence of a western disturbance over Afghanistan and neighbouring areas, fairly widespread rainfall and snowfall, as well as isolated hailstorms, are likely over Jammu and Kashmir, Ladakh, Gilgit-Baltistan, Muzaffarabad and Himachal Pradesh from November 25, which will result in low temperatures in Delhi as well," said Kuldeep Srivastava, head of IMD's regional weather forecasting centre.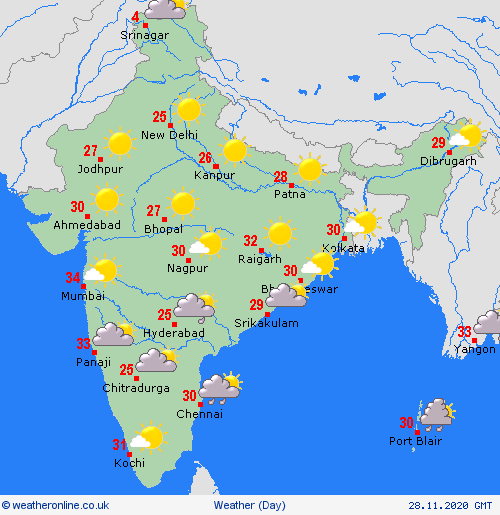 Photo: Weather Online
He said the minimum temperature is likely to remain around 6-7 degrees Celsius till November-end. "The skies will be clear again, and this will cool the surface down faster and reduce the temperature by the end of the week," said Srivastava.
According to Skymet Weather, during the next 24 hours, moderate to heavy rains are expected to continue over northern Tamil Nadu, Andhra Pradesh and Rayalaseema in India.
Light to moderate rains are likely to occur over South Interior Karnataka and South Odisha along with the rest of Tamil Nadu. Light to moderate rain is possible in Telangana. Light rain is expected at one or two places in Gangetic West Bengal, Jharkhand, Chhattisgarh, Uttar Pradesh, and Punjab.
Light to moderate rains and snowfall can still be seen in Himachal Pradesh and some parts of Uttarakhand.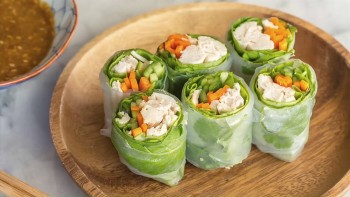 Travel
Rolls are a easy-to-make dish that is loved by many Vietnamese diners as well as Korean stars.