More Expats in Hanoi Receive Covid-19 Support
Foreigners in Hanoi's Dong Da district facing difficulties in the pandemic are getting more help from local authorities
(Video: Hanoi 1)
The Hanoi Union of Friendship Organizations (HAUFO) on Sept. 27 worked with the Vietnam Fatherland Committee of Dong Da district to hand 108 gift portions to expats in Dong Da district. The recipients were reportedly struggling due to the Covid-19 impacts.
The organization had earlier presented another 270 gift portions to needy foreigners in the city, according to Tran Thi Phuong, standing vice chairwoman of HAUFO.
"In the second phase, we have given 392 gift packages in total to foreigners in Hanoi. They are experts, teachers, PhD students, students and unemployed workers in Hanoi," Phuong told VNA. "Hopefully, our support will help the expats feel more secured and thereby, better contribute to the Covid-19 fight with Hanoi residents."
"The gifts will be a source of encouragement and affection from Vietnamese people to the foreigners," she added.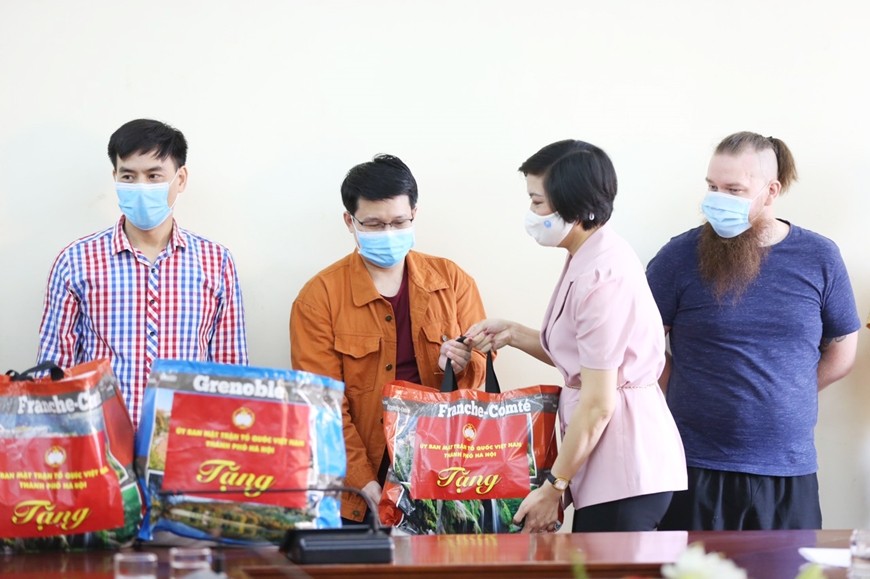 Tran Thi Phuong, standing vice chairwoman of HAUFO hands gift portions to expats. Photo: QDND
Sinhkitsalath Phitsamay, a Laotian graduate student at Hanoi Banking Academy, said the love and supports from Vietnamese people and Hanoians in particular to overseas Laotian has been a tradition in the past years. The gift portions from HAUFO are part of such warm affection.
"The Covid-19 pandemic has disrupted my life. Thanks to the policies from Hanoi and the Hanoi Union of Friendship Organizations, I can have a peace of mind to continue living and working in here," said Joel Erik Nils Ahlgren, a Swedish national who is teaching English in Hanoi.
The municipal People's Committee has so far given attentive care to expats since the Covid-19 pandemic broke out. Apart from financial supports and gift portions, authorities also set up "Zero dong market", "zero dong bus" to distribute free foodstuffs and hotline to facilitate contact.
Hanoi's Nam Tu Liem district on Sept. 11 morning also gave the coronavirus vaccine to all foreigners living in the area. The vaccination campaign is part of Hanoi's effort "not to leave anyone behind in the Covid-19 fight", which promotes international solidarity spirit.
Foreign vaccine recipients were reportedly given thorough on-site guides from volunteers, including personal information declaration, coronavirus screening, and general health check.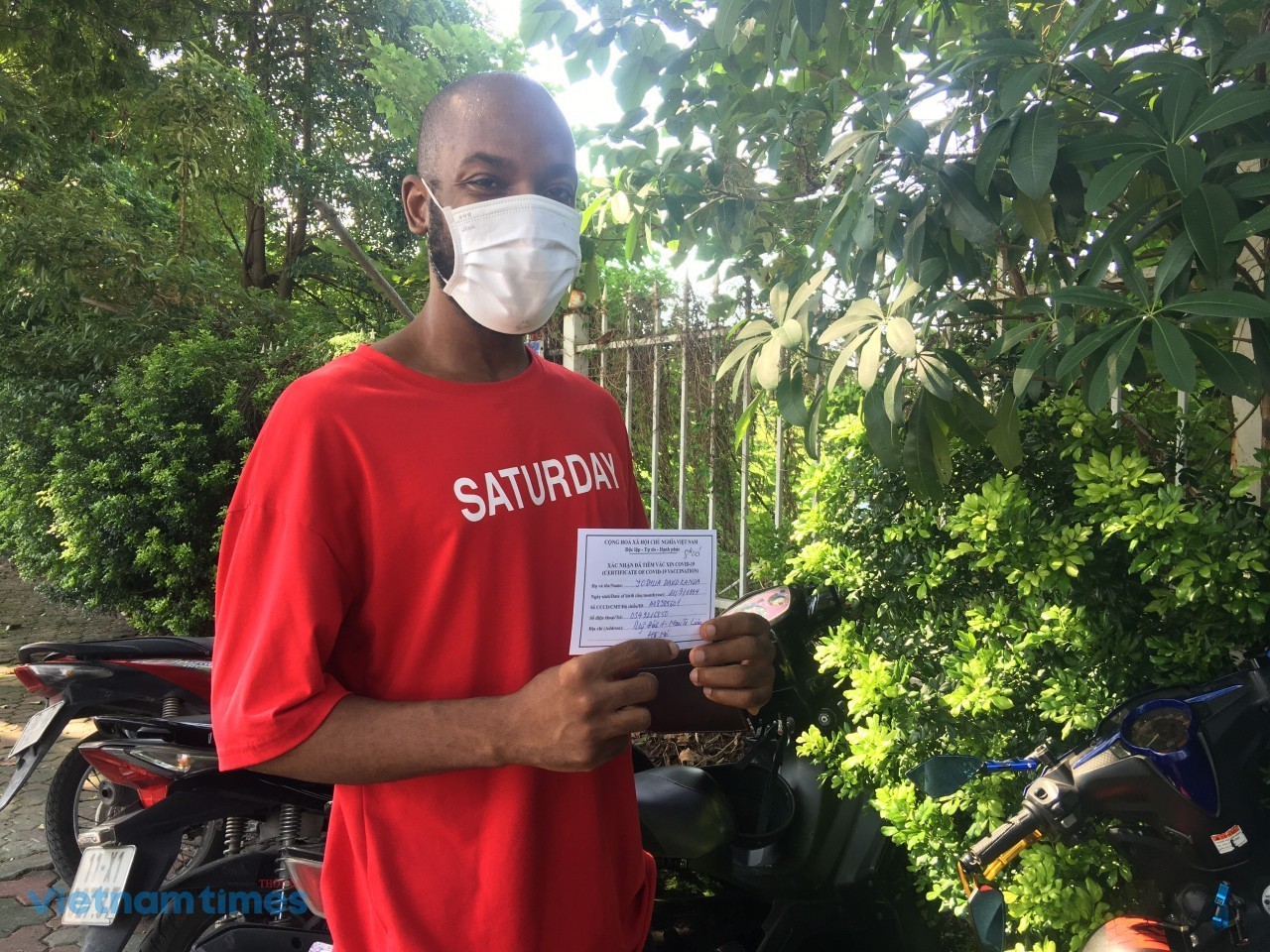 Joshua David Kanda shows his vaccination certificate. Photo: Vietnam Times
"When the whole nation is joining hands to fight the coronavirus, we expats are not left behind. Local authorities still take care of us," Joshua David Kanda, a Nigerian student at FPT Univesity, told Vietnam Times. Kanda has been living in Vietnam for 8 years.
He expressed his gratitude to Vietnam for giving him the chance to get inoculated. "Hopefully the vaccine will take effect quickly, and Vietnam will soon return to normal."
Meanwhile, Lee Hoa, a Korean expat of My Dinh 1 district, also got the vaccine Saturday morning. She said Vietnamese authorities had always given her proper care and support since the pandemic broke out.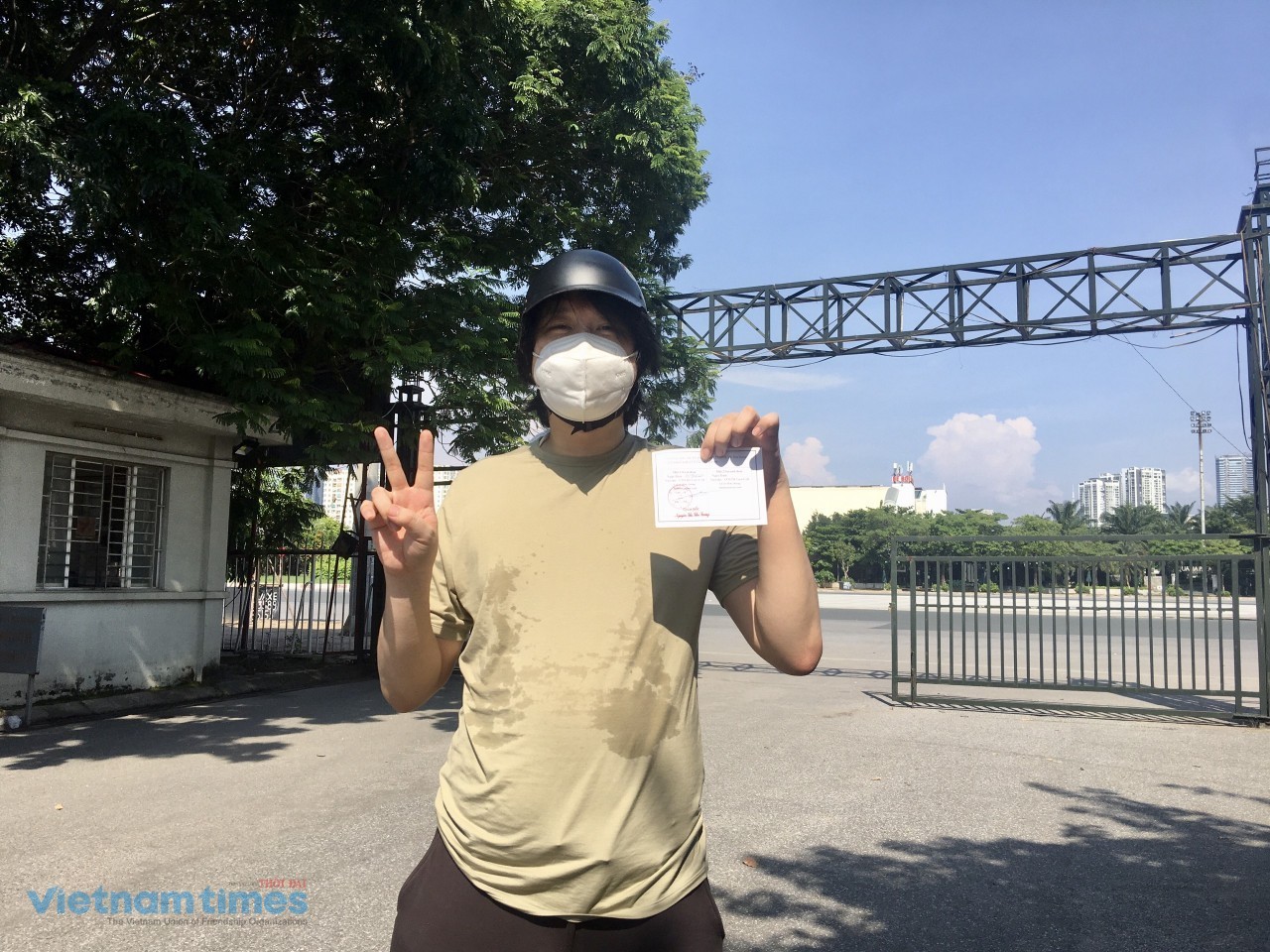 Lee Hoa looks happy after getting his first jab. Photo: Vietnam Times
Hanoi ended its two-month-long social distancing on Sept. 21 as the latest resurgence gradually abated. Starting Tuesday, the city allowed outdoor sport, physical exercises, as well as malls, fashion and cosmetic stores to resume operation. Food and beverage establishments inside malls are allowed takeaways.
The city of more than eight million people has vaccinated around 5.8 million people with one Covid-19 vaccine shot, and around a million people have been fully vaccinated.
It has recorded 4.212 infections since April 27 when the fourth outbreak began.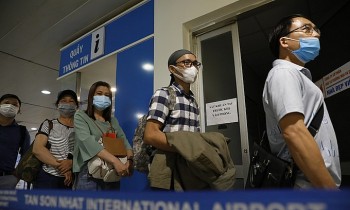 Focus
Over 55.5 million people in Vietnam have now been fully inoculated, while more than 73.8 million people have received at least one dose of Covid-19 vaccine.