Once-bedridden, British pilot coronavirus patient now can sit up and move legs by his own
The British pilot who is Vietnam's most critical ill coronavirus patient is making miraculous recovery. On the evening of June 8, he could able to sit up and swing his legs as his muscular strength continues to improve during treatment at Cho Ray Hospital in Ho Chi Minh City    
A video uploaded by Nguyen Thi Kim Tien, former Minister of Health, on Tuesday morning showed that the Briton is now able to sit on his bed and swing his legs, cited Tuoitrenews.
The Ministry of Health reported on Monday that the patient had been responding well to doctors' commands and was able to write on a board and adjust the height of his bed unassisted.
The 43-year-old pilot's heath improvement surprised experts. Assoc. Prof., Dr. Luong Ngoc Khue, Director-General of the ministry's Department of Medical Examination and Treatment, said that "For other patients, such improvement is just a normal thing, but for this patient, it is a great effort".
Earlier, the Ministry of Health considered lung transplants for the patient. However, if he continues recovering as good as now, lung transplants are just a backup plan.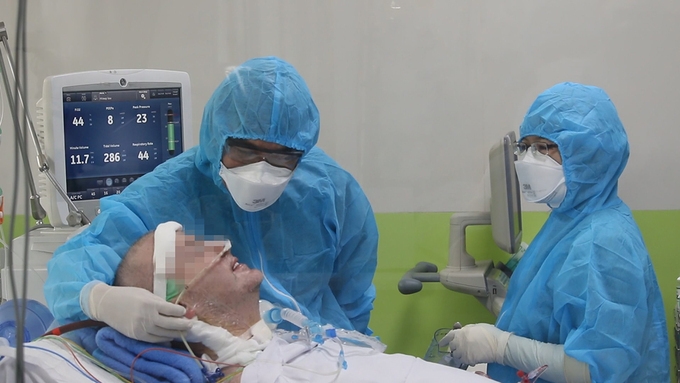 The patient is seen on June 2 at Cho Ray hospital, Ho Chi Minh city
It has been six days since doctors at Cho Ray Hospital in Ho Chi Minh City gave the green light to disconnect the Briton from ECMO after having used the machine to provide him with cardiac and respiratory support outside the body for 57 days.
He is now fully consicous, while the musclar strength of his arms and legs has gradually improved with the help of physical therapy that he has been getting twice a day.
The patient has also tested negative for a type of bacteria that had previously caused his lung infection.
His renal function has been recovering since May 27.
He is now cleared of the novel coronavirus.
The 43-year-old pilot, hospitalized on March 18 is the most severe case in Vietnam so far.
The patient, who weighs 100 kg and 1.83 meters tall, is obese with a body mass index (BMI) of 30.1. He suffers from a blood clotting disorder and cytokine storm syndrome, an intense immune response where the immune system releases a lot of cytokines through the bloodstream which works against the body.
More than two months he was on life support. Vietnamese doctors are taking extraordinary measures to keep him alive, including more than 60 people who have volunteered as lung donors to save his life. Until now, Vietnam has spent about VND5 billion ($215,000) in this case since the patient claims he has no relatives in Vietnam.
The patient is now reportedly fully conscious, smiling, and talking to doctors at Cho Ray Hospital in Ho Chi Minh City in southern Vietnam.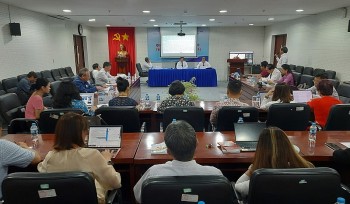 Friendship
The Vietnam - India Friendship Association's Ho Chi Minh City branch, the Ho Chi Minh City Union of Friendship Organizations (HUFO) and the Southern Institute of Social Sciences on March 21 held a scientific seminar themed "Vietnam - India relationship: tradition and present".