Plane cancels landing as dog "breaks into" airport
A flight taking off from HCMC has to put off landing at Tho Xuan airport over safety fear as the aviation security is trying to catch a dog "invading" inside the airport.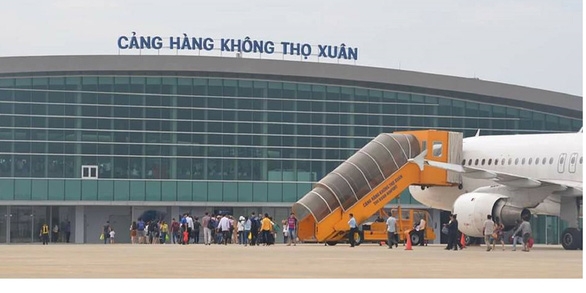 The plane had to halt landing for about 10 mins over safety concerns (Photo: ACV)
The rare incident took place at Tho Xuan airport, Thanh Hoa province on January 19 afternoon. The security force was reportedly guarding at Flight Zone 26 when they spotted a dog at apron No. 6.
The sudden appearance of the dog immediately caught attention. A supporting crew, including the Aviation security force and Tho Xuan airport's Air Traffic Control, was dispatched to catch the stray dog.
The dog ran towards the head of Runway No. 31 upon detecting being chased after. At the time, a flight taking off from Tan Son Nhat International airport about to land at Tho Xuan airport had to halt landing and changed to waiting mode.
The security forces managed to round up the dog within 10 minutes. At 15h14, the plane safely landed. Tho Xuan airport's security force later had organized an inspection and checked the system of security fences, door gates, and sealed the hole to avoid a similar incident, according to Tuoi Tre.
The aviation industry's regulations mandate security forces to be in charge of catching stray animals wandering on runways, taxiways, aprons, in a bid to ensure flights' safety upon landing or taking off. Animals, like cats and dogs, might be sucked into a plane's engine if the proximity is too close. Thus, the aviation industry stipulates to regularly check the surface of the runway, taxiway, and apron to ensure that there are no foreign objects or animals entering the airport, affecting flight safety.
Russia -Vietnam flight route re-operated

Russian authorities have recently allowed to re-open flight routes between Moscow and Hanoi, Helsinki, New Delhi, and Doha as those locations meet epidemiological standards.
Overseas Vietnamese
Vice President Vo Thi Anh Xuan had meetings with several Thai leaders and high-ranking officials within the framework of her visit to Thailand to attend the Global Summit of Women (GSW) 2022.