Stock Market Today: Tumbled as Warren Buffett sells all his stakes in US airlines
Stock Market Today:
 US stocks tumbled as Warren Buffett sells all his stakes in US airlines. Will the U.S. stock market retest bear-market lows put in on March 23? That is perhaps the most prevalent question on Wall Street.
Stock Market - "last chance to sell" before the crash?
As the US Presidet Donald Trump threats to slap new tariffs on China over coronavirus crisis and the pandemic situation goes unprecedentedly, markets continue to fight old, familiar battles as investors try to handicap an unusually wide range of plausible economic outcomes, CNBC reported.
The US' outlet the S&P 500′s powerful rebound rally was thwarted last week right in the zone of important prior peaks; the market continues to struggle with dependence on a handful of dominant, richly priced growth stocks; and equities remain tethered to the credit markets, with bond investors deciding how long the leash.
Last Wednesday, the S&P hustled to a high of 2939, traders seizing on any hints of progress against Covid-19 and celebrating government financial support that together could cushion the lockdown's impact and shorten its duration.
That S&P level, just above 2930, was almost exactly where the S&P crested in September 2018, preceding the nasty 20% recession-scare decline and effectively capping the market for the next ten months. By Friday, the index had slipped back below 2872, which was the euphoric top from January 2018, as Wall Street celebrated the big corporate tax cut just passed.
There is no deep, inherent significance in these familiar index values, no magic market muscle memory that flexes as they are revisited. Though in this case, the level was right where the index regained just more than 60% of its total losses, often an area where rallies pause or reverse.
Today, the outlook is foggy, 2020 will see a steep drop in profits and investors are reduced to penciling in some range of 2021 profitability after a retrenchment of undetermined depth and duration. So, it's perhaps no wonder the market didn't manage to push above those old levels on the first trip.
The coronavirus pandemic has led to airline stocks becoming deeply impacted by the near collapse of US travel demand as countries across the world remain in lockdown. US airlines have cut hundreds of thousands of flights and parked their planes as the demand for US travel falls by around 95%.
There is currently no clear timetable for when travel will return to pre-crisis levels.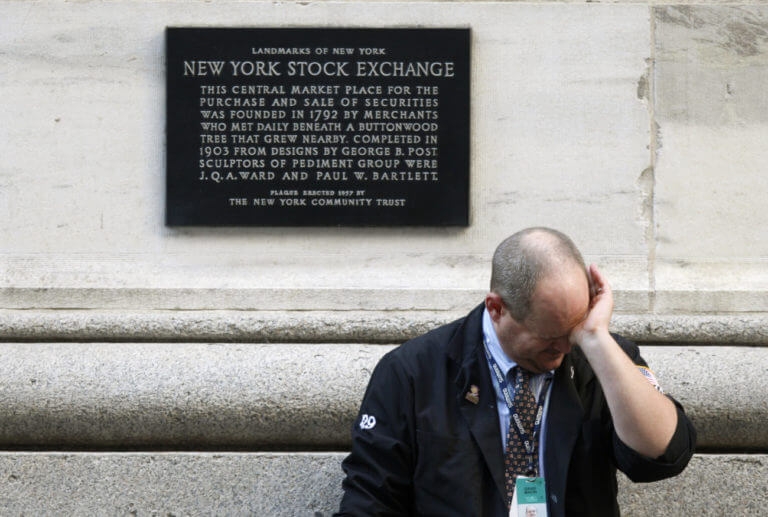 Smith believes that the stock market picture looks eerily similar to the 1930 "relief rally" that followed the initial wave of the "Black Monday" crash. | Source: REUTERS/Mike Segar
Hedge fund manager Kevin Smith is extremely bearish on the stock market, and he says this may be your "last chance to sell" before the crash, CCN cited.
The stock market may be flashing some ridiculously bullish signals, but hedge fund bear Kevin Smith is sticking by his prediction that the Dow and S&P 500 are on the verge of a Great Depression-level crash.
According to CCN, Smith believes that the stock market picture looks eerily similar to the 1930 "relief rally" that followed the initial wave of the "Black Monday" crash.
After the Dow Jones Industrial Average fell as low as 198.69 in 1929, the stock market appeared to snap back relatively quickly. It closed the year at 248.48 – more than 25% off its lows, and it rose another 18% as the rally stretched into 1930.
But the gains were short-lived. The Dow plunged nearly 50% from its highs by the end of the year.
It ultimately became clear that the 1929 crash was the beginning of a devastating bear market that ultimately wiped 89% off the Dow, which bottomed out at 41.22 roughly three years later.
Last month, Berkshire Hathaway of Warren Buffett disclosed it had sold about 18% of its Delta stake and 4% of its Southwest shares.

Buffett said Berkshire had made the mistake of investing in around $7bn (£5.5bn) or $8bn (£6.3bn) amassing stakes in the four airlines including American Airlines Group Inc.

He said: "We did not take out anything like $7bn or $8bn and that was my mistake.
US stocks tumbled, experts warn of "weakest year"
Wall Street stocks tumbled Friday following disappointing results from Amazon, Exxon Mobil and other firms amid worries over increased US-China tensions over blame for the coronavirus. At close, the Dow Jones Industrial Average was down 2.5 per cent or more than 600 points at 23,728, while the broadbased S&P500 shed 2.8 per cent to 2,831 and the tech-rich Nasdaq fell 3.2 per cent to 8,604, according to Indian's Economic Times.
Downgrades to the global outlook keep rolling in and money markets now see three Federal Reserve interest-rate cuts this year. Bank of America predicted that the global economy will see its weakest year since the financial crisis as the virus damages demand in China and beyond, CNBC reported.
Warren Buffett leaves airline stock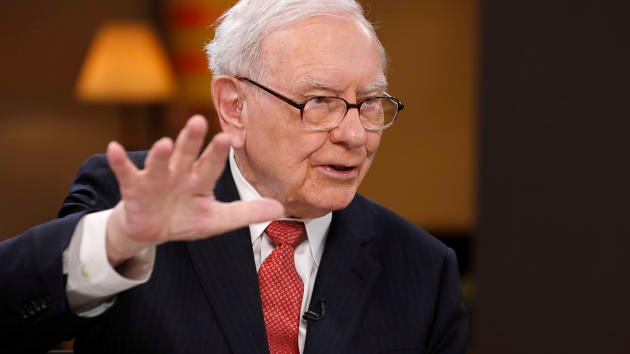 Warren Buffett David A. Grogan | CNBC
According to Axios, Warren Buffett, CEO of Berkshire Hathaway, told shareholders on Saturday that he sold $6 billion in airline stock —the company's entire equity position in U.S. airlines.
The move followed a crash on US airline stock when American Airlines and United Airlines reported first-quarter net losses of $2.2 billion and $1.7 billion on Thursday, as the industry reels from dwindling air travel caused by the coronavirus pandemic.
Buffett's company had bought 10% of the four largest airlines — Delta, United, American, and Southwest — he said.
The Axios cited Buffett as saying: "The airline business, and I may be wrong and I hope I'm wrong, I think it changed in a very major way and it's obviously changed in the fact that their four companies are each going to borrow perhaps average of at least 10 or 12 billion each," he said on Saturday.
Speaking at the company's annual meeting, Warren Buffett said "the world has changed" for the aviation industry due to the global pandemic.

He also revealed he made the wrong decision in investing billions of dollars in the aviation industry. Berkshire Hathaway, a multinational conglomerate based in Nebraska, had held sizeable positions in the airlines.

According to the company's filings, it had an 11% stake in Delta Air Lines, 10% of American Airlines Co, 10% of Southwest Airlines Co and 9% of United Airlines at the end of 2019.
Dow Jones Futures Today
Dow Jones futures won't begin trading until 6 p.m. ET, along with S&P 500 futures and Nasdaq 100 futures. Overnight volatility has cooled somewhat during the coronavirus stock market rally after wild action during the market crash. But big gains and losses are not unusual.
The prospect of early morning Trump tariff tweets, along with earnings season and general Covid-19 news raise the prospect of whipsaw action from dusk til dawn.
In other news, Warren Buffett sold his airline holdings, with Berkshire Hathaway disclosign Saturday that it has dumped all shares of American Airlines, Delta Air Lines, United Airlines and Southwest Airlines.
Remember that overnight action in Dow futures and elsewhere doesn't necessarily translate into actual trading in the next regular stock market session.
Apple Stock
Apple stock cleared a 288.35 cup-with-handle buy point on Thursday. Following Apple earnings that night, AAPL stock rose intraday Friday but closed slightly lower, at 289.07. The RS line for Apple stock is just below record highs on a daily chart, but is at highs on a weekly chart. That's why it's a Blue Dot special, with the blue dot on the relative strength line.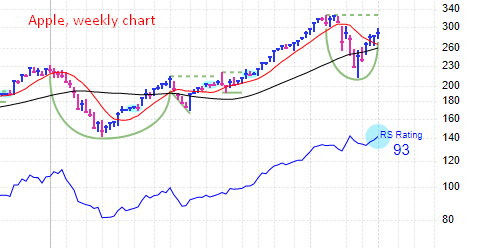 ServiceNow Stock
ServiceNow stock jumped 12% last week to 339.51. Most of that gain came Thursday, on strong ServiceNow earnings, nearly hitting a record high. NOW stock retreated modestly Friday, but its RS line still hit new highs intraday on daily and weekly charts. ServiceNow stock is near a 363.05 buy point from a cup base. A handle would help shake out weak holders, but would only slightly lower the entry price.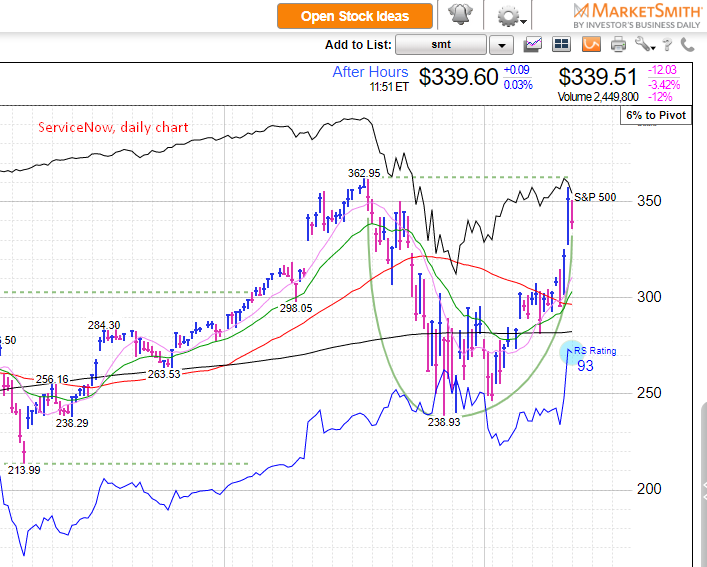 Facebook Stock
Facebook stock gapped just above a downward-sloping trend line after earnings last week. An aggressive investor could have used that as an early entry for FB stock, though it dipped just below the trend line on Friday. For now, Facebook stock has a 224.30 cup-base buy point, but perhaps it could form a handle around its current level
PayPal Stock
The clear leader in the payments space. PayPal stock has a cup base with a 124.55 buy point. PYPL stock nearly hit that entry last week but pulled back. It could be working on a handle, but it wouldn't be valid until Wednesday's close.
PayPal earnings are late Wednesday. Analysts expect PayPal earnings to fall 4% to 75 cents a share, with revenue up 15% to $4.74 billion.
Datadog Stock
IPO stock Datadog has a 50.22 entry from a deep cup base, DDOG stock is 10% below its old high.. But the RS line for Datadog stock is already at a record high. DDOG crossed a downward-sloping trend line last week, offering an early entry for aggressive investors.
After six straight weekly gains, a Datadog stock pullback would be normal. That could offer a chance to build a handle, offering a lower, official buy point for DDOG stock.
Datadog runs a cloud-based monitoring and analytics platform for software developers and IT departments.
Datadog is now sporadically profitable. Analysts expect slim losses for 2020 and 2021, but the IPO stock only needs to beat views slightly to report profits. Datadog will release Q1 results on May 11.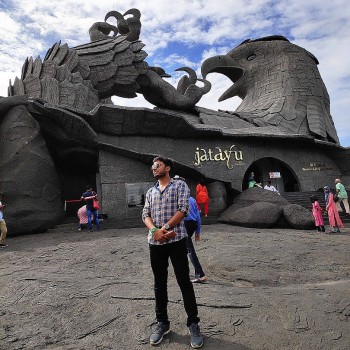 World
The world's largest bird sculpture in India took artists 10 years to complete