The British Embassy Hanoi recently posted a notice on its Facebook fanpage UK in Vietnam about travel advice for British citizens.
Vietnam Times would like to keep you updated the full guidance:
Local measures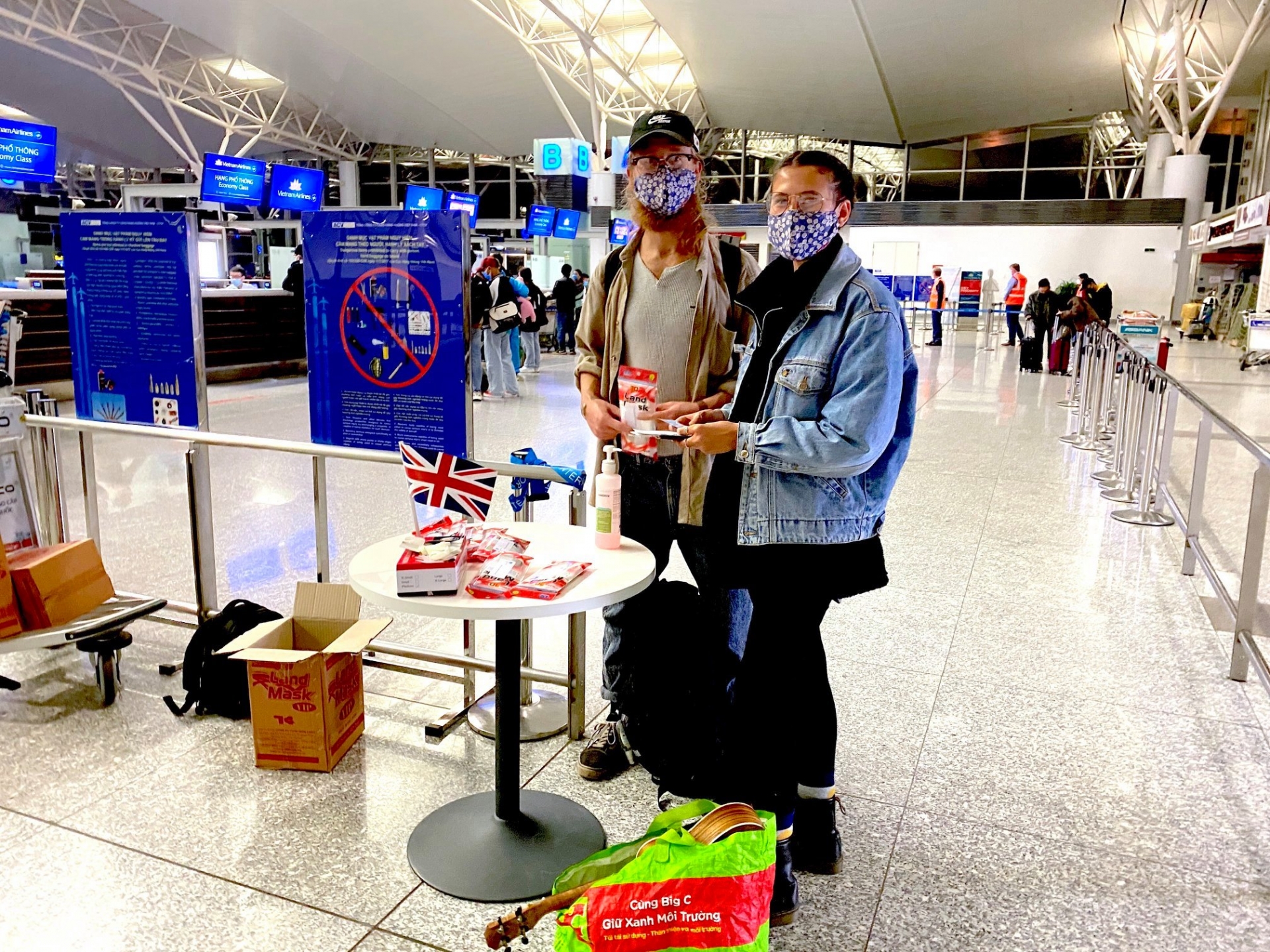 British tourists return to UK on the special commercial flight organized by the British Embassy Hanoi, British Consulate General HCMC and British Embassy Phnom Penh, in partnership with the Irish Embassy in Vietnam on April 14. Photo: UK in Vietnam
On 22 April Vietnamese authorities announced plans for a phased relaxation of the social distancing measures. There may be some variation of relaxation of social distancing measures between cities and provinces and also within parts of some cities. The changes will see a gradual lifting of the strict social distancing policies and shops and services will re-open and re-start.
However, the basic principles of social distancing will remain in place. Large gatherings are not allowed inside or outside buildings. Festivals, sporting events, religious and major cultural activities remain suspended. People are still required to wear masks in public and maintain a distance of 2 metres between individuals in public places. Internal flights will increase in number but will remain significantly below pre-COVID-19 levels. Taxis and buses will restrict the number of people allowed to travel in one vehicle.
British nationals should be alert to local variations, take a precautionary approach, and be ready to comply with local authorities.
International flights
The only remaining international flight option of departure from Vietnam is via South Korea by Korean Air from Ho Chi Minh City (not 25-29 April), and Asiana Airlines from Hanoi and from Ho Chi Minh City, with onward flights to the UK from Incheon by Korean Air. Please note that flight frequency may change with little notice. Please check with the airlines and/or travel agents for up to date information.
Visas
Vietnam will not require people to extend their visas between 1 and 30 April. We (British Embassy Hanoi) will not be able to assist British nationals with individual visa applications should they not wish to return to the UK. Overstaying your Vietnamese visa without authority is a serious matter and you may be delayed from travel until a fine is paid. Check the visa validity and conditions carefully and refer to our Information Note on Visa/Work Permit Extensions (http://ow.ly/AKgc50zl2AL) for more details.
Quarantine
If you come in to contact with someone who has tested positive for coronavirus you must expect to undergo quarantine in a government centre. It lasts a minimum of 14 days and longer if you test positive at any point. In addition, if you test positive, you will be treated in a Vietnamese hospital, following which you will be expected to undertake a period of self-isolation. You should expect to be tested at least 5 times prior to release, and will be required to produce 3 consecutive negative tests during quarantine and a further two consecutive negative tests during self-isolation. Once you have completed quarantine and self-isolation you should receive a document specifying this. Please retain this as you may need to present it customs/airport officials when you leave Vietnam.
Vietnam's quarantine requirements are mandated by the Vietnamese Ministry of Health. The British Embassy and Consulate General are unable to intervene in having these requirements waived, shortened, or changed. Violations carry strict penalties. Should you have serious reservations about undertaking quarantine in Vietnam if required for health or other reasons, you are strongly advised to return to the UK as soon as possible.
If you need urgent consular assistance, you can contact the British Embassy in Hanoi on +84 (0) 24 3936 0500 or the British Consulate General in Ho Chi Minh City on +84 (0) 28 3825 1380.
Jennifer Tran