Two Cambodian men prosecuted for transporting illegal entrants to Vietnam
The police of Mekong Delta Kien Giang province have prosecuted two Cambodian men for bringing four Vietnamese to illegally enter the latter.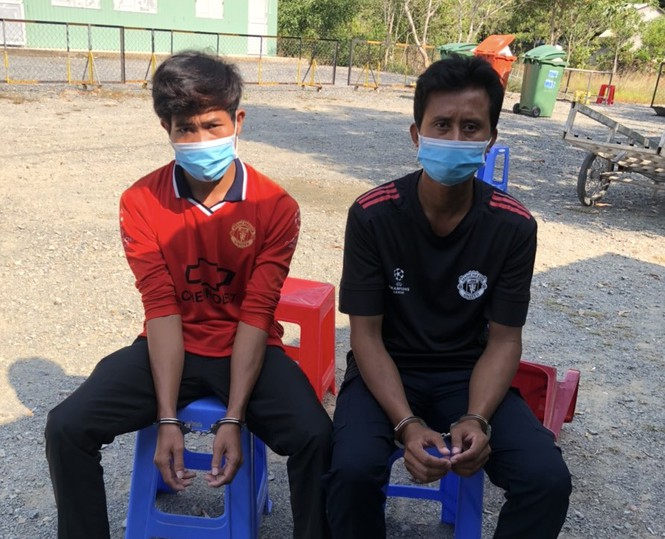 Phua Lo and Bo Men were prosecuted for transporting illegal entrants to Vietnam. Photo: Tien Phong
On January 16, the Kien Giang Police decided to prosecute and detain Phua Lo, 30 and Bo Men, 26, both from Kong Pong Trak district, Cambodia's Kampot province for "organizing for others to illegally enter Vietnam ", Tien Phong reported.
The culprits admitted that they received US$350 for smuggling each person illegally enter Vietnam.
Earlier, during the patrol, the Kien Giang border guards detected and arrested a boat carrying 6 people (4 women and 2 men) running along the coast about 500m from the Vietnam-Cambodia border landmark 314.
Four women were then identified as Nguyen Huynh N. (25, from An Giang's Tan Chau district), Truong An K. (37, from HCMC's district 6), Nong Que A. (24, from Thai Binh's Phu Luong district), and Le Cam N. (26, from HCMC's district 6).
All subjects were later taken into quarantine in a concentrated quarantine facility in Ha Tien City.
Four women confessed that they came to Sihanouk province for work, but couldn't do due to the Covid-19. They then hired Phua Lo and Bo Men to transport them from Cambodia to Vietnam.
Over 31,000 illegal entrants caught entering Vietnam in 2020 amid Covid fears
Border troops detained 31,460 people who tried to illegally enter the country last year as the government stepped up efforts, including border closures, to combat Covid-19, according to VNExpress.
They included 25,000 people entering from China and the rest were from Laos and Cambodia, Major General Nguyen Xuan Kien, director of the Department of Military Medicine said at a meeting to review the Covid-19 fight.
Border guards also investigated 153 individuals for "organizing illegal exit from and entry into Vietnam."
Deputy Minister of National Defense Lieutenant General Tran Don ordered the military to bolster troop numbers along borders to prevent illegal entrants since a large number of Vietnamese working in neighboring countries like Laos, Cambodia, Thailand, and China would seek to return home for the Lunar New Year, or Tet, in mid-February.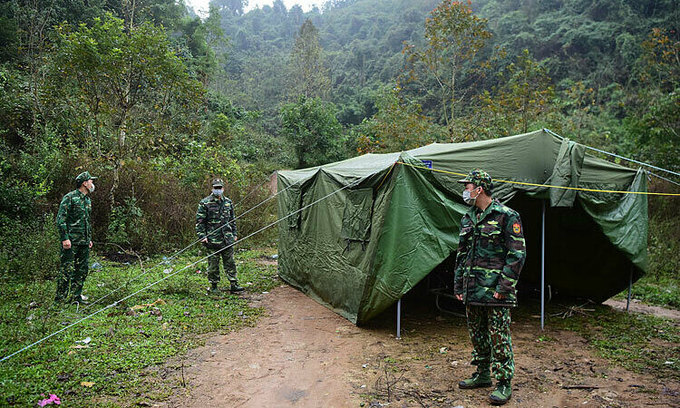 Border guards in Lang Son Province which borders China, February 2020. Photo: VnExpress/Giang Huy.
More than 7,000 soldiers are stationed at 1,600 checkpoints along the borders with China, Laos, and Cambodia.
After nine Vietnamese illegally entered the country from Myanmar via Cambodia last month and then four tested positive for the coronavirus, control has been tightened at border gates and paths and trails.
Major General Nguyen Xuan Doi said Military Region 9, which he commands, manages a land border of over 208 km around the Mekong Delta area and a maritime border of 740 km, and the task of keeping out illegal entrants is hard.
Since Vietnamese in neighboring countries would return home in the coming weeks for Tet, Military Region 9 has set up 229 patrol and control teams, he said.
Vietnam has a land border of more than 5,000 km, 117 border gates, and 88 crossings with China, Laos, and Cambodia.
Vietnam has closed its borders since late March to keep out Covid-19. Everyone allowed to enter must remain in quarantine for 14 days.
Vietnam has recorded 1,537 Covid-19 cases so far. A total of 35 have died from the disease, many being elderly patients with underlying conditions like diabetes or kidney failure.