US' Pfizer Covid-19 vaccine distributed to hospitals for human injection from December 14
Today (Dec 14), the very first Covid-19 vaccine in the US, Pfizer-BioNTech will be rolled out to hospitals and injected into millions of vulnerable people across the hard-hit areas of the countries.
The shots begun leaving the Pfizer factory in Kalamazoo, Michigan on Sunday, stored in boxes containing dry ice that are capable of staying at -70 degrees Celsius (-94 degrees Fahrenheit), the frigid temperature needed to preserve the drug.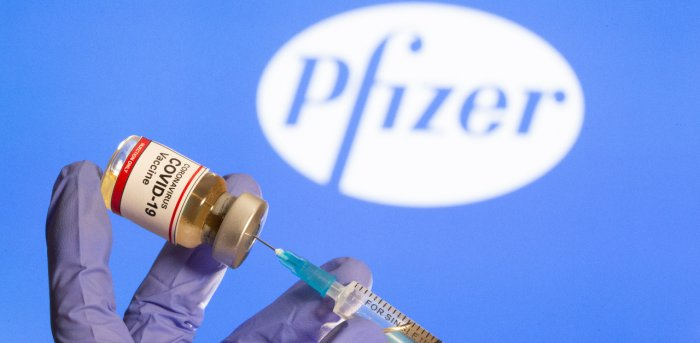 Representative image/Credit: Reuters Photo
Who will get it first?
Now that CDC Director Dr. Robert Redfield has accepted the ACIP's recommendation, vaccinations can begin, CNN reported.
This CDC advisory group had previously recommended that health care workers and residents of long-term care facilities should be the first to receive a vaccine when it receives EUA. The first shipments of the vaccine will be limited, so states will have to prioritize who should receive the vaccine first.
Both groups are "exceptionally high risk," according to Dr. José Romero, chair of the ACIP, which voted earlier this month to recommend those groups be included in what it called Phase 1a of its distribution plan.
Keeping doctors and nurses healthy will be important for the continuing fight against the virus, which will stretch on for months, even after a vaccine is authorized. But Romero said that first group includes other people working in health care institutions, like those who deliver food and perform housekeeping.
"Anybody that works within a health care institution that could have contact with an individual who has Covid should receive vaccination," Romero previously told CNN.
Residents of long-term care facilities like nursing homes also need the protection. So far, they account for about 40% of coronavirus deaths in the US.
Army Gen. Gustave Perna, chief operating officer of the federal government vaccine initiative Operation Warp Speed, previously said he believed vaccine administration will be able to begin vaccinations within 96 hours of authorization.
CVS, which is preparing to begin vaccinations in long-term care facilities, said that December 21 would be the earliest vaccine administration can start in the facilities.
"We'll be in facilities that day in states that choose to begin as soon as possible," spokesman Ethan Slavin said.
According to Reuters, healthcare workers and elderly people in long-term care facilities are expected to be the main recipients of the first wave of 2.9 million shots this month, with healthcare worker inoculations as soon as Monday and nursing home residents by the end of next week.
When will it be widely available?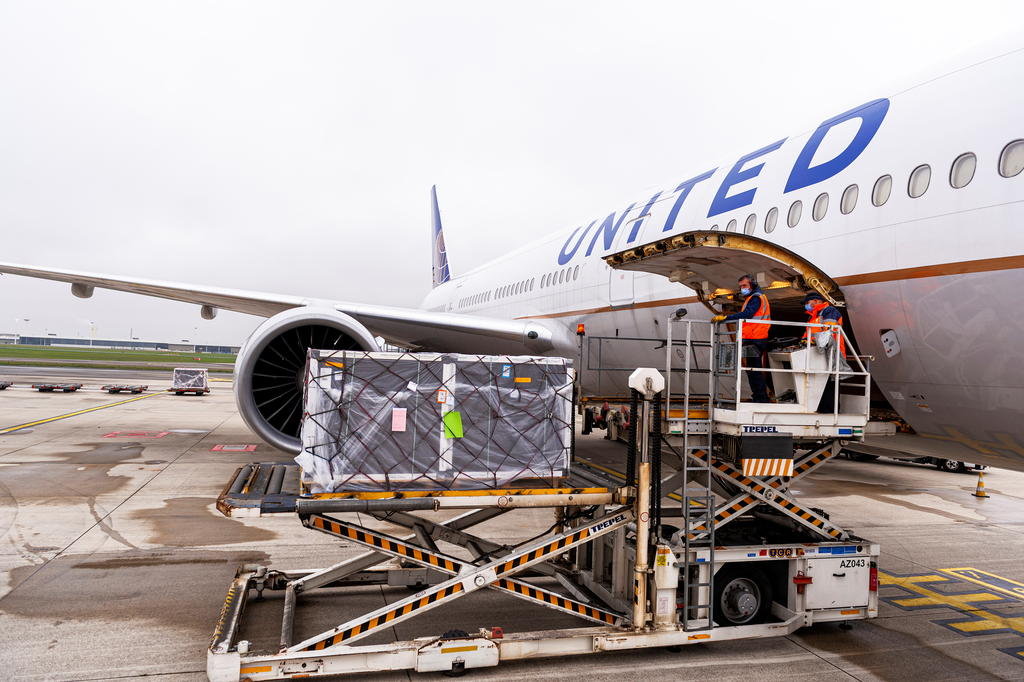 A shipment of Pfizer's coronavirus disease vaccines is unloaded from a United Airlines cargo-only flight from Brussels to O'Hare International Airport in Chicago, Illinois, US, on Dec 2, 2020.
The CDC is considering a four-phase plan to distribute vaccines. Phase 1a would be followed by Phases 1b and 1c, which could include essential workers at high risk of infection, other emergency personnel and people with underlying conditions who are at a higher risk of Covid-19 complications and death.
But it will likely be months before the vaccine is widely available to the rest of the population.
Dr. Anthony Fauci, the director of the National Institute of Allergy and Infectious Diseases, told CNN's Chris Cuomo on Thursday night that the groups receiving the vaccine in December, January, February and March will likely include those in "high priority groups."
"I would project by the time you get to April, it will be ... 'open season,' in the sense of anyone, even the non-high priority groups could get vaccinated," Fauci said.
In the meantime, it's important that people continue to wear masks and social distance.
How many doses will be available?
At this time, the federal government has secured just 100 million doses of Pfizer's vaccine, though it's possible a deal could be made to secure more.
It's important to note, however, that Pfizer's vaccine requires two doses administered several weeks apart to reach 95% efficacy. So 100 million doses would vaccinate half the number of people.
Again, not all of those doses will be available at once. Azar said earlier this month that 6.4 million doses of Pfizer vaccine would be allocated for shipment the first week. The initial shipment would include half of the doses, followed by the second half three weeks later.
States will be getting shipments of the vaccine once a week to begin with, Operation Warp Speed chief adviser Moncef Slaoui said Friday, and governors will be told a week in advance how many doses they will be getting.
The number of doses will increase weekly because manufacturing will ramp up, Slaoui told CNN's Jake Tapper.
Slaoui said he believes most doses will be injected within three to four days, but after that, "I think it will take a week."
There are a number of vaccines in development by other companies as well. Azar told CNN the US has the ability to purchase up to 3 billion doses of vaccines from six manufacturers, including Pfizer, Moderna, AstraZeneca, Johnson & Johnson, Sanofi/GSK and Novavax.
We have a lot of work to do. We are not taking a victory lap. We know road ahead of us will be tough," Perna said.Pfizer's vaccine was authorised for use by US regulators on Friday. Cases are surging in the United States, with thousands of deaths per day, while hospital intensive care units across the country are nearing capacity. More than 295,000 Americans have died of Covid-19.
How many areas receive the vaccine?
Doses of the vaccine from US-based Pfizer and German partner BioNTech will be delivered to 145 locations around the country on Monday, Perna said.
The remainder of the 636 delivery locations selected by US states and territories will receive doses on Tuesday and Wednesday, he said, adding that every week going forward Pfizer will have more doses ready for distribution and administration.Within three weeks, the vaccine programME known as Operation Warp Speed should be able to get Pfizer's shots to any healthcare facility in the country, Perna said.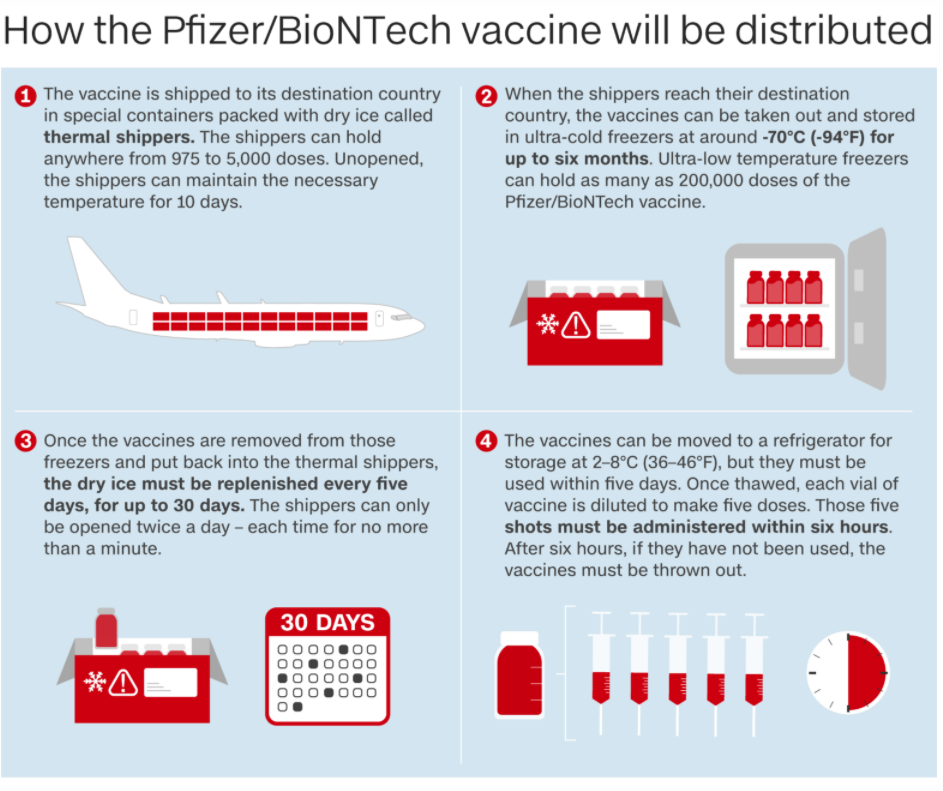 Source: Pfizer/BioNTech
Graphic: Natalie Crocker and Gabrielle Smith/ CNN
Pfizer is working with logistics companies United Parcel Service Inc and FedEx Corp to distribute the vaccines. They must coordinate deliveries of doses with shipments of other products needed to store and administer vaccines, such as syringes, dry ice, and protective equipment for healthcare workers."The final mile is going to be the most difficult. Once it hits the hospital or nursing homes, they also have to keep the vaccine under temperature control," said Cathy Morrow Roberson, a logistics consultant and former UPS analyst."This massive clock is ticking, there is no room for error," she added.
The United States on Friday evening granted an emergency use authorization for the vaccine for people aged 16 and older. The immunization was 95 percent effective in preventing Covid-19 in a late-stage trial. It is the first Covid-19 vaccine authorized in the United States.
Britain, Canada, and three other countries have already authorized the vaccine. The Trump administration has poured billions of dollars into developing vaccines and will manage the distribution and allocation to states. Authorities have said the general availability of the vaccine is expected by April. An advisory group to the US Centres for Disease Control and Prevention voted Saturday to recommend the vaccine for patients 16 and over.
FDA said Pfizer-BioNTech vaccine safe fro most Americans
The FDA said the vaccine is safe for most Americans with allergies despite reports of severe adverse reactions in the UK in two patients who had a history of serious allergies, according to Reuters.
Top U.S. Food and Drug Administration regulators said on Saturday that most Americans with allergies should be safe to receive the COVID-19 vaccine developed by Pfizer Inc and Germany's Biotech SE.
The FDA, which authorized the nation's first COVID-19 vaccine last week, said that only people who have previously had severe allergic reactions to vaccines or ingredients in this particular vaccine should avoid getting the shot."We're telling people that unless they've had a severe allergic reaction to the vaccine, or one of its components, they can receive it," Dr. Peter Marks, director of the FDA division that authorized the vaccine, said at a press conference.
After Britain began inoculations this week, two people with severe allergies reported side effects and the British medicine regulator advised that anyone with a history of anaphylaxis to medicine or food should not get the Pfizer-BioNTech vaccine.
"About 1.6% of the population has had a severe allergic reaction of some sort or another to a food or some environmental aspect and we would really not like to have that many people not be able to receive the vaccine," Marks said.

Economy
HCM CITY, VIETNAM - Media OutReach - 2 December 2022 - The HCM City Development Joint Stock Commercial Bank, or HDBank, is seeking shareholders' approval to issue convertible bonds worth US$500 million to international investors. HDBank is also seeking approval to increase the foreign ownership limit from 18 per cent to 20 per cent.