Vietnam Covid-19 Updates (Dec. 19): Daily Caseload Hits Nearly 16,000
As of 6 pm on December 18, Vietnam has detected 1,524,368 Covid-19 cases since the start of the first outbreak in January 2020, ranking 32nd out of 223 countries and territories worldwide.
Photo: Zing News
Covid-19: Daily caseload hits nearly 16,000 in Vietnam
Vietnam has recorded 15,895 new coronavirus infections in 60 cities and provinces across the country during the past 24 hours, the Ministry of Health (MoH) reported in its coronavirus update on December 18. Of the figure, 10,493 cases were diagnosed in the community through test screening or random testing.
Official data from the MoH also show 1,645 patients were discharged from the hospital and 248 patients died of Covid-19 and underlying illnesses during the day. Most of the newly detected cases were in the south, with Ca Mau recording the highest number, at 1,341, followed by Ho Chi Minh City 1,019, Tay Ninh 941, and Ben Tre 826.
The outbreak remains complicated in many northern localities that saw dozens of cases infected each. Notably, 1,244 new cases were documented in Hanoi, 249 in Bac Ninh, and 208 in Hai Phong. Meanwhile, Khanh Hoa topped central localities, registering 601 new cases, followed by Thua Thien-Hue 361, Binh Dinh 270, and Lam Dong 225.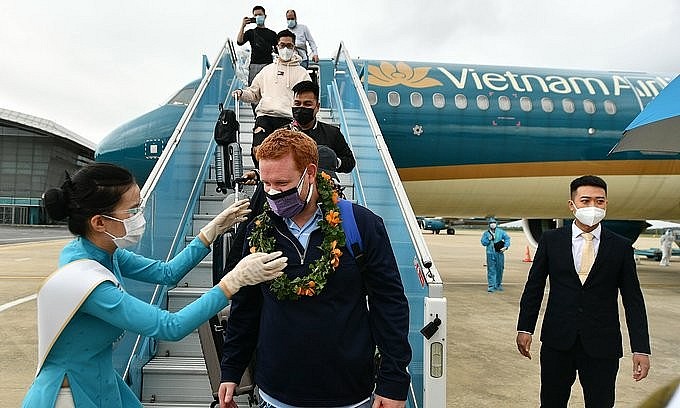 Photo: VN Express
Ministry proposes resuming 15-day visa exemption for foreign tourists
The tourism ministry petitioned the government to resume visa exemption of fewer than 15 days for visitors from designated markets qualifying for the policy prior to the Covid outbreak. The proposal was part of a preliminary report on welcoming international tourists to Vietnam under a vaccine passport trial program during the first phase that the Ministry of Culture, Sports, and Tourism submitted to Prime Minister Pham Minh Chinh for consideration.
The ministry also proposed the government allow travel firms to welcome back foreign tourists via regular commercial flights, by sea, or land. Currently, travel firms are only permitted to bring back foreign tourists on charter flights. The ministry also wanted the government to allow Binh Dinh Province, home to famous resort town Quy Nhon, and Ho Chi Minh City, Vietnam's southern metropolis, to welcome back foreign tourists in the second phase of the vaccine passport program that would have started from Dec. 15.
In addition, the ministry suggested the government allow Vietnamese living abroad, overseas Vietnamese with U.S. green and permanent residence cards to join the vaccine passport trial program for foreign tourists as there is high demand among overseas Vietnamese to return to their homeland for the upcoming Lunar New Year celebrations, which peak in early February.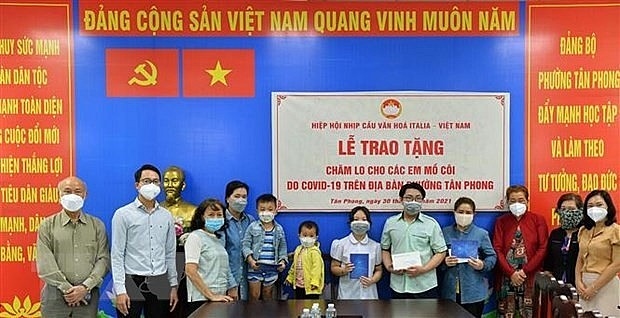 Photo: VNA
OVs in Italy, Ukraine support Covid-19-hit children
The Italy – Vietnam Cultural Bridge Association in Italy and the Vietnamese community in Cyprus have raised 5,000 EUR in support of Vietnamese children who lost their parents to the Covid-19 pandemic. The sum was donated by Vietnamese philanthropists in Italy and sent to 34 orphans in Ho Chi Minh City's districts 7, 8, and Binh Chanh, including four scholarships worth 10 million VND each and 30 gifts.
On December 17 morning, the Vietnamese Association in the Ukrainian province of Odessa and the Odessa Town Hall presented gifts to children's hospital No.3 in Odessa city.
Director of the hospital Elena Archemova thanked the Vietnamese Honorary Consular Office and association for their timely gift amid the pandemic. She added that the hospital recently opened a COVID-19 treatment department for children with 120 beds.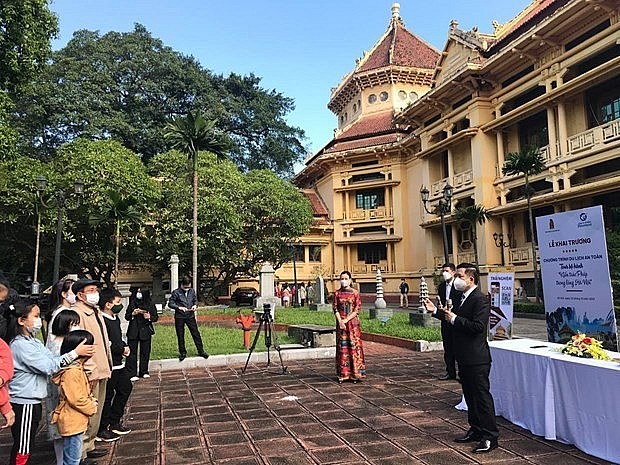 Photo: VNA
Hanoi forms new tourism products in new normal
The capital city has developed a series of tourism products based on its historical and cultural values in line with the current flexible and safe adaptation to the Covid-19 pandemic.
Among these is a walking tour program introducing visitors to prominent French architectural buildings in Hanoi, including the Vietnam National Museum of History, Hanoi Opera House, State Guest House, and Sofitel Metropole hotel. Taking place every Saturday and Sunday, each tour lasts for one hour and 30 minutes. Meanwhile, a one-day cycling tour around popular streets in the capital's Hoan Kiem Lake and West Lake areas, among others, aims to give tourists insights into the local life and cultural values.
Head of the Hanoi Tourism Department Dang Huong Giang said in the time to come, the local sector will focus on building and improving the quality of cultural tourism products whose destinations are associated with heritages, relic sites, festivals, craft villages, and cuisine. The development of agricultural, healthcare, and community-based tourism is also part of the plan, she noted.
As of 6 pm on December 18, Vietnam has detected 1,524,368 Covid-19 cases since the start of the first outbreak in January 2020, ranking 32nd out of 223 countries and territories worldwide. Of the infected patients, 1,097,163 have been discharged from the hospital after making a full recovery from the disease.
As many as 29,351 patients have died of the virus, making up 2% of the total number of infections. More than 137.5 million vaccine doses have been administered nationwide, with nearly 61 million people getting their second shot and 1.14 million people receiving their booster jab.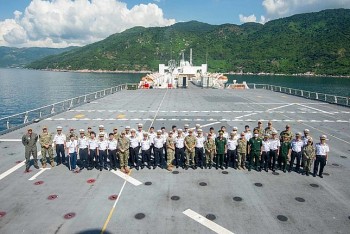 Friendship
The Pacific Partnership 2022 (PP22) concluded on July 3 on USNS Mercy, a hospital ship of the US Military Sealift Command anchored at Vung Ro Port in Dong Hoa town, the central province of Phu Yen.