Passengers check in at the airport of Moscow
The flight operated by Vietnam Airlines landed at Van Don Airport in the northern province of Quang Ninh on Wednesday morning with students under the age of 18, seniors, people in extremely difficult financial circumstances, tourists whose visas had expired, and workers who had lost their jobs.
Earlier, while traveling from Hanoi to Moscow, the aircraft had brought home Russian citizens stranded in Vietnam due to the COVID-19 and transported medical equipment relief to support Vietnamese community in Russia in the pandemic fight.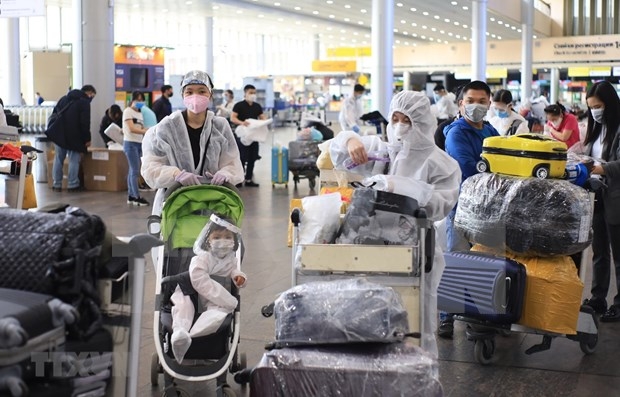 Vietnamese citizens wait to board the flight home at Sheremetyevo International Airport in Moscow. (Photo: VNA)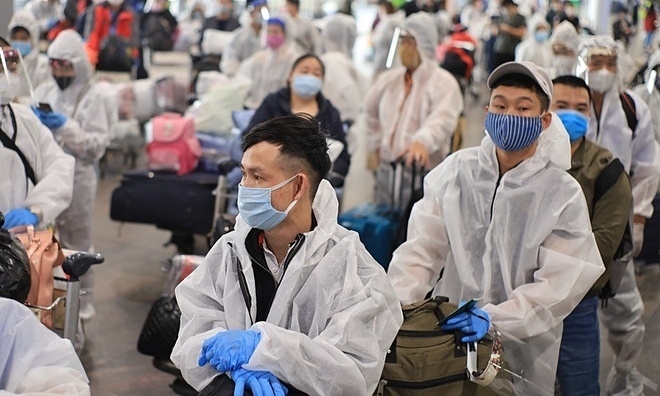 Vietnamese citizens land at Van Don Airport in Quang Ninh Province. Photo courtesy of Vietnam's Foreign Affairs Ministry.
After landing at the Van Don International Airport, all returnees had health checked and were sent to centralized isolation centers under the regulations, the disinfection of aircraft and cabin was immediately implemented before re-exploitation.
Around 80,000 Vietnamese are living in Russia, which has reported over 232,000 infections and 2,116 deaths as of Wednesday.
In April and May Vietnam has operated special flights to repatriate thousands of people from Southeast Asian countries as well as Canada, France, Japan, the UAE and the U.S.
Additional flights will be arranged in the near future to bring home Vietnamese citizens currently in other countries depending on developments regarding the pandemic, domestic quarantine capacity, and demand from Vietnamese citizens overseas.
Jennifer Tran