Vietnamese in Cambodia struggle as local authority dismantles temporary shelters
The Phnom Penh government is dismantling floating houses along the Mekong River, affecting thousands of Vietnamese Cambodians who have lived there for generations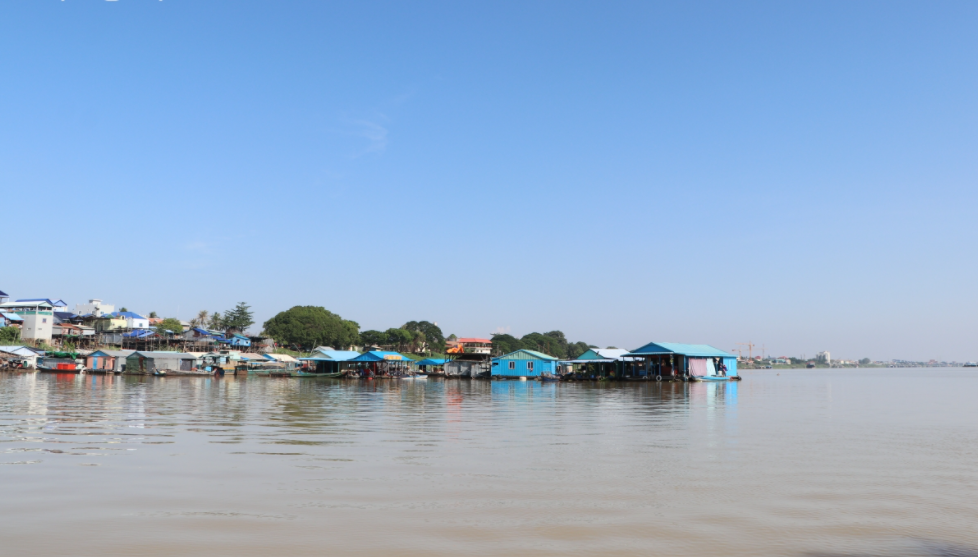 Floating houses on the river in Phnom Penh. (Photo: VOV)
Houseboats on the Mekong River are being dismantled in Cambodia. On June 2, Phnom Penh city government issued a decision to force people to dismantle all floating houses, fish rafts, and boathouses on the river in all districts within seven days to protect the environment, ecosystems, biodiversity, and health. The government also announced that it would take legal action against those who did not comply with the decision.
On June 4, a delegation from the Vietnam Embassy to Cambodia, led by Ambassador Vu Quang Minh, held a visit to examine the situation and aspirations of people in the area.
Reporting to the delegation, Sym Chi, president of the Khmer - Vietnam Association, said that there were currently about 1,000 households of Vietnamese origin living on boats and rafts in the dismantling area.
Although the local government has been planning to relocate the households years, this is the first time they requested people to fully relocate within one week, leaving them unable to deal with the situation in time. The decision was made during the Covid pandemic, making it even more difficult.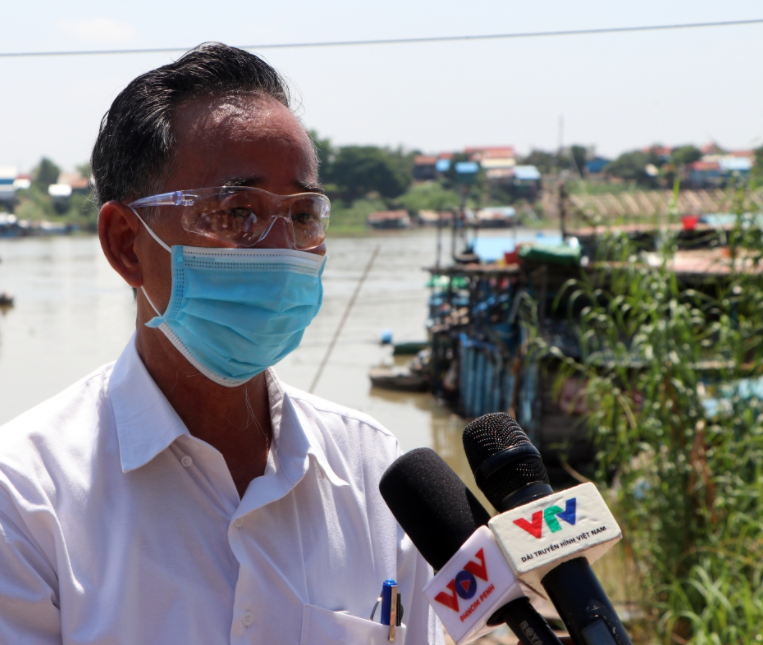 Sym Chi, president of the Khmer - Vietnam Association. (Photo: VOV)
Pham Van Quan, 61, a resident in the area, said that his family had lived in Cambodia for four generations and had full legal documents for living in Cambodia. For several generations, his family has lived on rivers, so they haven't had to think about finding another place to live. Recently, the local government has asked them to move within a week from the date of the announcement, making the family confused. They are hoping to extend the deadline so that they can find some way to settle down.
To Van Trong, also from the area, said that his family and most of the people in the area had lived on floating houses in Prek Pnov district's river, Phnom Penh, since 1980 after Vietnamese volunteers soldiers helped Cambodia overthrow the Khmer Rouge regime. Although their life is difficult, they still have lived there for decades.
If forced to relocate in the next few days, many households will be homeless, and even fall into debt because many of them still have to borrow money to raise fish. They hope that the local government implements a reasonable relocation plan, creating conditions for them to find new places to live and jobs
Ambassador Vu Quang Minh (L) examines the situation. (Photo: VOV)
"Now we can't go anywhere, we can't live on Tonle Sap, we can't also live on the land because there's no place for us to live. We only have a week so we didn't know where to go. Our fish raft has only been raised for a few months, if we had to relocate immediately, the fish cannot be sold. And we are in the Covid-19 period," Trong said.
Ambassador Vu Quang Minh expressed sympathy with the difficulties and pressures that the overseas Vietnamese were facing, but encouraged them to stay calm, comply with the law, respect the local government's decision, and together plan the relocation. The Vietnam Embassy to Cambodia will also mobilize resources to support and help people overcome the difficult period.
In the past, some other provinces in Cambodia such as Kampong Chhnang and Pursat have also relocated people living on the river, causing tens of thousands of Cambodian-Vietnamese people to move to other places.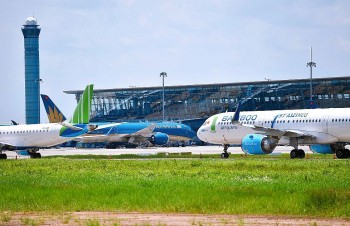 Economy
Vietnam Business & Weather Briefing (August 9): Vietnam's economic growth is expected to reach 7.5% in 2022, new securities accounts hit a near two-year low in July.