Vietnamese-Korean Yearns for Lunar New Year Celebration in Homeland
Having celebrated New Year with her in-laws in Korea for three years in a row, Ngoc Quyen longs for the day she could reunite with family in Vietnam
Quyen, 27, has been living in Daegu city, Korea with her Korean husband for five years.
Before the pandemic, she returned to Vietnam twice or thrice a year and was able to spend the Lunar New Year holiday in her homeland. However, as the Covid-related travel restrictions are in place, this New Year will be her third consecutive celebration in Korea.
"My mom is living with me and my husband in Korea. However, my dad hasn't seen my twins since they were born three years ago. He's very looking forward to seeing them," Quyen told Zing News. "It's sad the pandemic is worsening in both Vietnam and Korea. This year will be another New Year I spend away from my family."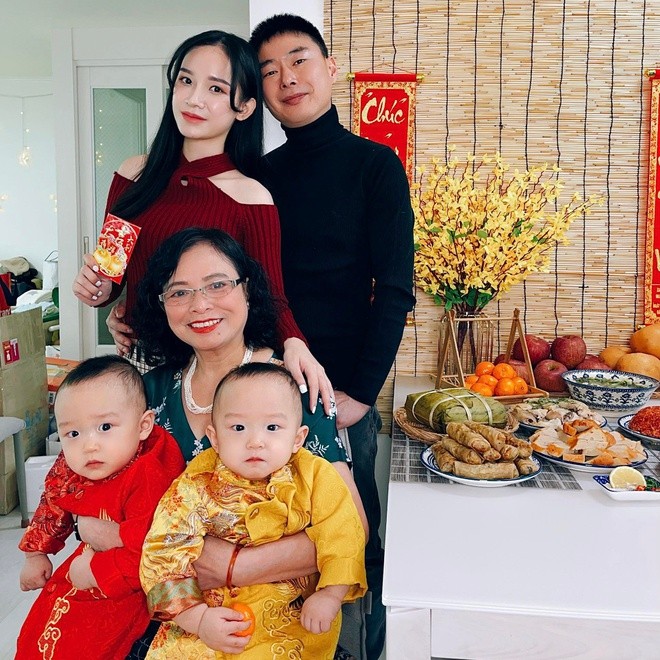 Quyen and her family. Photo courtesy of Ngoc Quyen/ via Zing News.
Celebrating New Year in Korea
On the last day of 2021, Quyen visited her in-laws and joined her sister-in-law to prepare food and other offerings for the new year tray. On Jan. 1, they threw a feast before doing New Year rituals.
In Korea, daughters, daughters-in-law, and children often wear hanbok while male ones put on traditional costumes to visit their parents or grandparents on the occasion. Offsprings pay respect to their seniors with a bow in exchange for lucky money. They also exchange wishes for wellness, prosperity, and fortune.
"I found that Korean dishes for New Year are quite simple, most are fried dishes. I could help my relatives prepare foods on my first time celebrating New Year with them," Quyen said. "However, my family didn't let me use the knife at first because the ways Korean and Vietnamese people hold the knife are different."
After the visit to parents' house, Quyen's family plans to travel to Yeongdeok district, North Gyeongsang province to admire the sea.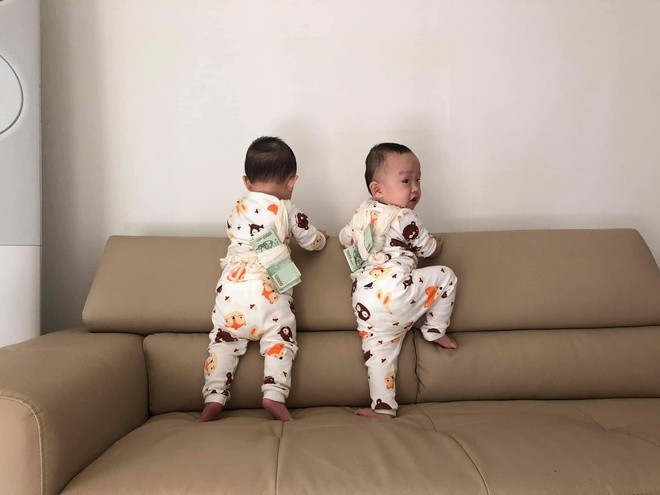 Quyen's children. Photo courtesy of Ngoc Quyen/ via Zing News.
Longing for a Lunar New Year celebration in Vietnam
For Quyen, the Lunar New Year is the best time of the year. Therefore, she has been feeling very homesick as it's almost three years since she last saw her father and other relatives in Vietnam.
"I really miss the eagerness ahead of Lunar New Year. At this time of the year, I normally clean the house, go shopping for necessities and offerings," she added. "I will definitely fly to Vietnam to celebrate the Year of Rooster if the pandemic situation improves. My dad and relatives also want to see my children."
Quyen and her biological mother are planning to prepare a traditional Vietnamese meal for the coming Lunar New Year in Korea. "A traditional Vietnamese celebration would be meaningful for those away from their homeland. We will make Chung cake ourselves as well as other typical dishes like the way a northern Vietnamese family normally does on Lunar New Year."
By doing this, Quyen added, her children can experience and enjoy iconic dishes of Vietnamese cuisine.
"I really hope the pandemic will end soon so that people living away from their family like me can reunite with loved ones. Hopefully, both Vietnamese and Korean citizens will follow the anti-virus protocols and be fully vaccinated as soon as possible."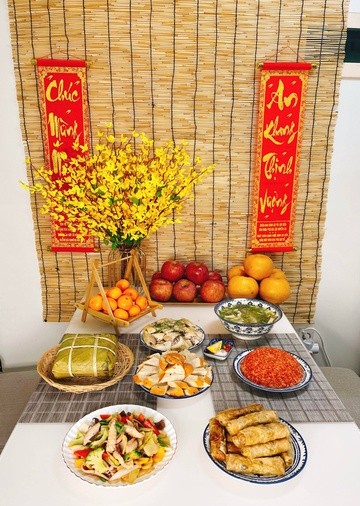 Quyen family's New Year meal with Vietnamese foods. Photo courtesy of Ngoc Quyen/ via Zing News.
The Korean government is tightening its anti-pandemic measures given the rising daily new cases and advent of the Omicron variant. It mandates that only those fully vaccinated can gather up to four people.
The nation's tally has topped over 290.6 million while more than 5.4 million lives have been claimed.
Meanwhile, in Vietnam, the Health Ministry announced 16,914 new local Covid-19 cases in all 63 cities and provinces on Sunday, pushing the ongoing wave's tally to 1,757,254.
The three localities with the highest number of new cases were Hanoi, Hai Phong and Vinh Long.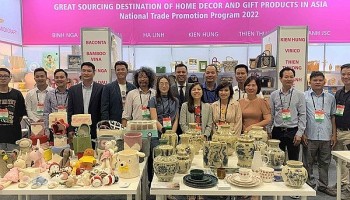 Economy
"Amazing ASEAN 2022 - Discover the flavors of Asia" campaign and the NY NOW exhibition are important events in August 2022 that introduced the rich and diverse goods and products from Vietnam to international markets.