Vietnamese Moroccan calls for food donation during COVID-19 pandemic
Cam Hoa, a Vietnamese student in Morocco has appealed other overseas students in the country to donate foods to the disadvantaged households in Rabat capital to help them overcome the COVID-19 hardships.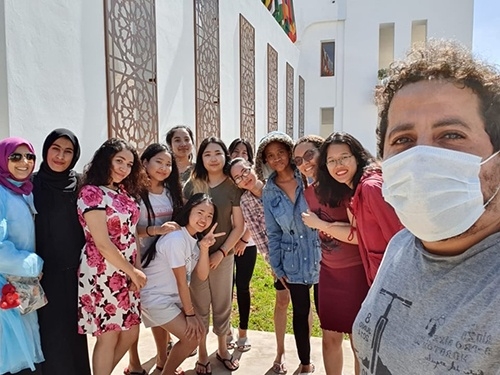 Cam Hoa (second, from right) with other international members in her project (Photo: Bao Quoc Te)
Hoa is currently following a master's degree at Mohammed V University, Rabat capital. She is among many other overseas Vietnamese who got stuck in dormitories after Morocco issued a curfew and suspended international flights since March 15.
The Morocco International Cooperation Agency (AMCI), the supporting unit that grants scholarships for foreign students at Mohammed V University, is now giving them free food once every two weeks.
"I could not ignore the fact that many people are starving out there, while I get this free food provision twice each month. Therefore, I initiated the idea of a charitable food project, and luckily, I got great supports from international friends", Hoa told Thoi Dai. "Ours is just a meager contribution though, we still want to lend a helping hand to those in need".
Hoa's charitable project now has 25 members in total, who come from different countries, including Vietnam, Lao, Saint Lucia, Gambia, etc. The group has donated a large amount of foods, including rice, flour, eggs, milk, cakes. sweets, etc., to local needy people, especially those families whose breadwinner lost job or passed away due to the novel coronavirus.
With the help of some local friends, Hoa's group has contacted Enamaa, a non-governmental Development and Communication Organization who later helps them connect and distribute foods to remote families in the region.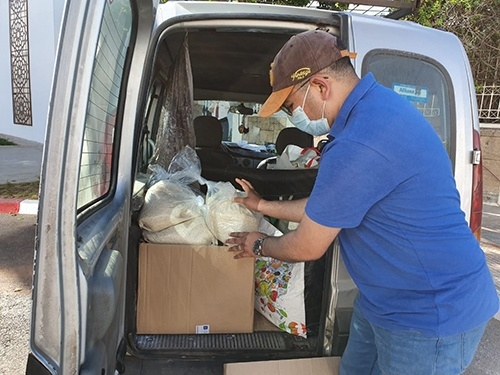 A representative from Enamaa collects the donation (Photo: Bao Quoc Te)
"Our organization highly appreciate Hoa's project. During such a straining time, their donation is a lifesaver for many people", a representative from Enamaa said.
According to Thoi Dai, Hoa and her friends' good deed has spread the "leaves that protect the tattered ones" message to many youngsters in other cities in Morocco. Hoa was showered with compliments following the news of her philanthropic organization published in the Morocco World News. Many people want to join the donation in her coming project.
"I did not expect my small project would get this much attention and support. Now, we will continue to expand the charity circle, you know, in the context Morocco keeps extending the state of health emergency".
The coronavirus first detected in Morocco in March 2 then spread quickly. The government declared a state of health emergency on March 15, at the same time suspended all routes to and from all countries. As of June 15, Morocco reported 8,793 infections, 212 patients have died.
https://thoidai.com.vn/sinh-vien-viet-tai-morocco-chung-tay-ung-ho-thuc-pham-chong-dich-covid-19-110415.html?fbclid=IwAR0DikzfET0T9S88hVUboA_vV6lXHy6Yx2P3dsG7pTu46t0sXrjy0veO7xc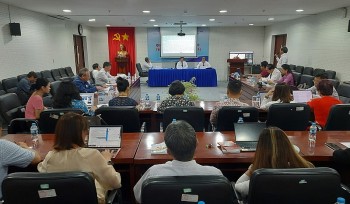 Friendship
The Vietnam - India Friendship Association's Ho Chi Minh City branch, the Ho Chi Minh City Union of Friendship Organizations (HUFO) and the Southern Institute of Social Sciences on March 21 held a scientific seminar themed "Vietnam - India relationship: tradition and present".