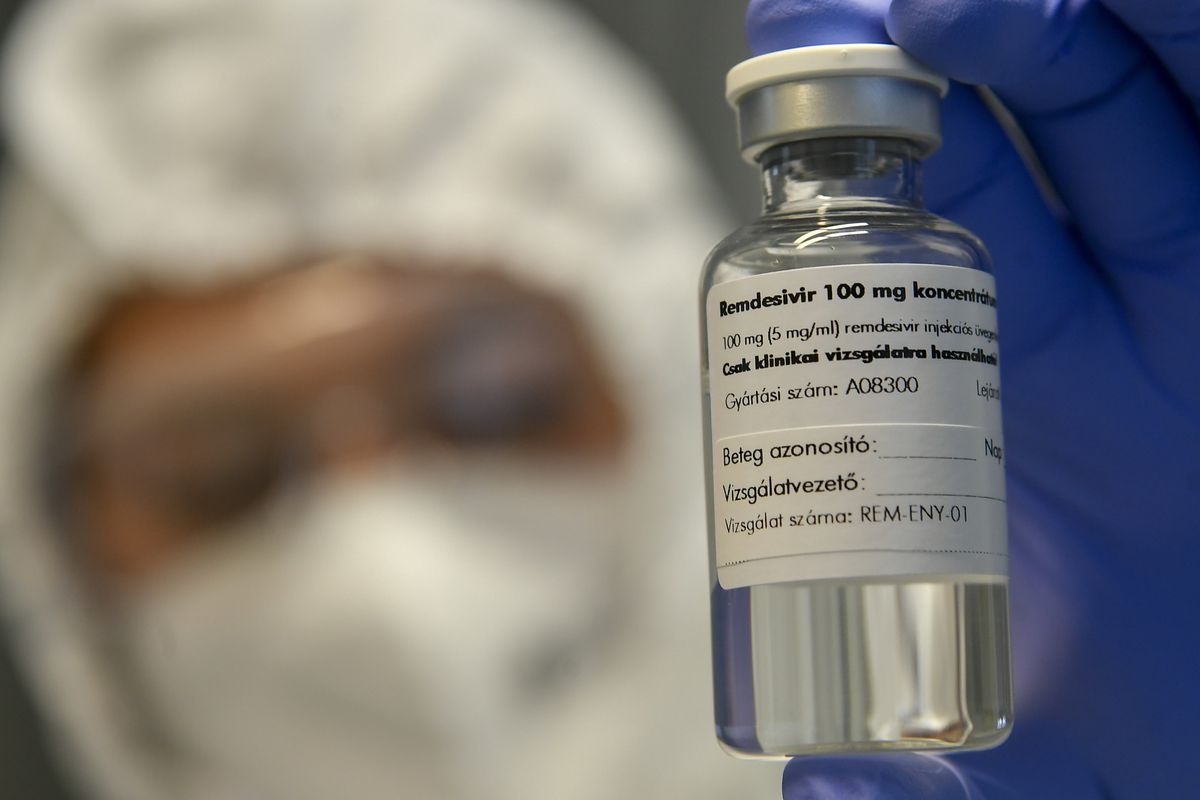 FDA Thursday approved Gilead Sciences' antiviral drug remdesivir as a treatment for the coronavirus (Photo: NY Daily News)
FDA approves Gilead's remdesivir as coronavirus treatment
The Food and Drug Administration on Thursday approved Gilead Sciences' antiviral drug remdesivir as a treatment for the coronavirus, CNBC reported.
In May, the FDA granted the drug an emergency use authorization, allowing hospitals and doctors to use it on patients hospitalized with the disease even though the medication had not been formally approved by the agency. The intravenous drug has helped shorten the recovery time of some hospitalized Covid-19 patients. It was one of the drugs used to treat President Donald Trump, who tested positive for the virus earlier this month.
The drug will be used for Covid-19 patients at least 12 years old and requiring hospitalization, Gilead said. Remdesivir is now the first and only fully approved treatment in the U.S. for Covid-19, which has infected more than 41.3 million people worldwide and killed more than 1 million, according to data compiled by Johns Hopkins University.
Shares of Gilead were up more than 5% in after-hours trading.
Remdesivir is approved or authorized for temporary use as a Covid-19 treatment in approximately 50 countries worldwide, according to the company.
The drug is administered in a hospital setting via an IV. The company said the medication should only be administered in a hospital or in a health-care setting capable of providing acute care comparable with inpatient hospital care.
Trump gets last chance to claw back Biden lead at final presidential debate
Donald Trump has his last chance to move the dial in the fast-approaching US presidential election on Thursday night, when he addresses a large nationwide audience at the final televised presidential debate, according to The Guardian.
Trump will face his Democratic rival Joe Biden at 9pm ET at Belmont University in Nashville, Tennessee. The candidates are expected to attract viewership in the tens of millions of Americans for their 90-minute encounter, giving the US president one last crack at shifting a race that has had him trailing the former vice-president for weeks.
NBC News and its moderator Kristen Welker will be hoping for a more civilized debate than the first, held three weeks ago, which collapsed into acrimony amid almost constant interruptions by Trump. In an attempt to prevent a repetition, the commission on presidential debates on Monday tweaked the format so that the candidates' microphones are turned off while their opponent is speaking for the opening two minutes of each of six issue segments.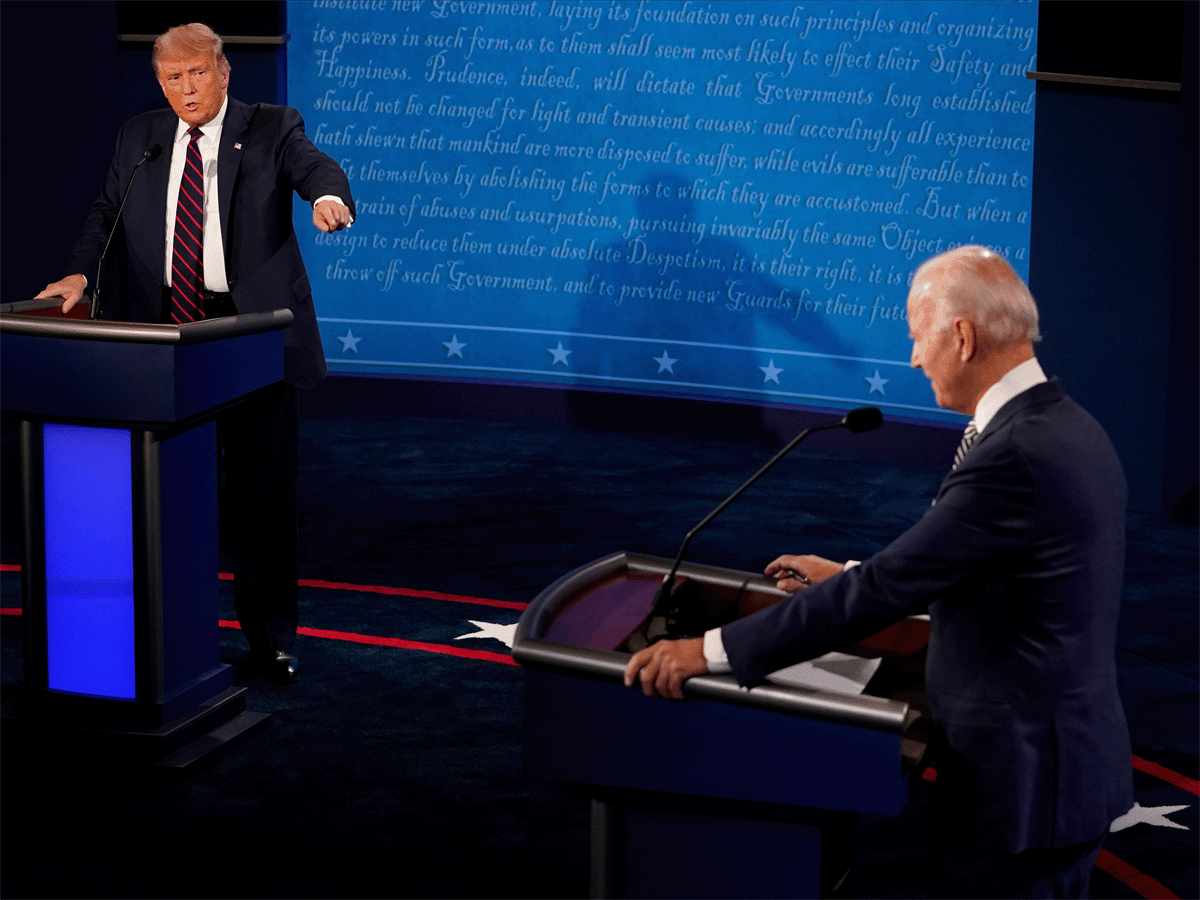 Trump and Biden in the first debate (Photo: Economics Times)
For the remainder of each of the 15-minute segments, discussion will be open between the two men.
Trump will be under pressure to soften his display compared with the first debate on 29 September, which was widely censured as bullying. Polls conducted after the debate suggested it damaged his already beleaguered standing in key battleground states such as Florida and Pennsylvania.
The final debate falls at an increasingly anxious time for the Trump re-election campaign. National polls give Biden a steady and clear advantage, such as an 8.5% lead in the Real Clear Politics tracker.
Russia's Putin says he believes nearly 5,000 people killed in Nagorno-Karabakh conflict
Russian President Vladimir Putin said on Thursday Moscow believed that nearly 5,000 people had been killed in fighting between Azerbaijan and ethnic Armenian forces over the Nagorno-Karabakh region.
"There are a lot of casualties from both sides, more than 2,000 from each side," Putin told a meeting of the Valdai Discussion Club.
Nagorno-Karabakh said 874 of its military personnel had been killed since Sept. 27, in addition to 37 civilians. Azerbaijan says 61 Azeri civilians have been killed and 291 wounded, but has not disclosed its military casualties.
Putin also said the United States would help Russia broker a solution to the conflict, Reuters reported.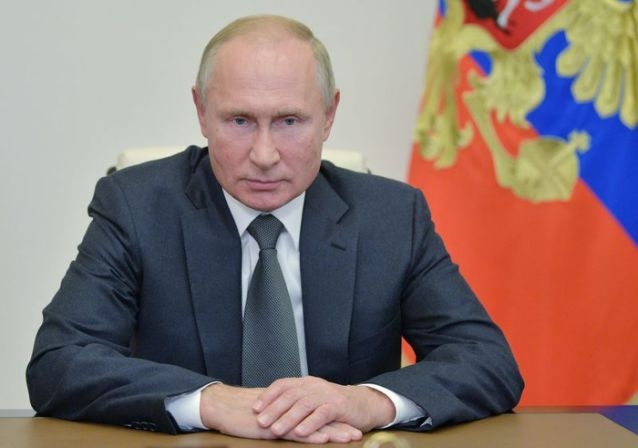 Vladimir Putin said on Thursday Moscow believed that nearly 5,000 people had been killed in fighting between Azerbaijan and ethnic Armenian forces (Photo: Yahoo News)
Gold price forecast: gold markets break down
Gold broke down a bit on Thursday, slicing through the 50 day EMA. But we still have plenty of areas underneath that could offer support.
Gold markets have broken down a bit during the trading session on Thursday, slicing through the 50 day EMA. That of course is an indicator that a lot of people pay attention to. Ultimately, I think that the fact that it has gone flat tells you that gold is not quite ready to take off to the upside for a bigger move quite yet. However, the $1900 level underneath is significant support, just as the $1850 level should offer support given enough time. I do believe that we are looking at a scenario where the markets will continue to see a lot of choppy behavior, and perhaps reaction to the stimulus stocks or possibly the lack of progress.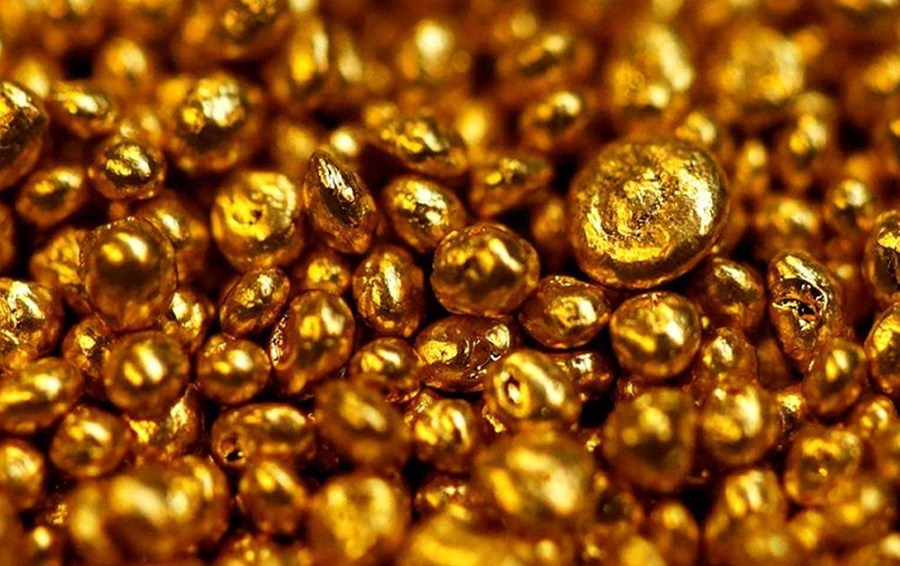 (Photo: Nairametrics)
The knock on effect of course is that the US dollar strengthens, which weighs upon the strength of the gold market, at least in the short term. I believe that we will continue to see more downward pressure than up, but longer-term is still very bullish for gold as central banks and governments around the world look to flood the financial system, which of course has people looking for "hard assets." Gold is essentially the ultimate hard asset, as reported by FX Empire.
Jasmine Le