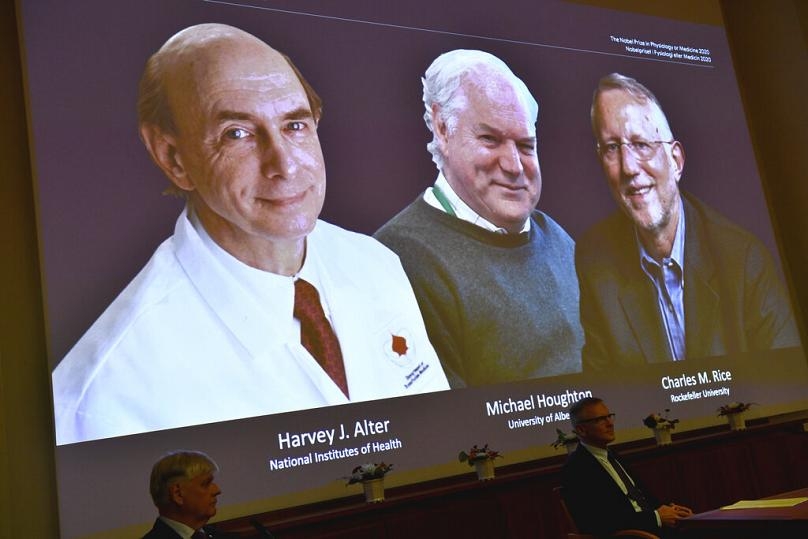 Americans Harvey J Alter and Charles M Rice, and British-born Michael Houghton were revealed on Monday as this year's laureates for the medical breakthrough touted as saving millions of lives (Photo: AP)
Nobel Prize in Medicine: Joint award goes to scientists who discovered the Hepatitis C virus
As reported by Euro News, the 2020 Nobel Prize in Medicine or Physiology has been jointly awarded to the three scientists who discovered the Hepatitis C virus.
Americans Harvey J Alter and Charles M Rice, and British-born Michael Houghton were revealed on Monday as this year's laureates for the medical breakthrough touted as saving millions of lives.
In a statement, the Nobel Assembly said the isolation of Hepatitis C had marked a "landmark achievement in the ongoing battle against viral diseases" and had resulted in the creation of specific testing regimen and cures to tackle the illness around the world.
This year's prize comes at a particularly significant time for those working in the medical field, given the additional spotlight brought by coronavirus.
But despite the pandemic's huge effect on the world and its highlighting of the importance of science and medical research, the 2020 winner was not expected to be COVID-related.
This is due to winners usually being picked from discoveries made years ago, and whom provided the basis of practical applications commonly used today.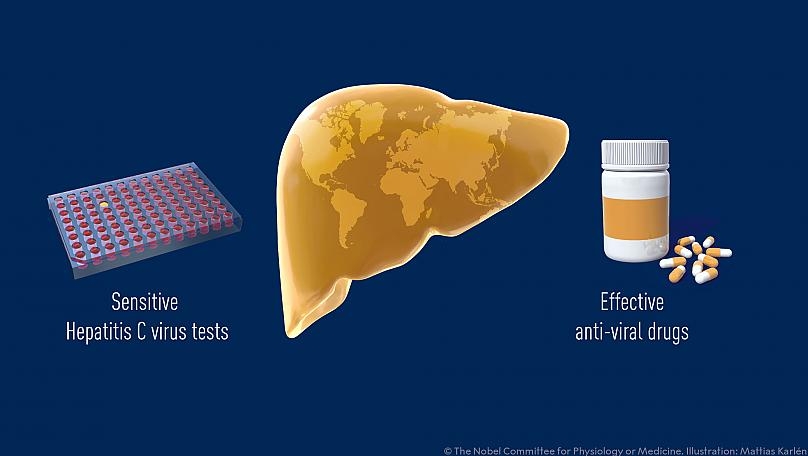 The discovery of Hepatitis C in the late 1980s came as scientists grew increasingly concerned that tests for the Hepatitis B virus accounted for only a minority of the hepatitis cases resulting from blood transfusion.
Alter, Houghton and Rice are now set to receive a gold medal for their Nobel award, along with prize money of 10 million Swedish kronor (€956,000) from a bequest left by Swedish inventor Alfred Novel 124 years ago.
Announcing the recipients, Thomas Perlmann, the Secretary-General of the Nobel Committee said he had managed to reach Alter and Rice by phone to inform them of the news.
He said: "I had to call a couple of times before they answered. They seemed very surprised and very, very happy."
Two Katyusha rockets land near Baghdad's Green Zone
Two Katyusha rockets landed in an area close to Baghdad's Green Zone late Sunday, according to Iraq's top security source.
"Terrorist groups fired two Katyusha rockets at Al-Jadriya area," announced the Iraqi Security Media Cell via Telegram Monday morning.
"The first missile fell behind the Babylon Hotel and the other near the airlines," they added, noting that no casualties took place.
Diplomatic targets within Baghdad's Green Zone, home to foreign diplomatic offices and Iraqi government buildings have repeatedly been subject to rocket attacks. Additionally in recent months, convoys driven by Iraqis and contracted by the US-led coalition have come under almost daily attacks across central and southern Iraq.
Washington signaled last week that it could close its diplomatic mission in Baghdad if measures are not taken to control armed groups responsible for recent attacks against the US and other interests in the country.
Militias loyal to the Islamic Revolutionary Guards Corps (IRGC) Quds Force carried out at least 25 attacks on convoys carrying supplies to US or coalition facilities, Baghdad airport and the Green Zone in September alone, as reported by RUDAW.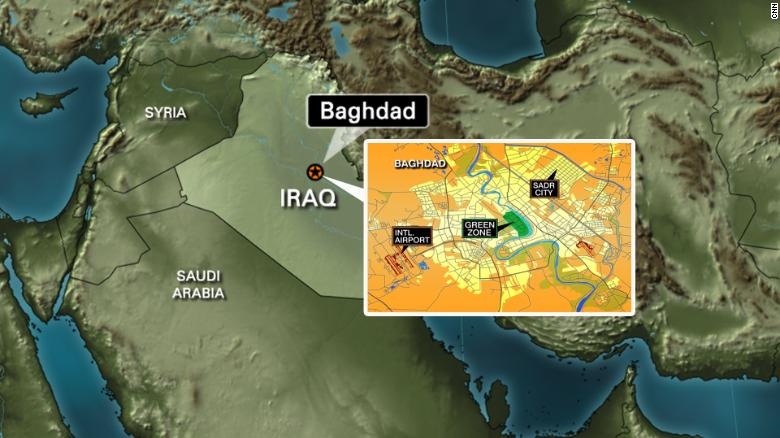 Two Katyusha rockets landed in an area close to Baghdad's Green Zone late Sunday (Photo: CNN)
White House press secretary Kayleigh McEnany tests positive for coronavirus
White House press secretary Kayleigh McEnany shared on Twitter on Monday morning that she has tested positive for the coronavirus, the latest White House official to test positive for the virus after President Trump himself was hospitalized after contracting the disease.
Reporters pressed McEnany on Friday about whether she would wear masks in her briefings going forward, and she declined to comment.
White House communications director Alyssa Farah tweeted her support for McEnany and noted that senior White House staff, which includes the press secretary, are considered essential employees and "are expected to continue to work — while taking precautions — until a medical recommendation otherwise is given."
In her statement Monday morning, McEnany said she will "begin the quarantine process" and "continue working on behalf of the American People remotely."
McEnany is the latest person in the president's orbit to have tested positive for the coronavirus. Trump campaign manager Bill Stepien and former top adviser Kellyanne Conway have also tested positive as have former New Jersey Gov. Chris Christie, who helped Trump prepare for the first presidential debate, and three Republican senators, NPR reported.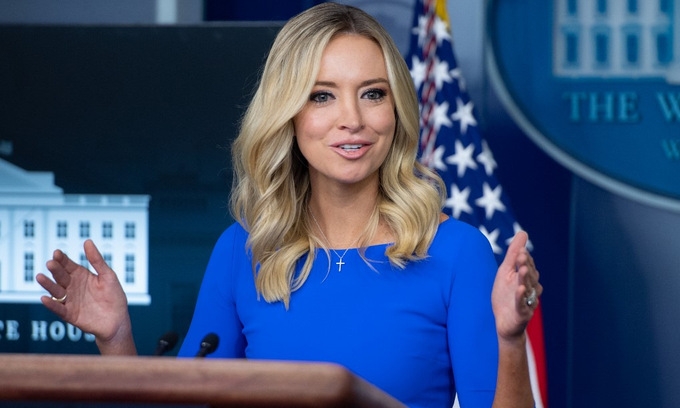 Kayleigh McEnany at a press conference at White House on October 1 (Photo: AFP)
Gold prices prediction: Price rises on Dollar weakness
Gold prices moved higher as riskier assets gained traction and the greenback moved lower. Yields in the US rose following strong gains in European yields following a stronger than expected EU retail sales report. Eurozone reported August retail sales jumped 4.4% , nearly double the consensus 2.5%. The annualized rate rose to 3.7% year over year versus. 2.2% consensus and was the strongest reading since November 2017. This helped buoy the Euro and paved the way for higher gold prices, FX Empire reported.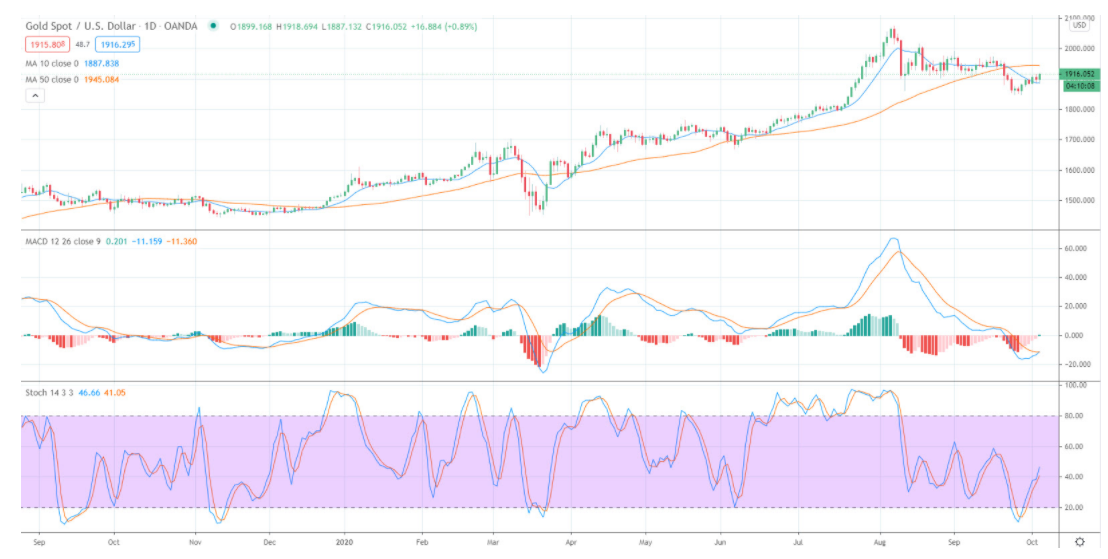 (Photo: FX Empire)
Gold prices rallied on Monday bouncing near support at the 10-day moving average at 1,887. Resistance is seen near the 50-day moving average at 1,945. The 10-day moving average crossed through the 50-day moving average which means a short-term downtrend is in place. Medium-term momentum has turned positive as the MACD (moving average convergence divergence) generated a crossover buy signal. This occurs as the MACD line (the 12-day moving average minus the 26-day moving average) crosses above the MACD signal line.
Jasmine Le