116 COVID-19 patients to be repatriated from Equatorial Guinea
Vietnam is preparing to bring home 219 Vietnamese people living in the Republic of Equatorial Guinea, of which 116 pẹople are positive for coronavirus.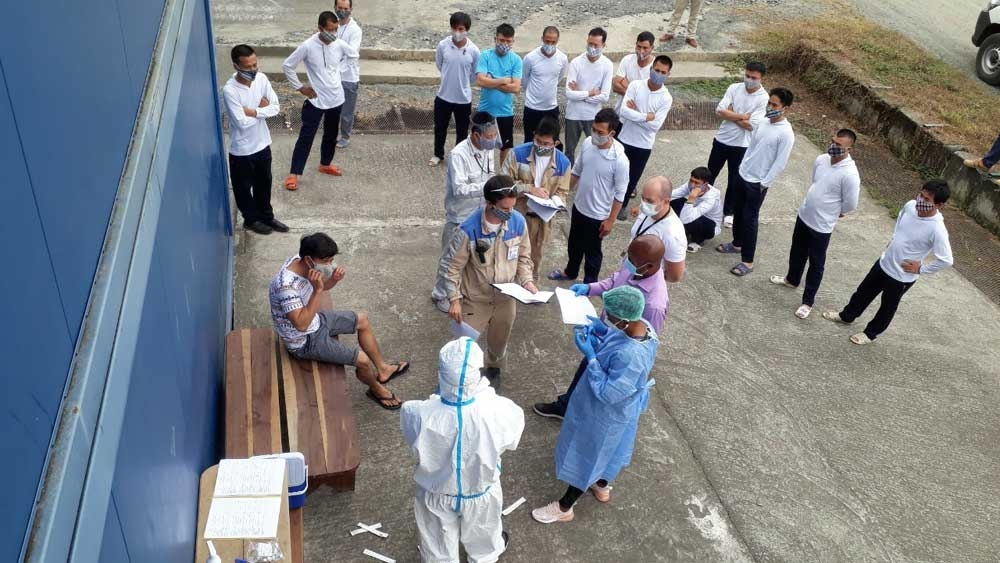 Vietnamese citizens working at Equatorial Guinea have their health condition monitored. Source: Bac Giang Newspaper
The Ministry of Health in the afternoon of July 15 said it was preparing to bring home 219 Vietnamese people in Equatorial Guinea (West Africa), among whom 116 were positive for coronavirus.
Thanks to the facilitation from Vietnamese authorities, these guest workers are allowed by the main contractor to stop working and have their health checked regularly by the local medical facilities. Now, they are in stable condition.
After learning about the situation, the Ministry of Foreign Affairs (MoLISA) on July 3 proposed relevant ministries and agencies to create favourable conditions for employers to bring the labourers home as they desired.
It also asked Lilama 10 JSC, Tan Dai Loi Ltd., Co. and CM Vietnam JSC that have labourers infected with the virus to work with main investors and contractors to suspend work at the construction sites, guide employees how to protect themselves from the disease, and put forth measures to ensure rights of their labourers.
The carrier representative said the flight registration was "very complicated". It is expected to take 10 more days before the aircraft can depart.
The National Hospital of Tropical Diseases is also ready to send a medical team specialized in the field of resuscitation and emergency to prepare to leave for Equatorial Guinea to take citizens home.
The MoH's Medical Services Administration is working with these three companies that manage these workers, making a list of clinical manifestations, and patients being treated at the medical facility.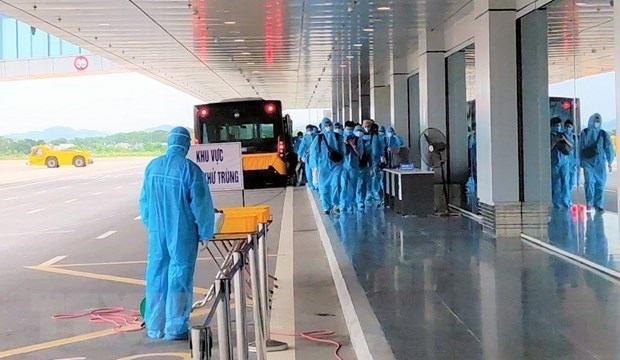 Returned Vietnamese being immediately quarantined upon arrival. Photo: VNA
Speaking at a working session with the National Steering Committee for COVID-19 Prevention and Control in Hanoi on July 10, Prime Minister Nguyen Xuan Phuc urged a rescue flight to bring home over 200 Vietnamese citizens stuck in Equatorial Guinea immediately while asking the Ministry of Foreign Affairs, ambassadors and Vietnamese representative offices abroad to do their utmost in citizen protection.
To date over 50 repatriation flights have been conducted, bringing home more than 12,000 such citizens. All returnees are placed in quarantine for medical surveillance according to regulations on COVID-19 prevention and control.
Eight Russian experts quarantined in southern Vietnam have been confirmed as the country's latest COVID-19 patients, taking the national tally to 381.
Among the total registered cases, 241 cases had been imported from other countries, with each of the individuals being immediately quarantined upon arrival.
As of July 15, Vietnam has gone through 90 straight days without any COVID-19 infections in community.
According to the committee's treatment subcommittee, one more patient was announced to fully recover on July 15, lifting the total of cured patients to 353. No fatalities have been recorded.
There are currently 12,337 people under quarantine nationwide, including 79 at hospitals, 11,855 at concentrated quarantine establishments and 403 at home.
The reported global death toll of the pandemic has reached 580,000./.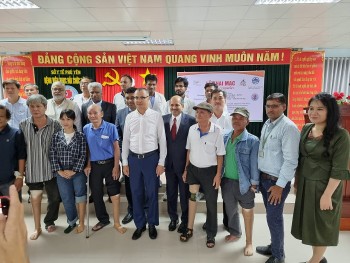 Friendship
This is the 5th time the Jaipur Foot Artificial Limb Fitment Camp has been held in Vietnam since 2018 by the Indian Ministry of Foreign Affairs, Indian agencies and organizations.