Cancer Horoscope 2022: Yearly Predictions for Love, Financial, Career and Health
Cancer Horoscope 2022: The 2022 horoscope predicts the representatives of the Cancer zodiac sign a boring and ambiguous period. Both successful and prosperous days and moments of dissatisfaction and disappointment are expected.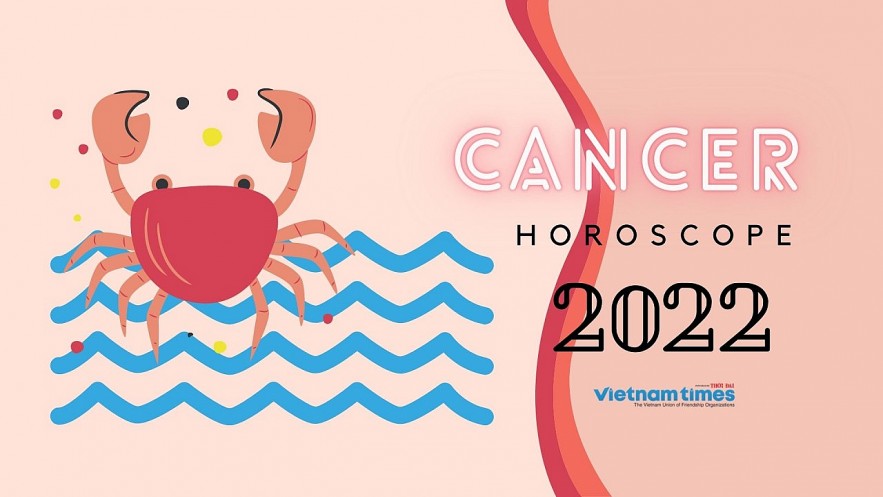 Cancer Horoscope Yearly 2022. Photo: vietnamtimes.
Yearly Planetary Horoscope
Starting a New Year always comes with a little bit of anticipation. Especially with all of the commotion of the past two years, 2022 has to live up to the expectations of being the one to overcome all obstacles. The good news is that this is precisely what to expect out of this year. Especially for all the Cancerians, Jupiter's blessings overflooding your 9th house will ask a lot out of your capacity to learn and uncover the big mysteries of life. This will be a profoundly philosophical and studious year, providing you with all of the understanding of your place in the world you need to take it to the next level. A lot of this new information you will be uncovered will directly affect your career as the year progresses. This will be the time to make a name for yourself and get noticed.
One of the main reasons for making this year one focus on the study is the long-awaited Jupiter transit through Pisces that will be happening in your 9th house. Now it's important to distinguish what kind of new learnings you will make. This is not the mechanical Mercurial type of information that everyone thinks of when you mention taking a student's role. In the realm of Pisces, you're learning things that encompass a wide range of topics. This type of learning is related to your ability to look ahead and have a broad overview of your goals and distant dreams. The long Uranus transit through Taurus has been affecting some of your Midheavens. This likely has manifested in your life some significant changes in your relationship with your career. Maybe you have dropped everything that you were working on in the past to embrace something new. This will be the year to dive deeper into that new thing and learn everything you need to move forward.
According to gotohoroscope, the Venus Retrograde that started in December will also begin to fizzle out as Jupiter is pushing you to focus more on your career. While this can be a challenging transit to go through—especially since this is happening in your 7th of relationships—making an effort not to be so involved with the books may be necessary. The beginning of the year will be a rough journey for Venus, but as we get closer to spring, you should see the resolve of these matters become much more solid. Especially in April as Venus cojoins Jupiter in Pisces (which is her sign of exaltation), Venus will have full power to bless your relationships, romantic or otherwise.
A little before Venus gets to give you her blessings, there may be some slight tension in your friend circle as Mars will be square with Uranus in your 8th house. This is nothing you haven't seen before, however. There's an excellent chance that some old topics of discussion amongst your affiliates may resurface. While that won't really be a reason for you to worry, it might be hard to escape some of the drama. This could be your chance to be the shoulder for someone to cry on or the angry mama bear that every Cancer can occasionally be. Most importantly, however, March will be the month you can take advantage of your natural caring qualities to bring some peace to otherwise tumultuous situations.
Starting at around mid-May, things should really start picking up when it comes to work projects and your public life. If you focus on making the right moves at the beginning of the year, this will be the time when your hard work really starts to pay off. This cycle lasts all the way to May of 2023 as well, so make sure to take full advantage of all the prosperity this year has to offer. Since many of these blessings are attributed to Jupiter transiting in your 10th house, it would be smart to start a gratitude practice on the day of Jupiter, Thursdays. We all know how witchy Cancers can be, so it would be very on-brand for you to come out of this year with a new manifestation practice. If you want to go all out, you can even do it at sunrise, which also has the perks of having every morning be blessed by a beautiful view for a year.
With all the blessings mentioned, we have to address a transit that may be a little more challenging than we'd like it to be. The one toughest transit of the year is the triple conjunction between Uranus, Mars, and the moon's North Node. This will be happening in your 11th house of friendships, networks, and alliances. This will bring a considerable amount of stress to your surroundings. You may feel a lot of pressure to help since Venus will be transiting through your 1st house. This, more than ever, will be the time for you to be the peacemaker. There's no reason to be alarmed, but prepare yourself to deal with some major drama. It's also good to mention that you should remember not to be hard on yourself. Cancers have the tendency to feel guilty for being okay when everyone else is hurting around them. Recognize this privilege is a gift that you can give back.
Shortly after that, in October, we also will have the last Saturn and Uranus square, again happening in your 11th house. This will likely be a more conclusive transit for the matters that started to fester during the August transit. There may be some of the same old drama, but nothing to be worried about. This phase will be necessary to clear out misunderstandings and in-fighting.
After all the fuss, the year comes to an end on a positive, to mildly mundane note. Jupiter will go back into Pisces around November, making the end of the year feel a lot similar to the one preceding it. This will be a time to reconnect with some of the things you missed in your studies and getting set up for the next Jupiter in Aries year ahead. Overall, 2022 is the year for you to find your inner businessman and get your life together. This will allow you to be the pillar that holds everyone around you up, especially when toilsome circumstances arise.
A Cancer individual is very emotional, and for them, the first priority is relationships, and decisions are made primarily based on feelings. But in the year 2022, there are chances that a loved one will betray your trust. They will lose their illusion and have to start building a new life from the ground. This year also predicts rethinking their behavior and habits and it will be the key for them.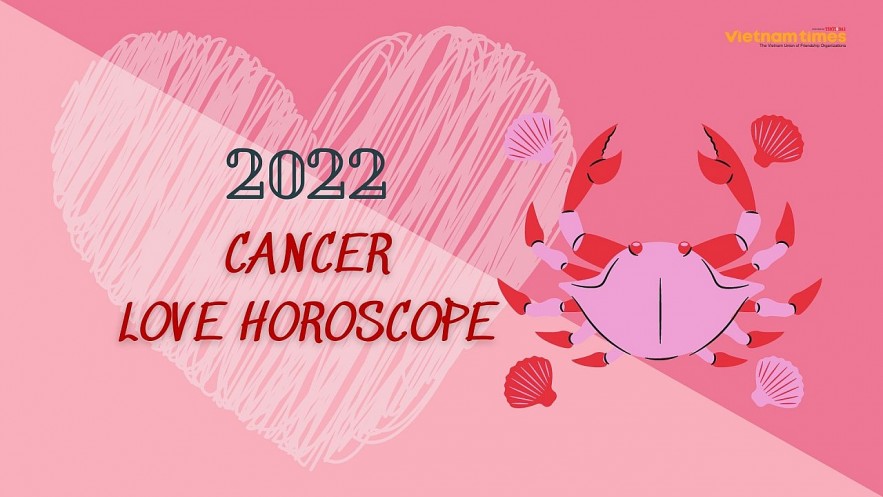 Cancer Love Horoscope 2022. Photo: vietnamtimes.
According to astrology, the sentimental moon is your ruler, Crab, and so while your emotions rule over you, they don't have to necessarily rule you. And yes, there is a difference! You have choices, and this year allows you the chance to show that you're not the emotional mess that you're often portrayed to be. When you make wise choices with both your head and your heart, 2022 can be an unforgettable year.
In fact, the nurturing moon is full in your instinctive sign right in the middle of January, which is a perfect counterbalance to the practical Capricorn sun and a great time for you to demonstrate that there's more to you than making emotional decisions. And this is just one of many lunations throughout the year that will guide you in important life matters.
Strong-minded Saturn sets the general tone for the year, laying out your responsibilities and urging you to follow through on the plans you've made and goals you've set. Because Saturn is partnered with eccentric Aquarius this year, things could get interesting. Saturn in Aquarius is less structured and more innovative than it was in steady Capricorn, so you might turn to less conventional methods to get the job done. Fighting the system can work in your favor if you do it in the right way.
As a Crab, you most likely always look forward to summer because that's when the sun appears bright in your calm and quiet sign. Your true self begins to shine through as you celebrate the start of your birthday month at the end of June, and your closest relationships are your main focus. Improving your surroundings is also on your agenda now, because the more beautiful your home, the more at home you feel. Enjoy the nurturing vibes as you care for others during this soft-hearted transit, but don't forget to pamper yourself a little bit too!
Luckiest day: July 17, 2022
On July 17, the planets have some extra Cancer season magic in store for you. The sun and Mercury will have just aligned in your sign, forming what's known as a Mercury cazimi, which means Mercury is "in the heart of the sun." This aspect helps to bring authenticity and clarity to our words and thoughts, and you'll feel it more powerfully than most. The sun and Mercury in Cancer will collectively form a lucky trine to dreamy planet Neptune, making it a great day for spiritual alignment, creative projects, and heightened intuition. It's also a great day for career advancement and networking, thanks to a motivating connection between energetic Mars and lucky Jupiter, which will be lighting up your house of public recognition. On top of all that, benefic planet Venus will also enter your sign on this day, kicking off a month of enhanced beauty, love, and luxury in your life.
Cancer Horoscope 2022 for Love
As per Cancer love horoscope 2022, Cancer natives have favourable results in the first quarter of the year, but relationships may get better in the mid-year. There will be love and respect between you and your partner. Cancer natives who are currently single may get into a romantic relationship during the second half of the year. Your social and romantic life is most likely to be dominated by strong passion. Even in your daily life, you will be livelier than ever. You may face some ups and downs in your social existence during this year.
According to ganeshaspeaks, this year may offer mixed results as far as relationship equations are concerned. Single natives may come across their perfect match during this year. Your love life is expected to be smooth this year, provided you build an understanding level of relationship with your partner. This would also demand you to keep control over your aggression and be gentle towards your lover.
Try not to get into arguments and fight. Be patient with each other as love goes a long way. The stars are showing an indication of a good time. Why not use this time for the betterment of your relationship and try to create unforgettable memories. Plan a trip, go on dates; These are times that you want to enjoy and relish. For all this, you need to make sure that fight takes the back seat and love is in the driver's seat. For this to happen, both you and your partner should be in a collision. Both of you should be willing to let go of things. Give respect to each other's opinion and try to understand their point of view rather than just forcing your decisions on them. You are being suggested that you should spend quality time with your partner to avoid any room for misunderstanding. Moreover, be compassionate, extra loving, and caring. These factors will revive your bond and bring you both considerably closer to each other.
Your married life may not be happening and exciting this year. There are strong chances of conflicts and disputes for those who are newly married. Ego clash will be the main reason for this. These issues could also become the cause of temporary separation for some of you, so be extra cautious and try to sort out the matters at your earliest.
If you feel like the issues are going out of hand, try to work it out at the earliest. Do not try to drag the problem as that could lead to more problems. Try to sort the problems in the early stage itself. It would be better if you set aside your ego in terms of the relationship. Please make sure you are clear with your partner about your daily doings, do not hide anything from them as it could lead to misunderstandings. If you go on trips, make sure you call them religiously. Whatever misconceptions they have, try to clear them at your best. Also, some folks may get some excellent opportunities at the workplace. There are chances that your partner may also get their share of heritage property/wealth.
This year may be a lot more about focusing on the positive things in your love life rather than talking about the arguments. Especially married couples or even those who have been dating each other. Your nature is going to decide your relationship with your partner, says your yearly Cancer horoscope.
You may find that the more charming and more self-confident you are, the more your partner responds to you, emotionally and physically. Be both a good communicator and a good listener if you have just stepped into a new relationship.
However, during the first half of the year, you will try to bring some stress that may lead to arguments if you take it a little too personal. To avoid it, try to be as understanding as you can get. Best of luck for this, and remember compromises can be good also, especially when it brings harmony in the relationship.
All the baby steps that you would take now will be rewarding in the days to come. Your approach will be appreciated by one and all.
Cancer Zodiac Sign. Photo: Exemplore.
According to astrosage, as per Cancer finance horoscope 2022, it promises to be an auspicious year from an economic perspective. The presence of Rahu in the 11th house means that you should have your desired savings. You should work well to improve your financial status this year. Cancer natives would incur some expenditure on auspicious family events, and it is a favorable time to make a big investment.
As per the 2022 Cancer horoscope, business for the natives in 2022 will be a little difficult to manage. Growth can be expected from your business, especially during the last half of the year, but at the same time, you may have enemies trying to pull you back. Apply your skills, experience, and intuitions wisely to keep your business running smoothly in 2022. The beginning of the year would not be so favorable from a business point of view, and hard work and focus are indispensable for success. But the latter part of the year could get you some success in business.
Business ventures of the natives would perform averagely all this year due to the placement of Saturn in the seventh house of Capricorn as per Capricorn Business Horoscope 2022. Do not expect a windfall in your business; only hard work and commitment would pay you enough points to sail through.
In the second half of the year at this time, you are likely to get financial benefits, especially from the government sector. During this time you will be in a good state of money, and you will be able to pay your old boring bills easily. This year, your health is said to remain unstable due to which you may have to spend money on your health. This year March will be better for you in every way, and you will be earning good profit through business during this month.
Investments done in the past would yield profits, which may also generate revenue this year. However, do not try to splurge the extra money coming in. Instead, use this money to invest in shares as it is a good time to invest money in share and stock markets. But only for a long term assignment; anything speculative can turn out to be dangerous this year. Hence, it may be better to stay away from risks. Instead, try to invest where you are very sure that you would earn profits.
Cancer peeps expecting insurance money through maturity can expect them in the second half of the year. So make sure your papers are well placed this year. Again, we would suggest that you maintain the cycle of investments and put it back into investment. Also, those who had lent money in the past may recover your money back from the borrowers. This way, you can uplift your economic status.
Earnings may improve through your efforts and hard work, so plan your future accordingly. The inflow of money may be good, but at the same time, for some of you, your expenses may shoot up during this year. In order to manage the high expense, it is advised that you create a budget plan and stick to the budget. Also, try not to splurge money. Avoid spending on luxurious items or items that are not required at present. Instead, keep a tab on your worldly desires.
Cancer Horoscope 2022 for Career
As per Cancer career horoscope 2022, it predicts a fairly productive timeline for you. Despite possible worries in other spheres of life, stability, higher labor productivity, and good relations with management are expected in professional activity. There are certain career opportunities that could pop up in the mid-year. Consider both the upside and downside before making a change because optimism can be best for you. Better use of this might be networking and aligning yourself with the most advantageous decision-makers. The result could be job protection against all advancement.
According to ganeshaspeaks, make sure that you do not invest money in any work till the middle of the year 2022. Likewise, it would help if you didn't start a new partnership business until September of the year 2022. After the first quarter, you may get new work opportunities, and your professional life may be enhanced. Some of you may even get a government job by clearing the Civil Services Examination. Job employees may maintain an amicable relationship with their boss but promotion and an appraisal are still not on the cards. Your boss and seniors may perceive your diligent work and appreciate your generous contribution to the growth of your organisation. Overall, this year may be average for both employees and business people.
On the career front, you require some more focus. Be positive and keep the good thoughts flowing. You are excellent in your job, but a lack of concentration may affect your performance. The last week of the year may give you chances to do business deals, so be careful as one wrong step from your side, and your responsibilities may be given to the others. If you are working as a businessman, you are likely to be flooded with good partnership deals in the year of August. You can expect appreciation and a raised status for your professional front. Therefore, the year 2022 may have many achievements professionally.
According to Style Caster, ready or not, your career is heating up this year! By mid-May, Jupiter will activate your success-oriented 10th house, increasing your excitement about your work and attracting lots of positive reinforcement along the way. If you've been struggling to make it work, then get excited, because all that delayed success is arriving when you least expect it!
However, by late October, you might find that your tank is running on empty. As Mars retrogrades through your introspective 12th house, you may feel like taking a break from the hustle and bustle to focus on your spiritual wellbeing. Take care of yourself! The work can wait, Cancer.
According to astrologyk, the career horoscope 2022 predicts a fairly productive period of time. Despite possible problems in other spheres of life, stability, high labor productivity, and good relations with management are expected in professional activity. Favorable periods for the development of their own business are expected in June and July. Some representatives of the mark will receive an offer to profitably change their place of work. However, only the most motivated Cancers will risk taking advantage of the opportunity, the rest will prefer to stay in their usual position.
The stars recommend not to be afraid to seek advice from colleagues and maintain warm relations with them. At the same time, it is necessary to observe subordination and not allow colleagues to enter their personal life. You should be careful with alcohol at banquets and corporate events, otherwise you can find yourself in a stupid position and undermine your authority. The 2022 horoscope portends for some representatives of the sign the appearance of an influential patron, a major customer, a reliable partner or a talented subordinate. People employed in tourism, service, and cargo transportation will be especially successful.
Cancer Horoscope 2022 for Health
Cancer Horoscope. Photo: Fashiondioxide.
According to Astro Talk, about health and wellbeing, Cancer health horoscope 2022 predicts that you have to be very cautious. It is so because some past ailments might make a comeback in the New Year 2022. No doubt planetary alignment supports a good treatment, but then as it's said, prevention is better than cure. A regular check-up, along with medication, would continue to be helpful, as per the 2022 Cancer annual horoscope.
Climatic changes shall become a vital factor in your life, says the Cancer horoscope 2022 for ill natives. Also, the months April, May, July, and September might go harsh on you. You might encounter some injuries or accidents. The same months would be tough on you financially as well. Because of health ailments coming one after the other, you shall lose immense money. Plus, patients with hypertension and high blood pressure must take special care and consideration. Take as much time as you need and do some gentle activities first thing in the morning, suggests the Cancer annual horoscope 2022.
Cancer females who have just crossed their pregnancy phase would have planned something to work upon this year. Worry not, ladies! The stars are with you in your plans of making you in shape again. Those trying really hard to follow a strict diet chart, there is good news in the first half of the year, according to the Cancer horoscope 2022 for diet planners. Just remember that rather than skipping any meal, focus on eating less and healthy dishes. If you can, switch to practices like yoga, meditation, or regular jogging. There might be some vacation plans, cards of the Cancer yearly horoscope 2022 shows so. Those into diet plans must make sure not to eat much on the trip and be regular about their set plan on their outing too.
The year would go smoothly only when you practice some healthy practices regularly in your life. Yes, you are healthy, but you still need to look after yourself and be precautious. Cancer horoscope 2022 for healthy folks says that won't be much issue with you in the New Year 2022. However, if you see some changes in climate and a sick person in your house, make sure you take the required measures to get saved from it.
As per Cancer wealth and profit horoscope 2022, this year is going to be very good in terms of wealth for the Cancer natives. Also, the beginning of the year may be a little tough. That is why you should cut down your expenses, and it would be better that you work towards accumulating your wealth. By the end of the year, you may attain wealth in various forms from July to December as per Cancer Wealth Horoscope 2022, and this year, you may be able to save money in a significant amount. Hence you can spend a big amount of money on buying something very useful for you.
As per Cancer health horoscope 2022, the beginning of the year would bring average results. There would be problems due to weather bone diseases because of the effect of Jupiter in the eighth house. Improve your daily routines along with food habits, and it is advised to take regular exercise in the form of yoga in the morning while doing Pranayam. Do not have mental tension because of any economic aspect or opponent. In the latter half of the year, health would be well and steady, and you would have a positive attitude and thoughts in your mind because of the beneficial aspects of the planet on the ascendant.
Is 2022 a good year for Cancer natives?
Yes, 2022 is going to be a very promising year in terms of career for the cancer natives. There are chances of getting a promotion and hike in their career. The period after March is beneficial for you.
What health problems do Cancer natives have?
Cancer natives generally have a tendency to gain weight in the later years of their life. Tension, anxiety, and emotional stress are the leading cause of illness among cancer natives.
What are the weaknesses of Cancer natives?
These natives are generally emotional, non-confident, pessimistic and have a lot of mood swings.
What will 2022 bring for Cancer natives?
2022 is very good for the natives as it will bring them all the achievements and they will be able to achieve the goals they have established for themselves.
Will Cancer marry in 2022?
Natives have a very good chance of getting married in the year 2022 because some auspicious planets will help them to gain favourable results in this aspect.