Israel showed admiration for Vietnam's success in combating Covid-19
According to the Deputy Ambassador of Israel to Vietnam Shirel Levi, Vietnam has become a role model for other countries in the fight against Covid-19, and Vietnam deserves international admiration for its efforts over the past time.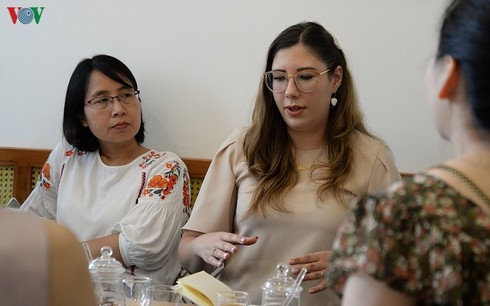 Deputy Ambassador Shirel Levi says she is impressed by Vietnam's COVID-19 fight (Photo: VOV)
Meeting with several reporters in Hanoi on June 14, the Israel diplomat said Vietnam has done a good job in bringing the disease under control, while the pandemic is evolving in the complex manner globally, even in Israel.
Both Israel and Vietnam soon moved to suspend flights from China where the coronavirus was said to break out, but the latter has now controlled the virus whole the former is still struggling to contain it, Levi said.
Vietnam, a country with a population of more than 95 million, has so far confirmed 334 coronavirus cases with no deaths reported. Of the total, as many as 323 cases have fully recovered and have been discharged from hospital.
Meanwhile, Israel, which home to just more than 9 million people, has reported 19,008 cases with 300 deaths.
Levi said the Israeli embassy in Hanoi has followed with keen interest the COVID-19 combat since it broke out in Vietnam. It has got an update, carried out in-depth analysis and made recommendations with regard to the fight for the Israeli government.
At the meeting, the diplomat briefed reporters on the fine development of the friendship and comprehensive cooperation between the two countries, especially in technology development, economics, trade, agriculture and education.
Israel & Vietnam Folk Harmony

The Israeli Embassy in Vietnam, and the Vietnam Performing Arts Centre and Cultural Events of the Ministry of Culture, Sports and Tourism, will host the ...
english.vov.vn