Quang Ngai fisherman awarded certificate of merit for saving 4 Filipinos adrift at sea
The People's Committee of Quang Ngai province presented a certificate of merit to Mr. Nguyen Thanh Nhac, captain and owner of the fishing boat QNg 97217, in Tan Thanh village, Nghia An commune, Quang Ngai city for rescuing four Filipinos adrift at sea.
As reported by VOV, on January 23, Mr. Nguyen Thanh Nhac and 7 other fishermen on the fishing boat QNg 97217 discovered and rescued 4 Filipinos who were drifting in the Truong Sa (Spratly) archipelago.
After taking the victims on board, the fishermen handed over them to Vietnam's Fisheries Surveillance vessel 472 at Son Ca Island. On January 27, the fishing boat QNg 97217 reached Sa Ky Border Control Station, Tinh Ky Commune, Quang Ngai City.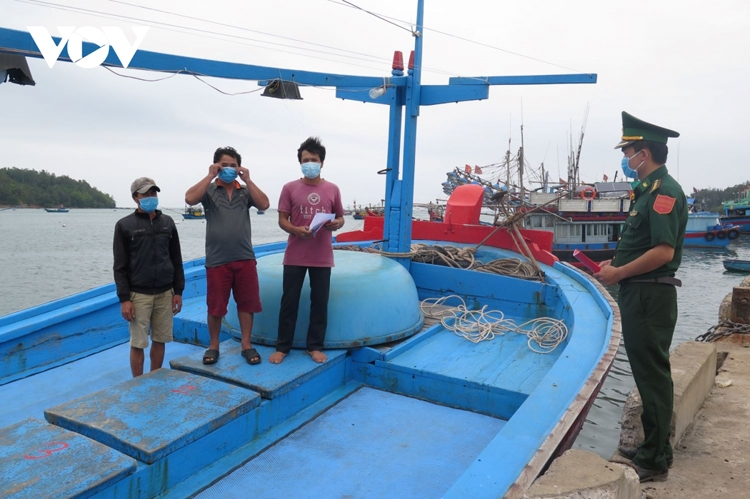 The rescue mission must comply with the regulations on Covid-19 prevention and control. Photo: VOV
The local fishermen were under Covid-19 quarantine at the Medical Center of Binh Son district. Quang Ngai leaders visited and praised the fishermen.
On February 4, a ship of the Nha Trang Maritime Rescue Cooperation Centre (Nha Trang MRCC) also brought ashore a Philippines national fallen ill at sea.
Daviron Maglaccion, 31, was on board the bulk carrier Echo. Gr en route from Singapore to China, according to Nha Trang MRCC Director Nguyen Xuan Binh.
When the ship was navigating through waters about 200 km southeast of Nha Trang in the south-central province of Khanh Hoa, Daviron Maglaccion suffered from stomach pains so severe that he could neither eat nor drink. The ship then requested Vietnamese assistance to care for the sailor.
The man's health deteriorated, Binh went on, adding that it was a life-threatening situation.
The sick foreign sailor brought ashore for treatment. Photo: VNA
Once ashore, he was immediately taken to the Khanh Hoa provincial General Hospital for emergency care, Vietnamplus reported.
Binh added that the Vietnamese ship strictly complied with preventive rules against COVID-19 during the rescue mission.
In 2019, a Vietnamese boat also saved 22 Filipino fishermen after their boat was rammed and sunk by a Chinese vessel in the Bien Dong Sea (internationally known as the South China Sea).
The Chinese vessel rammed a Filipino boat anchored near Reed Bank in the Bien Dong Sea, sinking it and abandoning the fishermen on board, the AFP reported, citing a statement by Philippine Defense Secretary Delfin Lorenzana.