Russia, China build case at U.N against U.S's sanctions threat while Iran builds fake aircraft carrier to attack
Russia and China have started making the case at the United Nations against Washington's claim that it can trigger a return of all sanctions on Iran at the Security Council while Iran builds fake aircraft carrier to attack amid US tension.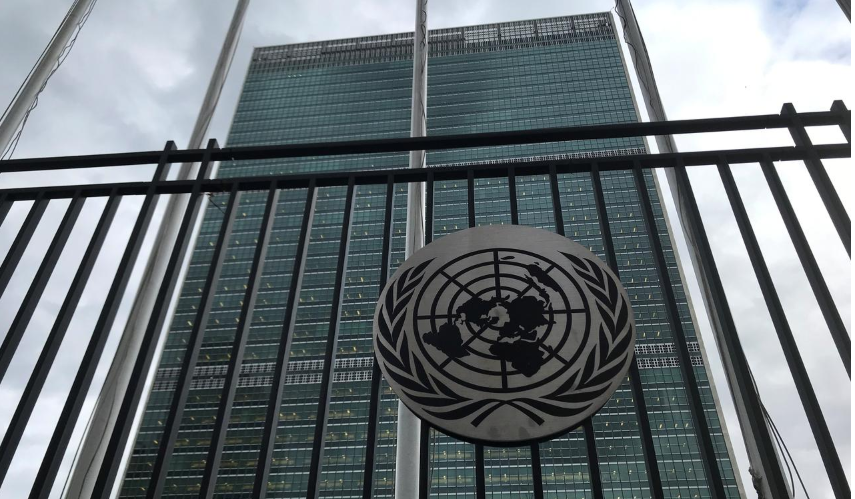 The United Nations Headquarters is pictured as it will be temporarily closed for tours due to the spread of coronavirus in the Manhattan borough of New York City, New York, U.S., March 10, 2020. REUTERS
Russian Foreign Minister Sergey Lavrov and the Chinese government's top diplomat, Wang Yi, both wrote to the 15-member council and U.N. chief Antonio Guterres as the United States threatens to spark a so-called sanctions snapback under the Iran nuclear deal, even though Washington quit the accord in 2018.
Lavrov wrote in the May 27 letter, made public this week, that the United States was being "ridiculous and irresponsible."
"This is absolutely unacceptable and serves only to recall the famous English proverb about having one's cake and eating it," Lavrov wrote.
Washington has threatened to trigger a return of U.N. sanctions on Iran if the Security Council does not extend an arms embargo due to expire in October under Tehran's deal with world powers to prevent it from developing nuclear weapons, according to the reuters.
U.S. Ambassador to the U.N. Kelly Craft said last week that a draft resolution on the embargo would be circulated soon.
Council veto-powers Russia and China have already signaled they are against reimposing an arms embargo on Iran. If they block the U.S.-drafted resolution, then Washington will have to follow through on its sanctions snapback threat.
"The United States, no longer a participant to the JCPOA (nuclear deal) after walking away from it, has no right to demand the Security Council invoke a snapback," Wang wrote in his June 7 letter.
The 2015 Iran nuclear deal, enshrined in a U.N. resolution, allows for return of sanctions on Iran, including the arms embargo, if Iran violates the deal. U.S. President Donald Trump quit the deal in 2018, branding the accord from Barack Obama's presidency as "the worst deal ever."
Lavrov cited a 1971 International Court of Justice opinion, which found that a fundamental principle governing international relationships was that "a party which disowns or does not fulfill its own obligations cannot be recognized as retaining the rights which it claims to derive from the relationship."
A dangerous encounter between the Iranian and US navies in the Persian Gulf last month, provoked by 11 Iranian Revolutionary Guards' speedboats, and President Trump's threat one week later to shoot Iranian gunboats out of water if this happens again, are stark reminders of the short fuse between the two countries amid growing tensions. If they want conflict to wag the dog and deflect attention from their failures to fight the Covid-19 outbreak in their respective countries, they can easily stumble into one; but if they don't, as they often claim, they should find a way to establish a military hotline, reported the guardian.
In the current climate of acrimonious exchanges between the two countries, competing claims that the other's military is engaged in terrorist acts and little direct interaction between senior diplomats, as well as the US blacklisting of Zarif in 2019, Washington and Tehran need a military de-escalation channel to avoid inadvertent conflict in a moment of crisis.
The replica carries 16 mock-ups of fighter jets on its deck, according to satellite photos taken by Maxar Technologies. The vessel appears to be some 200 meters (650 feet) long and 50 meters (160 feet) wide. A real Nimitz is over 300 meters (980 feet) long and 75 meters (245 feet) wide.
As tensions remain high between Iran and the U.S., the Islamic Republic appears to have constructed a new mock-up of an aircraft carrier off its southern coast for potential live-fire drills.
The faux foe, seen in satellite photographs obtained Tuesday by The Associated Press, resembles the Nimitz-class carriers that the U.S. Navy routinely sails into the Persian Gulf from the Strait of Hormuz, its narrow mouth where 20% of all the world's oil passes through, said the apnews.
While not yet acknowledged by Iranian officials, the replica's appearance in the port city of Bandar Abbas suggests Iran's paramilitary Revolutionary Guard is preparing an encore of a similar mock-sinking it conducted in 2015. It also comes as Iran announced Tuesday it will execute a man it accused of sharing details on the movements of the Guard's Gen. Qassem Soleimani, whom the U.S. killed in a January drone strike in Baghdad.
The fake carrier sits just a short distance away from the parking lot in which the Guard unveiled over 100 new speedboats in May, the kind it routinely employs in tense encounters between Iranian sailors and the U.S. Navy. Those boats carry both mounted machine guns and missiles.
The mock-up, which first began to be noticed among defense and intelligence analysts in January, strongly resembles a similar one used in February 2015 during a military exercise called "Great Prophet 9." During that drill, Iran swarmed the fake aircraft carrier with speedboats firing machine guns and rockets. Surface-to-sea missiles later targeted and destroyed the fake carrier.
Iran's announcement of the looming execution shows how seriously they still take Soleimani's assassination. An exercise targeting a mock U.S. aircraft carrier could send that message as well, particularly if it involves a swarm attack of smaller vessels, which analysts believe Iran would employ if it did get into a shooting war with the U.S. Navy.
The U.S. Navy's Bahrain-based 5th Fleet, which patrols Mideast waters, did not immediately respond to a request for comment.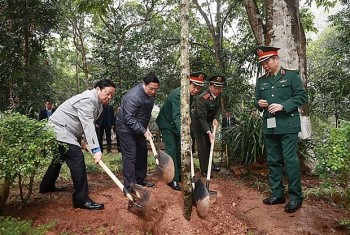 National
The Prime Minister launches a tree planting festival in Ba Vi on New Year of Cat.