Tam Chuc Pagoda: The largest complex beckons tourists and Buddhist pilgrims
Tam Chuc Pagoda Complex is an extraordinary religious tourist site in an awe-inspiring landscape, with its front-facing the lake and its back leaning into the mountain. It enchants the eyes of visitors by its great combination of impressive architecture and spectacular landscapes.
Tam Chuc Pagoda festival has attracted thousands of pilgrimages in the early days of the Vietnamese Lunar New Year since it officially opened on 16th February 2019. The pagoda lies within Tam Chuc Tourist Complex which covers a total area of 5,000 ha. Situated in the North of Ha Nam Province, Tam Chuc Pagoda is 60 km from Hanoi and it is being built on the foundation of the former pagoda and surrounded by newly built structures, parking lot, immense lake system and lush forests.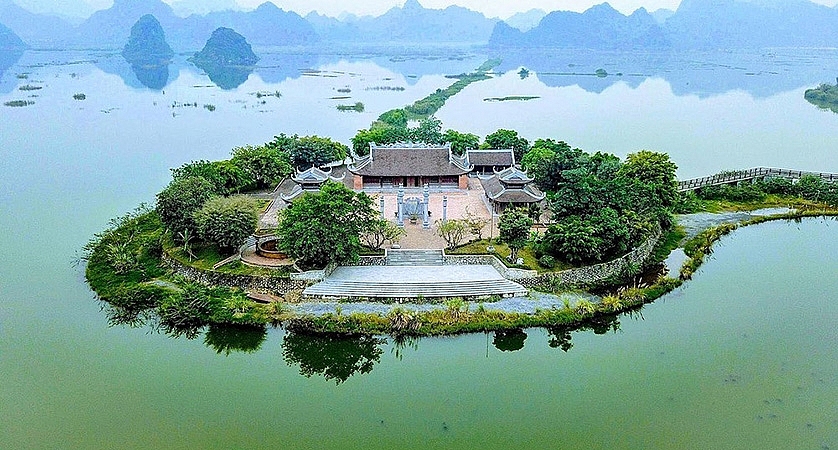 Tam-Chuc-Pagoda:-The-Largest-Pagoda-Complex-Beckons-Tourists,-Pilgrims.-Photo:-Vietnam-travel-agents
Tam Chuc Tourist Area consists of submerged majestic limestone mountains, which still retains the natural wild beauty. It is evaluated in terms of feng shui as the sacred land because its back is leaning against mountains and its face is looking out to lakes. Due to this, Tam Chuc is also called "Ha Long Bay on land."
The front of the pagoda is a huge natural freshwater lake, and in the middle of the lake, there are 6 small mountains rising up, creating spectacular figures. On the back of the pagoda are other 7 mountains that can glow when there is moonlight at night. About the present of these mountains, folk circulated for a long time a legend: 7 mountains in the back are 7 fairies descending from heaven and forgetting the way back after being fascinated by the charm of Tam Chuc. And 6 mountains in the front are 6 bells brought down to call the fairies back but useless.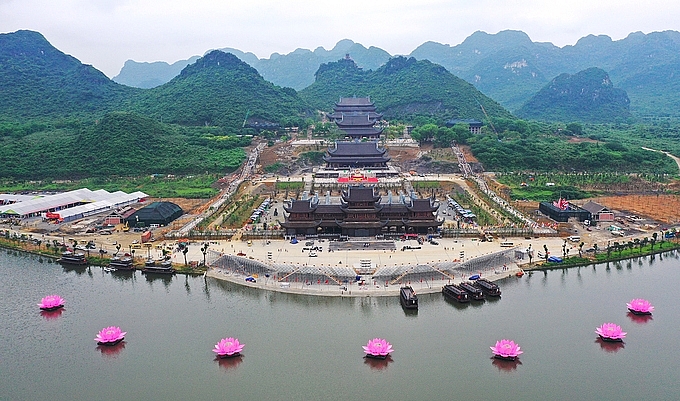 Tam-Chuc-Pagoda:-The-Largest-Pagoda-Complex-Beckons-Tourists,-Pilgrims.
The pagoda was built with thousands of stone paintings meticulously crafted by the skillful hands of craftsmen. There were 12000 paintings depicting the Buddha's events sculpted from volcanic stones by Indonesian Muslims, then taken to Vietnam. In addition, Tam Chuc Pagoda also established a giant garden of 1000 stone pillars with Buddhist scripture carved on them, and each pillar is 12 meters high and weighs 200 tons.
All the shrines and Buddha statues at Tam Chuc Pagoda are extremely large in size. Specifically, the giant Buddha statue weighing up to 200 tons is the biggest bronze statue in Southeast Asia today. The most remarkable structure here is Ngoc Pagoda, which is located at the top of That Tinh mountain (núi Thất Tinh) and constructs by Hindu artists with elaborate designs. Besides, Tam The Shrine has a height of 39 meters, a floor area of 5400 square meters, which enables 5000 Buddhists to officiate at the same time.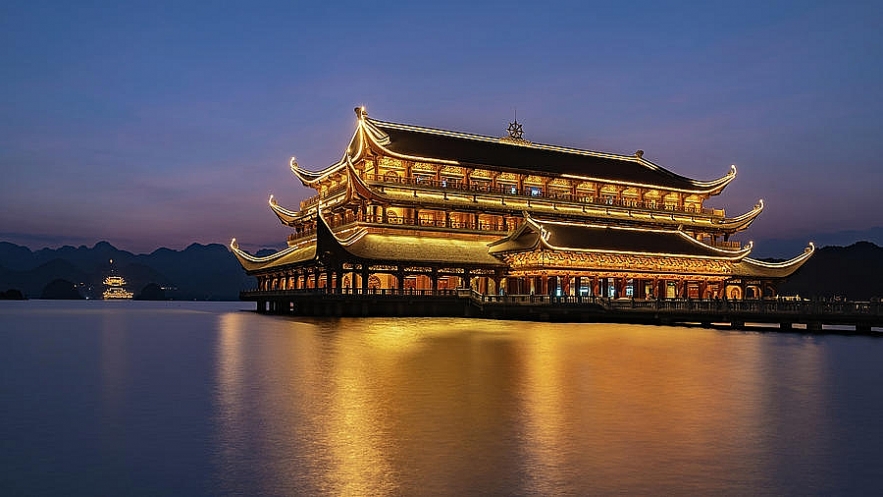 Tam Chuc pagoda - Vesak building Photograph by Hung Nguyen Long
Visitors can use electric cars to discover the whole complex, with round trip tickets costing 200,000 VND (8.7 USD). Tourists can now also go kayaking at Tam Chuc Wharf, as well as enjoy afternoon tea on a boat between 4.30 pm and 6.30 pm every day.
Le Xuan Huy, director of the provincial Department of Culture, Sports and Tourism, said Tam Chuc Pagoda Complex is the highlight of Ha Nam tourism.
"We have worked closely with travel agents and neighboring provinces to boost local tourism, and revive the economy after the pandemic," he said at a conference boosting tourism held last week.
"When the pandemic is under control, reviving tourism is very important. Tam Chuc Pagoda Complex is the highlighted destination as it's an important religious site and has a beautiful landscape. It connects other destinations nearby such as Huong Pagoda Complex and Trang An – Bai Dinh Complex."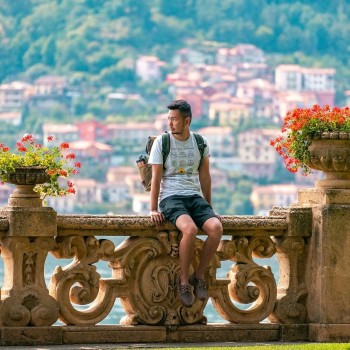 Travel
If you have the opportunity to visit Hoi An at the end of the year, these are some of the best recommendations for fun activities you can do from Peter R – a Thai travel blogger.