Telegraph: Vietnam most successful national in combating COVID-19
As the world's most successful nation in tackling with Covid-19, Vietnam is cautiously lifting social distancing measures and restrictions on movement, UK Telelgraph reported. After being closed for nearly a month, Vietnam's once bustling stalls, shops and restaurants are open once again.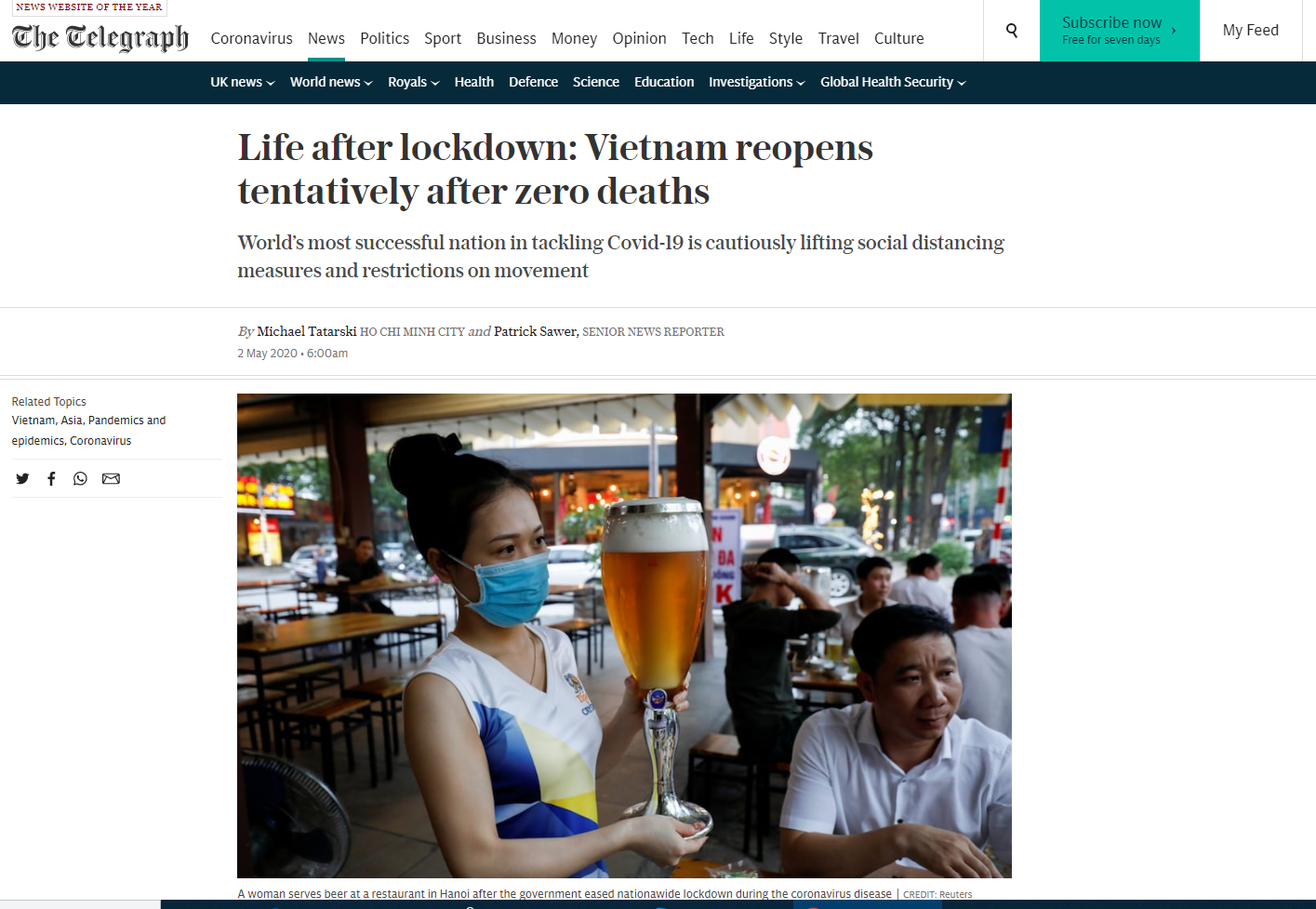 Telegraph reported Vietnam is the world's most successful national in tackling COVID-19. Screenshot photo
After being closed for nearly a month, Vietnam's once bustling stalls, shops and restaurants are open once again.
Some of them at least. Others may never recover from the financial shock of being forced to shut up shop as the country grappled with coronavirus.
And those that have survived now face a slow and painful return to normality while maintaining social distancing in a nation that appears to have had a narrow escape from the worst ravages of Covid-19.
Remarkably, for a country that shares a 870-mile porous border with China and is far less wealthy than other Asian nations such as South Korea and Taiwan, Vietnam has suffered no deaths from the pandemic.
As a result, it felt able last week to start lifting the strict social distancing measures and restrictions on movement.
L Concepts, which operates seven restaurants and cafes in Ho Chi Minh City, became one of several businesses to take advantage of the easing of Vietnam's lock down when it reopened four outlets on April 24.
But, in a preview of what is likely to happen in other countries, things have not gone back to the way they were before the arrival of coronavirus.
There is less seating and greater space between customers, and there is an added emphasis on personal hygiene.
"In light of the pandemic, we have introduced safety initiatives such as increased frequency of cleaning and sanitation of high-touch areas both in front and back-of-house, including washrooms," said Anna Phan, a senior marketing executive at L Concepts.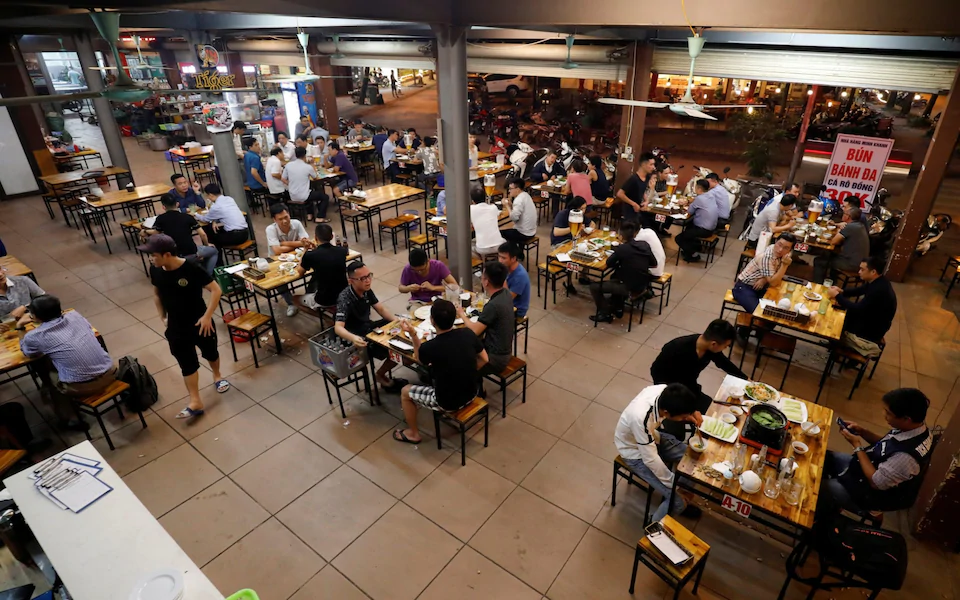 Lockdown eases in Hanoi CREDIT: Reuters
Hand sanitiser has also been made available for all customers, while employees must wear masks when interacting with guests.
The Facebook pages of many restaurants detail new rules following the lockdown, including temperature checks upon entry, spaced out tables, or advance booking so that staff can control the flow of customers and ensure their own safety. Bars and entertainment venues like cinemas remain closed, with no re-opening date yet announced.
Other venues have shuttered more permanently, unable to recover from the temporary closures, with empty storefronts and 'for rent' signs dotted around Ho Chi Minh City.
The Vietnamese strategy for containing the coronavirus outbreak and avoiding the health disaster experienced elsewhere focused on a combination of targeted contact-tracing and testing to swiftly contain small clusters of Covid-19 before they spread.
Grassroots Communist party networks were used to help in tracking down those who may have come into contact with people who tested positive for the virus.
One 76-year-old painter who has spent his life making propaganda art for the Communist government turned to designing posters to encourage the public fight against coronavirus.
Tran Duy Truc, whose designs include a mother helping her daughter put on a mask while urging people to wash their hands, said: "Artists can be seen as fighters. They have to draw their best pictures to make people understand and help them win against this enemy."
The government also instituted a strategy of mass quarantine, initially for arrivals from China, South Korea, Italy, and Iran, before incoming international flights were suspended in late March.
At one point, nearly 80,000 people were quarantined nationwide, roughly half in government facilities such as military barracks and converted university dormitories, and the rest at home.
These steps kept the country's infection caseload low, allowing health officials to focus resources on clusters which emerged in Hanoi and Ho Chi Minh City, the two largest urban areas.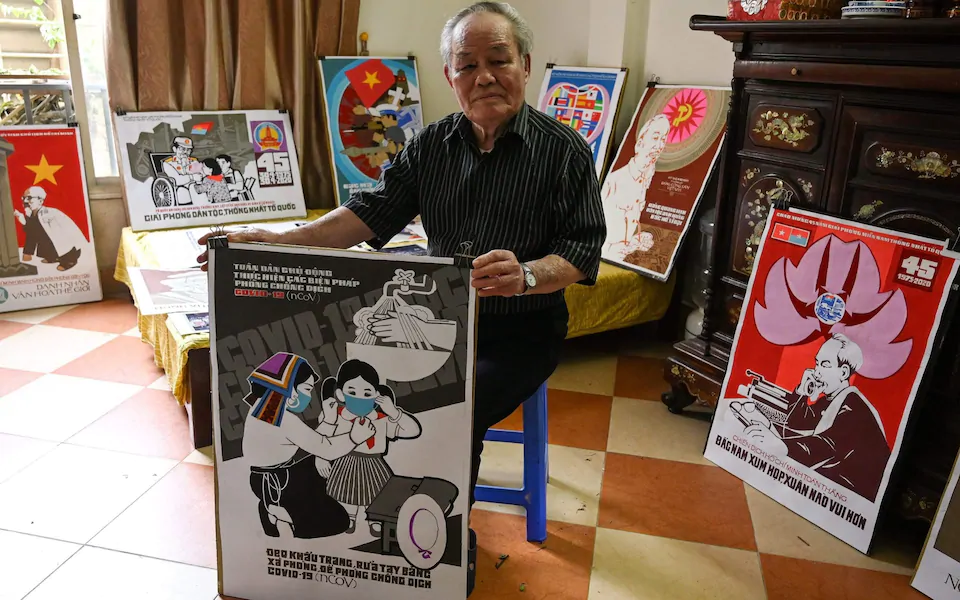 Vietnamese artist Tran Duy Truc with his propaganda poster created for a campaign to prevent the spread of the COVID-19 novel coronavirus CREDIT: AFP
The country has had just 270 confirmed Covid-19 infections out of a population of 96 million, with no reported deaths.
Another outlet that made it through the lockdown is Que by Kaarem, a clothing boutique in Ho Chi Minh City which first closed on March 14, before Vietnam's official social distancing campaign began on April 1.
Its staff worked from home and made efforts to stay connected with customers through a bike delivery programme.
Que may now have re-opened, but it's not exactly business as usual, with hand sanitiser, disinfected surfaces, limited opening days and one-customer rules.
They are also offering personal video shopping through WhatsApp, Facebook Messenger and Instagram.
"It's a tough time for everyone," said Kathy Bach, co-founder and CEO.
"We're doing our best to support other small businesses... Most important of all, we know this is the time for us to stay connected and carry on as best we can.", cited by Telegraph.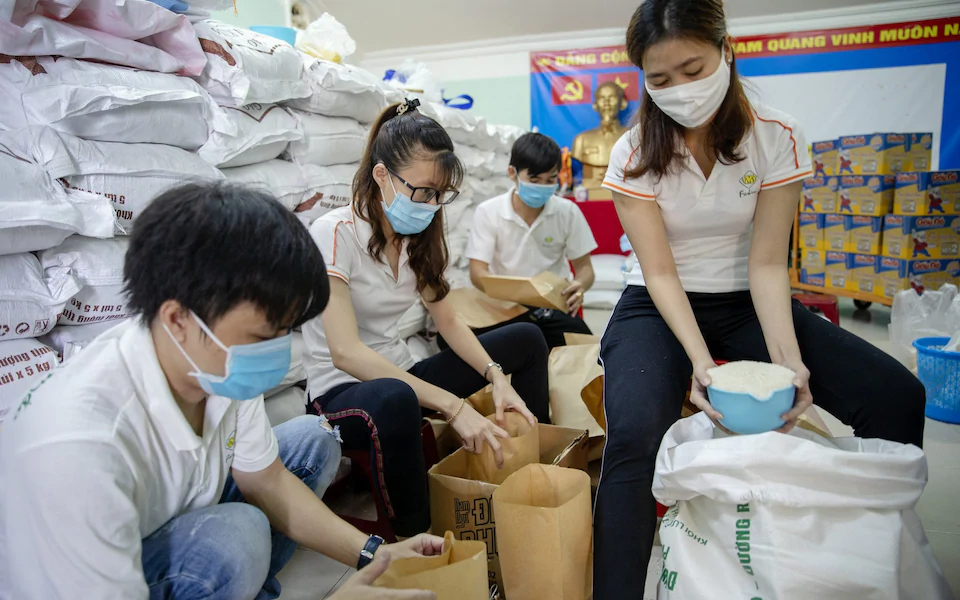 Volunteers sort bags of rice to be delivered to elderly and disabled people at a rice distribution center during a partial lockdown imposed due to the coronavirus in Ho Chi Minh City, CREDIT: Maika Elan/ Bloomberg
According to The Diplomat, Vietnam's model for containing the outbreak has been touted as a successful low cost model. Whereas its neighbors, Taiwan and South Korea, could afford mass testing, Vietnam lacked the resources and instead opted for selective but proactive prevention. Vietnam found its success in proactiveness. Over the course of three months since the first case, Vietnam has not hesitated to restrict movements where needed, balancing overt caution with precision.
The underlying factor that enables the Vietnamese government's success is the mobilization of nationalism. The government has framed the virus as a common foreign enemy and called on the unity of the population to defeat it, echoing the enduring history of a nation always threatened by foreign invaders. Since "day one," the Communist Party of Vietnam (CPV) and the state have led the fight with the motto "fighting the epidemic is like fighting against the enemy."
In addition, the government has positioned itself as an effective source of leadership during the pandemic by providing information with transparency. The Ministry of Health took the initiative to launch a website and a mobile application not only to ease the medical process but also to disseminate accurate information quickly. State media have also constantly covered the hotspots of the pandemic like China, Italy, Spain, and the United States to raise public awareness about the seriousness of COVID-19 and to demonstrate the essential of robust government intervention.
By being transparent and proactive in communicating with the public, the government was able to gain and maintain public confidence. In a Dalia Research survey of 45 countries asking about public opinion of government responses to the pandemic, 62 percent of Vietnamese participants said that the government is doing the "right amount," topping the survey's average with a higher rate than other "model" countries such as Singapore and South Korea.
According to CFR, By all measures, three months into this war, Vietnam has been among the most successful countries in the world, if not the most successful, in the fight against COVID-19. Meanwhile, the United States, the richest and most powerful country in the world, struggles to provide even basic protective medical equipment to its medical professionals and has yet to institute an effective and comprehensive testing regimen for its citizens.
Within Vietnam, it has become a matter of patriotism to wash one's hands and stay home—a message that has been successfully communicated through various forms of popular art and propaganda about COVID-19. Vietnam also implemented tough controls on travel and on people who were potentially infected, very early on in the crisis, as other Southeast Asian states dithered; it also was quick to put lockdowns into place.
Vietnam also has used effective tracing methods, from much earlier on in the pandemic that many other countries. It has mobilized huge numbers of people to serve as tracers, making it possible to track down all or nearly all the contacts of infected people, and then to track down the contacts of those contacts, to ensure the virus did not spread.
Vietnam's model is an example for countries and territories with limited resources and/or at early stages of fighting COVID-19 with a low number of cases, CFR said.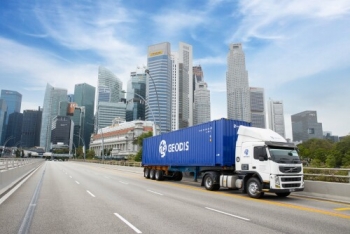 Economy
GEODIS, a global leading transport and logistics services provider, has expanded its road network in Southeast Asia to Vietnam; another step towards its ambition to develop a scheduled road service connecting Singapore to China.