UK and Europe daily weather forecast latest, March 17: Mostly fine with plenty of sunshine for most parts in the UK
The UK is forecasted to have a fine day with plenty of sunshine for most parts, but eastern England will be cloudier. Meanwhile, cold weather is expected in Scandinavia and much of eastern Europe, best sunshine in the west.
UK's weather forecast
According to Sky News, Wednesday will be mostly fine, with plenty of sunshine for most, but eastern England will be cloudier. There will be a scattering of showers there, mainly in the southeast. It will be mild but it will be a little cooler than today and it will stay quite windy near the east coast.
Cold north-easterly winds are expected to bring subzero temperatures this week, potentially bringing wintry conditions with them. Brian Gaze from Weather Outlook predicted fierce air from the Arctic to cause temperatures to plunge as low as -5C in Scotland this week. Temperature models from WXCHARTS also show south-eastern regions including London and Kent averaging 0C on Friday, while the north-east could see a slightly warmer 1C.
Mr Gaze told Express.co.uk: "It looks like high pressure will build and become established close to the UK next week. Cold arctic air will be pushing southwards on its eastern flank. That could keep the days chilly in eastern Britain but in the west it should feel quite pleasant in the afternoon sunshine. However, the calm conditions coupled with clear skies lead to the risk of widespread nighttime frosts."
"Temperatures locally in Scotland could dip to -5C on some nights and below 0C in large parts of the UK."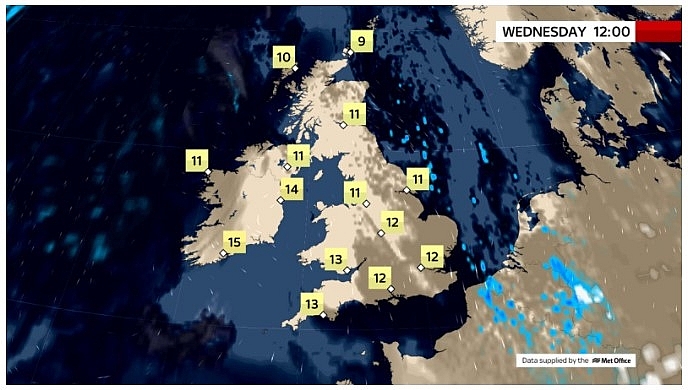 Photo: Sky News
Mr Gaze explained further in his weekly forecast on the Weather Outlook website: "Tonight the wet weather spread southeastwards across the UK. The heaviest spells of rain are likely to be in northern and eastern counties. By the end of the night clearer skies return to much of Scotland and Northern Ireland."
"Tomorrow morning patchy outbreaks of rain clear southeastwards. A few heavier bursts are possible for a time in northern and eastern areas, but in Wales and western England any rain there is should be light. The second half of the day is looking mainly dry and cloud cover breaks to give sunny spells. High pressure continues to be the main feature of the weather through the rest of the week."
"Temperatures in the south and east dip significantly as the high pressure becomes centred further to the northwest. That allows colder air from the northeast to feed in for a time. Elsewhere it remains milder."
The BBC's long-range forecast between Saturday, March, 13 and Sunday, March 21 added cold north-easterly winds could bring wintry weather later this week.
The forecast said: "During Tuesday, rain will reach all areas and it should linger across the eastern half of the country through to the evening.
"Northern Ireland, Wales, western Scotland and southwest England will become drier with some sunshine developing through the afternoon. Wednesday onwards will be drier with some sunshine as high pressure builds. Any patchy drizzle should die away and there will be some sunshine for most also a chance of overnight frost and fog patches."
"High pressure should gradually weaken, though, which might allow some rain to start moving in from the northwest on Sunday or Sunday night. An alternate scenario takes high pressure farther northwest, inducing colder north-easterly flows with wintry showers in the east, and this would be a 20-30 percent chance."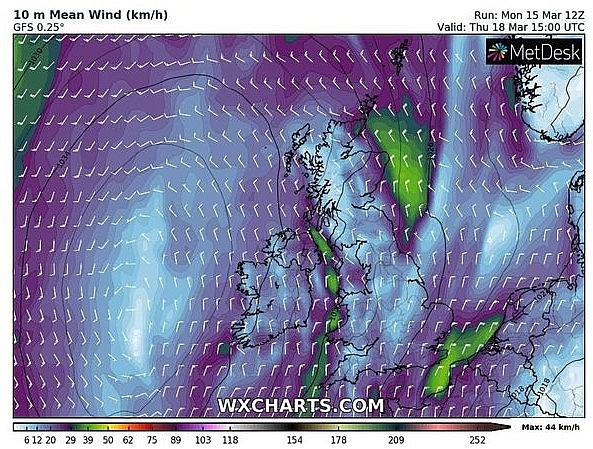 Cold weather forecast: Cold north-easterly winds are expected to blast subzero temperatures (Image: WXCHARTS)
The Met Office also predicted temperatures to be "below average" at the end of this week. The long-range forecast for March said: "Largely settled conditions are expected at first during this period. This will give dry weather with light winds, with the main chance of rain being in the far north or northwest. There is a risk of morning frost and fog patches, particularly in the west."
"Daytime temperatures will potentially be colder than average in the south, particularly the southeast at first, where showers may be wintry at times, and on the milder side elsewhere."
"The end of the period will most likely see another period of unsettled weather, with spells of rain and some strong winds crossing all parts of the UK, interspersed with drier and brighter interludes."s
"Temperatures are expected to be at or slightly below average for this time of year by the end of the eriod."
On March 17
According to Weather Online, a quiet day on Wednesday with high-pressure centred over Ireland. This will bring a fair day with broken cloud and some sunny spells. Most of the cloud probably across Ireland, Wales and Southwest England. The best of any sunshine in southern Scotland and parts of northern England. It may also be fairly sunny across South East England. Very little change is expected through the day. Staying mild at 9 to 12C.
Most parts dry with sunny spells; sunniest in the west where it will feel warm. Cloudier in the east, perhaps with a few coastal showers, Met Office reported.
Outlook for Thursday to Saturday
Although many areas will remain dry with variable cloud cover, there will in drizzle affecting north and western areas and light showers of rain affecting the southeast at times.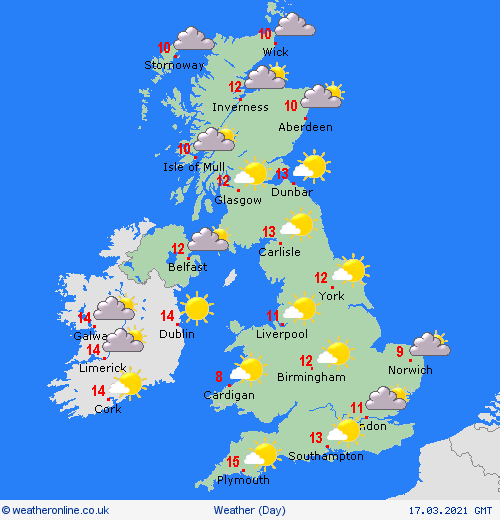 Photo: Weather Online
Europe's weather forecast
Another largely dry and fine day for Spain and Portugal although do expect one or two scattered showers over the Pyrenees region. Dry and sunny through the Balearics although breezy in the far east here. Showers or longer spells of rain across Italy and the surrounding islands with brisk winds along western coasts of the islands. Staying unsettled across Greece and Turkey with cloudy skies and outbreaks of rain.
Variable cloud amounts across France with some light and patchy rain but mainly dry. Largely dry across the Low Countries but chilly. Chilly yet dry across northern Germany. Showery rain affecting southern areas here as well as across Switzerland, Austria and the Czech Republic. Poland too will see patchy outbreaks of rain, sleet and snow, mainly in the west. Chilly with some wintry showers about through the Balkans.
Mostly dry yet cold across Scandinavia although a mix of rain, sleet and snow will push into coastal and northern regions of Norway. Some snow showers across parts of Finland and the Baltic States but sunny spells too. A dry but chilly day for Denmark.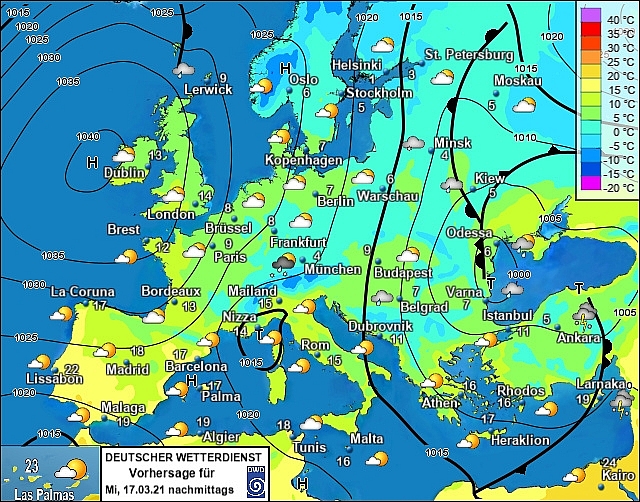 Photo: Stirimeteo
On March 17
According to Weather Online, fine across most of Spain and Portugal on Wednesday. There will be some showers affecting Majorca and Ibiza, and the showers troubling Corsica and Sardinia too. Heavy showers across central and southern parts of Italy as well as Greece. Much of Italy and Greece feeling cold. Fair in the far west of Turkey but heavy showers, rain and sleet in the east.
A fair day in France with plenty of sunshine, especially in the west. Cold but bright in the Netherlands. Germany will have rain and sleet across much of the country and this will be also over western Poland. Eastern Poland should be fair. Hungry will be dry with sunny spells but sleet affects northern Austria. Switzerland will be mostly fair.
Cold for Denmark with some sunny spells. Fair and cold for most of Sweden as well as the Baltic states. Finland stays cold and dry. Some snow showers in western Norway but many parts will be dry with sunny spells.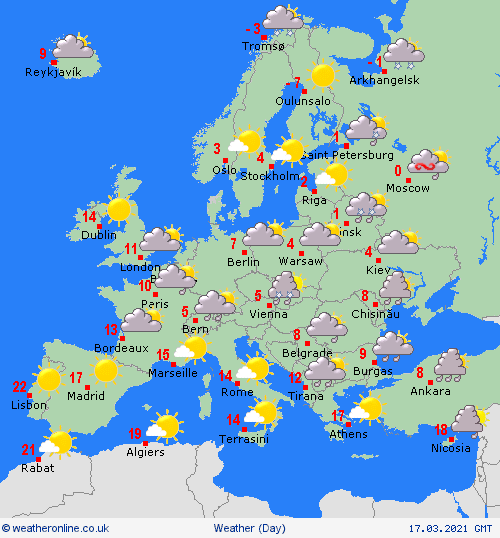 Photo: Weather Online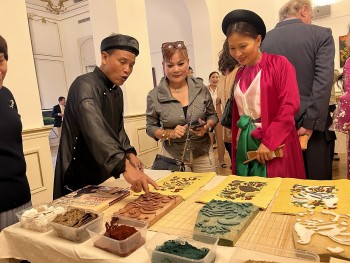 Friendship
Vietnam Days in Austria 2022 program officially took place, opening the series of events of Viet Nam Days Abroad 2022. This is one of the important activities organized by the Department of Cultural Diplomacy and UNESCO Affairs, Ministry of Foreign Affairs to celebrate the 50th anniversary of the establishment of diplomatic relations between Vietnam and Austria (December 1, 1972 - December 1, 2022).