Vietnam Loosens Int'l and Domestic Flights to Fully Vaccinated Passengers
Vietnam is trialing the seven-day quarantine policy for international vaccine holders and proposing to open regular domestic flights for those testing negative for coronavirus and are fully vaccinated.
On September 4, Vietnam welcomed the first international flight with all passengers fully vaccinated and enjoy the shortened seven-day quarantine policy under a trial vaccine passport program.
As reported by VNE, all passengers on the flight that landed at the Van Don Airport had already received two doses of Covid-19 vaccines, with the second dose administered at least 14 days but no more than 12 months prior to the date of entry.
They also furnished proof of negative Covid tests using RT-PCR method validated by authorities in the host country 72 hours before departure.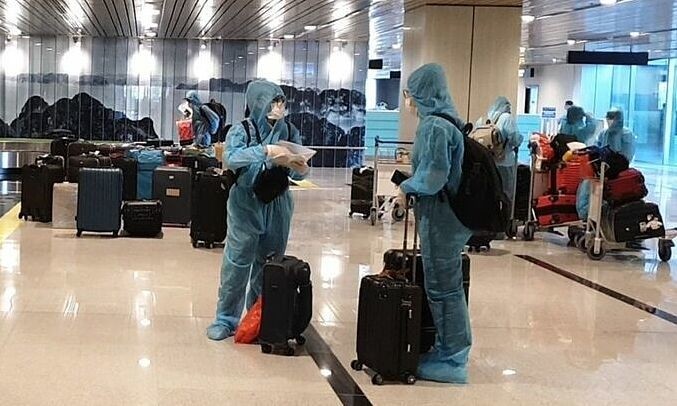 Passengers wait to get their luggage after arriving at Van Don Airport in Quang Ninh Province on a flight from Japan, September 4, 2021. Photo: VNE
After arriving at the Van Don Airport, all passengers were transported to the Novotel Ha Long Hotel to undergo a seven-day quarantine instead of the usual 14 days.
They will have to remain another seven days in self-isolation.
Pham Ngoc Sau, director of Van Don International Airport, said all passengers had to undergo body temperature checks, submit health declaration forms, wear masks and keep a safe distance at all times.
The vaccine passport policy will apply for another repatriation flight for Vietnamese nationals returning from the U.S. on September 12.
According to Vietnam Investment Review, Vietnam is experimenting with shortening the mandatory quarantine period (from 21 to seven days) for entries through Van Don International Airport in Quang Ninh province for entrants who have been sufficiently vaccinated and meet other conditions.
All passengers have received two doses of Covid-19 vaccines with the second jab administered at least 14 days but no more than 12 months before entrance. They must also have proof of negative Covid-19 tests (RT-PCR method) certified by authorities of the host country, taken 72 hours before departure.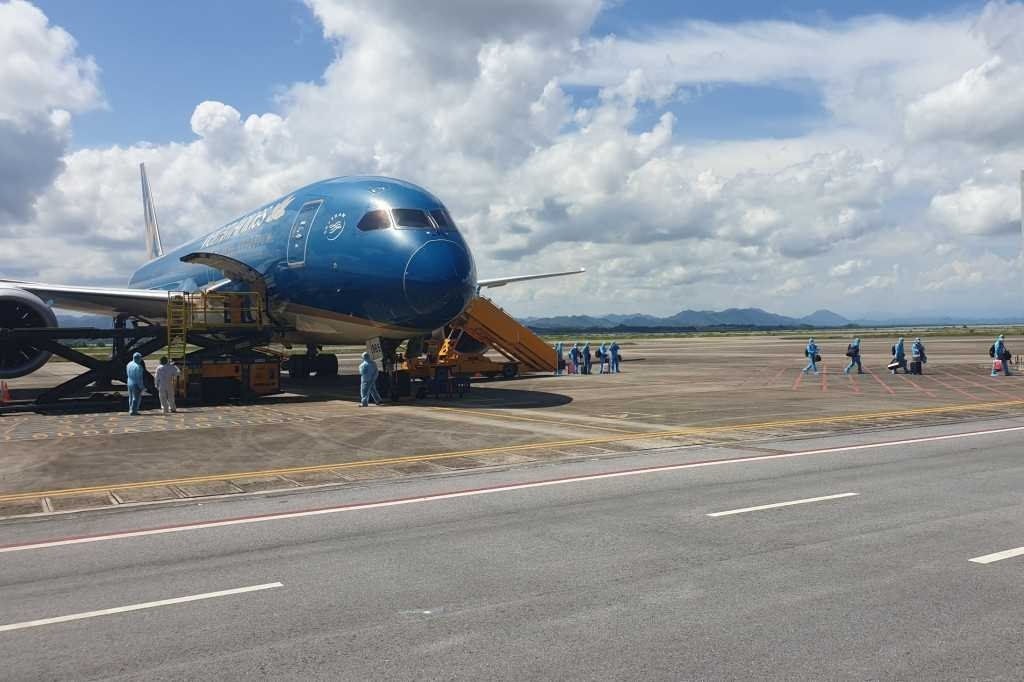 Quang Ninh welcomed the first flight of vaccine passport holders. Photo: VIR
After seven days in central quarantine, arrivals will continue quarantining at home for another seven days, and monitor their health for the next 14 days. Travelers who haven't received two shots will have to be in central quarantine for 14 days and monitor their health for the following 14 days.
If successful, the 7-day quarantine pilot will be expanded to more people with legitimate travel demands, such as Vietnamese residents living abroad, international businessmen, and specialists.
The initiative is in line with Vietnam's efforts to gradually adapt to the new normal and pursue the dual goals of pandemic control and economic development.
Allow fully vaccinated people to travel in Vietnam
Meanwhile, the Civil Aviation Administration of Vietnam has proposed to let passengers who test negative for Covid-19 and have received two vaccine doses fly on some domestic routes.
The national aviation agency has prepared a draft proposal to open regular domestic flights amid the ongoing Covid-19 outbreak with the aim of maintaining air transport, promoting economic recovery for localities and removing difficulties for businesses, CAAV director Dinh Viet Thang said Monday.
Under the draft, flights from airports in provinces and cities that are not under social distancing measures will place no limit on the number of passengers. They will only require that the passengers have a negative result from a test done within the last 72 hours.
Flights from airports in provinces and cities that are applying social distancing measures in whole or part of their areas can only carry officials and members of Covid-19 prevention and control forces. All passengers must have valid negative Covid test results.
Furthermore, passengers flying from cities and provinces that are applying total social distancing must get written consent from departure and arrival localities to fly.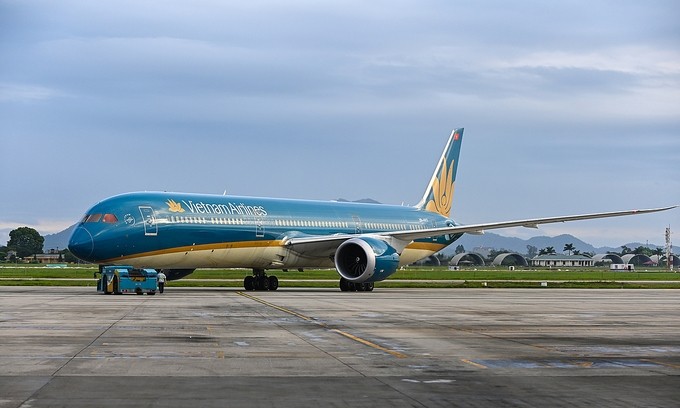 A Vietnam Airlines aircraft at Noi Bai Airport, Hanoi, September 19, 2020. Photo: VNE
The CAAV said it is collecting feedback on the draft proposal from the national carriers before submitting it to the Ministry of Transport for approval. If the proposal is approved, Vietnamese airlines will be able to operate domestic routes with no restriction on operating frequency.
Currently, the aviation industry only operates flights carrying goods and passengers on duty as well as members of the Covid-19 prevention and control force. In July, the authority had asked carriers to limit the number of flights from socially distancing localities to Hanoi based on concerns over the coronavirus threat. The Hanoi-HCMC flight route, an important one, has been limited to a maximum of two flights a day.
Vietnam closed its borders and canceled all international flights in March last year. Only Vietnamese repatriates, foreign experts, diplomats, investors, and highly-skilled workers have been allowed in since with stringent quarantine requirements.
Vietnam has recorded 532,491 Covid-19 cases since the fourth coronavirus wave hit the country late April.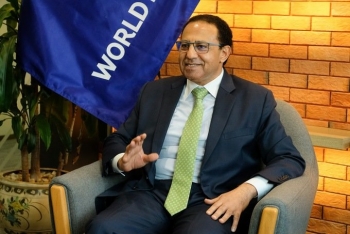 Economy
Vietnam's agriculture is transforming from quantity targets towards profit, environment and farmer income targets. Ahmed Eiweida, Vietnam Sector Leader for Sustainable Development (World Bank).