Vietnamese young beauties look more attractive with fashioned face masks
In Vietnam, face mask used to be worn for dust, sunlight and polution preventation popularly. This time of Covid-19 era, a face mask becomes more neccessarily and importantly fashional accessory, though many women beauties are hided by it. That motivates two Vietnamese women to create some kinds of up-to-date stylistic face mask fashion.  
Embroidered masks
Do Quyen Hoa, a fashion designer in Hanoi has been touted for her embroidered patterns on luxurious masks. Her favorite material is black cotton, which she then embroiders with flowers, insects and animal patterns on. A sheet of activated carbon is sewed in the middle of the cotton layers, VNS reported.
"Women's faces are like flowers. We often dress up, wear high-end classes, but why don't we wear fashionable face masks to adorn ourselves", Hoa told VNS. "We should change our perception of masks. It's not just something helping us getting rid of dust, sunlight or viruses, but also is a garment that can spice us up.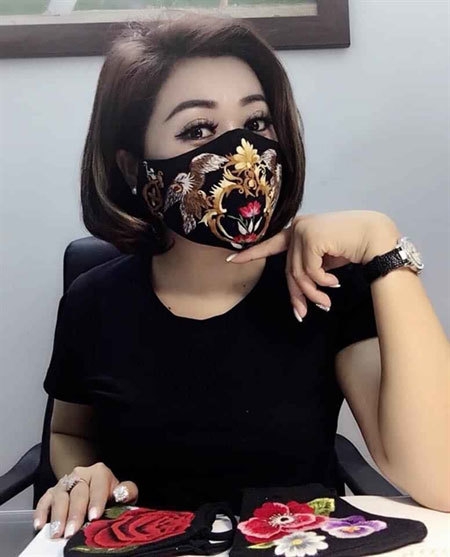 Do Quyen Hoa (Photo: VNS)
Thus, its price is much higher than the average price in the market, at VND500,000-600,000 (US$21-25.4) each, depending on the patterns. Hoa's hand-embroidered masks are the first to appear in Hanoi, each takes her three days to finish, as "it's not easy to embroider on such a small surface as the face mask and I have to decide on which patterns to work on", she said.
Hoa is planning to design some for men as well with manly embroidered patterns. At the moment, she's already had some order from Ho Chi Minh city, southern Vietnam.
"I think like the clothes I design, my luxurious masks will have their own customers", she smiled.
Silk masks
Nguyen My Tra, a journalist from the Radio Voice of Vietnam, has made her own masks using silk made by artisans from Phung Xa Village in My Duc District in the western outskirts of Hanoi.
"Silk has a natural anti-septic feature", Tra said. "I gave some of my first-made masks to my friends – who'd encouraged me to make silk masks earlier".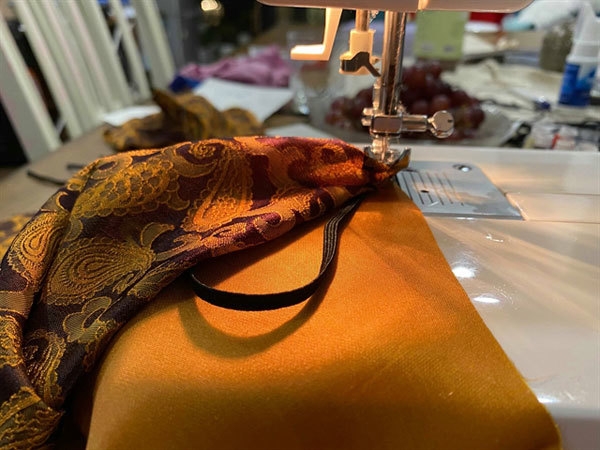 (Photo: VNS)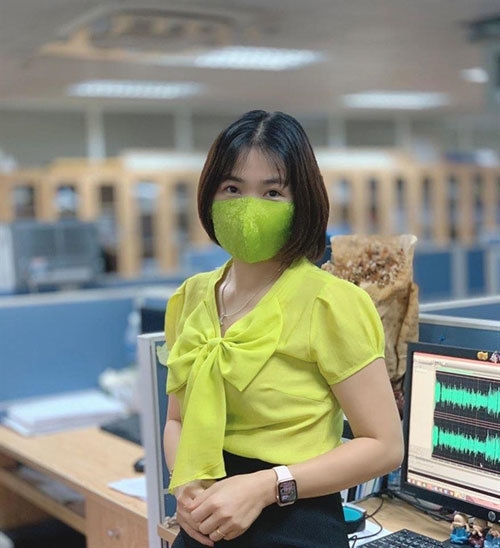 Tra My is wearing one of her silk masks (Photo: VNS)
Unlike Hoa whose unique, impressive nature and animal patterns are embroidered on the masks, Tra chooses traditional decorative patterns to make her masks stand out. She has also changed the design several times to make the masks more comfortable to wear and incorporated a layer of silver nanosheet between the outer silk layers to ensure her products meet hygiene standards. She might also add a layer of activated carbon sheet in the middle of silk layers to improve the masks' anti-septic qualities.
Tra's two kids and one cousin, who don't have class as usual, also join her with the production at home.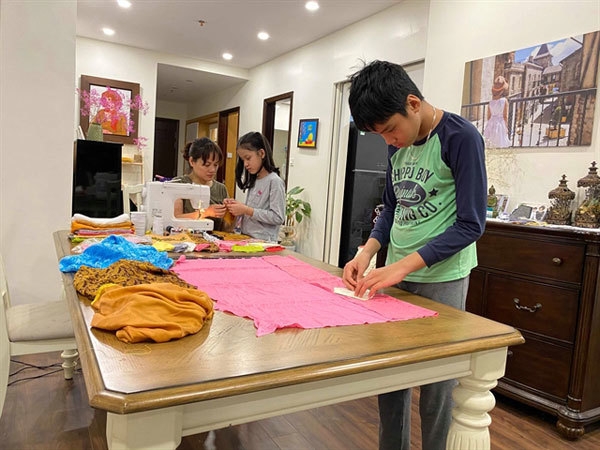 Her children also make silk masks (Photo: VNS)
"Some of my friends use my hand-made silk masks as a gift to foreigners. Though some foreign people have no habit of wearing face masks, they love my silk masks", Tra told VNS.
"My masks now not only have traditional value but are also qualified enough to prevent the virus," she said.
Her masks cost VND100,000 (US $4.28) each.
Face coverings have also become more popular in Vietnam but also over the world, appeared in fashion runways with creative, unique designs ever since the COVID-19 pandemic broke out.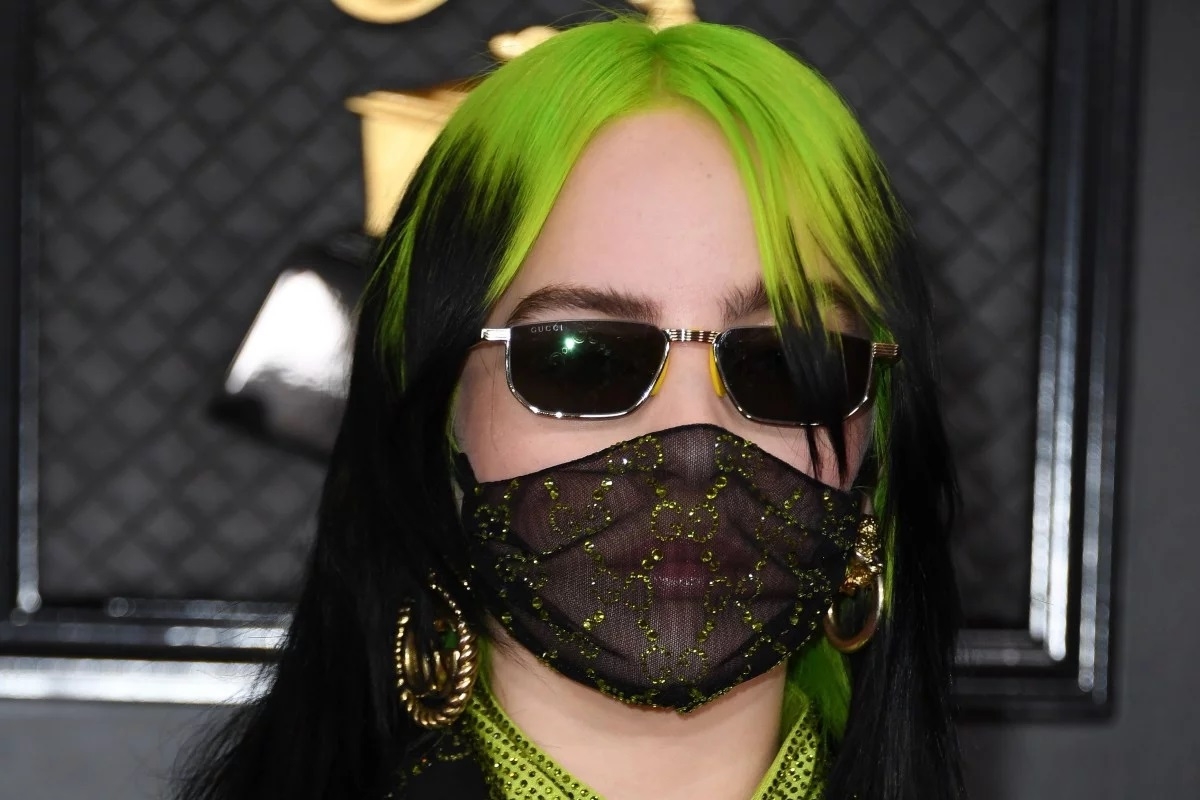 Billie Eilish at the Grammy Awards, in January, wearing a Gucci face mask (Photo: AFP)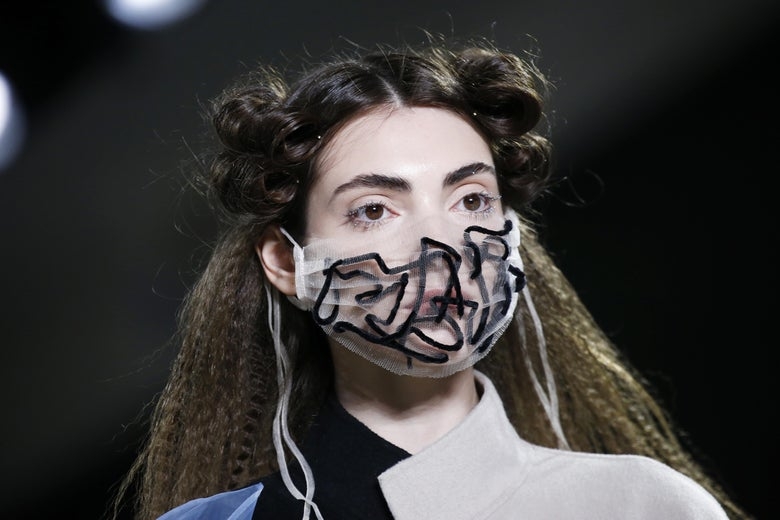 A mesh mask at New York Fashion Week this year (Photo: Getty Images)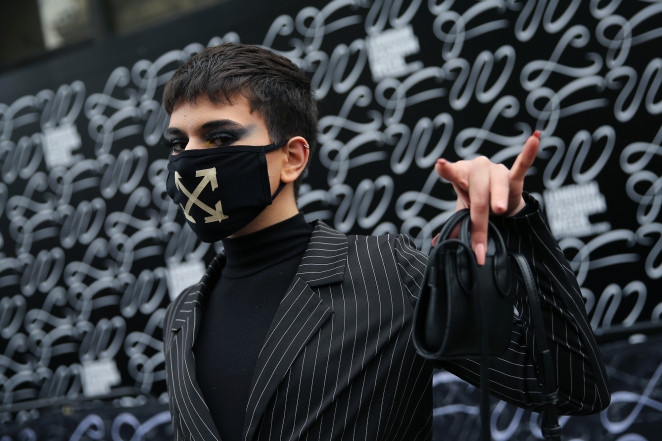 An attendee of London fashion week (Photo: Getty Images)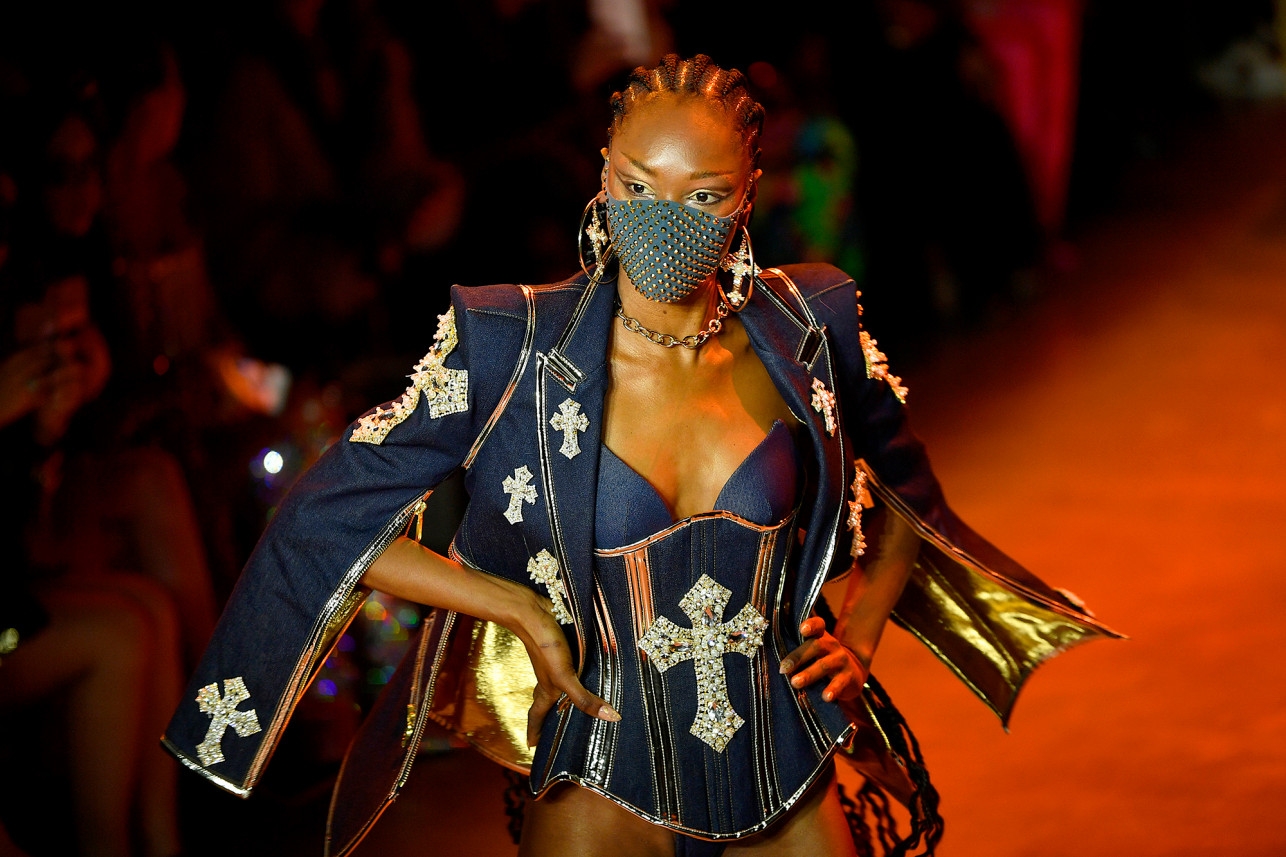 A model for the Blonds during New York Fashion Week (Photo: The Show)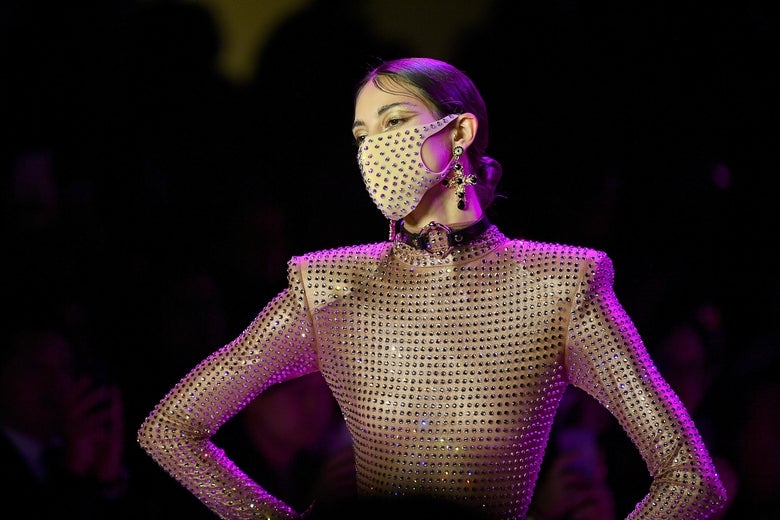 Good mask/shirt coordination (Photo: Getty Images)
How to Wear a Cloth Face Covering?
Cloth face coverings should—
fit snugly but comfortably against the side of the face

be secured with ties or ear loops

include multiple layers of fabric

allow for breathing without restriction

be able to be laundered and machine dried without damage or change to shape
CDC on Homemade Cloth Face Coverings
CDC recommends wearing cloth face coverings in public settings where other social distancing measures are difficult to maintain (e.g., grocery stores and pharmacies), especiallyin areas of significant community-based transmission.
CDC also advises the use of simple cloth face coverings to slow the spread of the virus and help people who may have the virus and do not know it from transmitting it to others. Cloth face coverings fashioned from household items or made at home from common materials at low cost can be used as an additional, voluntary public health measure.
Cloth face coverings should not be placed on young children under age 2, anyone who has trouble breathing, or is unconscious, incapacitated or otherwise unable to remove the mask without assistance.
The cloth face coverings recommended are not surgical masks or N-95 respirators. Those are critical supplies that must continue to be reserved for healthcare workers and other medical first responders, as recommended by current CDC guidance.
Should cloth face coverings be washed or otherwise cleaned regularly? How regularly?
Yes. They should be routinely washed depending on the frequency of use.
How does one safely sterilize/clean a cloth face covering?
A washing machine should suffice in properly washing a face covering.
How does one safely remove a used cloth face covering?
Individuals should be careful not to touch their eyes, nose, and mouth when removing their face covering and wash hands immediately after removing.
In case you want to make your own facemask from fabric, follow this: Tips on homemade facemask from fabric with/without sewing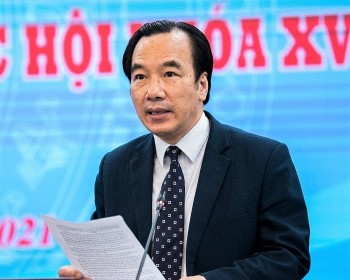 Focus
Consolidation of personnel; building and expanding the network of Malaysian partners; strengthening communication, and contributing to introducing to the people, especially the young generations of the two countries about the country and people of each side... are the focus of the Vietnam-Malaysia Friendship Association in the coming time. Chairman of the Association, Ngo Sach Thuc hopes that "people-to-people diplomacy will continue to be a pioneer in bringing the two countries and cultures closer to the goal of cooperation and integration".