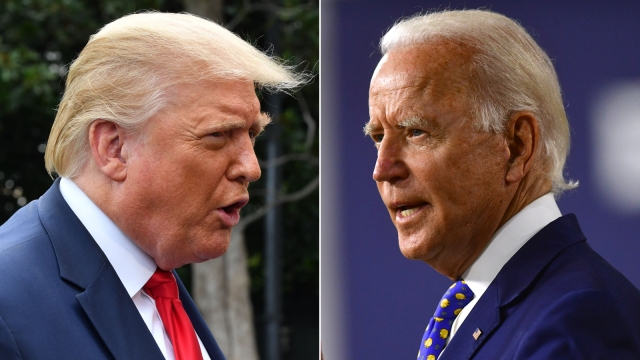 Democratic presidential nominee Joe Biden's national polling lead over President Trump has shrunk after this week's Republican National Convention (Photo: KTLA)
Biden lead over Trump narrows after Republican National Convention
Democratic presidential nominee Joe Biden's national polling lead over President Trump has shrunk after this week's Republican National Convention.
The Morning Consult poll, conducted Friday, showed Biden leading with 50 percent support among likely voters, compared with 44 percent for Trump, with another 7 percent undecided. That's a narrower margin than the 52-42 lead he had in the same poll on Aug. 23, the day before the Republican Convention kicked off.
The narrowing stands in contrast with a similar poll conducted after last week's Democratic National Convention, which showed that Biden's lead over Trump was statistically unchanged. Biden still holds a larger lead over Trump than Hillary Clinton did after the 2016 conventions.
The apparent convention polling bump comes at a crucial time for the president, who is trying to make up ground in national and swing state polls in the final sprint to Election Day. Other surveys have shown Biden with strong leads, though his margins have been narrowing in recent weeks.
The convention appeared to boost Trump's standing with key constituencies, cutting Biden's lead with suburban voters from 14 points to 8 points and expanding Trump's lead among white voters from 2 points to 8 points. However, Biden's lead among Black and Hispanic voters grew.
The Morning Consult poll surveyed 4,035 likely voters Friday and has a margin of error of 2 percentage points, The Hill reported.
Anti-racism protesters rally in Kenosha
About 1,000 people joined a mile-long march in Kenosha, Wisconsin on Saturday, chanting "Black Lives Matter" and "No Justice, No Peace" as U.S. President Donald Trump announced plans to visit the violence-rocked city next week, Reuters reported.
Jacob Blake Sr., father of the 29-year-old Black man whose shooting by a white police officer on Sunday sparked the unrest, called on protesters to refrain from looting and vandalism, which had overshadowed peaceful protests before a tense calm set in the past three nights.
The shooting of Blake, in front of three of his children, turned the mostly white city of 100,000 people south of Milwaukee into the latest flashpoint in a summer of U.S.-wide demonstrations against police brutality and racism.
Blake, 29, survived but was left badly wounded and paralyzed from the waist down. He will likely participate via video from his hospital room in a court hearing next week about criminal charges that predated the shooting, his lawyer told Reuters on Saturday, adding he would plead not guilty.
Anger at Blake's shooting, captured on video that went viral, led to street skirmishes; protesters hurled firecrackers and bricks at police in riot gear who fired volleys of tear gas and rubber bullets. On Tuesday night a white teenager with a semi-automatic rifle shot three demonstrators, and two of them died.
In Kenosha on Saturday, people painted messages of unity on boards protecting storefronts after many businesses were burned to the ground in arson attacks and vandalism.
By Friday, more than 1,000 National Guard soldiers were on the ground in Kenosha, many from out of state.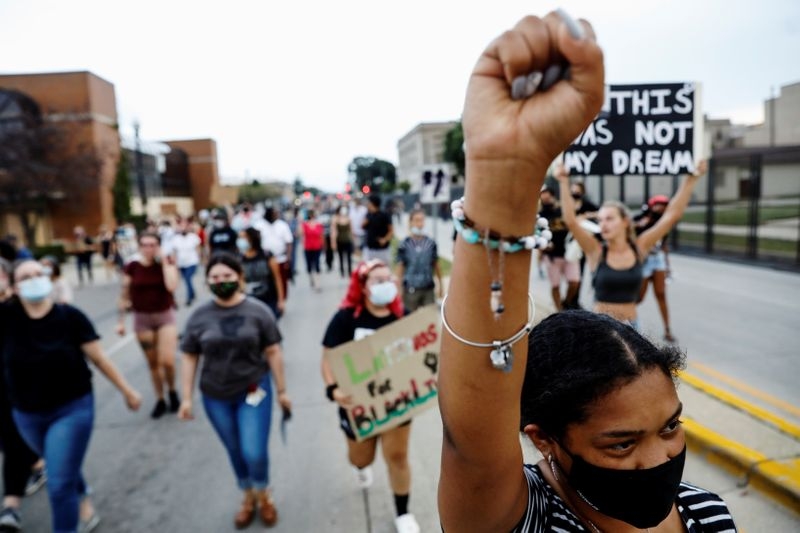 About 1,000 people joined a mile-long march in Kenosha, Wisconsin on Saturday (Photo: Capitalist And Money)
India to reopen underground train networks even as coronavirus cases jump
India will reopen underground train networks and allow sports and religious events in a limited manner from next month as part of the government's efforts to revive the economy, even as coronavirus infections soar.
India reported 76,472 new coronavirus cases on Saturday, slightly lower than the numbers seen in the last couple of days, but extending a run that has made the country's outbreak currently the world's worst.
The underground train network, a lifeline for millions in the capital city of New Delhi, will be reopened in a phased manner from Sept. 7, the federal home ministry said.
Social, academic, sports and religious events will be permissible with a maximum of a 100 people from Sept. 21, it said.
Schools, colleges will remain closed until end-September.
In all of the containment zones across the country - areas where the spread of infections is most severe - strict lockdown restrictions will remain in place, the government said.
India has reported a total of 3.46 million coronavirus cases, behind the United States and Brazil in terms of total caseload. But it has reported higher single-day case rises than both those countries for almost two weeks. India's COVID-19 death toll rose by 1,021 to 62,550.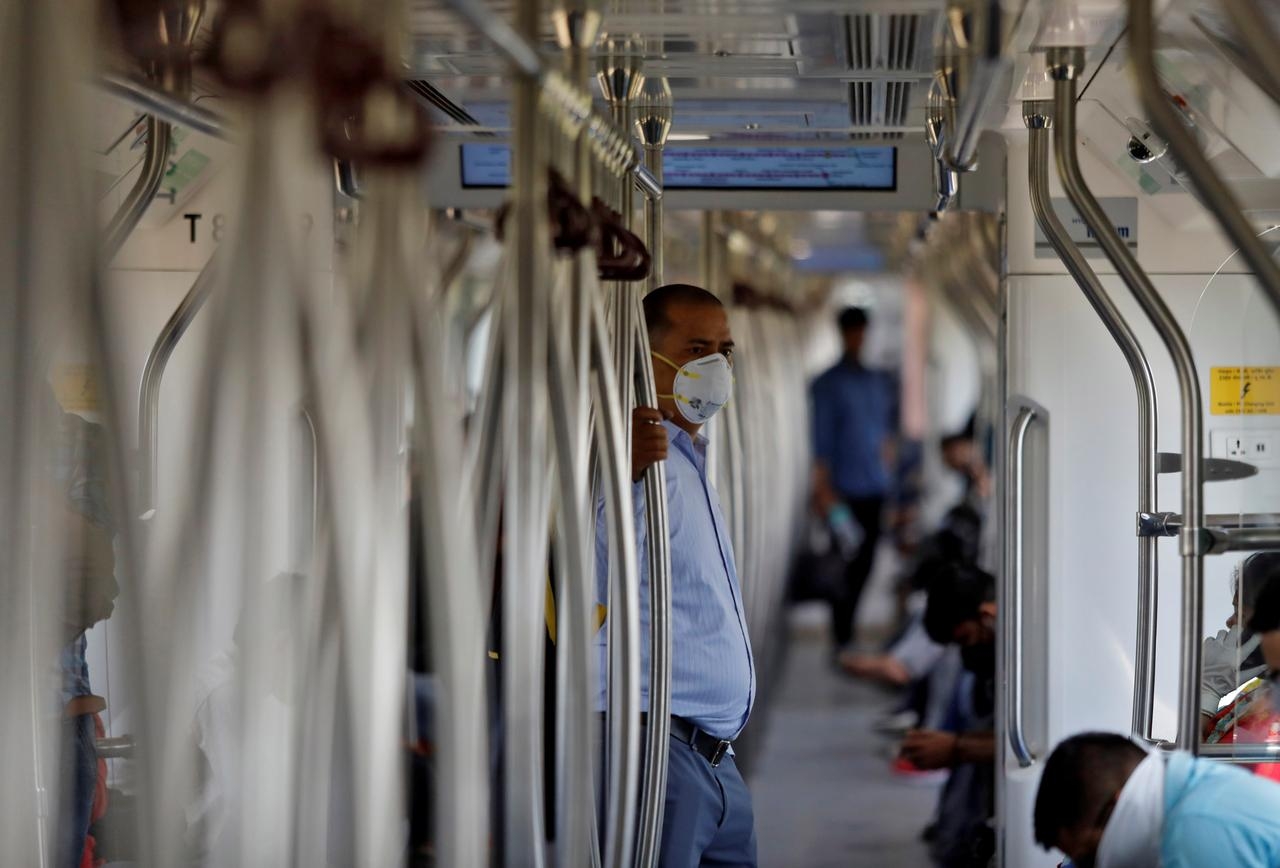 The underground train network, a lifeline for millions in the capital city of New Delhi, will be reopened in a phased manner from Sept. 7 (Photo: Reuters Africa)
Gold price jumps over 2 percent on weakening dollar, US monetary policy shift
Gold rebounded over 2 per cent, one day after a steep sell-off, as the US dollar weakened and the US central bank signaled a prolonged low interest rate strategy. Spot gold rose 2.19 per cent to $1,974.90 per ounce, taking gains this week to 1.43 per cent. Prices fell as much as 2.2 per cent on Thursday after US Treasury yields gained following Fed Chair Jerome Powell's speech. US gold futures rose 2.5 per cent to $1,980.90 per ounce.
The dollar fell to an more than one-week low, making gold cheaper for holders of other currencies, and was on track to post its biggest weekly percentage fall since end-July.
On the other hand, global central banks and governments have pumped massive stimulus into the market to prop up their coronavirus damaged economies, helping gold gain over 28 per cent this year.
Low interest rates tend to support gold, which is also a hedge against inflation and currency depreciation.
Silver rose 1.8% to $27.53 per ounce, on track for a second consecutive weekly rise.
Platinum gained 0.1% to $929.49, while palladium rose 2.1% to $2,206.54, NDTV reported.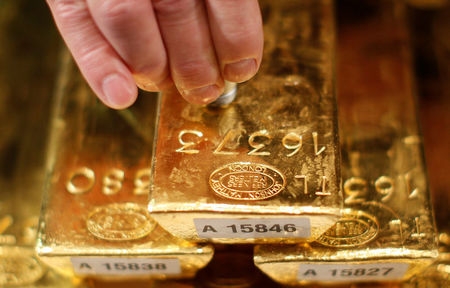 (Photo: Au.Investing)
Jasmine Le