Yearly Horoscope 2021: Astrological Prediction for Aquarius
Yearly Horoscope 2021 for Aquarius: What a year ultimate progression for you. In 2021, you witness plenty of professional and financial growth.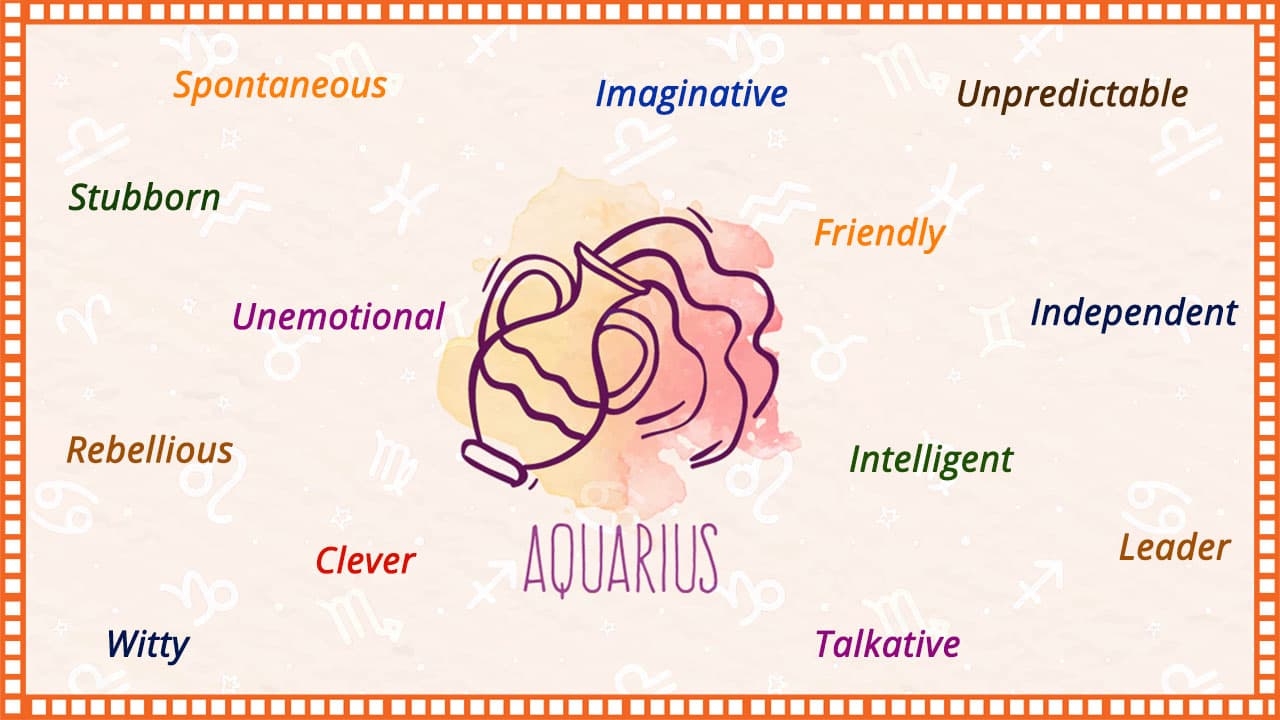 Photo: AstroSage Varta
Aquarius Horoscope 2021 Overview
Things get off to a good start in 2021. Professional and monetary benefit will hold you in good stead during the year and you will be at your creative best. You may spend a lot of money on travel. Saving may be a little difficult at the start of 2021 but do try to set aside some money for a rainy day. Your wellbeing may need attention; a tendency for laziness and a lack of motivation can be high at the start of this year, but integrating some good old daily habits can make a world of difference, according to astroyogi.com
By early spring you become far more proactive and are able to get things moving. You could make profits in the form of cash or jewellery.
Some struggles of life may be difficult to deal with, but such situations bring with them the potential for catharsis. The year ends on a confident note, as you witness plenty of professional and financial growth.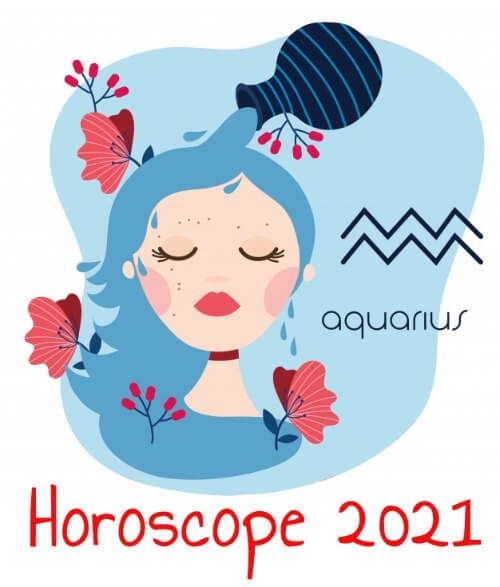 Source: Yearly Horoscope
Aquarius Love Horoscope 2021
If single, you will seek a partner who is mentally quick, interested and interesting and forward-thinking – you need someone whom you can connect with on all levels, especially intellectually.
It is likely that you will meet someone special via work (where you can connect on a mental plane) or through friends (where you can share plenty of things in common.) Those in long term relationships may be resolving issues, conflicts or ego disputes that have been challenging their relationships for some time, so there is a feeling of clarity and cleanness around relationships.
There is no agenda, just the spirit and intention of wanting to get closer. In love so often what you get is what we give and our relationships can be a reflection of our own ability to love. There can be great catharsis when you deal with the past and move forward together.
It is unlikely that you will push for marriage or parenthood this year, but not impossible. Instead, the focus seems to be on enjoying your partner, making memories together and establishing a place of resolution.
Aquarius Career Horoscope 2021
You start off in a strong professional position which keeps confidence high. The key to your success is your intellect; others are equally intimidated and impressed by your brainpower. You are able to see things in completely unusual and novel ways and your perspective can be expansive and illuminating. If you can work on your ability to focus, you'll do well.
Try not to let yourself be too distracted from your mission; establishing tunnel vision can be so impactful. Your pace of work is fairly balanced.
There are also options to transfer or try something new which may suit you very well at the moment especially if you are footloose and fancy-free. This gives you the opportunity to try a new experience that can expand your awareness and understanding. July is a personal and professional peak for you and you've been steadily moving at quite a momentum.
You may be working on your own pet project or putting out the feelers for a new business, and you're likely to be surprised by just how quickly things start growing. In November, your workload may increase but you continue to get things done effortless and ride into the end of the year victoriously!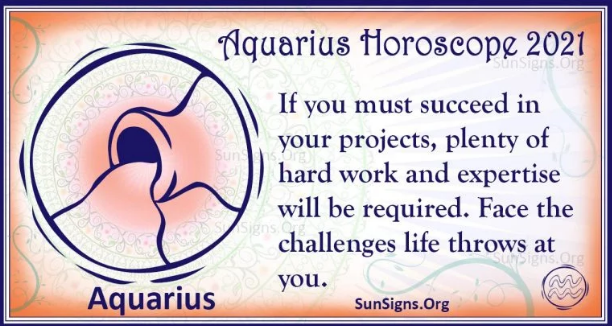 Source: Sunsigns
Aquarius Finance Horoscope 2021
2021 is a year of great financial stability and growth and you'll do well.
You begin the year in a very financially comfortable place which affords you freedom when it comes to considering your next steps. You may spend quite a lot out on travel particularly but this is balanced by a healthy flow of money coming in.
You may struggle to save at the start of this year but just do what you can. You continue to accrue and build money up until March and by May 29 you'll be able to think about making some investments, saving your money and making some meaningful purchases.
They'll also be enough left over for some fun presents and trips out for yourself and loved ones. Some profit may also come in via cash or jewellery. Keep attuned to the various ways that money and wealth can flow to you and make sensible, advantageous decisions. September is another period where your financial life sees a great push and you may begin a new venture or pour money into a project.
As the year rounds off, you are financially set and end the year in a far better position. Understanding that money can be made in many ways and not just in conventional industries can stand you in good stead for the following year.
Aquarius Health Horoscope 2021
This may be an area where you need to put some attention to, as you could be feeling some pressure in your physical body.
Jupiter has a large influence over your health this year. This planet encourages you to learn new methods to improve your health. When learning about these things, remember to keep both your mental and physical health in mind. By doing this, you can improve your health tenfold. Some new things to try can include new exercises, meditation, or therapy.
You can put up with this restriction until July to September when you are offered a solution to an old problem. This is the time of the year to seek help from health practitioners.
Aquarius 2021 Monthly Horoscopes
January 2021 is the perfect time for introspection. Think about what you want out of the year, especially in regard to your family relationships.
February 2021 has you feeling more charismatic, which can help you both in love and at work. Venus in Aquarius helps all of your relationships.
March 2021 focuses on both your finances and your romantic relationships. If you have had a project in mind for work, now is the best time to pitch it. Your ambition shines this month.
April 2021 has its focus on the family. Saturn in Capricorn, beginning in the middle of this month, will help to add stability to your family life.
May 2021 keeps the focus on your family. Your love life will also have a boost. Take time to think before you do anything. Act slowly this month.
June 2021 can be confusing, as you may feel stuck and not know what to do with yourself. If you find yourself feeling this way, ask for advice from your loved ones. In other news, this is a great time to work on your hobbies.
July 2021 shares a focus between your career and your love life. For most of July, Venus will be in Leo, which will make you more passionate and ambitious.
August 2021 blesses you with energy from several of the planets. You are likely to feel very productive this month. This is also a great time to work on your social life.
September 2021 brings you luck in your social life. If you find yourself stressed out this month, you can turn to your family and loved ones to help you find your calm again.
October 2021 brings the focus on your emotions. You are likely to feel lighthearted. This can help to boost your relationships with your friends and loved ones.
November 2021 may make you feel a little slowed down. Take this as a sign to rest and decompress. Your troubles will pass. Rely on your friends if you ever feel too down.
December 2021 ends the year on a high note, with your relationships in the spotlight. You are also likely to feel more creative this month; this makes December a great time to work on your hobbies.
Conclusion
The yearly Aquarius 2021 horoscope focuses on relationships and intellectual pursuits. Take this year to make new friends, but don't forget about your hobbies. Good things will come to you if you have a healthy social life in 2021.
Lucky months and days for Aquarius in 2021
The lucky months of the year are May and November, and during these months, you are likely to buy a house, an apartment, or a piece of land, and the collaboration with the representatives of other zodiac signs will go smoothly, said AstroSage.
Saturn retrograde in Aquarius on May 23 – October 11 could emphasize issues in your career, problems related to authorities, which may impede your career and professional growth.
Aquarius Lucky Number 2021
For 2021 Aquarius lucky numbers are 5 and 8. There is no counting of openings according to the Aquarius horoscope 2021 that will open in 2021. Now is the time for sincerity to take advantage of this golden time and make it unforgettable in your life. With joy, stability and much more, every field gives you unpredictable results. You will do plenty of new stuff in the new year for the family.
Aquarius Horoscope 2021 - Astrological Remedies
1. Wear Venus-ruled Diamond gemstone or best quality Opal on any Friday. This will help you attain good fruits.
2. You should wear these gemstones in a silver ring only on the ring finger.
3. If you suffer from any health-related problems, then one of the useful remedies as per Aquarius Horsocpe 2021 is to adorn a Bicchoo Jadi or Dhatura Jadi or Root on your right arm or around the neck on any Saturday.
4. Wearing Char Mukhi (four-faced) or Sath Mukhi (seven-faced) Rudraksha will also prove to be auspicious for you.
5. Feed the bread daily to the cow and offer water to the Peepal Tree every Saturday without touching it.
6. Offering flour to ants on Saturday will help to get rid of several problems..
7. In case you are unable to succeed in any of your tasks, then it will be beneficial for you to provide a full meal to any handicapped person.
8. Every Friday, worship Goddess Mahalakshmi and recite the path.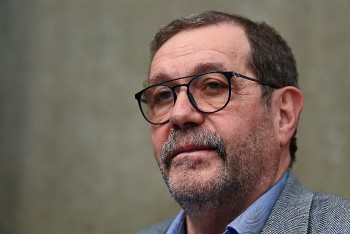 World
Alain Aspect, who won a long-expected Nobel Physics Prize on Tuesday, not only helped prove the strange theory of quantum entanglement but also inspired a generation of physicists in his native France, according to former students and colleagues.