"4 things entrepreneurs should embrace on the road to become CEO", Phuong Uyen Tran - Women in Business
The road from entrepreneurship to executive can be daunting and will take time. Here are 4 things Phuong Uyen Tran shared to entrepreneurs before they began this journey to become CEO of their business. 
Consider for a moment some of the largest brands and companies that you know. It's easy to assume these brands have always been "big" –that they've always been leaders in their industries. However, that's not the case; they had to start somewhere. Whether it was in someone's garage, a local café, or a car traveling to their first customers, these multinational companies started small with the passion, vision, and determination of a few inpiduals. This was certainly the case for my family's company, THP, which leads the industry with a fifty-percent market share and is Vietnam's largest family-owned manufacturer.
Ask any Founder/CEO and they will likely tell you something similar to this: the road from entrepreneurship to executive can be daunting and will take time. While this is true, there are ways to make this road a straighter path. Here are a few things I wish more entrepreneurs knew before they began this journey:
Know Who You Are
Organizations that are now multinational companies were founded by inpiduals who put everything they believed into their product, service, and brand. At some point, those personal passions become more than just an inpidual belief; they were baked into the core values of the business. The most successful companies are clear about their purpose, what they want to accomplish, and how they want to accomplish it. Think about why you created this business and hold fast to that throughout your journey.
Find Value in More Than Money
We all want to be successful, and there certainly is a financial component to success. Making smart decisions that increase wealth and profitability is a fundamental piece of any business. However, being driven solely by money will not produce fulfilling results and may negatively influence decisions regarding your business. Instead, seek to make your passion a reality and see how that can positively impact the markets your serve. Find passion, purpose, and fulfillment in providing a product or service that successfully aligns your vision with your consumer. When you are driven by the Why of your business (something that is beyond monetary goals), you will be focused, motivated, and inspired to continue when financial challenges present themselves.
Do Not Be Afraid of Failure
Failure, as many entrepreneurs know, often precedes success. My father, the founder of THP, taught us to not fear failure. Instead, we were encouraged to actively embrace it and allow failure to provide valuable lessons. Because of this mindset, we were able to transform stumbling points into roadmaps for us to reach greater heights in the future.
Embrace Change
Evolution is an integral part of any successful business. People change, which means consumers change, which means market demands change. I was taught by successful parents to not be afraid of change, but to embrace it. This belief has been incorporated into one of THP's core values: Today is better than yesterday but not as good as tomorrow. Progress is never-ending; each day being a little better than the one before.
It's daunting to imagine growing a mere concept or small business into a global brand. But, it can be done–I've seen and experienced it firsthand. Becoming the regional/national/global CEO of your brand certainly won't occur overnight. However, with a clear vision, a considerable amount of hard work, optimism, and adaptability, you can successfully take your company to the next level.
About author Phuong Uyen Tran
Working as a powerful business woman, Phuong Uyen Tran is a model of success in Vietnam. Phuong Uyen Tran is also a special contributor for Vietnam Times.
Her writing, including "Competing with Giant" book, and her latest articles are to advise and inspire young people to start-up, overcome challenges and reach out to the world.
It is the story of a little girl taking the great responsibilities for a corporation and devoting herself to society.
Phuong Uyen Tran is in charge of THP's marketing, public relations, and CSR programs across the 63 provinces of Vietnam and 17 countries where they export THP's beverages. She is also a member of the Young Presidents Organization and an Executive of the Beverage Association of Vietnam.
Read More: A prominent female millionaire and an emotional author
The ways to become a global citizen

"Recognizing the reality of globalization and learning to embrace its benefits are critical for achieving success in today's world." Phuong Tran outlines ways to become ...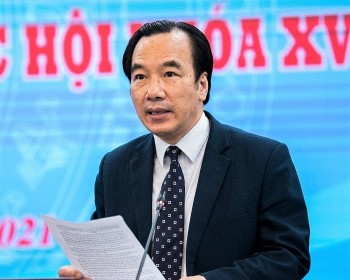 Focus
Consolidation of personnel; building and expanding the network of Malaysian partners; strengthening communication, and contributing to introducing to the people, especially the young generations of the two countries about the country and people of each side... are the focus of the Vietnam-Malaysia Friendship Association in the coming time. Chairman of the Association, Ngo Sach Thuc hopes that "people-to-people diplomacy will continue to be a pioneer in bringing the two countries and cultures closer to the goal of cooperation and integration".