Daily Horoscope June 18: Astrological Prediction for Zodiac Signs with Love, Money, Career and Health
Daily Horoscope for June 18: You're focused on improving your work/life balance under today's Libra moon. Keep an eye on boundaries to make sure that you focus your mind on work rather than love. Today could bring the momentum you need to get your workflow moving at a swift pace by ensuring you're able to take on all the tasks at hand.
Daily Planetary Overview
Improving relationships with colleagues and employers will be beneficial today because everyone is in the mood to make peace. Speak your mind with kindness and allow others to engage in the discussion. Creating healthy work relationships can set a positive tone in life. It gives us a reason to dedicate more energy to our jobs and love what we do, mostly because we like the people we work with and the environment.
Later in the day, emotions heighten and we could be overthinking matters. Your mind—and mouth—could be running a mile a minute. This means that you could share confidential information and ruin this morning's positive vibe. Think before you express yourself to avoid unnecessary drama. And don't accidentally spill the beans about a situation you are seeing from the sidelines and know little about. That way, you can avoid accidentally stirring the pot and stay out of the drama.
Daily Zodiac Horoscope for June 18
Aries
The first sign of the Zodiac, Aries are the trailblazers. Passionate and independent, Aries will never do something just because everyone else is doing it—a Ram needs to be 100 percent committed to the task at hand.
Love Horoscope - Love may not be on the scale of a really grand adventure, especially with the current astral configuration, but it could be very pleasant, nevertheless, and actually quite restful. You often aim for grand passion and excitement, yet you secretly appreciate someone who understands you and wants to be with you even in your quiet moments. It doesn't have to be all go-go-go; you are allowed to slow down.
Money Horoscope - The Moon's friendly aspect to both planets in your income sector yesterday and now to Pluto on the job front wraps what has been a confidence boost across the income, work and career fronts. The Moon is wrapping up its monthly visit to your career sector just as pressure on both planets in your income sector is dropping, turning this into motivation.
Career Horoscope - Someone you work with is being a show-off. He or she is over-confident and is using this arrogance to boss others around and call the shots. Your best strategy for today is to avoid this person's influence. Focus on yourself and your own job.
Health Horoscope - You have a strong ability to focus on what you have set your mind on yet focusing on your well-being is something you often avoid. For your own benefit, get a clear perspective on what it is that works for you and what feels like a challenge. Seek to understand what you can do to help yourself on a daily basis. Regular meals with lots of leafy greens, perhaps self prepared, regular exercise that fits nicely in your everyday schedule are all means to attain your goal of feeling happy and healthy.
Taurus
Smart, ambitious, and trustworthy, Taurus is the anchor of the Zodiac. Amazing friends, colleagues, and partners, Taureans value honesty above all else and are proud that their personal relationships tend to be drama free.
Love Horoscope - The current planetary alignment is soothing and restful. You won't have to do anything particularly special to maintain a sense of peace and harmony with your loved one. All you really need to attend to is allowing yourself to unwind enough to speak from your heart without worrying about how your words will be received. Don't try to force a particular result; instead, allow yourself to be open to whatever happens.
Money Horoscope - While the real implications from the Moon's return to your work sector today won't be felt until the weekend, this is good news for income matters. The Moon returns in time to support the Sun in his final days in your income sector and Mercury, as he heads into his final weekend in retrograde motion here. The next few days will offer a chance to regroup across the income, work and career fronts.
Career Horoscope - An element of your job is likely to be quite explosive. A war of some sort is brewing and there is no way that you can avoid it. Most likely, you will find yourself right in the firing line. Keep your eye on the big picture at all times.
Health Horoscope - This could be a good time for getting what you need. You will benefit from the current astral aspect as long as you remember that aim is more important than force. In other words: you can't always get what you want, but if you try, sometimes you get what you need. Getting what you need is harder part, because you have to really ask the question first: "What do I need?" Desires come and go. Tune into this contemplation while exercising.
Gemini
Smart, passionate, and dynamic, Gemini is characterized by the Twins, Castor and Pollux, and is known for having two different sides they can display to the world. Expert communicators, Gemini is the chameleon of the Zodiac, adept at blending into different groups based on the vibe and energy they perceive.
Love Horoscope - Feelings become more important and are highlighted by today's interplay of astral energies. Allow them to bubble to the surface and tell your loved one everything. If possible, create a wonderful atmosphere by using the right kind of lighting, and aromatic oil burners or incense. Air, space, and light will allow your deeper emotions to soar. You will be high spirits by the end of the evening.
Money Horoscope - While the Moon's friendly aspect to Pluto, in retrograde motion in your financial sector is a monthly event, on the heels of their clash just five days ago, this can bring a confidence boost. This comes at a time when Venus, the planet of money is doing the same on the income side of the financial fence.
Career Horoscope - Don't poke your nose into a situation that you know nothing about. Changes are being made regarding your job today and tension is likely to mount. Don't add to this tension by snooping around looking for answers to questions that are not yours to ask.
Health Horoscope - You look like you have a lot on your mind, even when you don't! This is a good reason to involve yoga in your health routine. Yoga is good for the body, but it is essentially designed to calm the mind so that the spirit can be more present. The practice of yoga has many schools - one is certainly right for you. If you want to explore them, there are many introductory videos available online, you just need to try to find them. Try it out - a wonderful new experience may be waiting for you!
Cancer
Emotional, intuitive, and practically psychic; ruled by the moon and characterized by the crab, Cancer has so much going on in its watery depths. Cancers may seem prickly and standoffish at the first meeting, once they make the decision to become friends with someone, that person has a friend for life.
Love Horoscope - Today's astral alignment is a positive omen as far as a talking with someone this evening is concerned. You will find that with virtually no effort at all you will get on extremely well, as though you were always meant to meet. You will both seem to complement each other, and also to understand each other in ways that seem quite extraordinary. You have something quite special here.
Money Horoscope - While Mars and Saturn won't clash until early next month, just having two strong planets in play on opposite sides of the financial fence makes it important to take a balance between money coming in and money going out seriously. Mars is on a mission to bring in as much as possible while Saturn is on a mission to ensure it doesn't flow out the other end once you get it.
Career Horoscope - The incredible strength and confidence you have today is remarkable. You have the ability to move mountains thanks to the wonderfully good energy that is coming your way. This is the time to strike out on your own. You have the power to do so.
Health Horoscope - The planets are gently sending you messages that you will benefit from hearing. The current transit is good for hanging out with friends and socializing in general, if possible. You are encouraged to gently embrace what you want and need in life - a critical step towards health and happiness. The judgmental side of your nature will also be tempered at this time. You may want to avoid those "cup of coffee" chats with friends, opting to go for a walk together instead.
Leo
Bold, intelligent, warm, and courageous, fire sign Leois a natural leader of the Zodiac, ready to blaze a trail, vanquish injustice, and make a name for themselves along the way. Blessed with high self-esteem, Lions know that they possess enviable traits—and they're proud of them.
Love Horoscope - Love suddenly becomes a much more interesting and viable proposition with today's planetary configuration. If you have found it hard to curb your impulsive nature with regard to a specific person, you will most likely feel a lot mellower. The frantic approach to love never works, but a more relaxed attitude will most likely get you where you want to be.
Money Horoscope - After a friendly aspect to planets on the career front yesterday, the Moon is spending its final hours in your income sector at a friendly aspect to Pluto on the job front. While this is something that happens every four weeks it is the familiarity that allows to read and respond to an opportunity to push the 'reset' button across the income, work and career fronts.
Career Horoscope - Don't tell your boss how to do his or her job today. The backlash that would come could be quite detrimental to the future of your employment at your current workplace. You are better off postponing your thoughts for a day or two.
Health Horoscope - The current planetary alignment makes you more open to truths that you may otherwise miss. Try to think honestly about what you do for yourself that increases your feeling of wellness, and what you do that inhibits your well-being. Your personal health regimen needs to be totally specific to your needs. Some herbal substances that are said to be beneficial and calming are: jasmine, lavender, lotus, and forget-me-not. Incorporate your favorite scent into your bathing ritual!
Virgo
Smart, sophisticated, and kind, Virgo gets the job done without complaining. Virgos are amazing friends, always there to lend a hand and also lend advice. Practical Virgos are incredibly adept at big picture thinking, and planning out their life, their vacations, and what they're going to do today isn't a drag it makes them feel in control and secure.
Love Horoscope - Today's interplay of planetary energies means that you have the chance to win your true love over to your way of thinking, chiefly through the use of food. If you can come up with the meal of their dreams, you are definitely onto a winning method, and they will never forget this awesome experience. You may well get the offer you have been waiting for almost immediately.
Money Horoscope - The Moon might return to your income sector every four weeks, it is the timing that makes its return today auspicious. The Moon not only returns to sharpen your nose for money and act as a trigger but in time to catch the Sun in his final days in your career sector and Mercury, in his final in retrograde motion here. It is over the weekend that a lot of things will fall into place across the income, work and career fronts.
Career Horoscope - Your skills as a diplomat will be put to the test today. Angry communications will spring up all around and you will be called on to sort out the broken pieces. Trust that you can indeed bring peace to an extremely volatile situation.
Health Horoscope - The planetary configuration that is forming today will strengthen your psychic abilities. There is wisdom in cultivating these abilities, and that often means not acting on them right away. To help with the cultivation process, bring yourself into a centered place and make room inside yourself to house your intuitive energies. Getting a yoga workout in is highly recommended, although be careful in choosing which positions to focus on. It needs to be about your own focus and concentration.
Libra
Intelligent, kind, and always willing to put others before themselves, Libras value harmony in all forms. Ruled by Venus, the planet of beauty, Libra adores a life that looks good. As the master of compromise and diplomacy, Libra is adept at seeing all points of view and excels at crafting compromises and effecting mediation between others.
Love Horoscope - You tune into your feelings that much more easily with the current planetary alignment. And this for you is quite a major feat, as you tend to stand back and ignore them completely, which often results in many complicated situations. Even if you find it alarming to be in tune with your emotions about one person, this will help you to know what your next step should be.
Money Horoscope - The Moon is just wrapping up its monthly visit to an intuitive and imaginative part of your chart as pressure on both planets in your financial sector starts to drop. It was the Moon's friendly aspect yesterday that is not just giving you the confidence to turn any pressure into motivation but the imagination to do this creatively.
Career Horoscope - Don't act too hastily today. You are likely to get a big dose of misinformation that will foul up the rest of your day if you are not careful. Check your sources two or three times before you make a final decision on anything.
Health Horoscope - You may feel some extra energy today. The astral alignment is making us all more acutely aware of our needs; there is an urgency to things emotional and a tendency to be overwhelmed. Quiet your mind in order to find the perspective you need. It's a good idea to make a plan for how the day and evening will go, and then stick to it. Make yourself as comfortable as possible: pile on extra blankets and lots of fluffy pillows!
Scorpio
Passionate, independent, and unafraid to blaze their own trail no matter what others think, Scorpios make a statement wherever they go. They love debates, aren't afraid of controversy, and won't back down from a debate.
Love Horoscope - The current astral alignment may be the answer to making one of your dreams come true regarding a certain person whom you have admired for some time. You will feel less like being obscure and enigmatic in your dealings with them, and much more like openly expressing how much you care. This is a major decision for you, as you are frightened of being so vulnerable.
Money Horoscope - The Sun's final days in your financial sector and Mercury's in retrograde motion here get a boost from the Moon's return to an intuitive and imaginative part of your chart today. It is over the weekend that the Moon will form a friendly aspect to both, fuelling your financial confidence, instincts and imagination in a way that can balance an otherwise black and white approach.
Career Horoscope - You are in good favor with the people you communicate with today. Your tremendous good luck has pulled through once again and you will find yourself standing in the right place at the right time. Your preparation is finally meeting up with opportunity.
Health Horoscope - Awareness can lead to two very different places: confusion and clarity. When you become more aware of what you need in your life, and you clearly go for it, you find clarity. Resistance, however, leads to confusion. When you feel confused, respect yourself and the process of working through it by staying with the confusion until you have experienced some sort of shift. Your own practice of either meditation or light exercise will be your guide. Talk rarely accomplishes anything; being with yourself more consciously is what's required.
Sagittarius
Independent and strong-willed, Sagittarius personalities are all about going off the beaten path. Sagittarius isn't afraid to step away from the pack and is a natural-born leader who goes after what he or she wants, regardless of what other people think.
Love Horoscope - You may discover that music is the food of love, with today's celestial energy. In fact, you may unveil a major link between all kinds of nourishment and the ability to create a truly romantic and nurturing atmosphere. If you are entertaining your sweetest love, then go to the limit and you will be well rewarded - they will be very happy to comply with your every request.
Money Horoscope - While the Moon's friendly aspect to Pluto in your income sector today is something that will always happen during its final hours in your career sector each month, the timing and familiarity are important. Pluto has been under pressure, including from the Moon as recently as last weekend, with a chance today to add to what has already a growing sense of confidence on both sides of the financial fence.
Career Horoscope - In order to get ahead at work today, you will have to be more aggressive than usual. Feel free to raise your voice if that's what it takes to get your point across. Assertive tactics may not be your style, but they certainly are effective.
Health Horoscope - This may be a day when a very basic truth dawns on you. This basic truth could have something to do with your own self-worth. For instance, practice saying to yourself: "When I put myself first, I actually have more to give." Feel the surge of energy. Renew your commitment to organize your life so that you get your needs met, no matter what. Sooner or later, we will all need to look to ourselves for nurturing. What have you done for yourself lately?
Capricorn
Smart, hardworking, and fully in control of their destiny, a Capricorn will always get what they set their mind to, in both personal and professional life—no excuses. Capricorns may get a reputation as stubborn, but they simply know what they want, and also know how they wish other people would behave.
Love Horoscope - Today's celestial energy soothes your ruffled feathers, and makes you feel calm and relaxed enough to enjoy the game of love, which you will no doubt be playing together this evening. Don't allow your fears and phobias to prevent you from expressing the true beauty of who you really are. Forget about your worries and tribulations and focus on your love.
Money Horoscope - Mars only returned to your financial sector last weekend and while the Moon has moved through since then, it is still early days. While Mars has returned with a chance to take your financial power back he has returned to find Saturn on the other side of the sky in your income sector. This is making a balance between money coming in and money going out more important than ever.
Career Horoscope - People are pointing fingers in the workplace today so watch out. No one wants to take the blame for the difficult situation that has arisen. Be diplomatic, but try not to be deceiving, either. Accept the blame for the part you were responsible for.
Health Horoscope - It will gradually become easier to make better choices with food once you are familiar with your options. There are occasions when you might actually prefer an apple to a piece of cake if you take the time to really check in and ask yourself. Pride yourself on knowing what you want! Being choosy is one of your greatest attributes. Eliminate regret by employing forethought and alternative thinking - especially when it comes to nourishing your body.
Aquarius
Independent and enigmatical, Aquarians are unique. There is no one quite like an Aquarius, and because each is so incredibly individual, it can be tough to describe them as a group. Aquarians don't like labels, and may shy away from any adjective—even the good ones you might bestow upon them.
Love Horoscope - Line and texture are very important in the way you dress for an important outing. Today's planetary alignment means your date will be impressed by the attention you pay to your clothes and the way you look in general. As you are skilled in all matters having to do with image, you will surpass all their expectations. Once the grand entrance is over, you can really get to know them.
Money Horoscope - The Moon's final hours in your financial sector are always an important time for listening to your financial instincts and imagination without overthinking things. Unlike your income sector, where there is ongoing cosmic attention, on this side of the financial fence there is none, with your subconscious trying to download as much information on money matters as possible.
Career Horoscope - Going with the flow today may get you in a great deal of trouble. Many people are trying to convince you that their way is the right way. There are many charlatans out there so be careful. Don't sign on to any get-rich-quick deals at this time.
Health Horoscope - The process of starting and stopping, and then starting over again is a big part of learning something new. Imagine a baby learning to walk. Imagine yourself learning a foreign language. Encouragement from within and never giving up are two things to remember! If you have enjoyed some exercise recently or renewed a former practice that brings you a feeling of well-being, get comfortable with the sense of accomplishment that you earn with good decision-making. Don't forget to praise yourself!
Pisces
Smart, creative, and deeply intuitive, Pisces can be close to psychic. Pisces feel things deeply and have incredibly strong gut reactions. A Pisces "knows" things from deep within, and can often judge whether a person or situation is good or bad.
Love Horoscope - The current planetary energy encourages you to be mildly optimistic about your chances of success as far as a certain person is concerned. Usually you tend to think of most new encounters in a pessimistic light, so that you won't be disappointed if they do not turn out as you expected. Looking on the bright side today will create just the right conditions for you to really enjoy yourself.
Money Horoscope - While the cosmic conditions on the income front haven't changed and the planets in position here now will stay here for the rest of the year and beyond, the professional conditions have. Mars only returned to your work sector over the weekend but also the Moon has moved through, putting the planets on the income front on alert, ready to ride the momentum this will create.
Career Horoscope - You will be caught in a tough spot regarding work today - stuck in the middle between two sets of people who think they're right: your superiors and your co-workers. It seems that the person in charge isn't paying attention to anyone else.
Health Horoscope - A "hot under the collar" feeling might plague you today. Working out your own health regimen is very challenging. There is an initial phase of voices inside the head saying things like, "Feed me ice cream or I will hate you!" and "I'm too tired to exercise!" With practice you will learn to calm them down with, "You will feel better and it won't take that long!" and "I'd rather you eat this fruit salad with fresh raspberry sauce." Yum!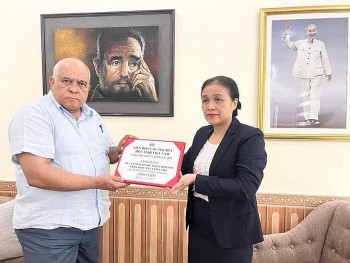 Focus
According to Cuba's News Agency Prensa Latina, on August 16, President of Vietnam Union of Friendship Organizations Nguyen Phuong Nga said that Vietnamese people will always stand by and support Cuba no matter what difficulties our friend is facing.