Daily Horoscope June 22: Prediction for Zodiac Sign with Love, Money, Career and Health
Daily Horoscope for Today, Tuesday June 22: Astrological Prediction for All 12 Zodiac Signs with Love, Money, Financial, Career, Business and Health.
Today ends Mercury's moonwalk in Gemini—or so we thought! We have two more weeks of Mercury's sinister tricks because the shadow phase is in full swing until July 7. This is the most intense part of Mercury's backspin, which commenced on May 14 in its pre-retrograde zone and formally on the twenty-ninth.
Daily Planetary Overview
From now until July 7, we have a third chance to get clarity on matters and relationships (the first was during the pre-retrograde shadow in May). Getting roadblocks and doubts out of the way can help you clear the projections and fears out of your mind. Your path will become clearer because you'll have more insight about your direction in life.
One word of advice: take baby steps toward success and don't rush. We have all been living in our own personal bubble for the past few weeks and now we have to deal with real-life issues. All of the recent introspection will pay off because you can now properly express your sentiments to others and the world. We haven't been able to see straight, but now that we're crawling out of the mercurial haze, it's time to get back into the swing of things. Onward and upward we go—but with caution until July 7!
Daily Zodiac Horoscope for June 22
Aries
The first sign of the Zodiac, Aries are the trailblazers. Passionate and independent, Aries will never do something just because everyone else is doing it—a Ram needs to be 100 percent committed to the task at hand.
Love Horoscope - Don't even think about making any of those jokes that just roll off your tongue so easily. The current astral energy indicates that it will be far too easy to irritate someone whom you are in the process of getting closer to. As the relationship is at such a delicate stage, it would be wise to hold back. Laugh with them rather than at them.
Money Horoscope - The Moon is making some impressive connections during its final hours in your financial sector, something that is not only fuelling your financial instincts and imagination but your financial confidence as well. At a friendly aspect to both Venus and Neptune, the planets of money and dreams, this is helping to inspire wishful thinking.
Career Horoscope - Someone has a rather over-inflated idea of themselves and unfortunately, this is blocking the way for new ideas to come through. You are caught in a difficult position since you can't move forward until this issue is resolved.
Health Horoscope - Today's planetary alignment gives you the ability to see yourself for the good, beautiful person that you are! If you have been tending to your needs and paying close attention to yourself (diet, exercise, and sleep) you will feel especially good. If you have been feeling guilty because you've been distracted and neglecting your body, such a benevolent aspect reaches deep into your core and spreads its healing rose-gold light.
Taurus
Smart, ambitious, and trustworthy, Taurus is the anchor of the Zodiac. Amazing friends, colleagues, and partners, Taureans value honesty above all else and are proud that their personal relationships tend to be drama free.
Love Horoscope - Today's planetary configuration indicates that you need to strike a balance between making the kind of dry, pointed jokes that you are so fond of, and being sincere. If you are getting to know someone new, they may not understand how your sense of humor works, so it might be wise to cut down on these kinds of remarks and enjoy some wonderful conversation instead.
Money Horoscope - A day after the Sun left your income sector, Mercury is standing still during his last full day in retrograde motion here. This is a chance to stand back and now that the Sun has moved on, catch your breath. Mercury's direct turn tomorrow will begin a three week mission to tie up loose ends as you make choices, decisions and plans moving forward. Today is a chance to pause, taking one last look back, over your shoulder.
Career Horoscope - A perpetual argument that you have with a coworker is likely to flare up today. There is a fundamental issue between you that needs to be addressed. You must not continue to ignore it any longer. Now is the time to make peace.
Health Horoscope - Trying new things often improves our quality of life. Europe lived without tomatoes until the 1500s when they were brought over by travelers from the "New World" (it was new to the travelers)! Consider opening up to new forms of relaxation in order to aid in your capacity to reflect on old patterns and welcome in the new. Yoga and Pilates are wonderful ways to strengthen the lower spine. Meditation can help as well. It also would be wise to limit your intake of alcohol during this time.
Gemini
Smart, passionate, and dynamic, Gemini is characterized by the Twins, Castor and Pollux, and is known for having two different sides they can display to the world. Expert communicators, Gemini is the chameleon of the Zodiac, adept at blending into different groups based on the vibe and energy they perceive.
Love Horoscope - Your love life may respond very well to a dose of humor, but what it doesn't need is sarcasm. The current astral energies may mean that the line between the two becomes very thin, and this may not help the current state of your relationship. If you are feeling hurt in any way, then it is best to express this directly rather than create even more problems.
Money Horoscope - That the Sun is spending his first full day in your income sector at a friendly aspect to lucky Jupiter in your career sector is a rare advantage but it is coupled with an equally auspicious aspect between Venus and Neptune, the planets of money and dreams. A friendly aspect to the Moon in your work sector completes a package of influences that can't help but boost your confidence.
Career Horoscope - Someone will be rather insensitive to your feelings today. Don't let this get you down. Just be thankful that you don't have to live with this person on a daily basis. Mentally separate your own personal life from your work.
Health Horoscope - The more time you spend looking at your diet and exercise needs, the easier it becomes to think of things that will improve your quality of life. For instance, when you spend a few weeks doing regular yoga workouts and drinking copious amounts of water, you will naturally feel ready to minimize certain foods in your diet, such as white flour and dairy. The body asks for what it wants: if you can increase your ability to listen you will be in good shape!
Cancer
Emotional, intuitive, and practically psychic; ruled by the moon and characterized by the crab, Cancer has so much going on in its watery depths. Cancers may seem prickly and standoffish at the first meeting, once they make the decision to become friends with someone, that person has a friend for life.
Love Horoscope - Today's planetary alignment indicates that you need to let off steam after a rather trying time in which you and your lover have tried to resolve certain issues. In order to do this, it would be better if you both made a meal together or watched a funny movie together. But don't take it out on each other, as this could spoil all you have achieved.
Money Horoscope - In the lead up to Venus' return to your income sector over the weekend, Mars is busy breaking through roadblocks and barriers, whether real or imagined. However, it is a friendly aspect between planets on the job and career fronts that is also bringing a chance to first get your professional ducks in a row.
Career Horoscope - There are tremendous career opportunities available to you right now. Just make sure you don't throw it all away by disregarding the opposite perspective to your situation. Play the devil's advocate in order to sharpen your plan to its finest point.
Health Horoscope - Suspending judgment allows you to see more of the truth. Suspending judgment of the self allows you particularly to see your inner truth. Today's astral configuration is wonderful for personal inquiry. Are you doing things for yourself that aid your sense of well-being, or things that detract from it? What kind of behavior do you see in your friends that you admire and would like to follow? You have the freedom to choose your own health practices.
Leo
Bold, intelligent, warm, and courageous, fire sign Leois a natural leader of the Zodiac, ready to blaze a trail, vanquish injustice, and make a name for themselves along the way. Blessed with high self-esteem, Lions know that they possess enviable traits—and they're proud of them.
Love Horoscope - You may find that you have a choice as to how you react to a certain event concerning your love life that occurs today. With the current planetary energy, you could either take a more serious approach, and criticize your partner for the way they handled a specific situation, or you could also realize that it really is not that big a deal and choose to laugh instead.
Money Horoscope - Jupiter might be at a standstill in his first full day in retrograde motion in your financial sector but even without a friendly aspect to the Sun, there is likely to be a high degree of confidence. Money matters might be stalled but the Sun, along with the planets of money, luck and dreams are working to fuel your financial confidence, instincts and imagination.
Career Horoscope - You are caught in a difficult quandary today. Do you proceed on your current project with an aggressive, risky approach, or do you go with a more reserved, conservative tactic? Be sure to explore both options thoroughly before you decide.
Health Horoscope - Feelings of discouragement are a possibility with today's celestial energies. What you want may seem to be out of reach, quickly breeding a feeling of sadness. Focus on all that you do to nurture yourself, and the many small accomplishments you've made since reading your wellness horoscope! You can take steps to avoid the pitfalls of depression as soon as you recognize the signs. Definitely ask a friend to cheer you up - that's what real friends love to do!
Virgo
Smart, sophisticated, and kind, Virgo gets the job done without complaining. Virgos are amazing friends, always there to lend a hand and also lend advice. Practical Virgos are incredibly adept at big picture thinking, and planning out their life, their vacations, and what they're going to do today isn't a drag it makes them feel in control and secure.
Love Horoscope - Today's aspect could indicate that you are of two minds about a person with whom you have been thinking of forming a relationship, simply because they bring out some very strange reactions in you. On the one hand, you see them as a source of amusement, and on the other, you find them at times extremely irritating. Only you can decide if it's worth it.
Money Horoscope - While the Moon had left your income sector by the time you moved into the new week, the nose for money and lucrative sense of direction this has left you with is still a valuable asset. Especially when it comes to pacing yourself professionally when, for now, all planets in your two professional houses are in retrograde motion, calling for either patience or a measured approach.
Career Horoscope - Your overall mood is quite good today, setting the tone for a very productive workday. Today is a good day to ask for favors from someone that you normally might avoid altogether. Others will be very amiable and supportive of your needs.
Health Horoscope - When you feel lost, and like you don't know what you want, stick to your routine. With the proper care of your body (good, fresh food, plenty of water and exercise), the subconscious will eventually reveal itself. Create a nurturing and predictable pattern for yourself today. Breathe consciously. A basic Hatha yoga workout would help quiet your mind. Whatever message is "hidden" inside of you will come out as long as you prepare yourself to receive. Let go and embrace the step of "not knowing."
Libra
Intelligent, kind, and always willing to put others before themselves, Libras value harmony in all forms. Ruled by Venus, the planet of beauty, Libra adores a life that looks good. As the master of compromise and diplomacy, Libra is adept at seeing all points of view and excels at crafting compromises and effecting mediation between others.
Love Horoscope - A sense of humor is one thing, but sometimes this can backfire, as you may find out with today's astral alignment. Some people are quite sensitive to off the cuff remarks, and the person in question, who also happens to be someone you greatly admire, may mark this down as a point against you. It may be best to watch your tongue in the future.
Money Horoscope - For the second day in a row, the Moon finds itself in the right place at the right time, at a friendly aspect to the most powerful planets in the solar system. The Moon has returned to your income sector to sharpen your nose for money but after a friendly aspect to Jupiter on the job front yesterday finds itself at a friendly aspect to the planets of money and dreams today. The stars don't get much better than this for income, work and career matters.
Career Horoscope - You are the missing link to an important puzzle today. Someone will call on you for your expert opinion on a certain issue. Give it to him or her without beating around the bush. Get right to the point. There is no sense in trying to hide the truth.
Health Horoscope - Whatever you gave yourself yesterday in terms of food and exercise may not be appropriate for today. Try to vary your behavior and still be conscious of the needs of the body. Consider forms of exercise that you have never participated in: consider why this is - are there body issues that keep you from possibly enjoying certain forms of exercise? Today's aspect assists you in probing these depths. Try tapping into memories of early childhood experiences on the playground.
Scorpio
Passionate, independent, and unafraid to blaze their own trail no matter what others think, Scorpios make a statement wherever they go. They love debates, aren't afraid of controversy, and won't back down from a debate.
Love Horoscope - Today's celestial energy could indicate that you take one remark far too personally, when it was not meant to be a criticism in any way whatsoever. Your latest lover has not realized quite how sensitive you really are, and presumed you would find it funny. In order for this relationship to work, you are going to have to educate them about what is acceptable and what isn't.
Money Horoscope - Even before the Moon returns to your income sector tomorrow there is likely to be a sense of confidence. A friendly aspect between planets on the job and income fronts is warming up ahead of the Moon's return. At the same time, at a standstill in his last full day in retrograde motion in your financial sector, Mercury brings a chance to hold back, taking a wait and see approach.
Career Horoscope - The brave and somewhat reckless tactic you may have taken with a project lately is starting to backfire. Now you are seeing the results of your immature approach. Compensate by taking some time to deal with the cold hard reality of the situation.
Health Horoscope - When you have your own health practice in order, it is easier to deal with those day to day obstacles. But too often, we let the obstacles determine our health practice. If only there was a way to have perspective when you need it the most - there is! Keeping discipline in your routine is the best way to overcome the confusion that settles in when the going gets tough. When all else fails, a hot bath does wonders for both body and mind!
Sagittarius
Independent and strong-willed, Sagittarius personalities are all about going off the beaten path. Sagittarius isn't afraid to step away from the pack and is a natural-born leader who goes after what he or she wants, regardless of what other people think.
Love Horoscope - If you are able to go out on a first date this evening, don't let a disparaging remark put you off this person for good. The astral energy indicates that they may not have realized quite what they were saying, due to being slightly nervous and ill at ease. Give them the benefit of the doubt, and you may find them extremely good company. Don't do anything drastic.
Money Horoscope - The Sun is spending his first full day in your financial sector at a friendly aspect to lucky Jupiter. This is the same aspect that Venus, the planet of money is making to dreamy Neptune today, adding to a sense of confidence from the moment the solar spotlight shifted onto your financial situation and money matters yesterday. The Sun might return at this time every year but not with this kind of confidence.
Career Horoscope - Make an important investment today. Invest in yourself. Instead of working to put money into someone else's pocket, this is the time to take steps to put money into your own pocket. You have the ability to be successful on your own so do it.
Health Horoscope - When you confront your demons - at the fridge late at night or with the snooze button in the mornings - you catch a glimpse of what needs some attention. Have you been nurturing your need for fresh, wholesome and tasty foods? Try baking an apple pie from scratch! Give yourself the treats you deserve in healthy, appropriate ways. And if you've been thinking about exercise rather than doing it, remember that you have a better night's sleep if you burn off stress with a run after your work is finished.
Capricorn
Smart, hardworking, and fully in control of their destiny, a Capricorn will always get what they set their mind to, in both personal and professional life—no excuses. Capricorns may get a reputation as stubborn, but they simply know what they want, and also know how they wish other people would behave.
Love Horoscope - The current planetary energy could be enough to cause a disagreement between you and your loved one if you are not careful as to how you phrase certain things. If you have lately undertaken a large project, then you may have both been under a great deal of strain that is now beginning to show. Recognize this and allow yourselves to unwind. Be prepared to see the funny side.
Money Horoscope - While Mars and Saturn won't clash until later next week, already they are aware of each other. Saturn, in retrograde motion in your income sector, is the old man of the solar system and Mars, who returned to your financial sector 10 days ago is the young buck. Mars wants to get things moving financially and Saturn wants to measure twice and cut once. A clash can create a breakthrough on both sides of the financial fence.
Career Horoscope - The communication bridge will collapse today between you and someone you need to get through to. Be careful of losing patience with this person and writing him or her off completely. Instead, give more attention to this other perspective.
Health Horoscope - There is a lot of stuff to look at when we begin to examine our health, and especially our diets. Behavior learned from childhood does not fade fast. Food is everywhere: even in our relationships. It is a key way in which we relate to the world. Changing your diet changes who you are on some level, and this can be exhausting. Don't be discouraged if you become overwhelmed. Remember that if you think about food in a healthy way, you are already making progress!
Aquarius
Independent and enigmatical, Aquarians are unique. There is no one quite like an Aquarius, and because each is so incredibly individual, it can be tough to describe them as a group. Aquarians don't like labels, and may shy away from any adjective—even the good ones you might bestow upon them.
Love Horoscope - You won't get very far without some sense of humor today, especially with the current astral alignment. If you can bring yourself to smile at your loved one, even if you feel like strangling them, this will help enormously to keep the temperature from getting too overheated. The incident is not actually that important, so don't allow it to affect you. Life is far too short.
Money Horoscope - The Sun and Jupiter are the two largest and most powerful bodies in the solar system and today they find themselves in the personal and/or relationship tension. The Sun, in his first full day in your work sector, has already moved into a friendly aspect to Jupiter, in his first in retrograde motion in your income sector, with positive implications across the income and job fronts.
Career Horoscope - Someone you work with who has been around a while is likely to direct a great deal of information your way. Take this information with a grain of salt. Other people are strictly opposed to this person's viewpoint. Consider both sets of ideas.
Health Horoscope - Today you get the feeling that rules are senseless. It's a bored feeling that needs to be re-integrated into the big, beautiful circle called "caring for yourself." To help brighten your day, and maybe take the doldrums out of the exercise routine or the dietary concerns, try to find something you need to just feel good today. New shampoo? Bubble bath? A special color in a scarf or shirt? A hot bath is definitely recommended - with drops of jasmine or pine essential oil.
Pisces
Smart, creative, and deeply intuitive, Pisces can be close to psychic. Pisces feel things deeply and have incredibly strong gut reactions. A Pisces "knows" things from deep within, and can often judge whether a person or situation is good or bad.
Love Horoscope - Today's celestial energy may encourage the kind of conversation with your loved one that is both humorous, yet also very pointed. You have obviously realized by now that you need to talk to them about one particular issue that has been bothering you for some time. But the way that you choose to do so could make a world of difference. A touch of laughter will help enormously.
Money Horoscope - As auspicious as a friendly aspect that begins between planets on the income and career fronts today is, this will only strengthen over the coming days. This is something that Venus, the planet of money will hook into when she returns to your work sector over the weekend in order to steer work and job matters in a lucrative direction.
Career Horoscope - Ideas that you thought were fantastic are being shot down today by the people with the influence and the resources. Don't get discouraged. This is no reason for you to give up. Instead of getting angry, be optimistic and willing to adapt.
Health Horoscope - Today you may want two opposite things at the same time: a good workout followed by some chocolate cake! Crazier things have happened! The planetary alignment impels you to desire comfort and security (your usual routine, comfort from approval and other good feelings) on one hand, yet on the other, you think it would be erotic and fun to stay up late and do things that give immediate, "sinful" pleasure. The challenge is to find the middle ground and suspend judgment.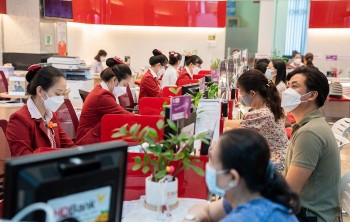 Economy
Vietnam Business & Weather Briefing (August 12): Air passengers reach a record number in July, seafood exports expected to reach 3 billion USD in Q3