Daily Horoscope June 19: Astrological Prediction for Zodiac Signs with Love, Money, Career and Health
Daily Horoscope for June 19: This morning, the Gemini sun shares a minor frustration with Uranus, currently in the earthy sign of Taurus. This tense connection could push us all to embrace our unique qualities and take a walk on the wild side.
Daily Planetary Overview
If there's an eccentric look you've been too shy to wear, today is the day to put it on and show it to the world. No one will judge you. We all want to walk to the beat of our own drum. It's time to let your inner freak flag fly high without fear of others making fun of you.
The only person who might be judgmental about your life is you. Give yourself a hug and try to embrace your unique qualities. Understand that you're an amazing person who relishes originality.
The flip side to this transit is that emotions may be erratic and temperamental. Take a step back from a situation if you feel that it's ready to combust. Take a momentary pause in an argument or with your inner frustrations to help calm you down. This will also allow you to think from a rational and clear-headed perspective, which can be hard to do when emotions accelerate and reach fever pitch.
Daily Zodiac Horoscope for June 19
Aries
The first sign of the Zodiac, Aries are the trailblazers. Passionate and independent, Aries will never do something just because everyone else is doing it—a Ram needs to be 100 percent committed to the task at hand.
Love Horoscope - Things look as though they could go from the sublime to the ridiculous today, especially with the current planetary alignment. You have every reason to feel as though all the rules that you thought you had learned and understood about how relationships work have been completely turned inside out. On this occasion you are moving into the unknown. But this is what you wanted - isn't it?
Money Horoscope - Within 48 hours the Moon will turn its focus onto money matters but for now, the focus is still on the income side of the financial fence. Before leaving your work sector yesterday, the Moon's friendly aspect to both planets in your income sector has left you with a better read on income and job matters and a lot more confidence.
Career Horoscope - Unexpected information will come from a co-worker today. Pay attention to this little tidbit of knowledge. The tips you learn on the job right now will help you tremendously when you decide to move on to something new or spread your own wings.
Health Horoscope - You really enjoy something that is presented with care and dedication. One reason you enjoy dining in fine restaurants is because of the artistry involved in the food presentation but guess what? You can try this at home! Colorful vegetables are a great way to start. There are several colors of squash, peppers, tomatoes, and beans. Try tantalizing your taste buds and your appreciation of careful preparation. As you also appreciate well-made tools, consider equipping your kitchen with the appropriate knives and cooking gear! Preparing your own meal can be pure pleasure.
Taurus
Smart, ambitious, and trustworthy, Taurus is the anchor of the Zodiac. Amazing friends, colleagues, and partners, Taureans value honesty above all else and are proud that their personal relationships tend to be drama free.
Love Horoscope - Today's celestial energy may be just what the doctor ordered to enable you to break the ice concerning a relationship that has been haunting you for some time. You may find that one event today helps you to realize that the person in question is only human after all, and that you can safely allow yourself to share your feelings knowing they are in good hands.
Money Horoscope - The Moon might return to your work sector every four weeks but here during the Sun's final 48 hours in your income sector the timing couldn't be better. It is not just an intuitive read on work and job matters while the solar spotlight is still on your income situation, matters and options but a feeling of support and confidence.
Career Horoscope - Be more conservative with your money today. Be more conscious on what you spend it on - especially at work. Instead of ordering takeout for lunch every day, start packing your own. Daily savings like these may start small, but they add up quickly.
Health Horoscope - There is a wonderful planetary aspect occurring that will help you to figure out how you really want the next year to go. If you need to make improvements on your health regimen, use this transit as a turning point. Take a good look at your health practices - don't be satisfied with merely stepping up the volume. Understand why you do what you do, and what you maybe ought to do differently. It is through understanding that we improve our aim!
Gemini
Smart, passionate, and dynamic, Gemini is characterized by the Twins, Castor and Pollux, and is known for having two different sides they can display to the world. Expert communicators, Gemini is the chameleon of the Zodiac, adept at blending into different groups based on the vibe and energy they perceive.
Love Horoscope - You may be feeling cool and detached as usual, but someone who has had their eye on you for a while certainly isn't. Today's astral energy means that you may have an admirer who is determined to get to know you. You really need to have an honest conversation with them before you make any kind of instant judgments about their attitude. You might actually find them attractive.
Money Horoscope - At the same time that Venus is making the most of the few days she has on her own in your income sector to focus on the 'what' rather than the 'when, where and how', she is bracing for a flood of support. It is early next week that Venus will not only be joined by the Sun but there will be an explosion of potential across the income, work and career fronts.
Career Horoscope - The emotional stability you feel today will spill over into your workspace and set the stage for wonderful relations with others. Your attitude means everything so be sure to stay positive and grounded. Your work will be efficient and impacting.
Health Horoscope - Knowing when to stop and when to go forward can be a real source of anxiety. Picture the little billy goat on the mountain, unsure of his next step! Others may say that you make a big deal out of nothing, but inside you feel anxious. Ignore them! But don't ignore your anxiety. Create a habit of doing things that release tension and calm your anxiety. Schedule the time to pamper yourself in some way and keep it: it is a preventative measure, not a cure for symptoms!
Cancer
Emotional, intuitive, and practically psychic; ruled by the moon and characterized by the crab, Cancer has so much going on in its watery depths. Cancers may seem prickly and standoffish at the first meeting, once they make the decision to become friends with someone, that person has a friend for life.
Love Horoscope - The current celestial energy means that romance becomes a very hot topic. If going out on a date is possible, then you had better be prepared for anything and everything, as the intensity of the encounter could melt even the hardest of hearts. This is not say that you are playing hard to get, but if you have been holding back, you could find it impossible to continue.
Money Horoscope - Earlier in the week, when the Moon was teamed up with Mars, in his early days in your income sector that it clashed with Saturn, in retrograde motion in your financial sector. It is a different story today as they form a friendly aspect, something that can not only boost your financial confidence but especially when it comes to taking care of financial housekeeping.
Career Horoscope - Unexpected changes on a project you have been working on are necessary. Be flexible. You will have to integrate other people's ideas on how this task should be completed. Trust that the changes made will indeed be for the best. Do it happily.
Health Horoscope - The attention you give to your body will produce both interior and exterior results. The exterior results are not of great concern to you, though the positive comments you garner will certainly boost your self-esteem! You generally seek an inner harmony that enhances your wellness. Are you informed about matters like organic farming, and what your community does to support such things? Your involvement and contribution to these kinds of issues directly affects your sense of well-being. Think about it.
Leo
Bold, intelligent, warm, and courageous, fire sign Leois a natural leader of the Zodiac, ready to blaze a trail, vanquish injustice, and make a name for themselves along the way. Blessed with high self-esteem, Lions know that they possess enviable traits—and they're proud of them.
Love Horoscope - The current alignment of the planets makes your relationship into an epic adventure and could bring quite a few changes into your life. If you have just become involved with a new lover, then you are likely to find that things between you are developing at a rapid pace. There will be new horizons and a great deal of passion. Just don't burn yourself out. Try and find some time to rest!
Money Horoscope - The Moon's departure from your income sector yesterday has left you with more than just a sharp nose for money. While these monthly visits will always see the Moon form a friendly aspect to planets on the job and career fronts, it came just as pressure on both was dropping, leaving you with a better sense of where the money is with a boost in job and professional confidence.
Career Horoscope - If you have been waiting for a favorable time to ask for a promotion or a raise, now is a good time to make your move. Energy is moving in your favor so take advantage of it by asking for the leg-up that you know you rightly deserve.
Health Horoscope - Today could bring attention to the throat area, which can be especially sensitive under the current transit. There are several homeopathic treatments which aid an infected throat: astragalus, echinacea, gargling salt mixed into warm water, and putting fresh lemon on your food. A hurt throat sends a message to your body not to speak. This leads to internalization of emotions and can cause mental distress. Try to purify your lymphatic system with respect to this condition.
Virgo
Smart, sophisticated, and kind, Virgo gets the job done without complaining. Virgos are amazing friends, always there to lend a hand and also lend advice. Practical Virgos are incredibly adept at big picture thinking, and planning out their life, their vacations, and what they're going to do today isn't a drag it makes them feel in control and secure.
Love Horoscope - If you want your love to change from its current boring and predictable status into a lively and passionate affair, then you had better look to yourself to do something about it. The current astral environment means that you will have to take action, and either initiate a conversation or make a few wise choices in order to get the relationship of your dreams. Be bold.
Money Horoscope - Because of the make up of the solar system in 2021, the Moon's monthly visits to your income sector will be a mix of contradictions that are ultimately empowering. A clash with planets on the financial front might create some financial tension while a friendly aspect to those on the job and career fronts will use this as motivation.
Career Horoscope - Don't let a special opportunity pass you by. Someone will say something casually in passing that may spark your interest. Don't let this inspiration die. Jot down this idea, phone number, or contact name. This is the big one you've been waiting for.
Health Horoscope - Your powers of communication continue to be strong. Today's physical focus should be on your feet! Yes - wherever you plant your feet indicates the direction in which you will head. The aspect at play asks you to be determined, and to follow through on what you say. It's a great day to pick up an exercise routine you've been talking about, and likewise to really think about the expression "You are what you eat."
Libra
Intelligent, kind, and always willing to put others before themselves, Libras value harmony in all forms. Ruled by Venus, the planet of beauty, Libra adores a life that looks good. As the master of compromise and diplomacy, Libra is adept at seeing all points of view and excels at crafting compromises and effecting mediation between others.
Love Horoscope - The current aspect at play could indicate that a new relationship is about to come roaring into your life, just when you least expected it. If you have been pursuing a lot of romantic options, then you may not know what has hit you until you are already smitten. You have probably been wishing for this on some level or another, so be glad when it happens.
Money Horoscope - Within 48 hours the Moon will not only be in your income sector but at a major turning point in this professional year. This will have positive implications across the income, work and career fronts. For now, there is a chance to reflect back on the last few days and the impact the Moon had on your financial confidence, instincts and imagination when it comes to your financial situation and money matters.
Career Horoscope - Your well-laid plan is likely to get shaken up today by someone who has a great deal of influence on you. Don't be afraid to integrate a new idea or concept into a traditional way of doing something. Doing so will create the winning combination.
Health Horoscope - Even though you may not feel like compromising today, it may be pretty hard to avoid! Instead of trying to do everything and as a result getting into a rut, keep your priorities at the top of your list throughout the day. Remember that you are of little use to others if your own needs have gone unmet. What do you really need to accomplish? Your health needs should be among your highest priorities: good fresh food that you eat slowly is a must!
Scorpio
Passionate, independent, and unafraid to blaze their own trail no matter what others think, Scorpios make a statement wherever they go. They love debates, aren't afraid of controversy, and won't back down from a debate.
Love Horoscope - You may find the pace a little too demanding in terms of your love life, especially with the current celestial energy. If you had been hoping for a quiet evening in with that special someone, then you could be in for quite a surprise. They certainly have other ideas, which could mean a very demanding schedule. If you can't cope, you'll need a very good excuse.
Money Horoscope - Earlier in the week, the Moon not only moved into a friendly aspect to both planets in your income sector but just as Mars began opening new doors on the career front. That advantage continues but today, the Moon's attention is on the other side of the financial fence, where a friendly aspect to planets in your financial sector can fuel your financial confidence, instincts and imagination.
Career Horoscope - Team-members you work with will give you the boost you need today to get your work to the level it needs to be at. Ask advice from others but don't be afraid to go out on your own. Working independently will be quite rewarding for you today.
Health Horoscope - Today's planetary aspect is a dynamic one for many signs. You can give something your best shot and either succeed or fail, but it's how you feel about yourself in the process that will tell you what sort of day you're having! Accept yourself unconditionally; continue with your regular practice of exercise and a healthy diet no matter what. Only then will you see that the way you feel is largely determined by how you treat yourself.
Sagittarius
Independent and strong-willed, Sagittarius personalities are all about going off the beaten path. Sagittarius isn't afraid to step away from the pack and is a natural-born leader who goes after what he or she wants, regardless of what other people think.
Love Horoscope - The current astral energy makes you virtually invincible, which means you could be spoilt for choice in terms of suitable new partners. It seems as though no matter what you do, say, or wear, you won't be able to put a foot wrong. People will find you rapturously attractive and will want to swarm around you to see if your charisma will rub off on them. Lucky you!
Money Horoscope - Knowing that the Sun is just 48 hours away from turning the solar spotlight onto your financial situation and money matters, frees Venus to leave the reality checks until then, For now, this allows the planet of money to focus more on the 'what' than on the 'when, where and how'. A week after Mars left his warrior spirit is still strong but it is your choice where you want to channel this.
Career Horoscope - Take careful notes today. If you are in a virtual meeting with your boss and/or fellow co-workers, don't be afraid to pull out a pad of paper and a pen. Be attentive. Many details will be discussed that you won't want to forget. Write them down.
Health Horoscope - The satisfaction that comes from following through on your own intentions is a feeling no one else can give to you. Having the courage to make yourself the priority will enable you to learn this valuable lesson. Have you made clear choices about your exercise routine? Or have you found yourself unhappy in what you have tried? As long as you are actively pursuing this vital avenue of life, it will become easier to put yourself first in other situations - love and work, to name just two!
Capricorn
Smart, hardworking, and fully in control of their destiny, a Capricorn will always get what they set their mind to, in both personal and professional life—no excuses. Capricorns may get a reputation as stubborn, but they simply know what they want, and also know how they wish other people would behave.
Love Horoscope - You may have to think in much broader and larger terms than you have done in the past. If you want to take advantage of the romantic opportunity that comes your way today, then it may be best if you prepare to change your attitude. The planetary energy may indicate that you have set your focus on too narrow a choice; so widen your scope and you will be rewarded.
Money Horoscope - A friendly aspect between the Moon, as it passes through your career sector and Saturn, in retrograde motion in your income sector is a monthly event with mutual benefits. The difference this time is that with the Sun in his final 48 hours in your work sector the Moon is helping to weave all the different strands and threads together from across the income, work and career fronts. This can be accessed by listening to your instincts.
Career Horoscope - You are in a fantastic position to venture out on your own right now. If you have ever thought of starting your own business of some sort, now is the perfect time to get the ball rolling. Electronics and creative internet-based ventures are most favored.
Health Horoscope - Have you noticed that the more you think about dietary concerns, the more relaxed you are about choosing what you eat? If you are prepared ahead of time to handle the daily decisions about what you will and won't accept in your diet, the choosing is much easier. You know throughout the day that you are planning on having a healthy body to feel good about and enjoy. Making the connection between loving yourself and the food that you eat is the first step.
Aquarius
Independent and enigmatical, Aquarians are unique. There is no one quite like an Aquarius, and because each is so incredibly individual, it can be tough to describe them as a group. Aquarians don't like labels, and may shy away from any adjective—even the good ones you might bestow upon them.
Love Horoscope - The current astral configuration may mean you find things get too intense, too quickly. If you are just getting to know someone new, then you may have a hard time trying to contain the pace of events. You like to keep things cool before you allow the heat to be turned up. If you have a problem with this, you will have to be up-front and totally honest.
Money Horoscope - When the Moon left your financial sector yesterday this was always going to leave you with your financial instincts and imagination fuelled. Yet as you begin to process a download of information, clues, hunches and insights there could be a level of motivation or anticipation not normally there, as your over the horizon radar picks up on developments that won't come into play until next month.
Career Horoscope - You may get reprimanded today for not paying attention to specific details that called for your scrutiny. Admit these mistakes as they arise, instead of pretending that you had nothing to do with them. Next time, check your work more carefully.
Health Horoscope - Today's aspect at play will make you feel powerful and in control. The choices you make about your own body represent this personal power and control, so if you've been making good choices, you will feel superb! It's also a wonderful time to begin taking seriously the health practices that you may have been participating in only halfway. What you give to yourself in terms of time will radiate as love energy throughout your entire being.
Pisces
Smart, creative, and deeply intuitive, Pisces can be close to psychic. Pisces feel things deeply and have incredibly strong gut reactions. A Pisces "knows" things from deep within, and can often judge whether a person or situation is good or bad.
Love Horoscope - You will enjoy the way your love life shifts into a new gear today. The aspect at play could indicate that there is a change in the way that you and your latest partner relate to each other. Needless to say, that things between you look likely to become much more passionate and intense. This is where you excel, so you will certainly have something to celebrate.
Money Horoscope - With all the planetary activity on the income side of the financial fence, the Moon's monthly visit to your financial sector is a much needed chance to focus on money matters. Your subconscious will be picking up a lot of information and with some of it contradictory, it is important to be a silent witness to your financial instincts and imagination without overthinking things.
Career Horoscope - Other people will be critical of your work today so you should be too. Make sure you check things two or three times before you submit them for review or before you move on to the next project. Take your time and do the job well instead of rushing.
Health Horoscope - For someone who likes to have balance, it can be especially unnerving to be caught unawares. There is some panic that often occurs, a feeling of urgency and a sense of responsibility to make everything OK. Give yourself the benefit of the doubt and develop a systematic way of dealing with this feeling. Deep breathing exercises, which are taught in most yoga disciplines, along with drinking a few glasses of water, are the best ways to calm the body and the mind.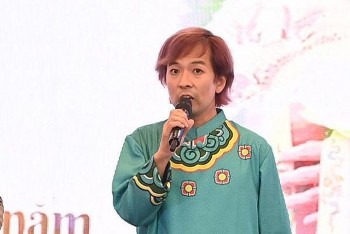 Friendship
Korean singer Joseph Kwon filmed his new video in 19 provinces and cities in Vietnam.