Daily Horoscope June 23: Astrological Prediction for Zodiac Signs with Love, Money, Career and Health
Daily Horoscope for June 23: Today is an extremely stressful day, astrologically speaking. First, the Cancer sun connects with Jupiter retrograde in Pisces, heightening egos. This could make us feel like we're 100 percent right even if we aren't. Arguments can ensue as a result.
Daily Planetary Overview
The truth of the matter is that there is no right or wrong, only different perspectives. The more open you are to seeing that everyone has their own point of view, the easier it will be to accept others and be welcomed with open arms.
Venus in Cancer shares a minor connection with Jupiter, Uranus in Taurus, and the north node of destiny in Gemini. This can create an over-the-top, romanticized version of what we think we deserve from relationships and what we believe we require financially for all of our efforts at work.
Our expectations are heightened, which means that disappointment will inevitably result. If you choose to quibble about what you receive, this could result in an argument that lasts all day and through tomorrow's full moon. It's important to stand one's ground, but it's also important to compromise. The imbalance is exacerbated by the opposition between Venus and Pluto in Capricorn, resulting in an emotional standoff and power struggle leading into tomorrow's frenetic celestial vibe.
Daily Zodiac Horoscope for June 23
Aries
The first sign of the Zodiac, Aries are the trailblazers. Passionate and independent, Aries will never do something just because everyone else is doing it—a Ram needs to be 100 percent committed to the task at hand.
Love Horoscope - The current astral energy may be just what you need to get you to calm down and take responsibility for your part in the relationship in which you are currently involved. Sometimes you can be very hard to pin down, especially when problems arise, or the going seems to get tough. Right now, you can contribute positively by listening to what your partner has to say.
Money Horoscope - With the Moon gone from your financial sector the focus shifts back to the income side of the financial fence but not before leaving you with your financial confidence, instincts and imagination fuelled. The Moon's monthly visits can be challenging but while there was a clash with planets on the income front this was more than outweighed by the support, leaving you feeling more empowered.
Career Horoscope - The bubble will burst today, and you may find yourself back at square one with a project or goal that is important to you. In short, an unrealistic idea that you have been counting on meets with reality and the situation does not look good.
Health Horoscope - When seeking to change your health habits for the better, remember that giving yourself the benefit of the doubt is critical. It's not easy changing old patterns! Real change a day by day effort and takes time. If you are feeling the "one step forward to two steps back" syndrome, lighten up a little and focus on the positive. When it comes to your health, your basic attitude is what matters the most. Try to keep this in mind.
Taurus
Smart, ambitious, and trustworthy, Taurus is the anchor of the Zodiac. Amazing friends, colleagues, and partners, Taureans value honesty above all else and are proud that their personal relationships tend to be drama free.
Love Horoscope - Don't dig yourself into a pit today, especially with the current celestial energy. There could be a temptation to sink into one of your gloomier frames of mind, and so miss out on an opportunity to meet someone rather special. If you are able to get out and do something social, then this would do you a great deal of good.
Money Horoscope - Two days after the Sun left your income sector, Mercury turns direct here, finally giving income matters the green light. While Mercury has had the brakes on since the Sun left, stopping things from moving forward, this has bought you a valuable two days back at the drawing board, something you can now take advantage of.
Career Horoscope - Use your imagination. The more creative you are, the better. Your ideas may seem rather unorthodox, but this doesn't mean that they hold no merit. Your innovative approach to an old problem is likely to propel you miles ahead of the competition.
Health Horoscope - The planetary alignment indicates that it's time to lay down your bow and reflect on your aim. If your thoughts are jumbling you in a multitude of directions, it will be difficult, if not impossible to hit your target. Make sure you are getting the rest you need. Proper rest supports your body's proper functioning. Include beets, tomatoes and young dandelion in your diet to help cleanse your liver. Most importantly, focus on developing a habit of mild exercise that you can do nearly every day.
Gemini
Smart, passionate, and dynamic, Gemini is characterized by the Twins, Castor and Pollux, and is known for having two different sides they can display to the world. Expert communicators, Gemini is the chameleon of the Zodiac, adept at blending into different groups based on the vibe and energy they perceive.
Love Horoscope - Today's astral configuration may help you to formulate a workable plan for the future, rather than finding yourself totally mesmerized by the thought of what is to come. If you are right at the start of a very promising relationship, then you will need to think carefully about where you want it to go. This in turn means an in-depth discussion with the one you love.
Money Horoscope - As a friendly aspect between the Sun, in his early days in your income sector and Jupiter, in his early days in retrograde motion in your career sector peaks, the biggest advantage is the sense of what's possible. This and her friendly aspect to both Neptune on the career and the Moon on the job front yesterday, is allowing Venus to raise the bar on your expectations as she moves into her final days in your income sector.
Career Horoscope - If you aren't doing your job with passion, then why do it? Today is one of those days in which you should feel inspired to work harder than usual. If you aren't, then maybe you should consider finding new work. Your happiness depends on it.
Health Horoscope - As you begin listening to your body, you will begin to have more control over your appetite and your emotional responses. Self-knowledge breeds self-control. One of the most important ways to make sure you are taking care of your body is to get adequate rest. On especially busy days when you feel pulled in many directions, it's crucial to calm your mind before going to bed. A hot bath with drops of lavender oil is a wonderful way to accomplish mental and physical relaxation.
Cancer
Emotional, intuitive, and practically psychic; ruled by the moon and characterized by the crab, Cancer has so much going on in its watery depths. Cancers may seem prickly and standoffish at the first meeting, once they make the decision to become friends with someone, that person has a friend for life.
Love Horoscope - You and your loved one will certainly benefit from making plans together for the future, and with the current planetary energy, the more detailed and involved they are, the better. You will obtain a great deal of benefit from any project you both undertake, as it will bring you closer together and give you something positive to aim for. You will be glad you made the initial effort.
Money Horoscope - The Moon has not only come full circle from last month's eclipsing Full Moon on the job front but to find Mars in your income sector. Their friendly aspect today is the first here in two years and an alliance between planets on the job and career fronts building and Venus, the planet of money just days away from your income sector, this is creating a new sense of what's possible.
Career Horoscope - Money problems are likely to be at the forefront of your mind. Crunch time has come sooner than you had hoped, and the numbers simply are not adding up in your favor. Now is the time to seriously prioritize your needs and create a realistic budget.
Health Horoscope - Giving ourselves the benefit of the doubt is something we all sometimes need help with. As we are so committed to a better future for ourselves and our loved ones, there is a tendency to judge harshly. However, the burden of responsibility does not rest with you alone! Give yourself the freedom to take care of yourself first, not the whole world. Check in with yourself on a daily basis about your diet and exercise regimen. This is a true personal responsibility!
Leo
Bold, intelligent, warm, and courageous, fire sign Leois a natural leader of the Zodiac, ready to blaze a trail, vanquish injustice, and make a name for themselves along the way. Blessed with high self-esteem, Lions know that they possess enviable traits—and they're proud of them.
Love Horoscope - The alignment of the planets may create a somewhat somber atmosphere between you and your loved one, which could make you both feel as though the relationship is just not working. It may be better not to let this feeling get to you, as you could be tempted to give up. If necessary, spend some time alone and then talk again tomorrow. It will be fine.
Money Horoscope - As a friendly aspect between the Sun, in his early days in an intuitive and imaginative part of your chart and Jupiter, his early days in retrograde motion in your financial sector peaks, this solar spotlight is beaming directly into a sense of what's possible. With Jupiter in retrograde motion but Neptune in direct motion for a few more days, this includes looking to the future and either missed or untapped financial potential.
Career Horoscope - Most people you communicate with professionally will be on an emotional edge today so be careful. Find solid ground and stick to it. Your productivity depends highly on your ability to remain emotionally stable. It will be harder than you think but don't give up.
Health Horoscope - Today's astral configuration provides guidance for your dreams. It might be a good idea to approach a close friend for a little support and advice. They will likely understand where you are coming from and be able to provide you with some inspiration. Remember to offer what you are asking for. If you need some help with motivation, for example, explain what prompted you to confide in them: this will motivate that person to help you and enable you to get what you want out of the relationship.
Virgo
Smart, sophisticated, and kind, Virgo gets the job done without complaining. Virgos are amazing friends, always there to lend a hand and also lend advice. Practical Virgos are incredibly adept at big picture thinking, and planning out their life, their vacations, and what they're going to do today isn't a drag it makes them feel in control and secure.
Love Horoscope - You may be feeling slightly more tongue-tied than usual, with the current aspect at play, but don't let it stop you from letting your partner know about the deepening sense of commitment that you wish to bring to the relationship. This needs some talking through if you are seriously considering making the arrangement become more permanent. Don't allow yourselves to be too pessimistic; otherwise you may not go ahead.
Money Horoscope - The planets in your financial sector are feeling the love from two different directions today, something that can inspire your financial confidence, instincts and imagination. This is coming from the Moon but also planets that are not just boosting your financial confidence but especially when it comes to money matters on the home front.
Career Horoscope - You may feel you have lost your edge in the career world today. Don't throw up your arms completely. This feeling is only temporary. Remember that in order to be successful in the business world, you need to roll with the punches. Keep your chin up.
Health Horoscope - Today you may feel a shift in your ability to center yourself and practice a healthful routine. The celestial energies increase your ability to sense your emotions, however, you may be left with feelings of ambivalence. You tend to drop a practice when you don't get an answer quickly, but this would be foolish right now! If you did yoga yesterday, great! Do it again today. If today is your first workout in a while, just doing it will help a lot.
Libra
Intelligent, kind, and always willing to put others before themselves, Libras value harmony in all forms. Ruled by Venus, the planet of beauty, Libra adores a life that looks good. As the master of compromise and diplomacy, Libra is adept at seeing all points of view and excels at crafting compromises and effecting mediation between others.
Love Horoscope - The current astral configuration makes conversation more serious than usual and may mean that you and your loved one find yourselves discussing some very interesting issues. You could get the chance to completely sort out one particular problem for good, but you will also have to overcome certain innate fears in order to do so. Taking that first step will improve your relationship no end.
Money Horoscope - The Moon may have left your income sector but it has left more than just a sharp nose for money and a lucrative sense of direction in its wake. Having not only moved through but interacted with planets on the job and career fronts, at a major turning point for both, this has left them with a now embedded sense of where the money is. This is something you can continue to benefit from.
Career Horoscope - Wild bob-related accusations will spread around, and many of them will not be so nice. Approach the source of these rumors instead of continuing the negative downward cycle of badmouthing others without dealing with the heart of the matter.
Health Horoscope - Today's aspect at play gives you a leg up in exploratory thinking. The ability to recall early experiences or to examine body issues will be enhanced. Try to use this aspect to heighten your awareness of your body. A challenging yoga workout will focus your mind and create space for new awareness to emerge. Don't push yourself but stay on top of the exercise. Accept any resurfacing memories or new self-knowledge without placing judgement.
Scorpio
Passionate, independent, and unafraid to blaze their own trail no matter what others think, Scorpios make a statement wherever they go. They love debates, aren't afraid of controversy, and won't back down from a debate.
Love Horoscope - You have absolutely no reason to withdraw and hide, other than you fear the worst when it comes to an important relationship. The current planetary configuration is encouraging in that it implies that if you are prepared to face up to the thing that is giving you such problems, you will discover that a lot of it was in your imagination. Be bold!
Money Horoscope - While this is an important day on both side of the financial fence, there won't be any direct competition until tomorrow. However, the more you can be mindful of a balance between money coming in and money going out the better. The Moon has returned to your income sector in time to steer a coming together of planets on the job and career fronts in a lucrative direction, while Mercury's direct turn is giving money matters the green light.
Career Horoscope - Trying to make light of a sticky situation will not be easy today. Other people are more emotionally entangled than usual. Co-workers will snap without any notice whatsoever. Tread lightly and try to stay out of trouble.
Health Horoscope - The planetary alignment is emphasizing your emotions. If you set the stage properly, this brief transit will allow you to see more clearly into your mind. Set the stage with yoga, rest, exercise and a mindful diet. Allow yourself to know what you've been avoiding - ask for awareness so that you can progress along your personal path. It's important to eschew all inner judgment. The Self cannot make itself known amidst judgment. Be the rock that you wish others could be for you.
Sagittarius
Independent and strong-willed, Sagittarius personalities are all about going off the beaten path. Sagittarius isn't afraid to step away from the pack and is a natural-born leader who goes after what he or she wants, regardless of what other people think.
Love Horoscope - The current aspect at play may mean that you appear dourer than you actually feel. It is not that you are particularly upset by anything, but more that you have a lot on your mind that you need to think about. Your lover may take this as a sign that you are somehow not interested, so you will need to show that this is not the case.
Money Horoscope - While the Sun and Moon will clash as a Full Moon later in the week and this will put a lot more focus on the income side of the financial fence, for now, its departure from an intuitive and imaginative part of your chart leaves you with a boost in financial confidence. With the Sun still in his early days in your financial sector, this has also softened his often black and white approach.
Career Horoscope - Your work ethic is especially strong today so use it. You have the stamina to put your nose to the grindstone for many long hours. Work overtime if you can. The rewards will be plentiful, and it will certainly earn big points with the people in charge.
Health Horoscope - The more honest you are with yourself, the more opportunities you will have to accomplish your goals. As you give in to the doubts you have about your own willpower, you magically find exercise companions. As you talk openly about your issues with food, you become privy to approaches and strategies that would otherwise have eluded you. What you keep inside due to fear of ridicule or exposure will only fester and cause you unhappiness in the end.
Capricorn
Smart, hardworking, and fully in control of their destiny, a Capricorn will always get what they set their mind to, in both personal and professional life—no excuses. Capricorns may get a reputation as stubborn, but they simply know what they want, and also know how they wish other people would behave.
Love Horoscope - You may benefit from some time alone today, with the current astral energy. This could be quite a positive experience, especially as you may need to reflect on what it is that you actually want from your current relationship. Rather than causing any harm, it will enable you to connect with how you really feel deep in your heart, which is what you need to know right now.
Money Horoscope - The Moon returns to an intuitive and imaginative part of your chart every four weeks but for the first time in two years, it returns to find Mars in your financial sector. It is a friendly aspect between the two that can do more than fuel your financial confidence, instincts and imagination. This can give you the confidence to embrace Mars' warrior spirit and the fight to take your financial power back.
Career Horoscope - Communication with others may be quite clouded today. You will say something, and people may question you as if you are talking in a completely different language. You may have to spell things out clearly two or three times before the message gets across.
Health Horoscope - Being open to change is both overwhelming and freeing. The planetary energy makes this a good time to open yourself to changes or improvements in your diet. Diet does not only mean "losing weight" - it also means knowing what and when to eat. It means resting so that your internal organs get a break and organizing your eating schedule so that they work most efficiently. Your diet is something you should fundamentally enjoy. Remember that your power to look your best resides in your diet!
Aquarius
Independent and enigmatical, Aquarians are unique. There is no one quite like an Aquarius, and because each is so incredibly individual, it can be tough to describe them as a group. Aquarians don't like labels, and may shy away from any adjective—even the good ones you might bestow upon them.
Love Horoscope - The current astral energy may give you much cause for thought, especially if you are considering deepening the bond in your current relationship. If this is the case, then some serious discussion lies ahead. But don't allow yourselves to be put off by thinking too hard about all the difficulties that lie ahead. It is better to be positive, as this will encourage you to be bolder.
Money Horoscope - As a friendly aspect between the Sun, in his early days in your work sector and Jupiter, in his early days in retrograde motion in your income sector peaks, this is a window into what's possible. Whatever this is hinting at and whatever this is inspiring, comes with planetary backup on both fronts that is here to stay.
Career Horoscope - If you have something to say, so say it. Don't be afraid to say it in a creative, fanciful manner, either. If you have a virtual presentation to make today, feel free to use plenty of metaphors and imaginative examples. This approach will win big points.
Health Horoscope - Your health practices are a wonderful way to re-connect with lost parts of yourself. The meticulous child who rearranged their sock drawer every Saturday might re-emerge as you wash up after cooking a nutritious meal; the bouncing little gymnast who had the energy of a puppy may float across your mind as you near the park for a run. As your practice strengthens, remember to gently embrace the parts of you that emerge. It is through acceptance, not judgment, that we achieve wholeness.
Pisces
Smart, creative, and deeply intuitive, Pisces can be close to psychic. Pisces feel things deeply and have incredibly strong gut reactions. A Pisces "knows" things from deep within, and can often judge whether a person or situation is good or bad.
Love Horoscope - If you're able to meet face-to-face with a date this evening, you might find that they are a completely different person from how you imagined they would be. The celestial energy indicates that they are likely to come across as being much more conservative and older than yourself, even if they are a little younger in years. But don't immediately dismiss them, as they will definitely brighten up as the evening wears on.
Money Horoscope - Just as there is already a friendly aspect building between planets on the income and career fronts, the Moon not only returns to sharpen your professional instincts but to draw Mars and therefore work and job matters into the mix. In the lead up to Venus, the planet of money's return to your work sector over the weekend, this is a chance to first get your ducks in a row across the income, work and career fronts.
Career Horoscope - If you are searching for a new job, this is a good day to get out and do some research. Do the detective work that needs to be done in order to find the exact opportunity you are looking for. Perseverance will be rewarded on this day.
Health Horoscope - The aspect at play reminds you that your future starts today. This is a good time to ask yourself: what do you want for your health? Do you want to ignore your body until invasive medical measures are required? Or do you want to have an informed, delightful experience of nurturing your body and your mind in a more preventive fashion? If you prefer the latter, maybe it's time to invest in an informative text: a healthy cookbook, a holistic hygiene reference, or a book on feng shui.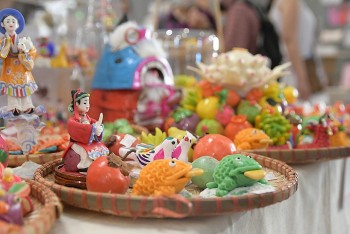 Handbook
This event will be an opportunity for cultural exchange between Hanoi locals and expats, and it will also be a real family event.