Daily Horoscope June 24: Astrological Prediction for Zodiac Signs with Love, Money, Career and Health
Daily Horoscope for June 24: Today's full moon in Capricorn is aspected by Jupiter retrograde in Pisces. This luminary represents an expansion of consciousness and philosophy. It also serves as a time for us to disconnect from comfortable ways of thinking and living in order to evolve with the times.
Daily Planetary Overview
The Capricorn moon is being taught a new philosophy by Jupiter, who's helping to shed light on matters that need change, not just in our lives but on a global level too. Saturn retrograde in Aquarius gets a push from the centaur Chiron in Aries to help us commit to an endeavor that can augment our lives and the lives of others.
Healing is hard and takes a lot of time. No one is able to mend trauma and pain in a day. It's impossible. However, today starts a new journey and commitment to implementing TLC into our daily activities. By taking care of yourself and others, you're evoking the true nature of Capricorn and Saturn (Capricorn's planetary ruler). It's time to get serious about improving the world and sticking with the changes we've said we'd continue. By releasing the past and moving forward, we're expelling all the negativity and moving toward a better emotional place for many years to come.
Daily Zodiac Horoscope for June 24
Aries
The first sign of the Zodiac, Aries are the trailblazers. Passionate and independent, Aries will never do something just because everyone else is doing it—a Ram needs to be 100 percent committed to the task at hand.
Love Horoscope - Today's planetary energy means that you have a golden opportunity to get to know someone much better, as fate steps in and brings you face-to-face with them. Although your intuition tells you that there is definite potential in this connection, it is not until you start a conversation that you appreciate just how much. You find each other intriguing and delightful.
Money Horoscope - On the other side of the Moon's monthly visit to your financial sector, the planets in your income sector will be keen to draw all the focus back to their side of the financial fence. However, with ongoing planetary activity on the income and none on the financial front, it is important to keep listening to your financial instincts and imagination.
Career Horoscope - Projects that have been stuck in a difficult rut will finally start moving forward again. You will feel a greater sense of discipline today that will help you finish whatever task has been plaguing you for quite some time now. Full steam ahead!
Health Horoscope - Today's energy gives you the power to see through the many ways you may try to hide the truth from yourself at times. You are especially receptive and able to understand that there are no "cutting corners" under this transit. Physically, you may suffer from lack of exercise or overeating. Emotionally speaking, you would do well to communicate what you are feeling to your loved ones in more ways than one, so that you can be sure they get your point.
Taurus
Smart, ambitious, and trustworthy, Taurus is the anchor of the Zodiac. Amazing friends, colleagues, and partners, Taureans value honesty above all else and are proud that their personal relationships tend to be drama free.
Love Horoscope - Rather than continuing with the same old routine, why not make time to talk to your loved one and find out how they really are. The current planetary configuration indicates that this is the ideal opportunity to discuss anything and everything that needs sorting out. If you can combine this with an outing to one of your favorite beauty spots, if possible, or share a meal together, so much the better.
Money Horoscope - As much as a clash between the Moon in your financial sector and Mercury, in his first full day in direct motion in your income sector might create some financial tension it is the right push at the right time. There is too much support to dent your financial confidence while this can be the push that stalled income matters need.
Career Horoscope - This is a time of fulfillment for you, but at the same time, it marks a period of adversity. You may be under harsh scrutiny by others, but overall, you are working towards your dream, and that is what is most important. Keep this dream alive!
Health Horoscope - Today's transit gives you the feeling that something could be done better if you only had the time to sit down and plan it. Maybe this is your body talking? Are you feeling like there are too many things going on in your life to maintain the healthy lifestyle you would like? First of all, don't judge yourself. Start with where you are today and go from here, setting gentle, realistic goals.
Gemini
Smart, passionate, and dynamic, Gemini is characterized by the Twins, Castor and Pollux, and is known for having two different sides they can display to the world. Expert communicators, Gemini is the chameleon of the Zodiac, adept at blending into different groups based on the vibe and energy they perceive.
Love Horoscope - The current astral energy is ideal for arranging a conversation with like-minded individuals. But as far your love life goes, you are looking for someone who is not at all like your usual friends. They will need to be quite unique in their attitude toward and outlook on life. So, make sure to also include some likely candidates in your guest list. The discussions will be mind-blowing.
Money Horoscope - When the Moon returns to your financial sector tomorrow, its clash with the Sun in your income sector will create a Full Moon. Today there is a chance to get out in front of this, with a clash between Venus on the income and Pluto on the financial front putting the planets of money and change into opposition but without the fog of war that the Moon can bring. This can be used as motivation.
Career Horoscope - Think back to a quote or a lesson of some sort that you heard from someone close to you. Their words may not have made sense back then, but now you are starting to appreciate this bit of wisdom. Heed the advice of this knowledgeable soul.
Health Horoscope - The transit of the day will have you waking up and smelling the coffee. It's all about discarding the old and outdated and bringing in the new. This might be your first inkling that you'll want to seriously clean out your closets and living space. Think about it: it's easier to bring in the new if there is space to do so! Consider the metaphor of breathing: each exhale is a mini cleanse, so make it long and vigorous, then replenish with fresh air.
Cancer
Emotional, intuitive, and practically psychic; ruled by the moon and characterized by the crab, Cancer has so much going on in its watery depths. Cancers may seem prickly and standoffish at the first meeting, once they make the decision to become friends with someone, that person has a friend for life.
Love Horoscope - Although you prefer to keep an air of mystery about you, today's aspect may mean someone will be very keen to find out as much about you as possible and may leave no stone unturned in order to do so. Yet even though you both share many fascinating discussions, they get no nearer to understanding what truly makes you tick - which is just as you like it.
Money Horoscope - It was the Moon's friendly aspect to Mars in your income sector, shortly after its return to your work sector yesterday that is giving you your first real taste of the warrior planet's impact. While the focus today is more on work and job matters with Venus, the planet of money joining Mars in your income sector over the weekend there is a growing sense of financial confidence.
Career Horoscope - The career goals you wish to achieve are not going to be handed to you on a silver platter. If you truly want your dreams to materialize, you need to work for them. Now is the time to put in the work instead of sitting back and waiting for a miracle.
Health Horoscope - The current transit makes this a good time for a general cleansing - one that really should take place at least once or twice a year. Look to your body and begin the cleansing process. Plenty of water, of course, is very important the whole way through. If you are able, try to maintain a couple of days' worth of strict dietary limitations, eating only raw fruits and vegetables. You might feel light and active and receive a lot of return energy if you pay attention to what your body tells you.
Leo
Bold, intelligent, warm, and courageous, fire sign Leois a natural leader of the Zodiac, ready to blaze a trail, vanquish injustice, and make a name for themselves along the way. Blessed with high self-esteem, Lions know that they possess enviable traits—and they're proud of them.
Love Horoscope - The current planetary alignment means that socializing and generally getting out and about is the answer to any problems you are having in regard to your love life today. Whether you are single or already in a partnership, the influx of new ideas generated by meeting new people and the kind of conversations that this sparks off will really boost your moral. You will feel refreshed, uplifted, and ready for anything.
Money Horoscope - The last few days have not only seen Venus, the planet of money form a friendly aspect to dreamy Neptune in your financial sector but the Sun to Jupiter there. While both now run their course, with Jupiter in his early days in retrograde motion and Neptune turning retrograde over the weekend, this is fuelling your financial confidence, instincts and imagination just as the doors are opening to the past, second chances and untapped financial potential.
Career Horoscope - You feel trapped with regard to your current career situation. You long for freedom, but this concept seems like a far-off dream that may never come true. Hang in there, and don't worry. The work you're doing now will soon lead to the freedom you seek.
Health Horoscope - Today's aspect gives you the insight to cleanse yourself, either physically or emotionally. If something has been bothering you emotionally, usually there is some unresolved issue between you and another person. Depending on the severity of this problem, it can help to write out your frustrations or to draw a picture. Try to get it outside of you in some way. When you feel you have a handle on the issue, do some physical exercise to stir up new blood and complete the cleansing process.
Virgo
Smart, sophisticated, and kind, Virgo gets the job done without complaining. Virgos are amazing friends, always there to lend a hand and also lend advice. Practical Virgos are incredibly adept at big picture thinking, and planning out their life, their vacations, and what they're going to do today isn't a drag it makes them feel in control and secure.
Love Horoscope - Although you often prefer to eat when you feel gloomy, it may be better to arrange for an evening of fun and entertainment. The current astral energy indicates that if you are looking for love, you may meet someone with the right potential in a social setting, if possible. But nothing will happen if you stay at home and watch television.
Money Horoscope - Even the Moon has formed a friendly aspect to planets on the financial front and while this happens every four weeks, this is rarely at the same time that there are friendly planetary aspects. This is not only helping to boost your financial confidence but especially when it comes to taking a kinder and more forgiving view of the past.
Career Horoscope - A little bit of effort will go a long way for you at this time. Don't underestimate your power to accomplish what is most important to you with regard to your career. Circumstances around you are in your favor so take advantage of this favorable time.
Health Horoscope - Today provides a wonderful transit for you. You will be able to notice what you are ready to get rid of - certain behavior patterns, old food in the cupboards, and old clothes in the closet. Even some relationships may reveal themselves to be unhealthy and outgrown. You can gain a lot by giving up the old and outdated. Take stock of your life - get rid of what doesn't work for you and create room for all that is new.
Libra
Intelligent, kind, and always willing to put others before themselves, Libras value harmony in all forms. Ruled by Venus, the planet of beauty, Libra adores a life that looks good. As the master of compromise and diplomacy, Libra is adept at seeing all points of view and excels at crafting compromises and effecting mediation between others.
Love Horoscope - The current astral configuration is perfect for a day and night of sheer fun. You certainly won't feel like staying in alone and will benefit immensely from getting involved with others in matters that interest you greatly. If you have been looking for romance, then one conversation may seem to hold great potential. Don't expect things to develop quickly - but they can if you are really interested.
Money Horoscope - On the other side of the Moon's monthly visit to your income sector, you will always be left with a sharp nose for money and a lucrative sense of direction. However, you will find this much easier to hold onto this time with Venus, the planet of money using this during her final days in your work sector and of a mission to fuel your job confidence, attract opportunities and steer things in a lucrative direction.
Career Horoscope - Don't overstep your boundaries today. To ensure that you don't, take the time to set things straight with a co-worker and/or employer. Make sure everyone is clear with what the expectations are. Doing so will help prevent a nasty confrontation.
Health Horoscope - The planetary energy is challenging you to shift gears and ask yourself whether you actually feel as healthy as you want to feel: in your body, in your outlook on life, and in your relationships. There are things you can do to feel more comfortable in all of these areas - you've just got to take a look at your situation and be honest with yourself. In order to feel the healthiest you possibly can, you have to first face your reality, today.
Scorpio
Passionate, independent, and unafraid to blaze their own trail no matter what others think, Scorpios make a statement wherever they go. They love debates, aren't afraid of controversy, and won't back down from a debate.
Love Horoscope - You may do a great deal of thinking about a certain relationship, especially with a today's planetary energy. The trick is to try and connect your mind with your heart, and not focus on one to the exclusion of the other. Then what you really feel deep in your heart will be more easily translatable into words. If you can express your deeper emotions, you can resolve many things.
Money Horoscope - The Moon finds itself in the wrong place at the right time today. The Moon's monthly visit to your income sector and friendly aspect to planets on the job and career fronts is adding to what was already an auspicious day on all three fronts. However, while a clash with Mercury in your financial sector might create some financial tension, in his first full day in direct motion this is the push to get money matters moving again.
Career Horoscope - Overall, you are operating through a very discouraging time with regard to your career, and it may be difficult for you to keep your chin up through it all. Go easy on yourself instead of expecting too much. Your time will come. Be patient.
Health Horoscope - Today's transit will have you wondering if you will possibly manage to get to everything you need to do on time. If you are focusing on your relationships, you may find that you put more pressure on yourself than you need to. As always, use communication to relax your expectations, so that you are not distracted from what's really important. If you are feeling a little extra tension, it would be a good idea to drink copious amounts of water.
Sagittarius
Independent and strong-willed, Sagittarius personalities are all about going off the beaten path. Sagittarius isn't afraid to step away from the pack and is a natural-born leader who goes after what he or she wants, regardless of what other people think.
Love Horoscope - Current planetary energies create the perfect atmosphere for a party or impromptu get-together, if possible, as everyone will be open to meeting and getting involved with everyone else. If you will be spending time talking with someone whom you are interested in for more personal reasons, then you will find that you have a natural rapport and seem to be able to discuss just about anything together. You could make a great couple.
Money Horoscope - A day before the Sun and Moon are due to clash as a Full Moon, Venus and Pluto, the planets of money and change bring a taste of things to come. This is still a clash between income and money matters but instead of the Moon in your income sector it is Pluto and instead of the Sun it is Venus, planets who know how to turn financial tension into motivation and leverage.
Career Horoscope - A fantastic mental shift happens for you today, opening the door to fantastic new opportunities regarding your career. Cycles in your life that seem to have been moving backward are finally moving forward again. Charge ahead with confidence.
Health Horoscope - The aspect of the day gives you the confidence you need to get things done, but you may also feel a little insecure when it comes to your close relationships. Don't feel as though you need to have all the right answers - that's a classic worry brought on by this transit. Focus instead on what you are feeling, and don't worry about finding the right words. Make sure that you are getting the exercise you need, or the feeling of frustration will only increase. Aerobic exercise will oxygenate your blood and lift your spirits.
Capricorn
Smart, hardworking, and fully in control of their destiny, a Capricorn will always get what they set their mind to, in both personal and professional life—no excuses. Capricorns may get a reputation as stubborn, but they simply know what they want, and also know how they wish other people would behave.
Love Horoscope - Love has more to do with ideas than passion and romance, especially with today's astral configuration. However, it may be while researching an interest that you find yourself deep in conversation with someone who really makes a big impression on you. You will have to find a more interesting setting in which to carry on the conversation - which could on for a very long time.
Money Horoscope - The Moon is still in an intuitive and imaginative part of your chart after its friendly aspect to Mars, in his early days in your financial sector yesterday. With Venus, the planet of money joining Mars over the weekend and the Moon coming from a place where there is growing planetary support, a rise in financial confidence is just a taste of things to come.
Career Horoscope - Make sure you are working to the best of your ability and that you are living up to your expectations and responsibilities. Examine this concept with regard to your current job as well as your overall lifetime career goals. Both are key to success.
Health Horoscope - Today's planetary alignment brings out certain relationship expectations that you will need to discuss with your partner or your friends. Stay aware of what you are feeling so that you can catch yourself before you make someone else the cause of your emotional state - remember, this is giving your power away. The best conversations are those that you initiate with an open heart and no blame for anyone, including yourself. Keep refined sugar far out of reach!
Aquarius
Independent and enigmatical, Aquarians are unique. There is no one quite like an Aquarius, and because each is so incredibly individual, it can be tough to describe them as a group. Aquarians don't like labels, and may shy away from any adjective—even the good ones you might bestow upon them.
Love Horoscope - Today's planetary alignment creates the perfect atmosphere for getting to know someone better. It will be just the way you like it, with no threat of getting too passionate. You can talk about your feelings and dissect your previous relationships with your razor-sharp mind, without having to get really involved. You can say what you should have done and discuss your future hopes whilst still remaining relatively superficial.
Money Horoscope - Thanks to the Sun, in his early and Venus, in her final days in your career sector, there is a lot of support for the planets in your income sector and the timing couldn't be better. With Jupiter in his early days in retrograde motion in your income sector and Neptune just two days away from turning retrograde, as new professional doors open so too do the doors to the past, second chances and untapped income potential.
Career Horoscope - Authority figures are hard for you to deal with right now. You will find that they are not especially receptive to your creative approach or imaginative ideas. Don't let this discourage you or make you think that your ideas are invalid. Stay strong.
Health Horoscope - Today's planetary energy encourages you to pay attention to your personal health and to ask yourself if you are feeling up to par. It's important to notice the subtleties expressed by the body, both emotionally and physically. Are you sleeping well? Are you drinking enough water? Do you digest your food well? Are you feeling safe in your relationships? All the little things that you notice will lead to greater self-awareness and help you much feel better.
Pisces
Smart, creative, and deeply intuitive, Pisces can be close to psychic. Pisces feel things deeply and have incredibly strong gut reactions. A Pisces "knows" things from deep within, and can often judge whether a person or situation is good or bad.
Love Horoscope - This is really a day for conversation and discussion, rather than passion. The current alignment of planets indicates that if you have been going through a rough time in your current relationship, then this is the perfect opportunity to talk about it and sort things out. Discussing it over a meal and a glass of wine, if possible, may help you get to the heart of the matter.
Money Horoscope - When the Moon returns to your career sector each month it will always form a friendly aspect to the planets in your income sector. However, the difference this time, apart from new doors opening on the job front is that this comes just as a friendly aspect between planets on the income and career fronts peaks. Growing potential across the income, work and career fronts is on full display today.
Career Horoscope - Today is a good day to strengthen your work self so that you are better prepared to deal with future challenges. Pick up extra tools for your toolbox. Learn from the masters who are willing to share their tricks of the trade with you.
Health Horoscope - The alignment of the planets today makes you feel more confident and at the same time, perhaps a little bit high strung. Emotions are fluctuating and hard to put into compartments. You tend to want to give a name to things and be able to organize like with like. You may feel frustrated, therefore, if you feel more emotional in areas where you are accustomed to feeling "organized." The aspect at play tends to bring out the irrational. Use exercise to help feel more in control.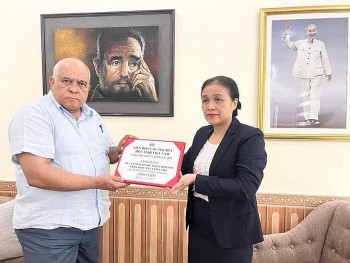 Focus
According to Cuba's News Agency Prensa Latina, on August 16, President of Vietnam Union of Friendship Organizations Nguyen Phuong Nga said that Vietnamese people will always stand by and support Cuba no matter what difficulties our friend is facing.