Daily Horoscope June 26: Astrological Predictions for Zodiac Signs with Love, Money, Career and Health
Daily Horoscope for June 26: The Aquarius moon creates a fraught t-square with Mars in Leo and Uranus in Taurus. Be careful because the t-square can bring hidden enemies to light. The moon-Mars opposition could bring tension to relationships or office politics if a colleague tries to usurp your position.
Daily Planetary Overview
You can stand your ground even if your office frenemy tries their best to steal your glory or take credit for your ideas. A few words of advice: keep your professional ideas to yourself until meetings in order to protect your career.
While work and financial security may be your top priority today, it's important to connect with like-minded colleagues in order to avoid arguments. They might even bring you a few professional opportunities. Foster an environment in which you can all inspire one another. Create a list of contacts who can help you reach your goals. Through the combined power and energy of the collective you will be able to call on this support to boost your luck.
Also, if you're feeling a financial pinch or not receiving the raise and promotion you asked for, they might be able to give you some advice or offer you another gig that pays more than what you currently make.
Daily Zodiac Horoscope for June 26
Aries
The first sign of the Zodiac, Aries are the trailblazers. Passionate and independent, Aries will never do something just because everyone else is doing it—a Ram needs to be 100 percent committed to the task at hand.
Love Horoscope - Today's planetary energies could put a sparkle in your eye. This is most likely to be in connection with a specific person you are communicating with, or perhaps a virtual meeting where important principles are being discussed. Whether you strike up a conversation with a particular person, or get talking by some twist of fate, the impact that they have on you will be totally unexpected.
Money Horoscope - The Moon is not only still in your career sector after yesterday's Full Moon but after a friendly aspect to Uranus in your income sector, yesterday moves into a friendly aspect to the dwarf planet Ceres there. As the week began with the Moon in opposition to both, this is a turnaround that leaves you with a better sense of your income needs and priorities because of it.
Career Horoscope - Today is an "off" day for you with regard to your career. Don't sweat it. It is simply one of those days. Nothing seems to be going right, but this doesn't mean that you are doomed forever. Go easy on yourself and be patient. Things will improve.
Health Horoscope - You want what you want, and you want it now! Today you may experience that quality of yours commonly known as "impatience." The urgency with which you experience certain feelings may overwhelm those around you this week. Try to focus on understanding what you want and putting it into words that let people know how they can help you most. That overpowering celestial energy can be mitigated by language. Another tip: work out your frustration at the gym, if possible, or on the bike path!
Taurus
Smart, ambitious and trustworthy, Taurus is the anchor of the Zodiac. Amazing friends, colleagues, and partners, Taureans value honesty above all else and are proud that their personal relationships tend to be drama free.
Love Horoscope - A surprising and intriguing new contact could lead to a special kind of relationship. The current astral configuration indicates that quick as a flash you both realize there is far more to this seemingly random connection than is apparent. You sense a powerful and almost disturbing chemistry between you. You will certainly want to discover more about each other - which will be good for both of you.
Money Horoscope - The Moon's departure from your financial sector was always going to leave you with your financial instincts and imagination fuelled and with a better read on money matters. This has already given you a better read of what is still evolving on both sides of the financial fence, both income and money matters active for this time of year.
Career Horoscope - You are likely to be extremely restless today, making it difficult for you to concentrate on anything. Your thoughts naturally gravitate towards greener grass on the other side. Do your best to stay focused and trust that you are on the right path.
Health Horoscope - Get in touch with your feelings today and communicate them to those you care about. Use the celestial energy to empower your own relationship with yourself as well. Like with any relationship, ask yourself what you really want from yourself: a healthier lifestyle? More friends? Less time working? More fun on the weekends? This kind of honest chat with yourself will create changes more quickly than you may think. Start with now. What would make you smile?
Gemini
Smart, passionate, and dynamic, Gemini is characterized by the Twins, Castor and Pollux, and is known for having two different sides they can display to the world. Expert communicators, Gemini is the chameleon of the Zodiac, adept at blending into different groups based on the vibe and energy they perceive.
Love Horoscope - Current planetary energies may reawaken feelings for someone you had previously been in a relationship with. Whether you have suddenly found yourself thinking about them intensely, or happened to see them while out, you will certainly feel like getting in touch and speaking with them further. It may be that there is still some unfinished business to attend to, or that you have something important to discuss.
Money Horoscope - While the Moon is still in your financial sector after yesterday's Full Moon any tension from a clash with the Sun in your income sector has dialled back. Already, in her last full day in your income sector Venus, the planet of money is using this as motivation. With both sides of the financial fence energised there is a chance to take advantage of this and any momentum this is creating.
Career Horoscope - This is no time to be secretive with regard to a career project you are working on. Perhaps you are scared that someone may try to steal your latest idea. Stop being so paranoid and act out of faith. People around you are there to help, not hurt you.
Health Horoscope - You are ambitious and can sometimes forget the pleasure that is to be had along the way. Try devising a quiz that you can give yourself a few times a month: call it, "The Creature Comfort Quiz." The questions are up to you - but here are some examples: Is there enough bubble bath in the house? Do I have clothes that flatter my body type, or do I need to do a little shopping for basics? Do I have my favorite fresh fruit in the house? Etcetera! With a little self-interrogation, you will come up with plenty of ideas that make you smile.
Cancer
Emotional, intuitive, and practically psychic; ruled by the moon and characterized by the crab, Cancer has so much going on in its watery depths. Cancers may seem prickly and standoffish at the first meeting, once they make the decision to become friends with someone, that person has a friend for life.
Love Horoscope - You may be inclined to want your own way, given today's astral energy. Usually when you wish to pursue a certain course of action without being disturbed you tend to withdraw and refuse to discuss the situation. Right now, you are happy to tell a loved one that you want what you want and fully intend to get it, whether they approve of your plans or not.
Money Horoscope - With the Moon returning to your financial sector tomorrow and then Venus, the planet of money joining Mars in your income sector just a few hours later, things are about to become a lot more energised on both sides of the financial fence. It is the momentum created across the income, work and career fronts over the last few days that Venus will exploit as she returns to begin what could be some of the most lucrative weeks of the year.
Career Horoscope - Consider expansion on all fronts. Whatever you are working on, whatever your investment is, whatever your current job is, expand it. Embrace more, invest more, and work more. Dream even bigger than you usually do. Success is coming your way very soon.
Health Horoscope - You have never been one to blindly conform to the "group," but you certainly do care what people think of you. It's time to help them and yourself out and give them the information they need in order to really know you. You might want to first take a refresher course where YOU are concerned! Do you really know what you do and do not want? Disciplined exercise such as swimming and running give you the time to reflect on these questions while building your strength and self-esteem.
Leo
Bold, intelligent, warm, and courageous, fire sign Leois a natural leader of the Zodiac, ready to blaze a trail, vanquish injustice, and make a name for themselves along the way. Blessed with high self-esteem, Lions know that they possess enviable traits—and they're proud of them.
Love Horoscope - The current astral energy could make your partner (current or prospective) quite difficult to fathom. They may seem to be in even more of a wildly eccentric mood than usual, which could leave you wondering just how you are going to approach them concerning a certain important idea. It may be best to leave this for another day, as they may say no just to be contrary.
Money Horoscope - Four days after Jupiter turned retrograde in your financial sector, Neptune is at a standstill ahead of his retrograde turn tomorrow. Still in direct motion, the planet of dreams is looking to the future before following the planet of luck and expansion in his focus on the past, second chances and untapped financial potential.
Career Horoscope - Your patience and perseverance will be put to the test. Recognition from authority figures will not come easy, so don't expect too much from them. For now, most of the reward associated with your career will be through your own pats on the back.
Health Horoscope - Give yourself an inch and you might take a mile! I recommend you bring that tendency poolside, if possible! Swimming is an exercise that benefits the body and mind, and it is not an expensive sport. Whether you are a beginner or a High School champ, try to integrate this lovely, low-impact sport into your life. It strengthens your lung capacity while toning your whole body, and once you get on a roll it can be like meditation. Weather permitting, it's a wonderful bonus to be outside.
Virgo
Smart, sophisticated, and kind, Virgo gets the job done without complaining. Virgos are amazing friends, always there to lend a hand and also lend advice. Practical Virgos are incredibly adept at big picture thinking, and planning out their life, their vacations, and what they're going to do today isn't a drag it makes them feel in control and secure.
Love Horoscope - Sometimes loving another is easy and fun, and at other times it takes more effort, especially when they are not on their best behavior. The current planetary alignment brings you to the realization that despite going through recent difficulties, you still love the person you are with very deeply and will always do so. No matter what happens, the profundity of feeling remains intact.
Money Horoscope - The planets behind a boost in financial confidence over recent days are sticking around, making this something that will continue to evolve. This is especially so when Venus, the planet of money returns to an intuitive and imaginative part of your chart tomorrow, something that will put her at a friendly aspect to both planets in your financial sector over the coming weeks.
Career Horoscope - You are in a period of growth with regard to your career. Overall, you are on the upswing. The daily grind may have its ups and downs, but when you step back and look at your situation, you are making significant progress toward larger goals.
Health Horoscope - Today's planetary alignment gives you the freedom to take your feelings seriously, without being tricked by the "serious expectations" you may put on yourself at other times of the month. What does expanding your horizons mean to you? It might be time to find out - or, if you know what gives you a boost, go ahead and ask for it! Even something as humble as a walk on the beach with your dog (or a friend, if possible, or a friend's dog!) could be the answer to opening up to your true feelings.
Libra
Intelligent, kind, and always willing to put others before themselves, Libras value harmony in all forms. Ruled by Venus, the planet of beauty, Libra adores a life that looks good. As the master of compromise and diplomacy, Libra is adept at seeing all points of view and excels at crafting compromises and effecting mediation between others.
Love Horoscope - The current celestial configuration may make you feel nervous about communicating with new people. It is not so much the act itself, but more who you'll be speaking with. There is one particular person whom you desperately want to talk to. And yet you are acutely frightened to seek their attention. You need to relax and trust in life.
Money Horoscope - As yesterday's Full Moon continues to play out, this continues to be good news for money matters and for your financial confidence in particular. After a clash earlier in the week, this is also helping to give you a better sense of your financial needs and priorities. There have been some ups and downs over the last few weeks, culminating with a better and more confident sense of awareness.
Career Horoscope - You are not likely to win any argument today regardless of whether or not you are right, so don't even bother getting involved. The odds are against you and you are currently outnumbered. Wait for a more favorable time to make any big moves.
Health Horoscope - Today's transit is a lovely one for the sensually oriented. Your body is your temple, and it's a great couple of days for worship! Try to prepare your food as though you were a religious monk celebrating the deity of pleasure: fresh fruits (organic taste better), whole grains, and your favorite flavors. Your body is a sacred ornament: polish it inside and out with exercise (yoga massages your internal organs) and exfoliating baths (oats and chopped pear is a great mixture to bring into the water and rub onto your skin).
Scorpio
Passionate, independent, and unafraid to blaze their own trail no matter what others think, Scorpios make a statement wherever they go. They love debates, aren't afraid of controversy, and won't back down from a debate.
Love Horoscope - Sometimes we do need to take ourselves and our relationships seriously. The current aspect at play encourages you to do just this today. Although no one could accuse you of fooling around, in the past you haven't shown the person in your life how committed you are, either. Perhaps it would be worth letting them know that you plan to stick around for some time.
Money Horoscope - The Moon's departure from your income sector yesterday was always going to leave you with a sharp nose for money and a lucrative sense of direction. However, it is the timing that is auspicious, giving you an advantage ahead of Venus' return to your career sector tomorrow to begin her mission to fuel your professional confidence, attract opportunities and steer things in a lucrative direction.
Career Horoscope - Financial matters are in your favor. This is a good time to ask for a raise or a promotion. It wouldn't hurt to buy a lottery ticket after work either. Your luck is quite strong, and you have the opportunity to benefit from this luck monetarily.
Health Horoscope - Try to see two sides of every issue today. The cosmic energy may lead you to the mirror, where you may be tempted to be scrutinizing and unforgiving. Be gentle with yourself: remember that it is what you tell yourself, and not what others say, that most affects how you feel! And you feel good if you accept yourself as you are and do your bit to stay healthy. You may use this energy to recognize and appreciate what works in your life. If your legs work, use 'em!
Sagittarius
Independent and strong-willed, Sagittarius personalities are all about going off the beaten path. Sagittarius isn't afraid to step away from the pack and is a natural-born leader who goes after what he or she wants, regardless of what other people think.
Love Horoscope - The current planetary configuration helps you feel more settled about a relationship that has been something of a roller coaster ride up to this point. One minute it seems to be on, and the next minute it seems to be off. This has left you feeling confused and exhausted, and wondering whether it would be best to forget it all. However, today you may get the assurances that you need.
Money Horoscope - The Moon is still in your income sector after yesterday's Full Moon but any tension has dropped back. No longer in opposition with the Sun and not due to clash with Venus in your financial sector until just before leaving tomorrow, this has energised both sides of the financial fence but with income and money matters now able to utilise this in their own way.
Career Horoscope - You are on the verge of something big, but you feel as if not all the pieces are in place. They're not, so hold on. There is no sense in jumping the gun. You are better off waiting until everything is perfectly in place before making your move.
Health Horoscope - The planetary alignment gives you the opportunity to bring the exotic into your life. Remember that other cultures can give us insight into ourselves that can light up our lives. Whatever "exotic" means to you, give it a try! Try to stimulate at least three of your senses with something new: taste, sound, smell, etc. The new does not need to disturb the things that give your life structure and regularity. Stick to your usual dietary boundaries while welcoming new ingredients and flavors into your kitchen!
Capricorn
Smart, hardworking, and fully in control of their destiny, a Capricorn will always get what they set their mind to, in both personal and professional life—no excuses. Capricorns may get a reputation as stubborn, but they simply know what they want, and also know how they wish other people would behave.
Love Horoscope - You are rather pleased about the recent relationship that you have struck up with a certain person. The current astral configuration indicates that you feel you have met your match: someone who works as hard, thinks as deeply, is as ambitious and determined as yourself. But you both need to bear in mind that there is more to life than work if you want your relationship to thrive.
Money Horoscope - In the lead up to the Moon's return to your income sector tomorrow and Venus, the planet of money's return to your financial sector just a few hours later, on both sides of the financial fence there is a call for a wait and see approach. Because there is already planetary activity on both fronts it is less that they will start anything new and more that they will add to what is already in play.
Career Horoscope - Consider pursuing a new avenue of work. Something is likely to spark your interest at the current time. Don't cast this idea aside. There is major potential here for great success. Don't remain stuck in a situation that is not even appealing.
Health Horoscope - You love to use your body in exciting new ways, and maybe you haven't been using your physical powers to the best of their abilities lately. Today's transit gives you some in-roads into the wonderful world of physical activity. Be open to the new, which can come in surprising packages. Swing dancing has enjoyed a revival and is an established pastime in many parts of the world. Try something new that challenges your body to act like it did when you were a child!
Aquarius
Independent and enigmatical, Aquarians are unique. There is no one quite like an Aquarius, and because each is so incredibly individual, it can be tough to describe them as a group. Aquarians don't like labels, and may shy away from any adjective—even the good ones you might bestow upon them.
Love Horoscope - The current astral energy may encourage you to stay exactly where you are in terms of a current relationship. If you have had any thoughts about straying in another direction or have been considering that the pasture looks much greener elsewhere, then the events of today may help change your mind. You realize that what you have already is too good to let go.
Money Horoscope - Four days after Jupiter turned retrograde in your income sector, Neptune has reached his last full day in direct motion here. By tomorrow the planets of luck and dreams will both have their full focus on the past, second chances and untapped income potential. Until then, while still looking to the future Neptune is giving Venus, the planet of money something to aim for as she reaches the last full day of her mission to steer work and job matters in a lucrative direction
Career Horoscope - If your current career seems to be falling apart right now, don't fight it. This is a message from the universe that this particular path is not yours to take at the current time. Let things crumble so that you can build stronger than before.
Health Horoscope - This is a wonderful time to organize your time and fit in all the things you normally don't get to do for yourself. Make this week a week of self-pampering! Do whatever it is that you normally put off because it is "indulgent" or time-consuming. Make the time to indulge yourself! Hair, skin, feet, hands, body, the more pampering the better! You are a natural born worker - and a little TLC will not jeopardize your work ethic! It's all about looking and feeling your best. Go for it!
Pisces
Smart, creative, and deeply intuitive, Pisces can be close to psychic. Pisces feel things deeply and have incredibly strong gut reactions. A Pisces "knows" things from deep within, and can often judge whether a person or situation is good or bad.
Love Horoscope - If going out on a first date is possible tonight, then don't be put off. The current astral energy is making you both more nervous than usual. You are having a difficult time just letting go and allowing the conversation to flow. There is no immediate remedy to this except to say that it is worth seeing each other again, as things could be very different next time.
Money Horoscope - While a friendly aspect between planets on the income and career fronts is coming to an end it is not the last. Ahead of Venus, the planet of money's return to your work sector tomorrow, this is already giving her mission to fuel your professional confidence, attract opportunities and steer things in a lucrative direction a head start.
Career Horoscope - You have the ability to work twice as fast as usual. Your tendency may be to sit back, relax, and slack since when you actually do work, you are twice as efficient. Resist this temptation and strive to go above and beyond what is expected of you.
Health Horoscope - Satisfying your natural urges is just what the doctor ordered this week. That's right - you are in charge of this! Try to focus on what you really want and then on giving it to yourself. Whether it's a walk by the beach to think over personal matters or a frank chat with your boss, there are certain things that only you can provide. You sometimes sink into the habit of thinking that what you want most deeply is something or some emotion only others can give you. Wake up from this coma and begin nurturing yourself!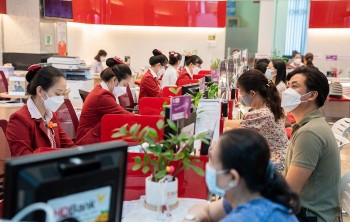 Economy
Vietnam Business & Weather Briefing (August 12): Air passengers reach a record number in July, seafood exports expected to reach 3 billion USD in Q3