Protests and riots in America update: Buffalo officers filmed shoving 75-year-old protester charged with assault
According to The Guardian, two Buffalo police officers were charged with second dgree assault on Saturday, prosecutors said, after a video showed them shoving a 75-year-old protester in recent demonstrations over the death of George Floyd. A large crowd of police officers and firefighters stood in front of Buffalo City Court to show support for the two officers as they attended a virtual arraignment on Saturday.
Officers Robert McCabe, 32, and Aaron Torgalski, 39, pleaded not guilty to the charges of second-degree assault, a felony, and will be released on their own recognizance, according to NBC affiliate WGRZ in Buffalo. They are both scheduled to return to court on July 20 for a felony hearing.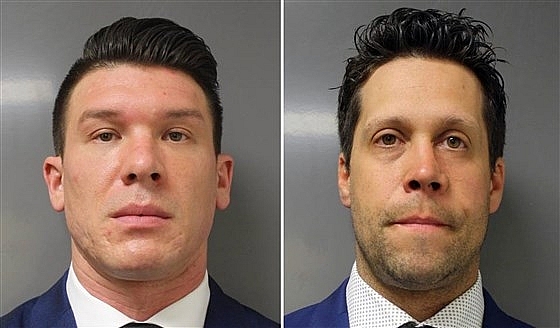 Buffalo Police officers Robert McCabe and Aaron Torgalski. Photo:Erie County DA
The now-viral video of the incident shows longtime social justice activist Martin Gugino, 75, approaching a large group of officers in tactical gear and saying something. The officers yell for him to move back before one appears to push him. Gugino then stumbles backwards and falls. Seconds later, a pool of blood can be seen near his head. The incident occurred shortly after the city's 8 p.m. curfew, NBC affiliate WGRZ in Buffalo reported.
Erie County District Attorney John Flynn said in a press conference after the arraignment that McCabe and Torgalski "clearly crossed the line." "I can't turn a blind eye to that," he said.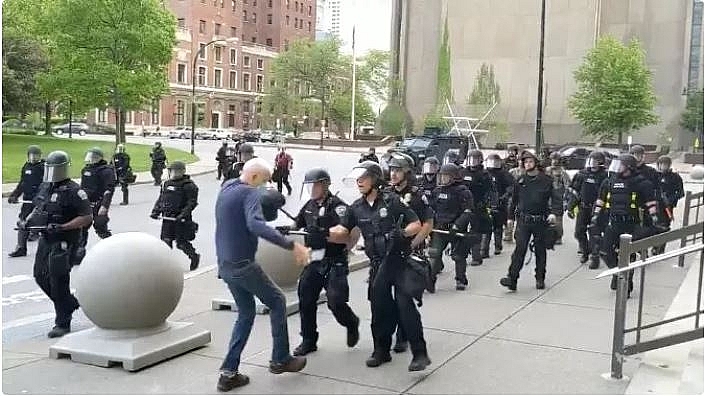 Photo of the incident: Newsbreak
"If he was violating a curfew, if he was being disorderly, you turn him around, handcuff him, and take him away arrested. It's as simple as that," said Flynn. "You don't take a baton and shove it; along with the officer next to him using his right hand to shove him and knock him down, and crack his head, his skull on the concrete." Gugino was taken to Erie County Medical Center in Buffalo and was in serious but stable condition. As of Saturday, Gugino was still recovering at the hospital and is reported to be "alert and oriented," according to his attorney, WGRZ reported.
Nearly 60 members of the Buffalo Police Department's Emergency Response Team, who are specially trained for civil unrest, resigned from that unit Friday after the two officers were suspended over the incident, officials said.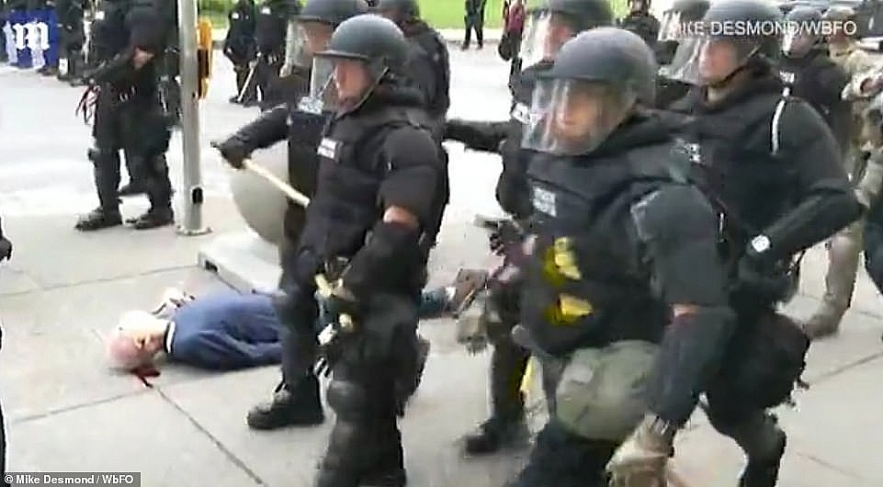 The sound of a crack is heard on the video before blood is seen trickling out of the man's head. Photo: Daily Mail
Buffalo Mayor Byron Brown accused the union of being a roadblock to improved police-community relations. "This union has been on the wrong side of history for a very long period of time and they have been a real barrier to reform of policing in the city of Buffalo," Brown told MSNBC's "The Rachel Maddow Show" Friday night.
New York Gov. Andrew Cuomo at a news conference Saturday voiced support for the mayor and district attorney's response. "There's no tolerance for delay of justice in society anymore," he said.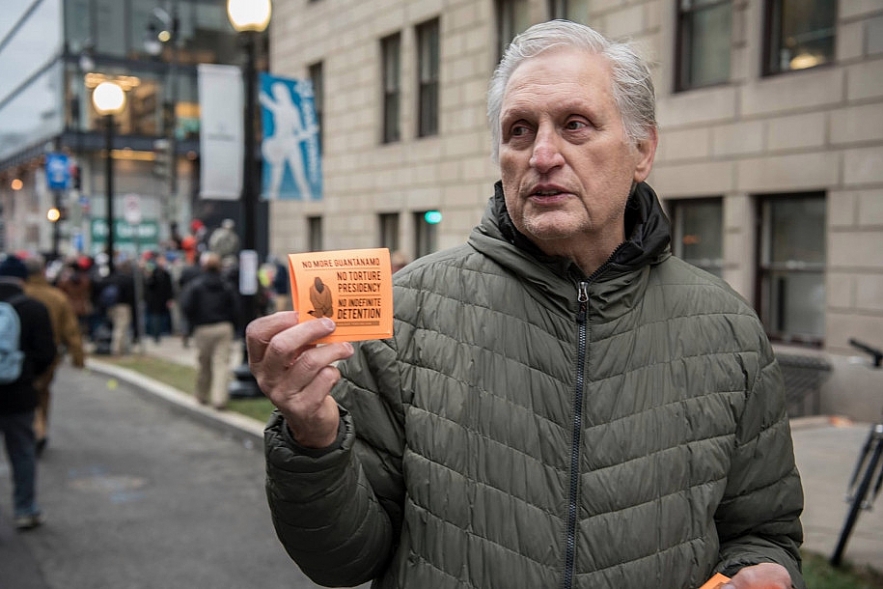 Martin Gugino. Photo: New York Post
"We saw the video ... what we saw was horrendous, disgusting, I think illegal," said Cuomo. "I understand this situation is super heated. It is controversial; people are frightened; people are polarized; there is no path that is going to make everybody happy. There is a path to do the right thing, and do the just thing." "I think what the mayor did and the district attorney did was the right thing," the governor said
Protests and riots in America update: Protesters are chanting and having dance-offs in some cities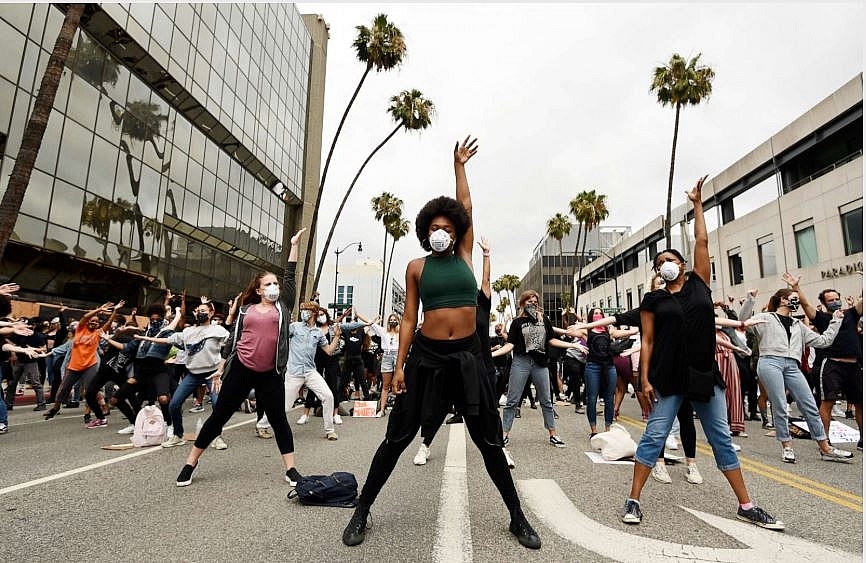 Protestors are dancing in the road. Photo: ABC News
Earlier today in Atlanta, the marches saw pockets of joy, as protesters danced to blaring music on the crowded streets. They danced to Childish Gambino's "This is America," and did the electric slide dance near Centennial Olympic Park in the city's downtown. The mood was light, with cheering and applause. Families marched with children; at one point, a live band even played on top of a parking garage.
"Music has completely changed the atmosphere, as you can see," the band director told CNN. "As soon as we started playing, the crowd just immediately came this way. We just want justice. We understand what's going on. Music will bring togetherness and everybody is here now."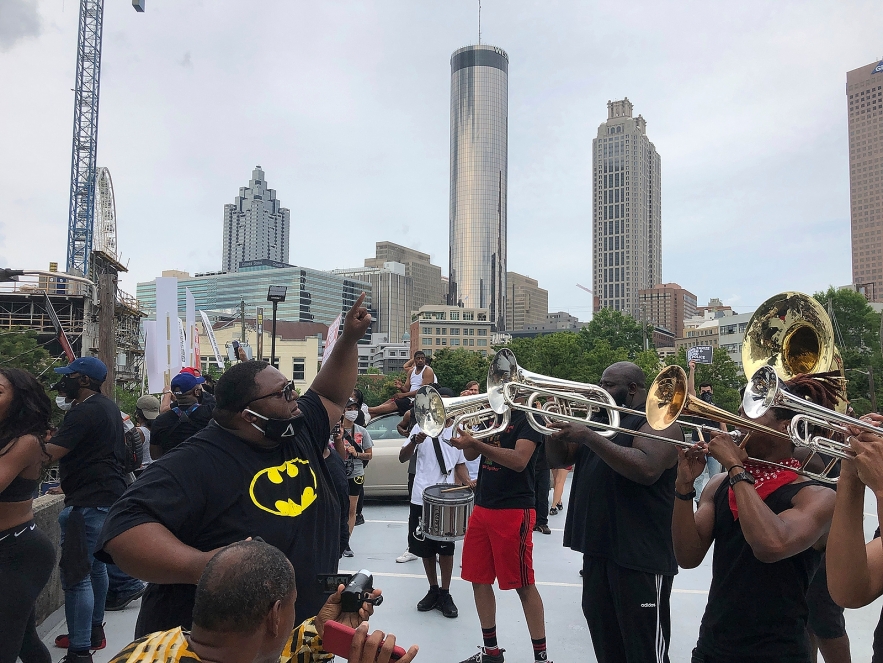 Zachary Nealy leads a brass band calling itself the Protesters Mass Band atop a parking garage in downtown Atlanta, on Saturday, June 6. Jeff Amy/AP
CNN Correspondent Martin Savidge said: "We went from a street protest to what is now a party in the street - but still with the consciousness of what this is all about. You can dance and still chant 'Black Lives Matter."
It's a stark contrast to just a week ago. Last Friday, there was chaos on the streets of Atlanta, when demonstrators lit a car on fire and broke windows at the CNN Center. Protesters threw firecrackers at police and smoke bombs into buildings.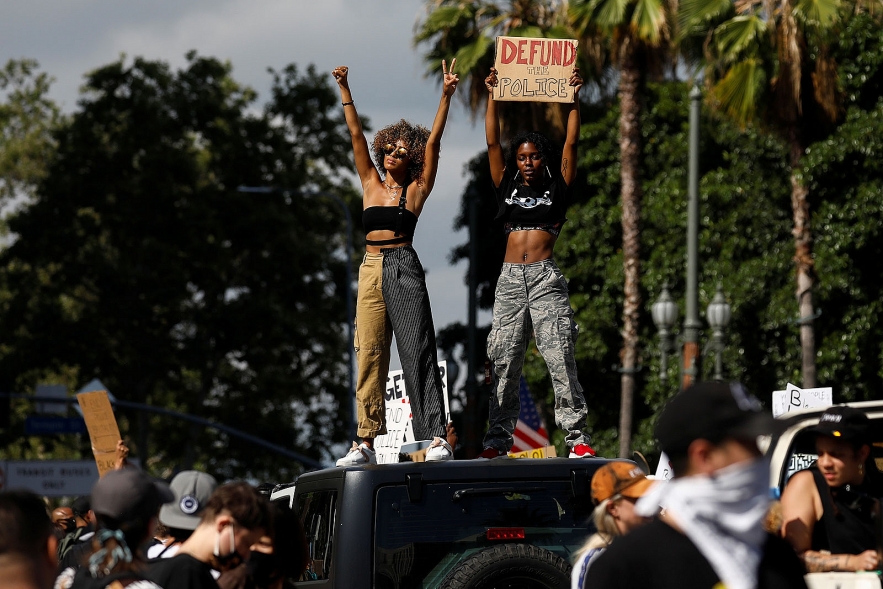 Women raise their hands while standing on the roof of a car during a protest outside City Hall inm Los Angeles, California, on June 6. Patrick T. Fallon/Reuters
In downtown Los Angeles, hundreds, if not thousands, of people are gathered on the steps of City Hall, by the courthouse. Protesters have been gathering there nearly every day this week -- and they say they will continue to until they see the change they demand. The atmosphere is peaceful and spirited, with protesters chanting slogans like "Defund the Police" and gathering to listen to speakers. It's a diverse crowd, with people from all ethnicities and backgrounds, said CNN reporter Lucy Kafanov.
"The atmosphere here is passionate," she said. "There's also a sense of community feeling here. There's a lot of folks handing out masks and water and snacks, making sure that the demonstrators are well fed, well watered, have everything that they need."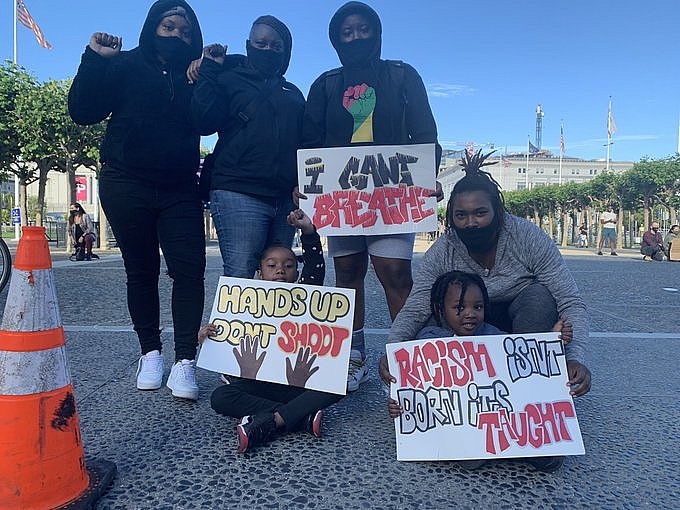 San Francisco, outside City Hall. Photo: Kerry Crowley
There aren't many police or law enforcement in the area, she added - there are some officers on the steps of City Hall, but no National Guard members or police in riot gear. It's "another visible effort by the city to deescalate the tensions and prevent the scenes that we saw last weekend that involved a lot of difficult and heavy clashes," Kafanov said. "This is a very different atmosphere."
Elsewhere in Los Angeles, in the Fairfax district, protesters are peacefully demonstrating -- there's even a dance-off between participants. Here, too, police are nowhere to be seen.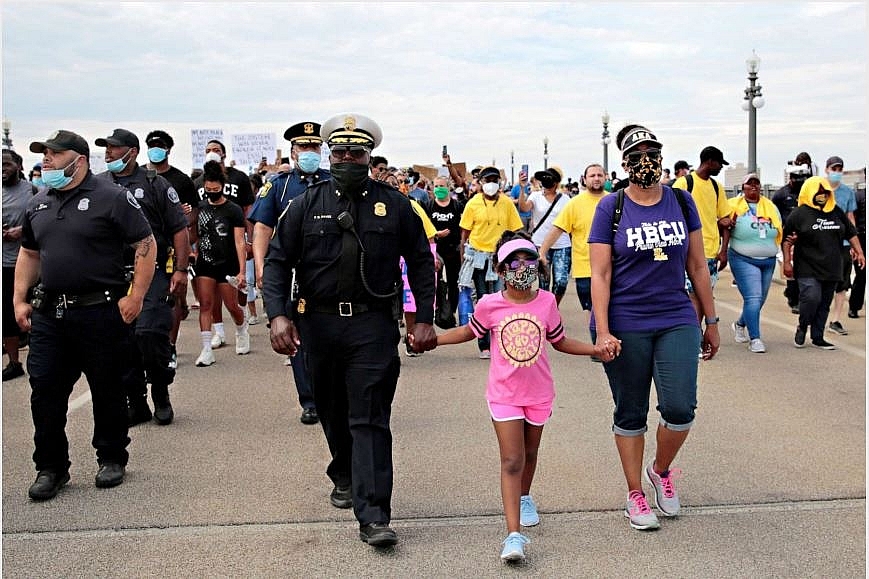 Protestors and police. Photo: ABC News
Protestors call to "Defund the Police" across the country
Across the country thousands of people continue to protest police brutality and some are calling on cities to defund the police.
According to MPR News, hundreds of people marched through northeast Minneapolis on Saturday, calling on city leaders to defund the police department in the wake of the police killing of George Floyd. "I think, honestly, we're too far past" the chance for reform, said marcher Verbena Dempster of Brooklyn Park. "We just have to take down the whole system."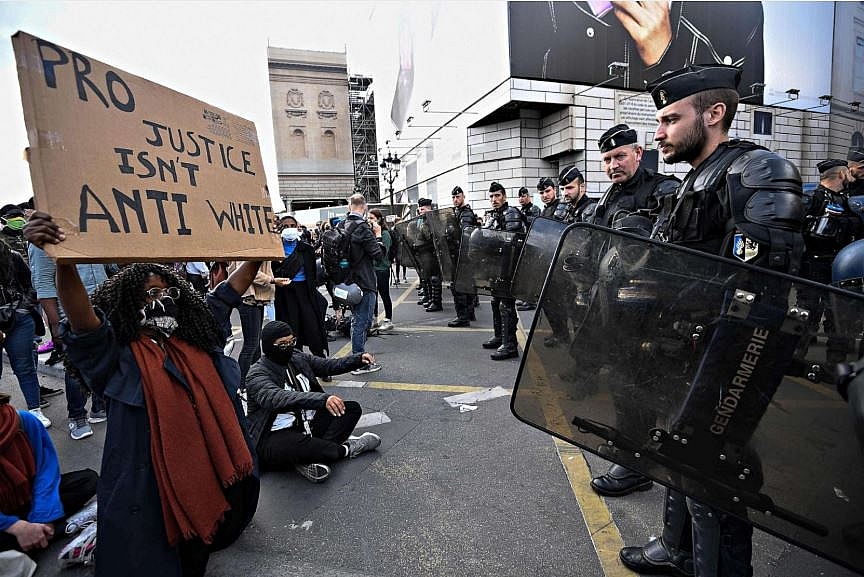 Protestors and police. Photo: ABC News
The peaceful protest brought out neighbors along the route to watch the march pass by. Marchers called for the city to shift money away from policing and toward other community needs. Some City Council members have backed dismantling the current system, and are set to meet with community groups at Powderhorn Park on Sunday afternoon "to announce a historic commitment to building a new model for cultivating safety in our city (and) to transform the city's approach to public safety," according to an announcement from Council Member Alondra Cano's office.
But Mayor Jacob Frey - who walked out to address the crowd as they stopped near his home - said Saturday that he does not support abolition of the department. "I am absolutely for a massive shift, a structural shift in how the police department functions, I'll say it again," he said, as some in the crowd chanted, "Resign." "And as for abolishing the entire police department - no, I'm not, and I'll be honest about that, too."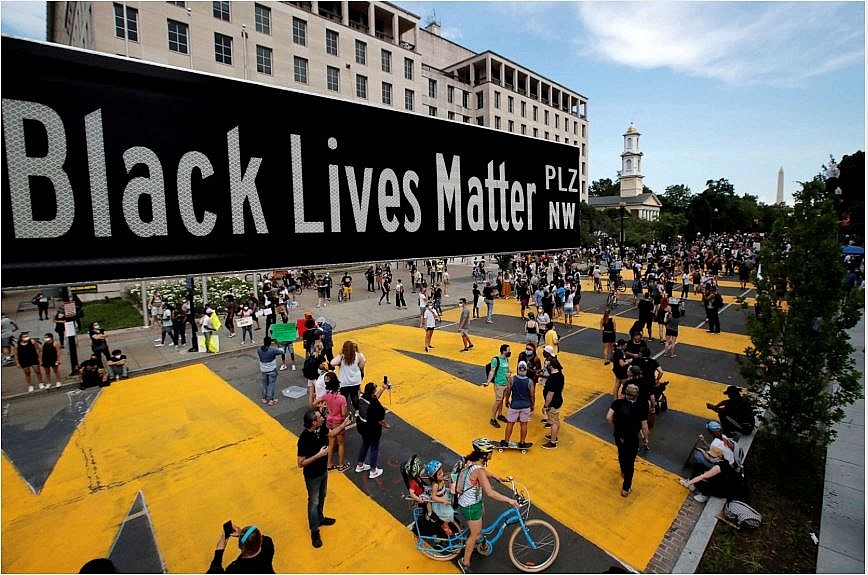 Protestors in the road painted "Black Lives Matter". Photo: ABC News
The activists also called out for a reduction in the Chicago Police Department's budget, which is $1.78 billion. The city's total budget is $11.65 billion, Chicago Tribune reported.
They also spoke about supporting Civilian Police Accountability Council ordinance, which is currently in the public safety committee of the Chicago City Council. If enacted, the council would be composed of elected officials who each represent police districts to oversee the police department.
Past proposals to establish an elected board that would have power over Chicago police to investigate and fire officers were voted down by aldermen. The activists also spoke about taking school resource officers out of Chicago Public Schools.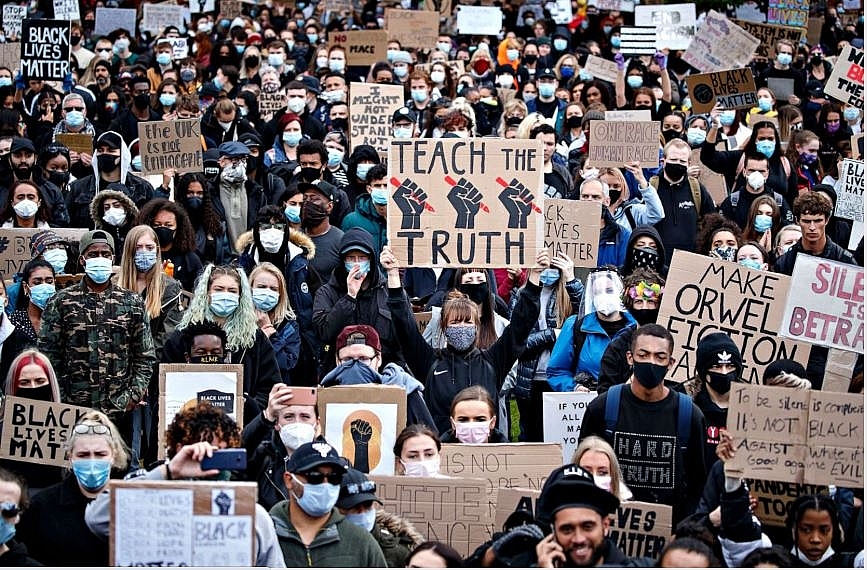 Protestors in the US. Photo: ABC News
The face-off between police and protesters in Portland is getting more heated
According to Oregonlive.com, one group, numbering several thousand people, is gathered in Irving Park. Another group is at an intersection near the Justice Center, where police have set up a fence. Protesters and police are now standing on opposite sides of the fence.
Some protesters there have been seen distributing fireworks and using mirrors to reflect floodlights back at police, Jones said, warning that the situation was rapidly evolving. "Crowd is throwing projectiles at police. We are advising them to stop doing so and stop tampering with the fence. We do not want to engage the crowd. We want tonight to be peaceful," said the police department on Twitter.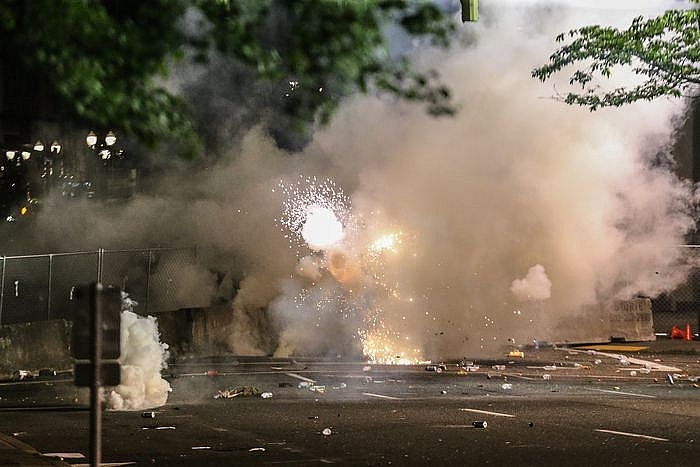 Protest in Portland. Photo: Oregonlive.com
Earlier today, the Portland mayor directed the police chief to no longer use tear gas to disperse crowds "unless there is a serious and immediate threat to life safety, and there is no other viable alternative for dispersal."
As night draws on, tensions are rising. At one demonstration, police and protesters stand on opposite sides of a fence. The police appear to be geared up, with batons and helmets; the protesters, holding signs, chant "Stand down" and "No justice, no peace, no racist police" through the fence.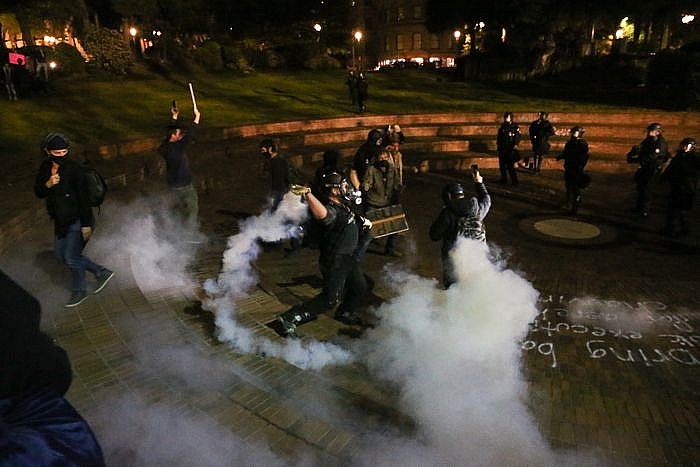 Protest in Portland. Photo: Oregonlive.com
One protester shouted to the police through a loudspeaker: "This is not what we came here for. We're just here to protest ... Get out.". Earlier today, the Portland mayor directed the police chief to stop using tear gas to disperse crowds "unless there is a serious and immediate threat to life safety, and there is no other viable alternative for dispersal."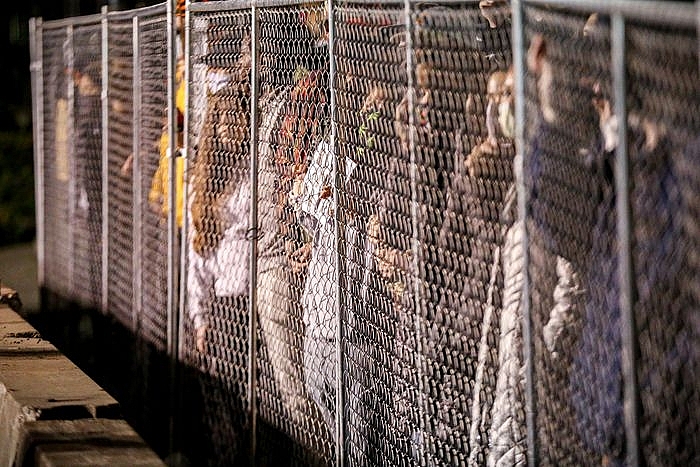 Protest in Portland. Photo: Oregonlive.com
DC National Guard Commander said some guard forces could leave as early as June 8
The Commander of the Washington, DC National Guard told that some of the nearly 4,000 additional National Guard forces brought to DC from other states could leave as early as June 8, CNN reported.
The presence of approximately 3,900 out-of-state National Guard members has been a major point of contention between DC officials and the Trump administration. He said that the out-of-state National Guard forces, hailing from 11 states, had been requested by the Defense Department to bolster the 1,200-strong DC contingent that had been activated.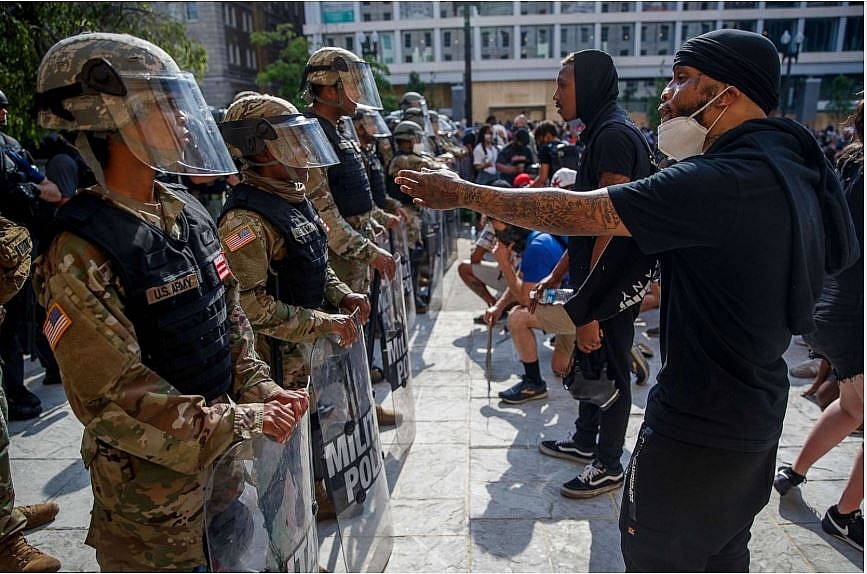 People gathered in protest of the death of George Floyd talk to members of the DC National Guard near the White House in Washington, D.C., June 3, 2020. Photo: ABC News
He added that National Guard troops were not involved in using force to clear Lafayette Park on Monday night -- an action that caused many former military officers to criticize the Trump administration's handling of the protests. Walker said that National Guard personnel held their positions and did not advance on the protesters.
He also denied that the controversial low overflights of helicopters on Monday night were directed by the Pentagon leadership, as the New York Times reported Saturday. Walker said the incident is under investigation.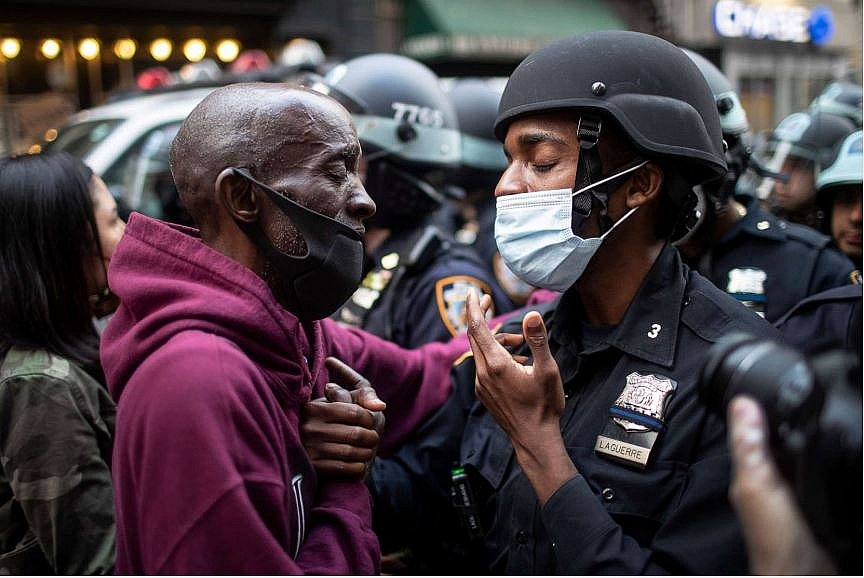 A protester and a police officer shake hands in the middle of a standoff during a solidarity rally calling for justice over the death of George Floyd, June 2, 2020, in New York. Photo: ABC News
Army Secretary Ryan McCarthy told CNN in a separate exclusive interview that the possibility of sending out of state National Guard troops home is under serious consideration due to the peaceful nature of the ongoing protests.
"Well, we're looking very hard at that. I think that if we look at the trend that we're on right now we're in very good shape and we're looking at that option very closely," McCarthy said, adding that the crowds today were large "but very peaceful."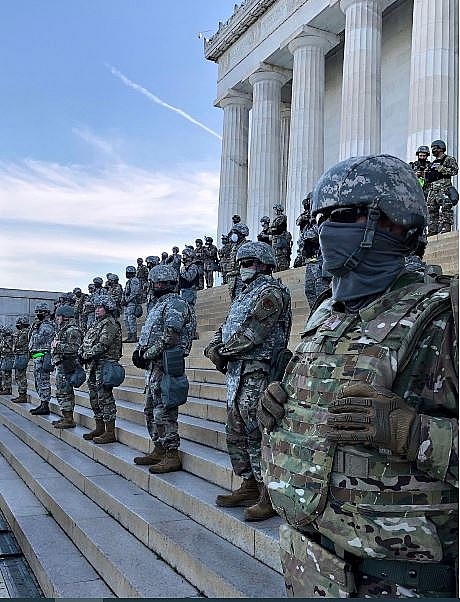 National Guard deployed on the steps of the Lincoln Memorial during peaceful protests, in Washington, June 2, 2020.
Ruby Lee