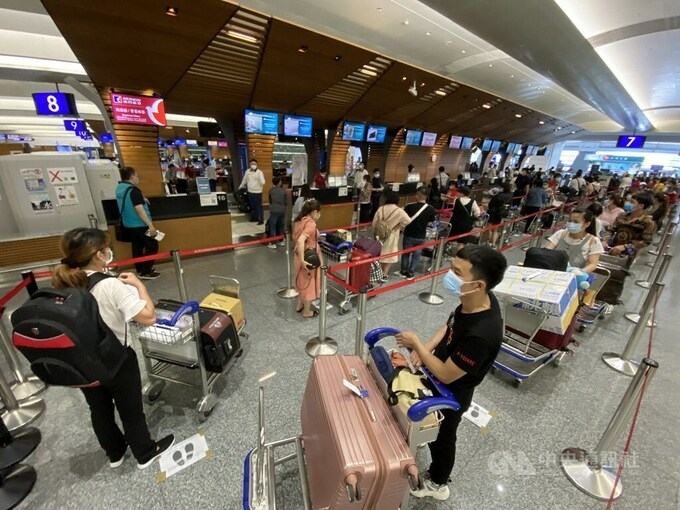 Vietnamese citizens checked in at Taoyuan International Airport on May 29 before boarding. Photo: CNA
Detention centers in Taiwan are overloaded after receiving a number of Vietnamese migrant workers with expired visa. Yet their deportation cannot take place due to suspended international flights to Vietnam since March 25.
Taiwanese National Immigration Agency on March announce a program to encourage foreign nationals who overstay their visa to turn themselves in and help curb the spread of the coronavirus.
According to the program, individuals residing in Taiwan on an expired visa who self-report between April 1 and June 6 will be eligible for reduced penalties. Visa overstayers who surrender themselves to the authorities from March 20 through March 31, the policy promotion period, are also entitled to the same treatment.
About 800 Vietnamese citizens later reported to Taiwan authorities and were taken to detention centers.
Each immigration detention center in Taipei, Kaohsiung, Yilan and Nantou can accommodate 300-400 people. In the past months, the occupancy rate of these facilities has reached 80 percent, with most detainees being Vietnamese laborers.
As the temporary detention of foreigners in Taiwan cannot legally exceed 100 days, more flights are expected to bring home stranded workers.
According to official data of the Vietnamese Ministry of Foreign Affairs, Vietnam has conducted more than 20 special commercial flights to bring home about 6,0001 citizens from foreign countries and territories since April 24. More repatriation flights are arranged in the coming time.
On May 29, 343 Vietnamese citizens, including 243 pregnant women, left Taiwan on the first repatriation flight organized by the two sides.
To date, Vietnam has had 332 confirmed COVID-19 cases and zero reported deaths. Taiwan recorded 443 cases of nCoV, 7 deaths.
On June 1, Chuang Jen-hsiang, spokesman for Taiwan's Central Epidemic Command Center (CECC) said the Taiwanese government is planning to apply different restrictions for travelers based on their countries of departure.
Those from "low-risk" countries like Vietnam would be subjected to a five-day quarantine instead of a 14-day, Chuang said, as cited by Taiwan News.
Jennifer Tran