US News today, June 22: A New York cop suspended over the use of a "disturbing apparent chokehold"
Trade talks prevent Trump from putting sanctions on China over Xinjiang issue, eight officers allege discrimination over Derek Chauvin booking, Bolton says he won't vote for Trump and a New York cop suspended over the use of a "disturbing apparent chokehold" are remarkable news today.
Trade talks prevent Trump from putting sanctions on China over Xinjiang issue
President Donald Trump said he has postponed sanctions on China regarding the issues in Xinjiang for fear of affecting the ongoing trade negotiations with China, Reuters reported.
"Well, we were in the middle of a major trade deal. And I made a great deal, $250 billion potentially worth of purchases," Trump tolad Axios when asked why he had not enacted Treasury sanctions against China officials over the Xinjiang region issue.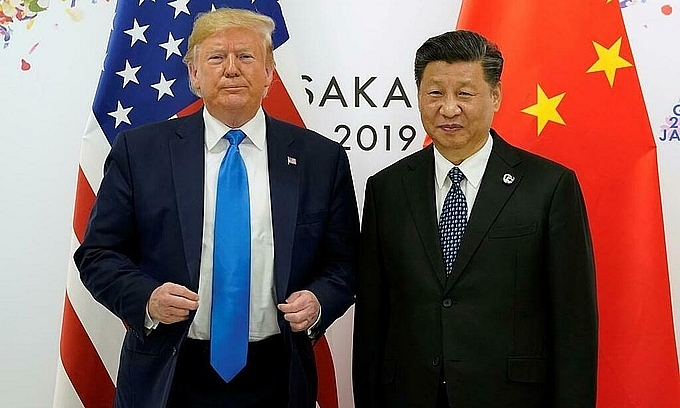 President Donald Trump and Chinese President Xi Jinping. Photo: Reuters
The United Nations estimates that more than 1 million Uighurs have been taken to Chinese government re-education camps in the Xinjiang region. The US State Department also accused China of torturing and abusing Uyghurs in these re-education camps.
China has denied all allegations and said that re-education camps in Xinjiang were for vocational training, which helped ethnic minorities in the region fight extremism.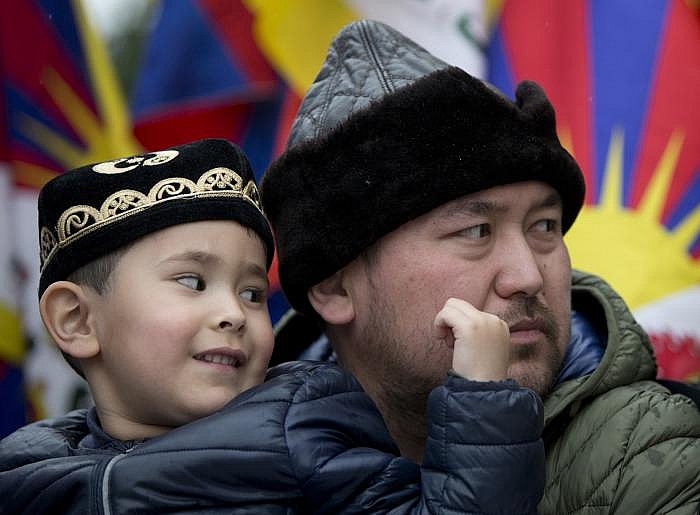 Chinese Uyghur Muslims. Photo: AP
Previously, at the end of 2018, US officials said they had considered sanctions against Chinese officials related to Xinjiang but refrained from doing so after considering about trade and diplomacy issues. Under the phase 1 agreement, which was negotiated and took effect in February 2019, China will buy at least $ 200 billion of US goods and services within two years.
George Floyd's death: Eight officers allege discrimination over Derek Chauvin booking
Discrimination allegations said that black guards were banned from entering the US police custody floor of detaining Derek Chauvin, ABC News reported.
Floyd died after Derek Chauvin, who is white, used his knee to choke the Black man's neck even after Floyd stopped moving and pleading for air. Chauvin is charged with second-degree murder and manslaughter. Now Chauvin is being held at the Ramsey County Jail. Eight prison officers there complained that prison officials only let white men to take care of Derek Chauvin.
George Floyd (left). Photo: IB Times
Bonnie Smith, a lawyer on be half of eight guards, told NBC News on June 21 that her client was told that they must all leave the fifth floor where Derek Chauvin was held. All these people are required to leave because of their skin color and replace them with white workers.
The guards felt "humiliated and demeaned" by this decision, lawyer Smith said. According to her, this decision also makes them feel that they are not trusted by their superiors. In this lawsuit, the prison officers demanded racial training, training against racism prejudice for all prison staff, official and public apologies and asked for discipline to supervisors being responsible for this situation.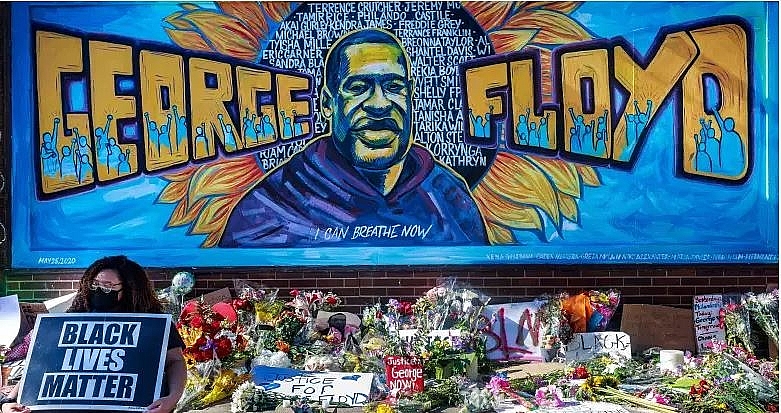 Flowers, signs and balloons are left near a makeshift memorial to George Floyd near the spot where he died while in custody of the Minneapolis police, on May 25, 2020 in Minneapolis, Minnesota. Photo: Getty
"I think they deserve to have employment decisions made based on performance and behavior," she said. "Their main goal is to make sure this never happens again."
Jail Superintendent Steve Lydon allegedly told superiors that he was informed that day that Chauvin would be arriving in 10 minutes and he made a call "to protect and support" minority employees by shielding them from Chauvin.
"Out of care and concern, and without the comfort of time, I made a decision to limit exposure to employees of color to a murder suspect who could potentially aggravate those feelings," Lydon said in a statement given during an internal investigation and provided by the sheriff's office to the Star Tribune. He has since been demoted.
Bolton says he won't vote for Trump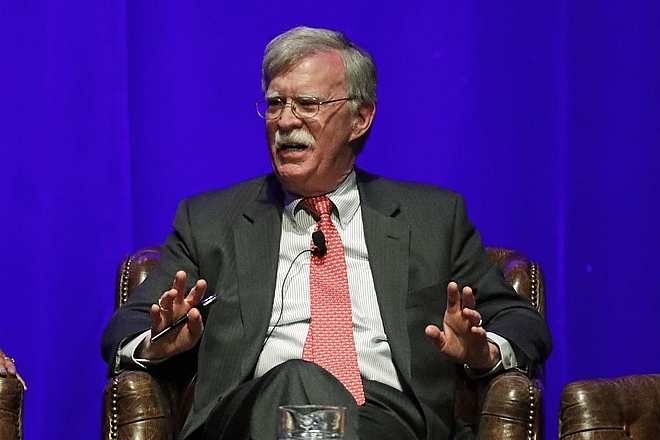 Former White House national security adviser John Bolton. Photo: AP
According to The Guardian, former US national security adviser John Bolton said that he would not vote for Trump or Biden in November. In an interview with the Daily Telegraph on June 21 about the release of "The Room Where It Happened", John Bolton said that after witnessing US President's action "behind the scenes".
"I don't think he should be president. I don't think he's fit for office. I don't think he has the competence to carry out the job. I don't think he's a conservative Republican. I'm not going to vote for him in November. I'm certainly not going to vote for Joe Biden either. I'm going to figure out a conservative Republican to write in.", Bolton said.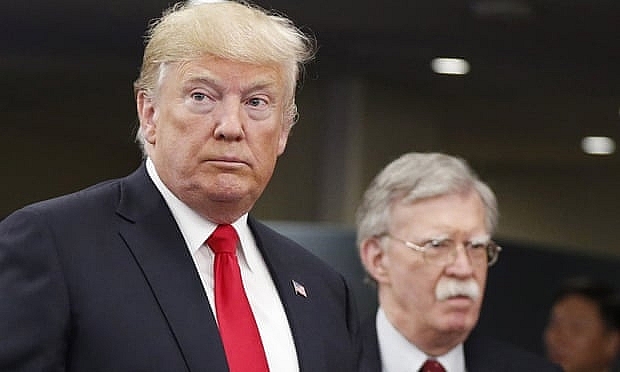 US President Donald Trump with John Bolton in 2018. Photo: Justin Lane/EPA
The Daily Telegraph initially said he would support Joe Biden, who is Trump's rival. However, Bolton later issued a statement saying he had no plans to do this. "This statement is incorrect. The ambassador never said he planned to vote for Joe Biden", the statement said.
Asked in the ABC interview, Bolton said: "I hope it will remember him as a one-term president who didn't plunge the country irretrievably into a downward spiral we can't recall from. We can get over one term. Two terms I'm more troubled about."
A New York cop suspended over the use of a "disturbing apparent chokehold"
The New York Police Department (NYPD) suspended an officer after the video showed him apparently making a strangled gesture when he arrested a black person, Sky News reported.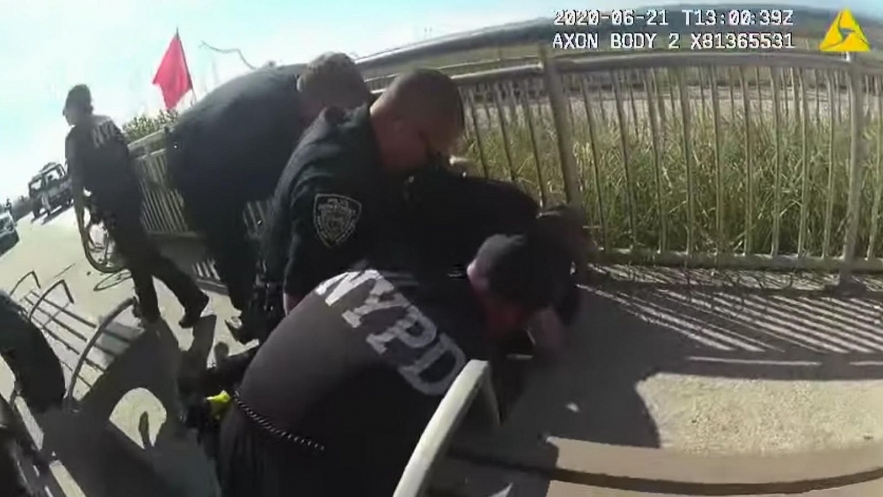 The NYPD released body-camera footage of the incident. Photo: NYPD
Anthony Beckford, a New York City Council candidate, posted on Twitter on June 21, and accused police officers of "carrying out an illegal execution of a modern-day crime against a black man for until the victim is unconscious".
In the video, a passer-by shouted at four policemen that "Stop choking him, bro... let him go". An officer was seen wrapping his arms around the suspect's neck. Another person then motioned to a colleague to release this person.
"I demanded that he be immediately dismissed and criminally prosecuted for violating a city and state ban," wrote Mr Beckford, accompanied by the keyword "police disband".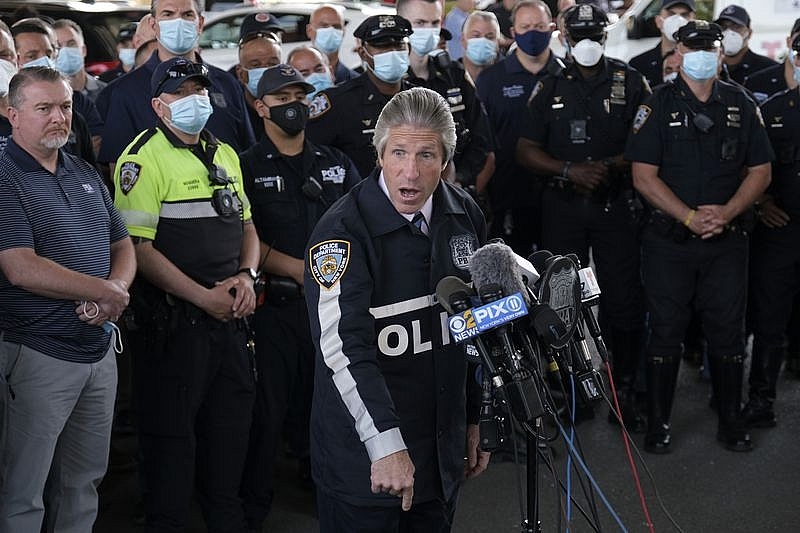 New York City PBA President Pat Lynch, center, speaks during a news conference in New York, Tuesday, June 9. Photo: NY Dailynews
The suspect in the arrest was identified by his lawyer, Ricky Bellevue. A longer video shows him mocking police before grabbing an unknown object and challenging an officer. A police officer then threw Bellevue to the ground.
Lawyer Lori Zeno said that Bellevue was recovering in a hospital but it was unclear whether any charges would be faced or not.
New York Governor Andrew M. Cuomo, center, hands a pen to Rev. Al Sharpton after signing into law, Friday, June 12. Photo: AP
Police commissioner Dermot Shea said in a statement after a quick investigation by the Interior Department that an officer involving in the incident had been suspended without pay, but did not disclose the person's name or his role in the arrest.
"While the full investigation is going on, I think this action is unnecessary," he said. "We are committed to transparency as the investigation process continues."
The New York City Council on May 18 passed a law banning police from using strangled movements in any situation and prohibiting officers from sitting, kneeling or standing on the suspect's chest and back in arresting.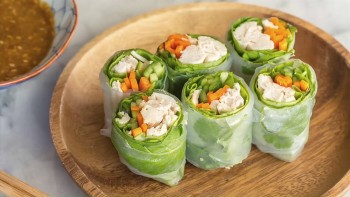 Travel
Rolls are a easy-to-make dish that is loved by many Vietnamese diners as well as Korean stars.