Flight Tickets Unprecedentedly Cheap, Demand Still Stays Low
The complicated context of the COVID-19 epidemic plus the upcoming low season have made travel demand decreased to an unprecedentedly low point. Local airlines simultaneously called for help to the Prime Minister.
Cheap price – still no customers
On August 18, Vietnam Airlines and Pacific Airlines announced the same-price sale. Tickets are only from 98,000 VND for flights between Hanoi - Da Nang, Chu Lai, Hue, Vinh or Ho Chi Minh City - Da Lat, Nha Trang, Phu Quoc, Quy Nhon. With taxes and fees included, buyers will only have to pay 558,000 VND / way.
If passengers travel between Ho Chi Minh City to Hanoi, Hai Phong, Thanh Hoa, Vinh, the price is 198,000 VND/way (668,000 VND including taxes and fees), applicable for itineraries from September 7, 2020, to March 31, 2021.
Thus, in the next 6 months, airfares are at an unprecedented low level. Firstly, this happened because of the upcoming low season when students enter the new school year and the weather changes. Secondly, the COVID-19 epidemic is still complicated, so travel demand has decreased dramatically as no trip could be planned within the current situation.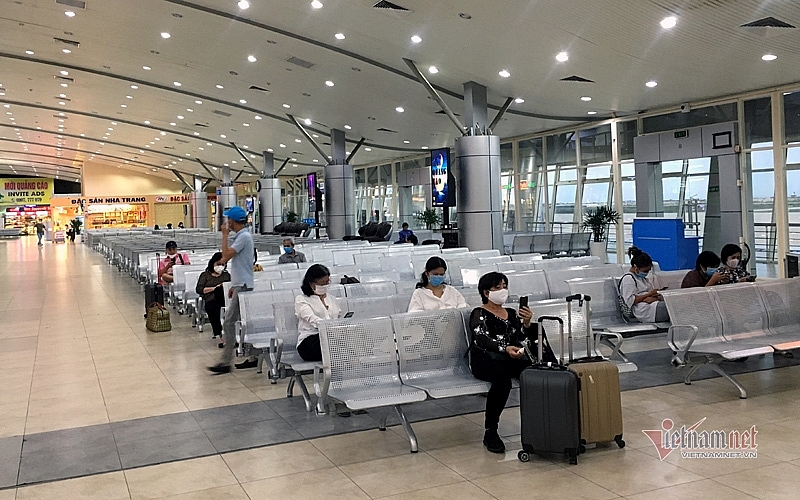 Although the airfare is extremely low, airports are still empty - Cam Ranh airport (Nha Trang) on 12/8. Photo: Vietnamnet.
Local airlines have simultaneously started selling flight tickets for Lunar New Year 2021, such as Vietnam Airlines Group (including Vietnam Airlines, Pacific Airlines, VASCO) with more than 2 million seats, Vietjet Air with 1.5 million tickets on all domestic flights. Cheap tickets have run out for some routes, especially popular routes like Ho Chi Minh City - Hanoi, Ho Chi Minh City - Hue, Ho Chi Minh City - Da Nang.
For the coming Lunar New Year, Vietjet Air has just launched 2.6 million super-saving tickets from only VND 2,021 (excluding taxes and fees) on all flights departing from the Northern and Central provinces to the South. Accordingly, from August 18 to 22, cheap tickets like these will be available for sale, applicable for itineraries from August 18, 2020, to February 28, 2021. Furthermore, passengers who buy tickets for 50 domestic routes of the airline from August 12 to October 24 also get 15 kg of checked baggage and 7 kg of hand baggage free of charge.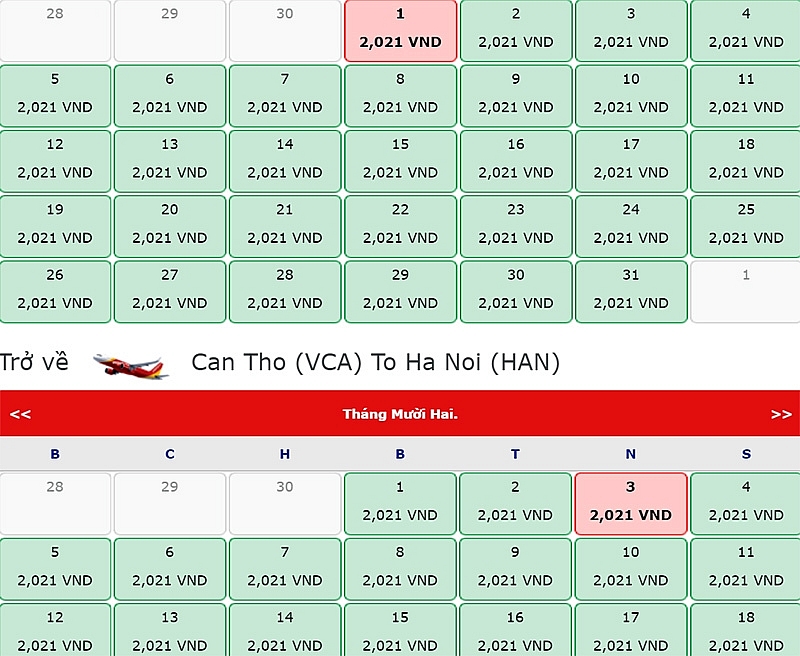 Vietjet Air's super-saving flight tickets.
Bamboo Airways, on its 2-year anniversary, also opened a 48-hour sale (from August 18 to August 19), offering 3 types of unprecedented low-cost tickets at this airline: VND18,000, VND 188,000 and 1,888 million VND depending on ticket class, excluding taxes and fees. The flight time applies from August 20, 2020, to January 31, 2021.
Normally, Bamboo Airways' ticket price is equal to or slightly lower than Vietnam Airlines, but this is the lowest ticket price the airline has ever offered: only from 18,000 VND/way (excluding taxes and fees).
Airlines calling for help
Lowering ticket prices is the local airlines' effort to increase travel demand. However, there have been no positive signals.
The airlines' second-quarter profit and loss reports showed that COVID-19 had hit the airlines industry quite hard. Throughout their history of operations, airlines have never fallen into such a tragedy.
Specifically, in the first 6 months of this year, Vietnam Airlines' revenue was only VND 24,934 billion, halved compared to the same period in 2019. Total pre-tax profit was negative 6,542 billion VND, while the same period last year was 1,785.7 billion VND. As of June 2020, each HVN share of Vietnam Airlines has a basic loss of VND 4,607.
At Vietjet Air, the situation is no better than VNA when in the second quarter, the parent company Vietjet alone recorded VND 1,970 billion in revenue from passenger transportation and ancillary business, down 80% year-on-year. Vietjet had a pre-tax loss of VND 1,165 billion. For the first 6 months, Vietjet's revenue was VND9,194 billion, down 54%. This company saw a post-tax net loss of VND2,112 billion.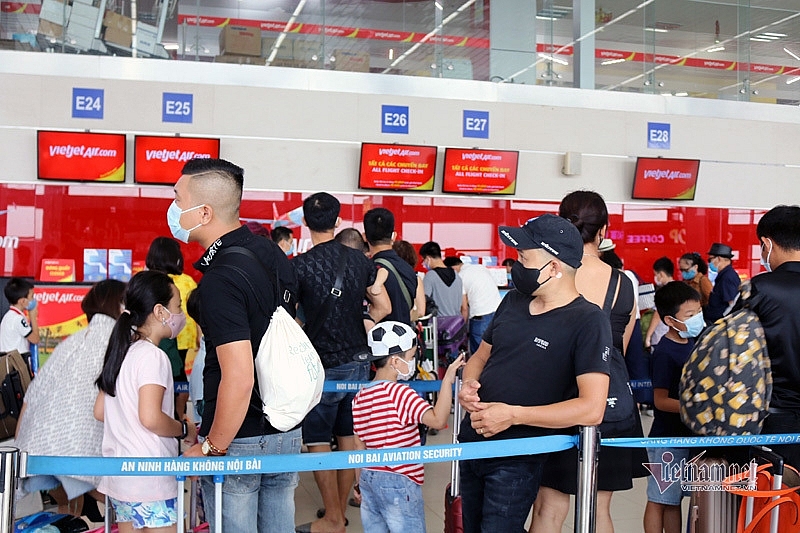 Travel demand dropped dramatically. Photo: Vietnamnet.
Bamboo Airways alone recorded a loss of more than VND1,500 billion in the first quarter due to the impact of the COVID-19 pandemic. The airline has not announced its profit and loss reports for the second quarter and the first 6 months of the year.
Already suffered from the impacts of COVID-19 at the beginning of the year, airlines once again lost the opportunity to exploit the summer tourism peak of 2020 as the second wave of COVID stroke the country at the end of July.
In a document sent to the Prime Minister calling for help, the Vietnam Aviation Business Association said that although airlines have tried every possible solution to limit the damage such as cutting the total cost by 50-70%, negotiating with partners to reschedule debts, reducing interest rates, aircraft sales, property transfer, salary reduction for all officers and employees, ticket discounts ... but all fell into serious depletion.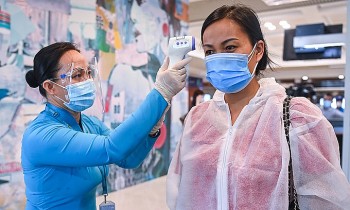 National
Vietnam News Today (October 20): Vietnam adds 3,034 Covid-19 cases to national infection tally; HCM City enhances cooperation with China's Shanghai; Thirty-two localities declare Covid-19 risk levels; Transport ministry mulls letting the unvaccinated fly.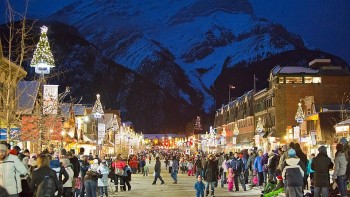 Travel
If you are looking to celebrate your Christmas somewhere else outside the country, then Canada can be the perfect choice for you with these 10 best and most idyllic places to have a wonderful Christmas holiday with your friends and families.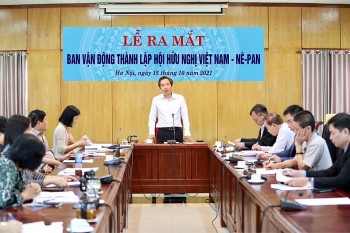 Friendship
The Advocacy Committee for the establishment of the Vietnam - Nepal Friendship Association was officially launched.