Stock Price Today: US stocks climb on economy recovery optimism, oil price rebound
U.S. equities climbed thanks to investor optimism about states' progress to reopen parts of their economies. Stocks sensitive to reopening efforts outperformed on Wall Street.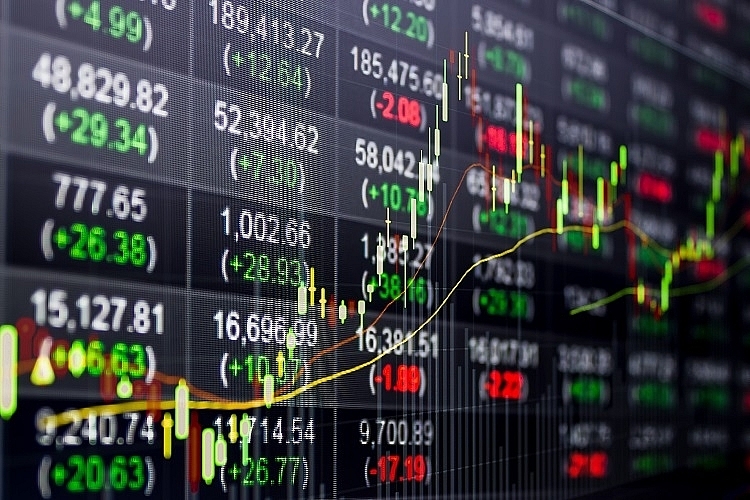 US equities climbed on last trading session (Photo: VIR)
US equities climbed as gradual reopenings throughout the country and a five-day oil rally lifted investor sentiments
West Texas Intermediate Crude for June delivery soared as much as 22%, to $24.85 per barrel. The beleaguered commodity has more than doubled from its April 21 lows as global demand has begun to recover. Brent crude, oil's international benchmark, climbed as much as 14%, to $31.12 per barrel, reported by Business Insider.
Both futures contracts fell under historic pressure through the end of April as demand plummeted and storage neared capacity.
"Many market participants believe there is light at the end of the tunnel" for oil prices, the UBS analyst Giovanni Staunovo said.

Stock market overview (Photo: Barchart)
Stocks on Wall Street rallied along with oil prices, as investors were encouraged by efforts to reopen economies, as well as by signs from Europe and China that the worst of the coronavirus pandemic may be over in some of the hardest-hit places.
Underscoring the optimism across financial markets, oil prices surged on Tuesday. The price of benchmark crude in the United States rose about 20 percent to $24.49 a barrel. Brent crude, the international benchmark, was up about 14 percent at $31.
The stock market gains have come even as companies report discouraging financial results and warn of the economic damage being caused by the pandemic. For example, on Tuesday, a measure of demand and employment in the services industry showed a sharp slowdown in April to the lowest level since March 2009, as stores and restaurants were shuttered and consumers stayed home,
Investors have managed to shake off such grim data and other signals that the United States economy is in an unprecedented decline, because it shows what has already happened rather than what might come as stay-at-home orders are lifted and governors gradually move to reopen their economies, cited New York Times.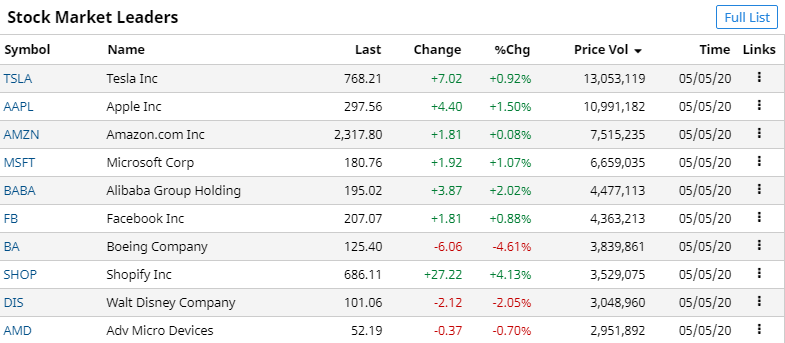 Stock market leaders (Photo: Barchart)
According to CNBC, the Dow gained 133 points, 0.56%, its second positive session in a row.
With about 30 minutes left in the trading day, stocks cut some of their earlier gains. The Dow Jones Industrial Average was up about 200 points.
During final hour, the Dow traded more than 300 points higher, or 1.5%.
Oil stocks ramcharged the Dow, with Exxon up 4.4% and Chevron powering ahead 3.6% as oil prices soared almost 16% early Tuesday, and toward a fifth-straight gain. Oil names also grabbed 11 of the 15 top early advances among S&P 500 stocks.
The S&P 500 gained 26 points, 0.90%, its second positive session in a row.
SPY Impact: Apple had the most positive impact on the SPY, adding 0.22 points to the ETF.
During final hour of trading, the S&P 500 jumped 1.8%.
The Nasdaq Composite advanced more than 2%. Tuesday's gains put the major averages up more than 14% each over the past month. The Nasdaq was also less than 1% from turning positive year to date.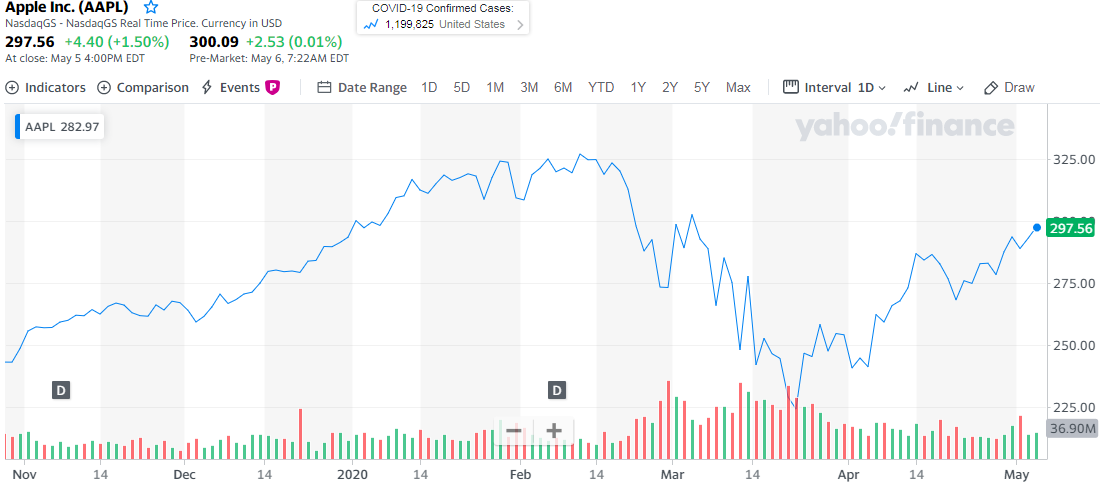 Apple stock price chart (Photo: Yahoo Finance)
Apple stock was recently turned away from the $300 region. Up 50% in the last nine months, AAPL is a chip-shot away from its year-to-date breakeven point. " At last check, the Apple stock is up 0.4% to trade at $290.36.
In addition to the surge in options volume, AAPL is seeing attractively priced premiums. The stock's Schaeffer's Volatility index of 34% sits in the 20th percentile of its annual range implying that near-term options traders are pricing in relatively low volatility expectations.
Plus, it's Schaeffer's Volatility Scorecard (SVS) sits at up at 87 (out of 100), showing that the stock has tended to exceed option traders' volatility expectations during the past year, a good thing for option buyers, cited Yahoo Finance.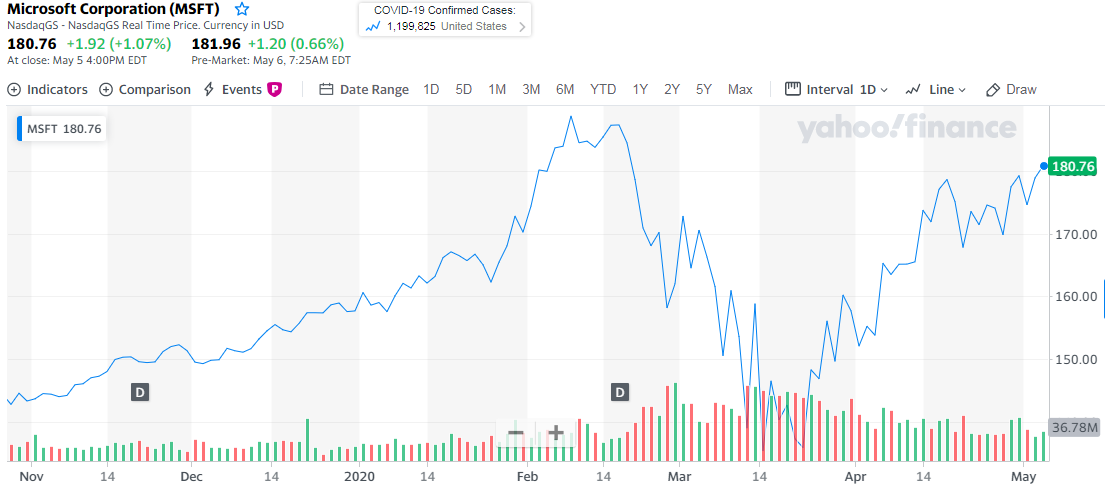 Microsoft stock price chart (Photo: Yahoo Finance)
Microsoft gained 1.4%, edging closer to a 180.10 handle buy point. The IBD Leaderboard stock has shuffled through a number of potential buy points recently, none so far producing convincing breakouts. The stock is a dual potential beneficiary of the coronavirus economy, with both its web hosting services unit and Team collaborative software reporting recent gains, cited Investors.
COVID-19 is expected to continue to have a significant impact on financial condition and operations, which adversely affects the ability to obtain acceptable financing to fund resulting reductions in cash from operations,
Optimism around the world's efforts to contain and combat coronavirus drowned out a collection of gloomy economic reports. The Commerce Department announced exports slid a record amount in March and helped push the US goods and services deficit up 11.6% to $44.4 billion.
Major airline stocks slid, with United Airlines, American Airlines, Delta Airlines, and Southwest Airlines plummeting on the news that Warren Buffett dumped his holdings in the firms, according to Business Insider.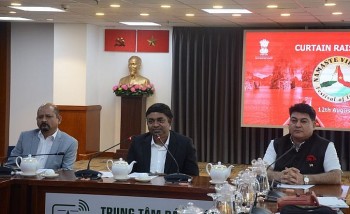 Handbook
The First Namaste Vietnam Fest will be held to mark 75 years of Indian Independence and the 50th anniversary of the establishment of Vietnam-India diplomatic ties (1972 – 2022).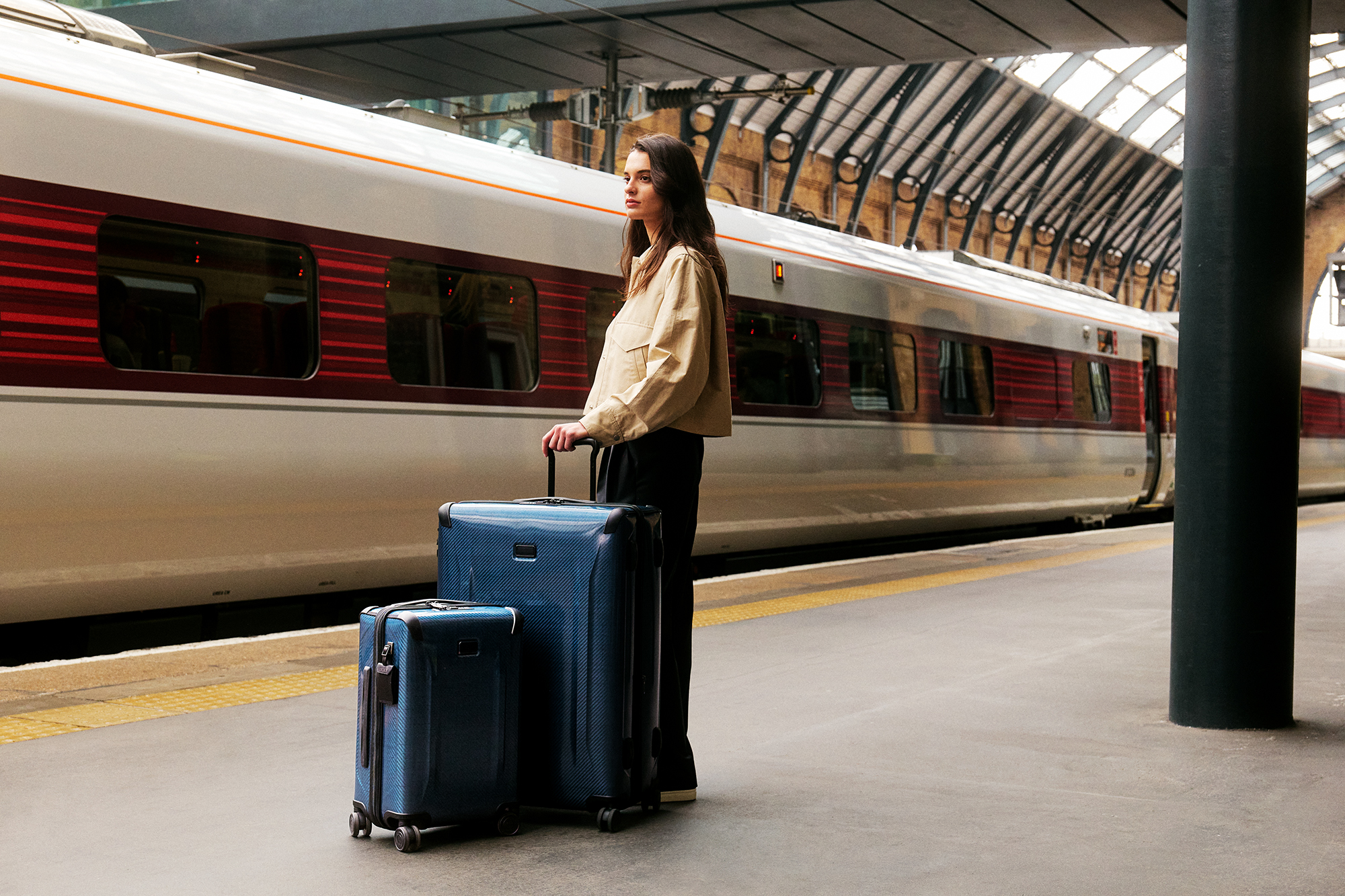 Economy
For Fall 2022, TUMI explores the concept of "Future Earth." Looking towards the new world, TUMI reexamined its innovations to help better every journey – and the planet.
August 10, 2022 | 10:00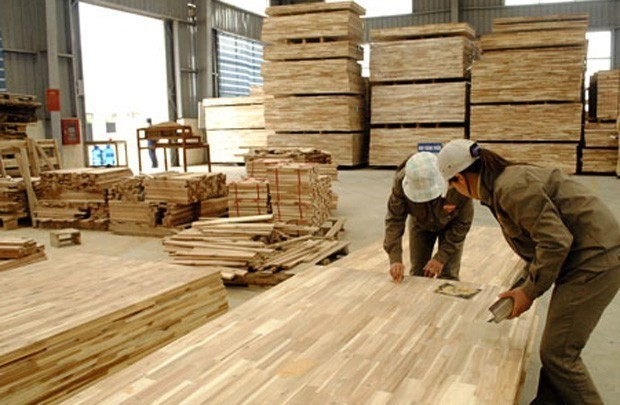 Economy
The US Department of Commerce (DOC) has announced the extension of the deadline for issuing its final conclusion on a trade remedy duty evasion investigation into hardwood plywood imported from Vietnam, according to the Ministry of Industry and Trade (MoIT).
August 10, 2022 | 08:19